Texas Ale Project's Guava- And Pineapple-Infused Hawaiian Roadrunner Is A Fruity Little Beer That's Open To Suggestions And Feedback.
Welcome to On Tap! Each week in this recurring feature, we'll take an in-depth look at one of the many beers now available in the suddenly crowded North Texas brew scene. The goal here is to look at these area beers without our local goggles on and to wonder aloud, "Is this beer good or do I just like it because it's local?" Should be a fun experiment, no? Cheers to that!
This week, we sipped on Texas Ale Project's Hawaiian Roadrunner.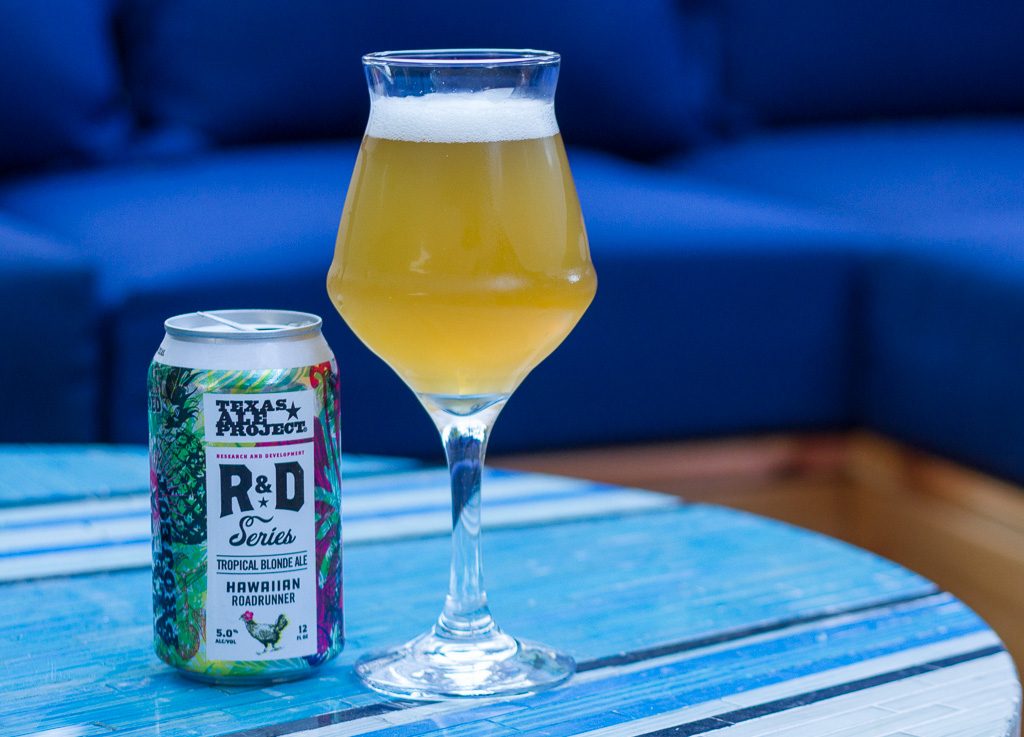 Fast Facts on Texas Ale Project Hawaiian Roadrunner.
Style: Blonde ale.
ABV: 5 percent.
International Bitterness Units (IBUs): 28.
Color: Gold.
Availability: Cans and draft.
Overview.
Texas Ale Project has recently expanded its lineup with its new R&D series, and Hawaiian Roadrunner is the first release from that bunch. One cool thing I see right out of the gate is Texas Ale Project's note on the can regarding innovation. See, instead of looking inward, TAP turns outward, asking all of us beer drinkers to provide feedback on its beer and to share ideas on what sort of beer it should make next. For me, I always assumed it was more of a tacit strategy from a brewery to gather feedback. But TAP makes it a major point here that it really wants to hear from its customer base. That's so cool! So let's get started on some feedback for your first R&D beer, TAP!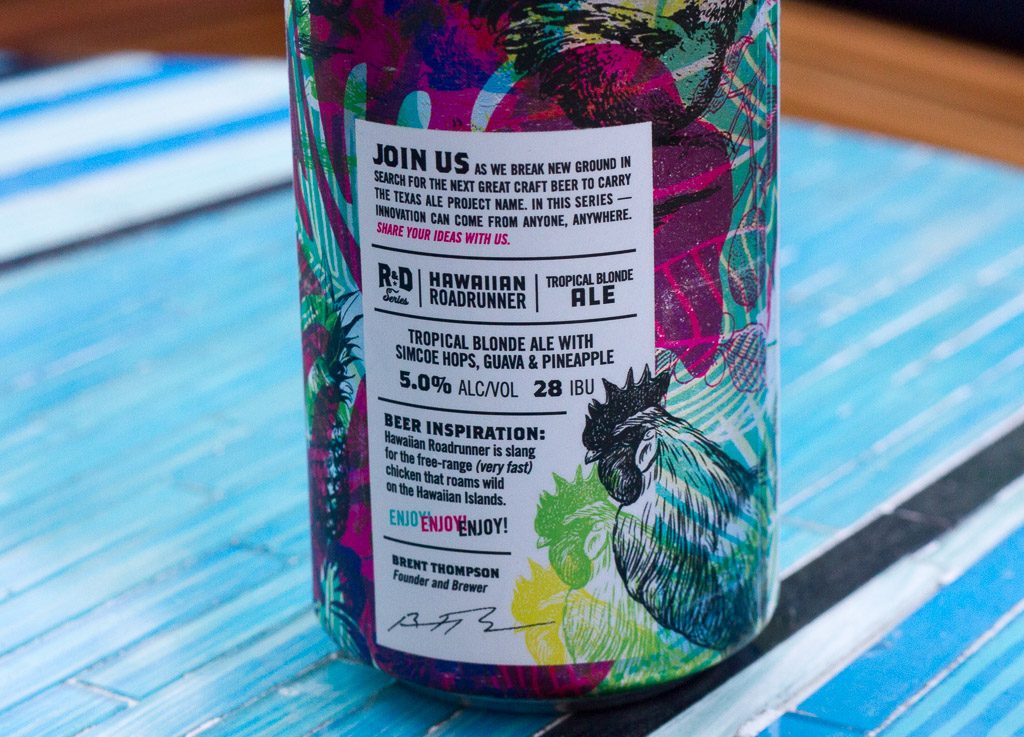 Background on Blonde Ale.
For a primer on the blonde ale style, check out our reviews on True Vine Unicorn's Revenge or Woodcreek's Lakeside Cerveza. The blonde ale is a no-frills style that's easy drinking and has a large sweet spot. Not sure what to get the person who just wants a beer? Try hittin' 'em with a blonde ale. Low ABV is typical on this style, so it can be enjoyed in multiples. IBU is typically in check too — a moderate amount of hops is OK for this style, but don't expect a big bitterness situation. The malt bill is usually made up of a pilsner or two row pale malt base, with a little Vienna or similar type malt added in to boost flavor and/or body. The blonde ale style is typically a clear style, but lately I see more and more craft breweries color outside the lines here with haze-inducing additions. Body should be light to medium, and carbonation should be bright and snappy.
Appearance.
Hawaiian Roadrunner pours a medium gold into the glass. I see a nice layer of foam here for photos. After that, it fades a bit and keeps a thin layer of scant foam on top of the pour. Clarity is so-so, and it appears to clear up after a little time spent in the glass. Don't get me wrong: This isn't a super-cloudy beer. Rather, it's just a touch of haze we're talking about. I suspect this is due to the guava or pineapple addition. All in all, this beer looks very inviting, and I'm ready to dive in.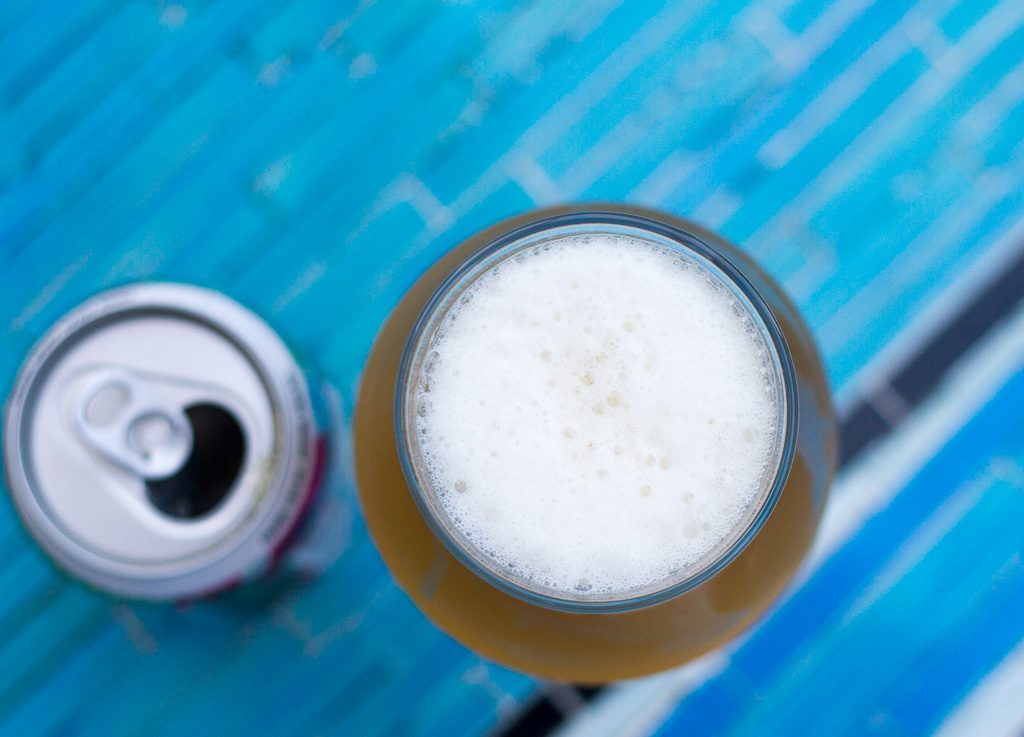 Aroma.
This beer smells fruity and clean. And while my initial reaction to reading that there are two fruit additions in this beer gives me pause, the nose tells a different story. Hawaiian Roadrunner keeps it subtle on the nose from its fruit addition standpoint. I definitely get a fruit addition here, but it's not the typical bonk on the head from the pineapple. And the hop aroma is here as well, and it's also in check. The hop aroma provides a nice balance to the otherwise tropical notes.
Flavor.
This beer drinks fast and clean for a fruited beer. The hop bitterness seems to jump out at me first, and then the tropical fruit notes, though subtle, hit me on the swallow. And while the hops hang back on the nose, the bitterness really punches through on the tongue. The aftertaste has a lingering balance of bitterness, malt and subtle fruit that hangs for a second, and then the lingering hop bitterness keeps hanging on. It's this lingering bitterness that makes me momentarily want to classify this beer more as a pale ale than a blonde ale. But then I take another sip and the malt and fruit say hello again.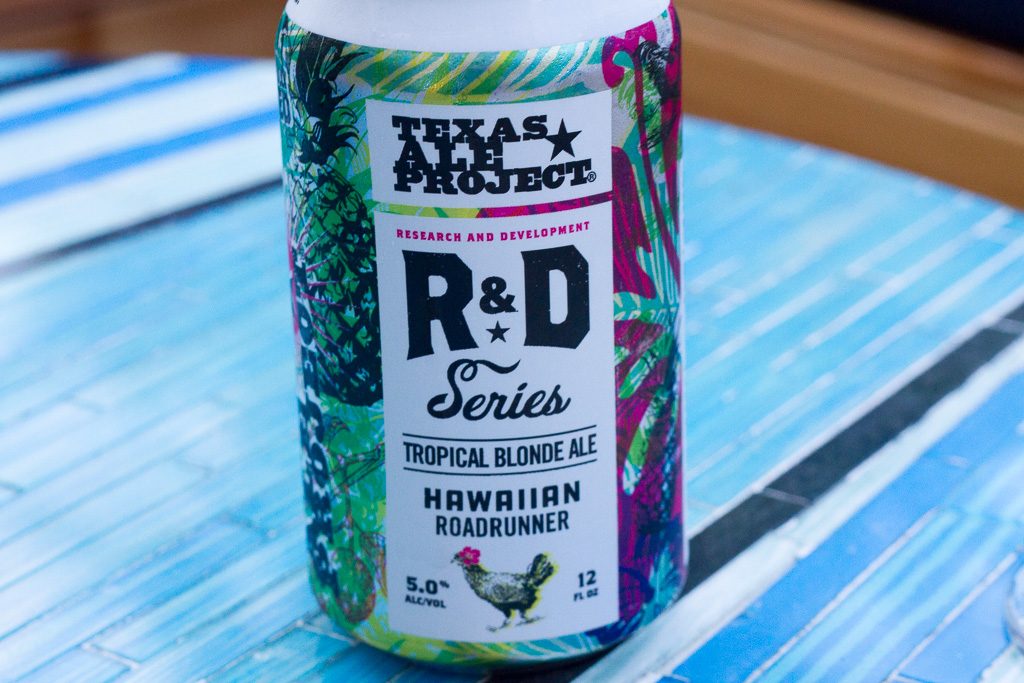 Mouthfeel.
Hawaiian Roadrunner is a low-ABV beer that drinks as advertised. It has a medium level of carbonation, and the carbonation lingers after the swallow, providing a bit of extra punch for the hop bitterness. After the swallow, I get a tiny amount of sugary sweetness on the lips.
Overall Impression.
I'm a fan of this beer, and I'm currently cracking my second beer. After a while, the hop bitterness tries to take over my palate, but it somehow remains in check. The combination of guava and pineapple provide nuance and a delicateness to this beer that I can get behind. In my experience, pineapple is definitely one of those less is more type additions, and Texas Ale Project has it dialed in just right. I like that this beer is low ABV, and it keeps me coming back for more. Will this beer make TAP's flagship lineup? Dunno. I guess that depends less on how I like it, and more on how its customers react with their feedback and dollars. Got some feedback for Texas Ale Project regarding this beer? Hit 'em up on the contact form on their website or via Facebook.
Score.
On a scale of 1 to 10, I'd give Texas Ale Project Hawaiian Roadrunner a 6.75.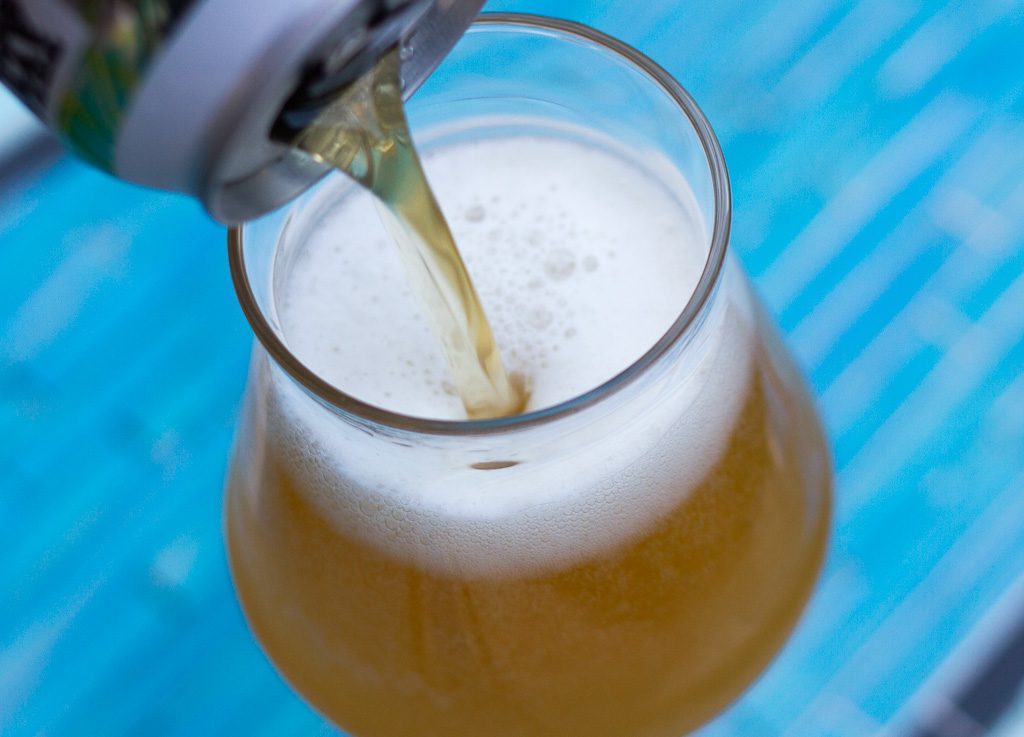 Previous On Tap Reviews:
All photos by Ben Smithson.