Rahr & Sons Brewing Company's Paleta De Mango Tweaks The Sessionable Kolsch Style By Capturing The Fruity, Spicy Essence Of A Paleta De Mango Con Chile Y Limón.
Welcome to On Tap! Each week in this recurring feature, we'll take an in-depth look at one of the many beers now available in the suddenly crowded North Texas brew scene. The goal here is to look at these area beers without our local goggles on and to wonder aloud, "Is this beer good or do I just like it because it's local?" Should be a fun experiment, no? Cheers to that!
This week, we sipped on Rahr & Sons Brewing Company's Paleta de Mango.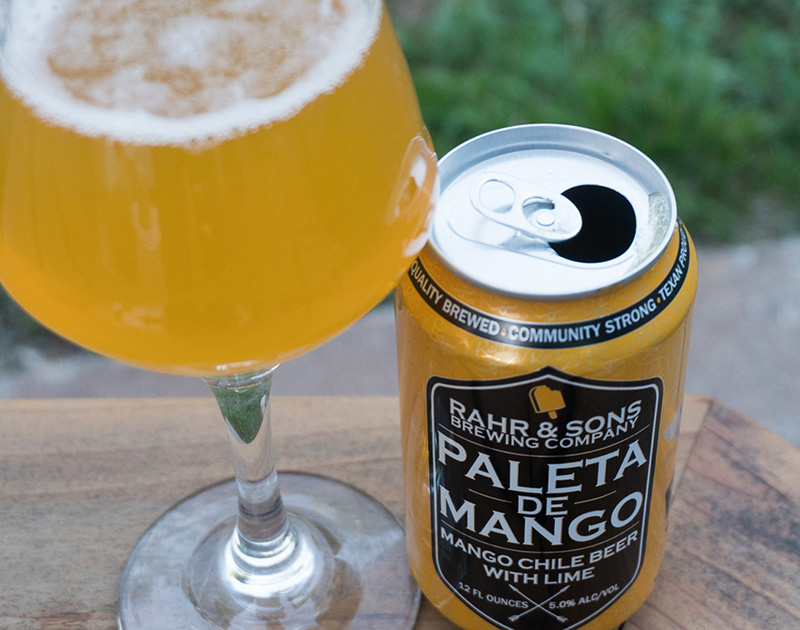 Fast Facts on Rahr & Sons Brewing Company Paleta de Mango.
Style: Kolsch (with fruit and pepper).
ABV: 5.5 percent.
International Bitterness Units (IBUs): Not available.
Color: Pale gold.
Availability: Cans and kegs.
Overview.
Rahr's Paleta de Mango is an adaptation of a German, easy-drinking style that's also a nod to a classic Mexican treat. If you are lucky enough to live in a neighborhood that has a paleteria/fruteria or — even better — a local paletero(a) with whom you can strike up conversations, then you already know about that delicious paleta de mango life. Using mango and chile together is nothing new. What is new, though, is seeing a North Texas brewery embrace this fun flavor combination and produce a beer in the same manner. Paleta de Mango takes a style that goes great with fruit and adds flavors of lime, mango and chile pequin to the equation for an interesting and delicious result.
Background on Kolsch.
For a primer on the Kolsch style, check out our review on Lakewood Brewing's All Call. The Kolsch style hails from Germany, and it's known to be a crisp, low-alcohol and chuggable beer. If you'd like to see one of our reviews on a Kolsch with a fruit addition, check out our review on OHB's Guava Good. ABV on the Kolsch style is typically in the 4-6 percent range. Some Kolsch strains may give off a teeny bit of  a sulphur note like some light lager types, but it should be bright and clean otherwise. The Kolsch style is typically brilliantly clear and should have a firm, rocky layer of foam that sits up after the pour. Overall, this lager-like ale should be a pleasure to drink.
Appearance.
Paleta de Mango pours gold into the glass. Clarity isn't quite what I was expecting here. Maybe Rahr uses wheat in the grain bill that takes away from the clarity game. Or maybe it's the fruit addition that
clouds up the situation. Either way, the cloudiness isn't a bad thing, it's just a bit off for what the style guidelines recommend. Foam is acceptable, and a thin, bright white layer hangs around through the pour.
Aroma.
Right away, this beer gives off aromas that elevate it from the humble Kolsch style. I get a pop from the pequin pepper right off the bat – it's not overwhelming but rather warming and vegetal. Lime is here, too, and it provides a bit of tartness. And then there's the mango. It teams up with the grainy, smooth malt notes and provides a good backstop for the pepper and lime. For me, the mango is more prominent in the aroma than in the flavor.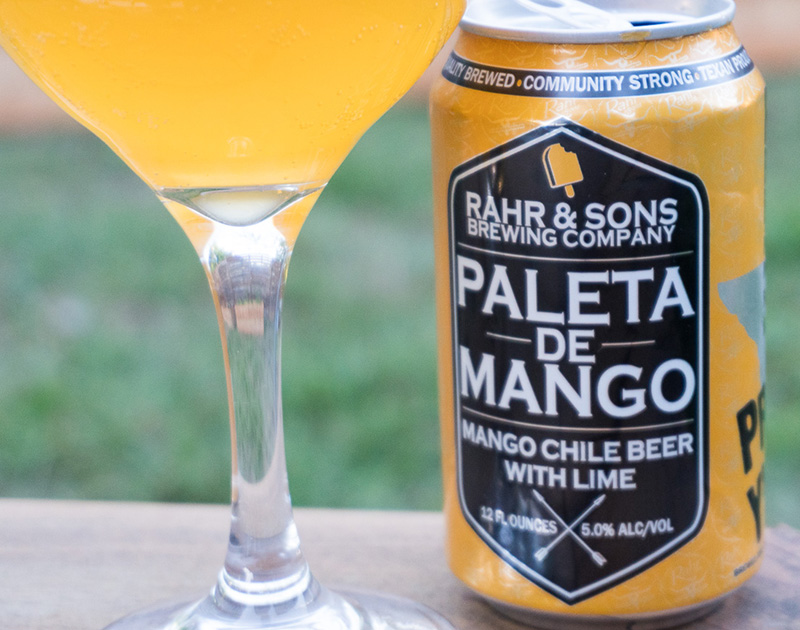 Flavor.
Paleta de Mango is a sleeper pepper beer. Let me explain. On the first few sips, the pepper hangs back and this turns into a more mango-lime situation. But as I continue on through this beer, the pepper begins to arrive. It's not heartburn-intense spiciness here, though. Rather, the pequin offers a delicate vegetal bite and a somewhat muted tickle on my tongue and throat. And though it's here and impossible to ignore, the pequin chile gets close but never crosses the point of no return, where the heat just takes over and dominates the rest of the drinking session. The lime flavor is subtle; it gives just a tiny bit of bitterness on my tongue. And the mango remains in the background. It's just enough mango flavor to be noticeable. I'd say that of fruit-added beers, this Paleta de Mango does a fine job of making this more beer than fruit. And that's a great thing.
Mouthfeel.
This beer is easy on the palate and that makes it easy to enjoy in multiples. The grainy sweetness from the malt bill is subtle and it dissipates after the swallow. The pequin keeps my mouth warm as I sip, and carbonation is at a medium-high level that helps accentuate the subtle heat.
Overall Impression.
There are a few beers lately that I buy a lot of; Paleta de Mango is one of those beers. As of this review, I think I have purchased a six-pack of this beer on at least 5 occasions, and — hey, for what it's worth, I'm the type who likes to keep things cycling around.  But there's just something about this beer that keeps me coming back for more. It checks a lot of boxes for me: sessionable, hint of heat, lightly-fruited, nod to a classic style, light on the palate and novel. And I keep coming back for más.
Score. On a scale of 1 to 10, I'd give Rahr & Sons Brewing Company Paleta de Mango a 8.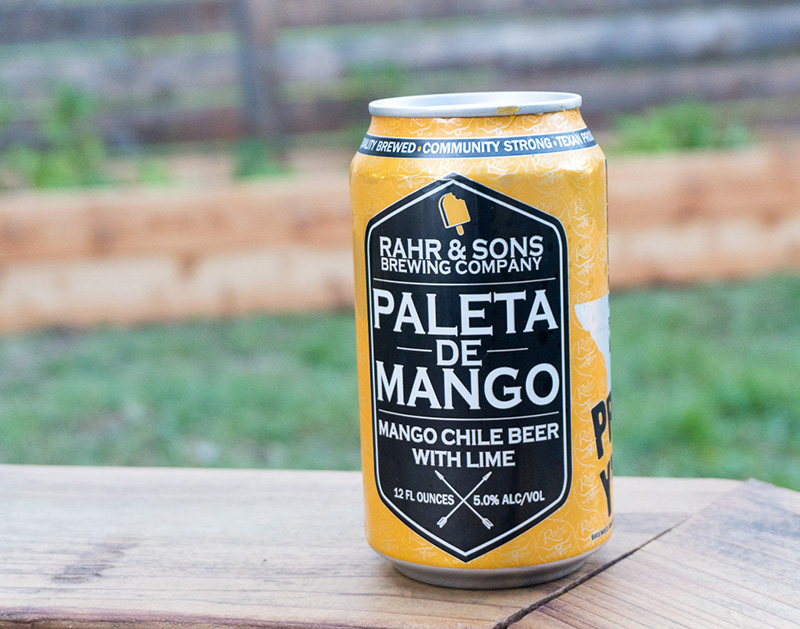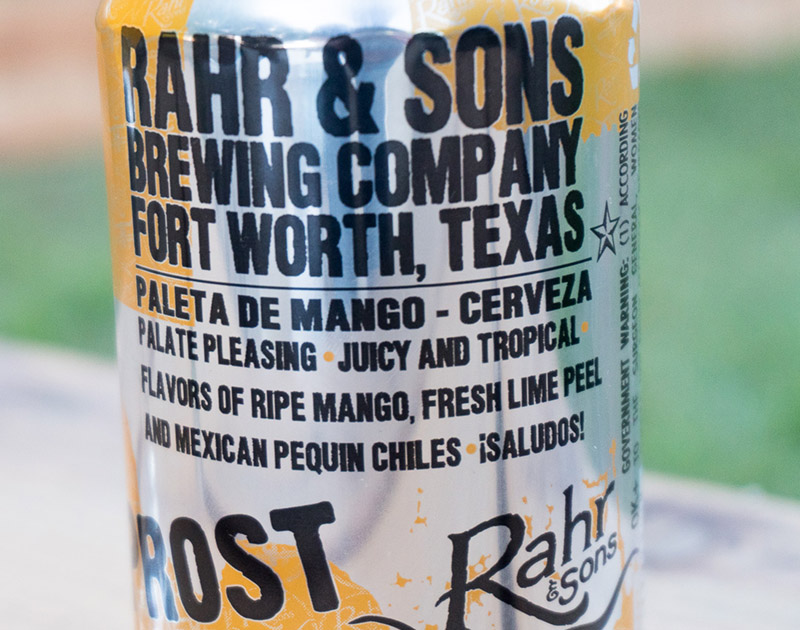 Previous On Tap Reviews:
All photos by Ben Smithson.