Unlawful Assembly Brewing Company's Public Dissent Is Just Another Cool Thing That's Got Us Making The Trek Up To Plano Lately.
Welcome to On Tap! Each week in this recurring feature, we'll take an in-depth look at one of the many beers now available in the suddenly crowded North Texas brew scene. The goal here is to look at these area beers without our local goggles on and to wonder aloud, "Is this beer good or do I just like it because it's local?" Should be a fun experiment, no? Cheers to that!
This week, we sipped on Unlawful Assembly Brewing Company's Public Dissent.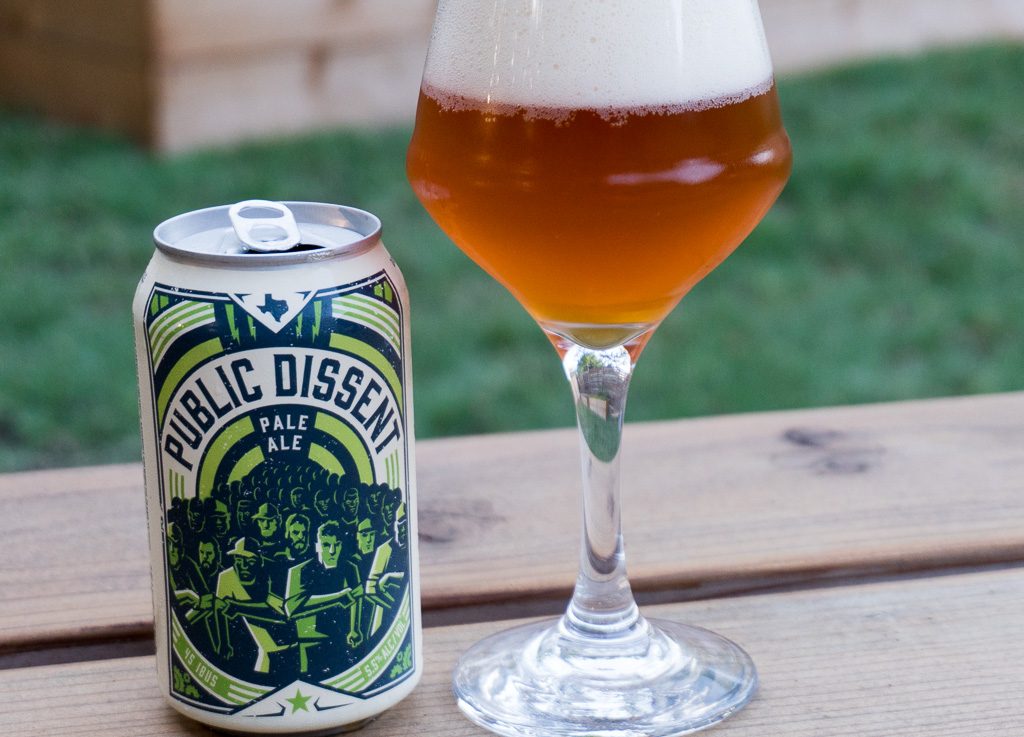 Fast Facts on Unlawful Assembly Brewing Company Public Dissent.
Style: American Pale Ale.
ABV: 5.5 percent.
International Bitterness Units (IBUs): 45.
Color: Deepest gold.
Availability: Cans and kegs.
Overview.
Plano residents, rejoice! There is more and more cool stuff going on in the suburbs of North Texas these days, and Unlawful Assembly falls into that "cool stuff" category. In fact, Unlawful Assembly is one occupant in the larger Legacy Hall property at Legacy West, nestled near the corner of Headquarters and the Dallas North Tollway. Legacy Hall's aim, as I see it, is to provide a one-stop hangout where you can be fed, entertained and imbibed all without having to walk too far or find a new parking spot. In fact, just last week, Sarah Jaffe performed at the grand opening of The Box Garden, a new music space in Legacy Hall, and Unlawful Assembly helped Jaffe kick it off with a custom beer brewed for the event. I have yet to visit Legacy Hall myself, although I do look forward to checking it out. For now, we'll spend a little time with one of Unlawful Assembly's flagship packaged beers, Public Dissent.
On a broader note, and since this is my first time spending some time with a beer from this brewery, I will say that its brand story and packaging are on point! It tells me that there are considerable marketing dollars behind this effort. And judging from the part of town this brewery is located — and the photos I've seen of the brewpub — there are also some serious real estate and finish-out dollars in play here, too. I'm curious to see how this higher-end, entertainment-space play works out for Unlawful Assembly. I think it can work, so long as the craft beer scene keeps its current trajectory, and assuming we're not riding a bubble.
But, hey, who knows?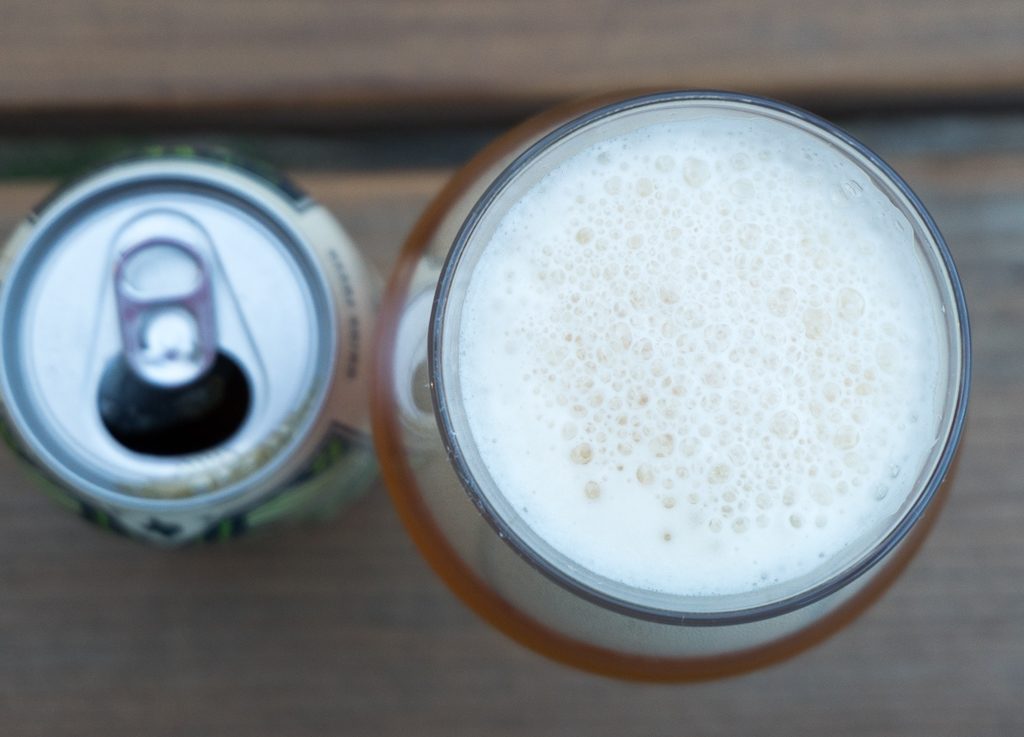 Background on Pale Ale.
Some may argue that it was the Steam Beer style that began the craft beer revolution, but the American Pale Ale is also known as a style that really kicked things off. There was a little brewery in California named Sierra Nevada that made a pale ale that was especially instrumental in creating the hop-forward beer movement in America. In a way, Public Dissent provides a nod to this classic style. The pale ale style is a clean-fermented ale that's known for its hop bitterness and aroma, as well as a clean malt backbone that can stand up to the hop aroma and bitterness. Old school pale ales will contain a small portion of crystal malts, usually in the mid-range variety, which help provide some deepening of color and a bit of extra body on the beer.
Appearance.
Public Dissent pours a deep orange-ish gold color into the glass. Foam is excellent; after a hard pour, I let the beer sit here while I type and respectable cobweb of foam clings to the top parts of the glass as the beer settles. And a layer of firm white foam remains across the surface of the beer too. Clarity is so-so here, a translucent situation.
Aroma.
As I move further into this beer, it reminds me of what I think of when I think of the classic pale ale style. And I'd even more specific and say that this beer reminds me of that California pale ale that I love so much. There's a nice bouquet of hop aroma here – it's layered with pine and grapefruit peel. There's a small amount of sweet roundness behind the hop showcase, likely from the same malt type that gives this beer its deep color.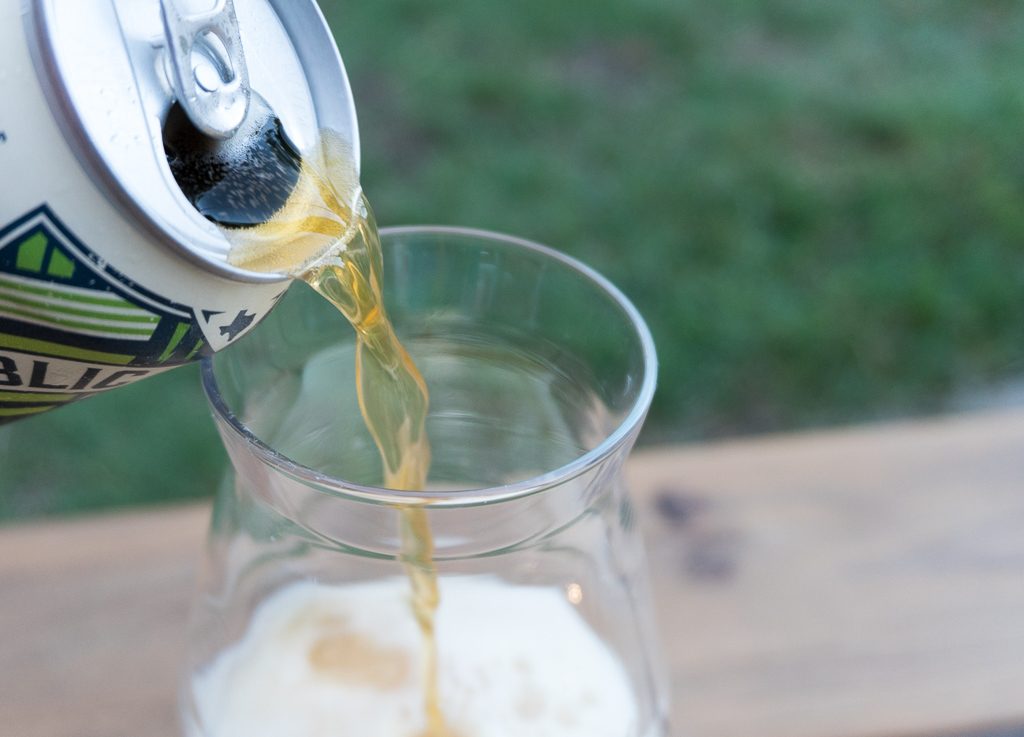 Flavor.
As the hop aroma invites me in from the sniff, the hops are here and are also very much present on the tongue. On first sip, I get a firm wallop of bitterness that hits me up on the front of my tongue. For me, this beer tastes like those classic "C" hops like Cascade and Centennial. I checked its site – Unlawful Assembly says it uses citra in this beer, but it doesn't register for me. There's a subtle caramel hanging around behind the bitterness, and it really shines through after the swallow as the hop bitterness fades.
Mouthfeel.
This is a medium bodied beer, and if the hop bitterness weren't as prominent, I'd probably be plowing through this beer a lot faster. I mean this in a good way. As a hophead, I can appreciate the lingering carbonation and bitterness. There's a tiny amount of residual sugar here, spot on for the American pale ale style.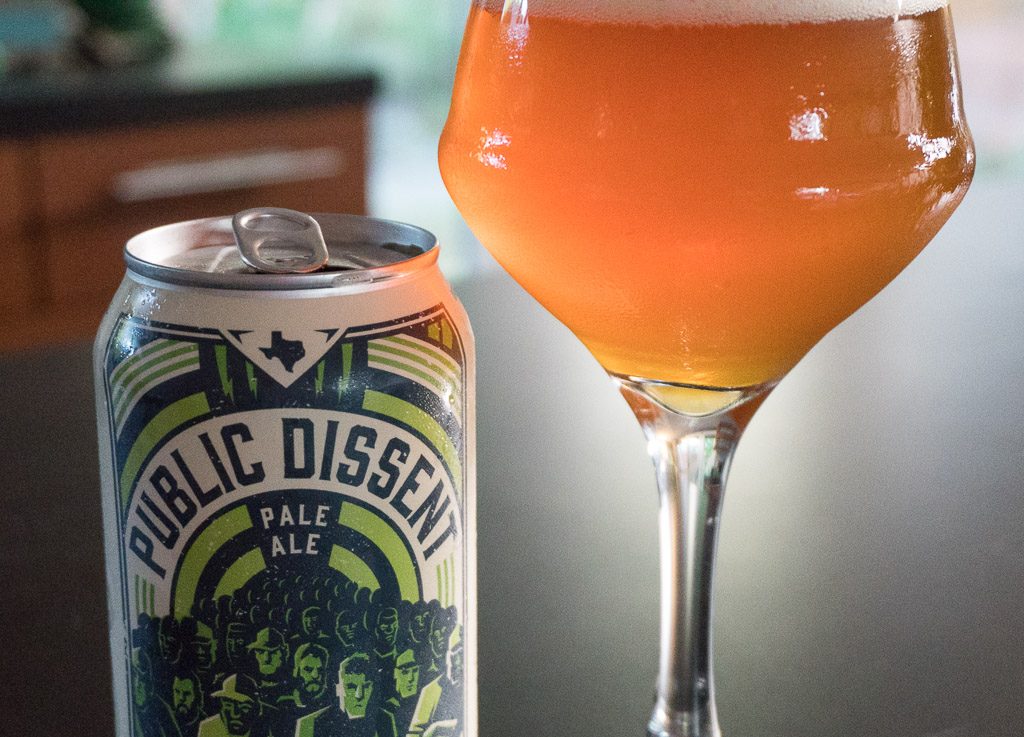 Overall Impression.
It's cool to see a brewery open in Plano. Sorry, Union Bear, we'll get to you. I was a little concerned that this beer would have taken on that Plano tap water twang that's imminently noticeable during the summer months. But it's not here! I'm guessing that Unlawful Assembly at least filters its water — so that's a good thing. This is a balanced beer, and drinking one makes me want another. So for me, we're in a multiple beer scenario with Public Dissent. It's hop-forward, but not a palate-ripper, and its session-ish strength invites me to grab another.
Score.
On a scale of 1 to 10, I'd give Unlawful Assembly Public Dissent a 7.
Previous On Tap Reviews:
All photos by Ben Smithson.