Cedar Creek's Daze Just Got, Like, Way More Dank With Three New Dankosaurus Variations.
Welcome to On Tap! Each week in this recurring feature, we'll take an in-depth look at one of the many beers now available in the suddenly crowded North Texas brew scene. The goal here is to look at these area beers without our local goggles on and to wonder aloud, "Is this beer good or do I just like it because it's local?" Should be a fun experiment, no? Cheers to that!
This week, we sipped on Cedar Creek Brewery's Dank Daze.
Fast Facts on Cedar Creek Brewery Dank Daze.
Style: IPA (with fruit).
ABV: 6.8 percent.
International Bitterness Units (IBUs): 68.
Color: Deep gold.
Availability: Limited release.
Overview.
A few weeks back, I talked with a rep from Cedar Creek who mentioned that a four-way Dankosaurus release was imminent. And what better timing to release this dank four-way than on 4/20? If you believe that Cedar Creek's IPA pays homage more to stoners than dinosaurs, then cool. If you believe that Cedar Creek's Dankosaurus is more about dinosaurs, you're certainly entitled to your own take on it. So, what is Dank Daze, exactly? Simply put, it's a four-way 12-pack of Dankosaurus. In this 12-pack, there's three each of regular 'ol Dankosaurus and its Maui Wowie (pineapple), Poblano Paradise and Grapefruit Haze variations. Since we already wrote about the O.G. Dankosaurus, this post focuses more on the wacky fruit and pepper additions to the base beer in the three variations.
Background on IPA.
For a primer on the IPA style, spend some time with our review of Oak Highlands Brewing Derelict IPA or Community Mosaic IPA. As stated in the overview, this post focuses more on the fruit and pepper additions to the base IPA style. Overall, the idea of a fruit beer is that it complements the base style, never overpowering it to the point where it shows more fruit characteristics than base beer characteristics.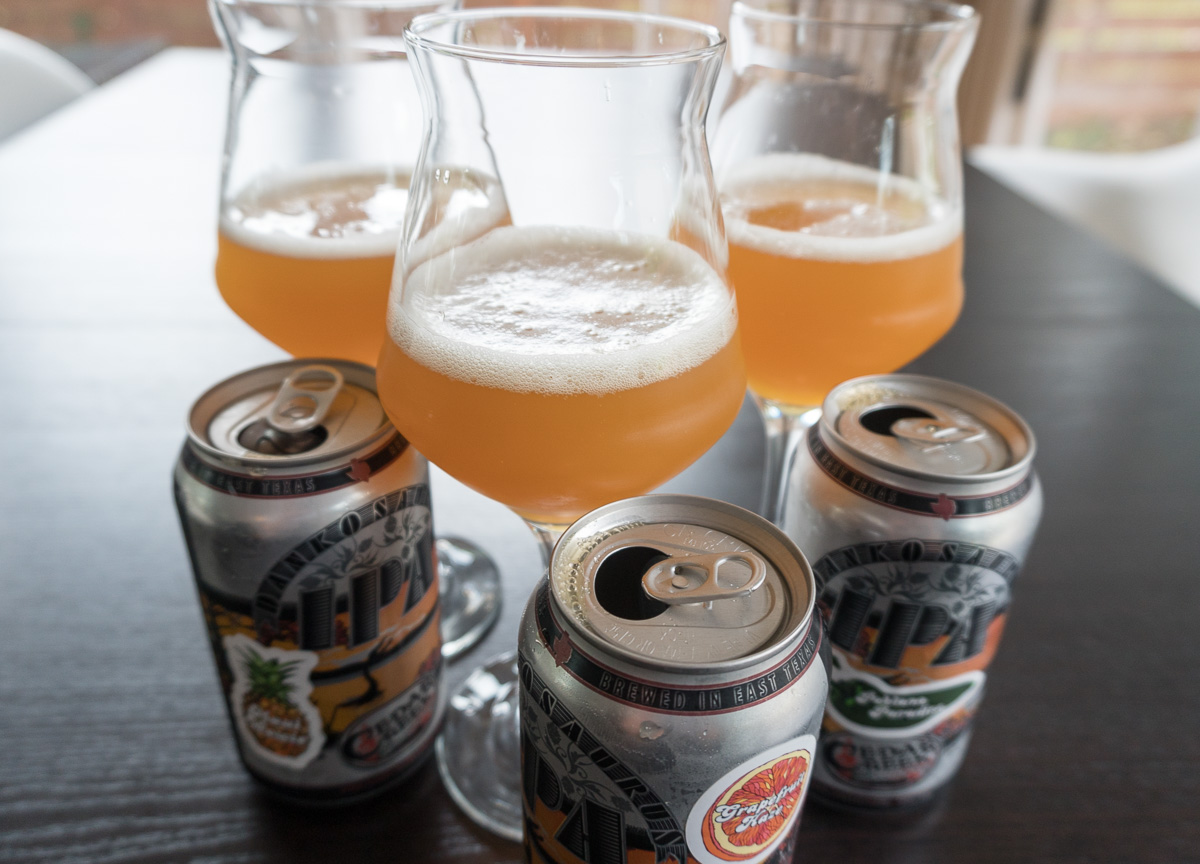 Appearance.
I'm not sure what I was expecting in the appearance department, so I lined each of the three variations up side-by-side. And as you can see, there isn't any noticeable departure in color between each of the beers. Like the original Dankosaurus, each of these variations maintains its cloudy character. A moderate white layer of foam is present for photos, then dissipates to form a thin layer over the top of the beer. As I work my way through each of these beers, a good amount of lacing clings to the glass. I must say, I'm not super-psyched about how cloudy Dankosaurus is on the whole. However, since I already know that this is just the way it is with this beer, and that IPAs can have some haze to them, I'm still very interested.
Aroma.
Overall, the Eureka! hops – the main star of the Dankosaurus show — provides the main thrust of citrus, pine, resinous, and peach character. These aroma compounds together form the base for the rest of the aroma experience.
Grapefruit Haze. This variation packs a major punch of peel and a bittery sweet fruit aroma. Compared to the other two, the grapefruit addition in play here seems to dial up the hop aroma, both in floral as well as bitter notes.
Maui Wowie. For Maui Wowie, I get more of a subtle, softer, sugary sweet sort of aroma. Along with that, there's a bit more of an acidic situation going on here, in a bit of a weird way. It's as if the aromas in the hops are battling the aroma notes of the pineapple and they don't complement each other as I had hoped. It's not a bad aroma, just not as inviting as I expected.
Poblano Paradise. The poblano variation shines through with an intense vegetal aroma. My brain is playing a trick on me via my nose, and it seems like this beer is going to be on the spicy side. Roasted pepper and smoke linger after a hard sniff, but the spice doesn't quite send me in to heartburn mode. Maybe the Poblano Paradise variation is the pepper beer for people who don't quite want to commit to a spice bomb.
Flavor.
Aside from being a dank, gnarly, delicious IPA, let's unpack a few traits of Grapefruit Haze, Maui Wowie and Poblano Paradise. Overall, I pick up a huge wallop of bitterness from the base Dankosaurus.
Grapefruit Haze. As suspected, the grapefruit addition seems to up the bitterness in a major way. The hop bitterness remains, along with sharp notes of grapefruit peel provide a lingering and somewhat sharp sense on the palate. The sharp notes subside a few moments after the swallow, inviting me for another sip.
Maui Wowie. The flavor I pick up in Maui Wowie is more dialed down compared to its grapefruit partner. As with the aroma, it seems that Cedar Creek went with a more subtle approach when adding pineapple to this beer. There's a touch more round sweetness here which gives the illusion of a slightly bigger beer.
Poblano Paradise. I'll admit it: I like pepper beers. Having said that, though, I think that Poblano Paradise nails it with the addition of pepper. I get hit with waves of smoky, roasted pepper. And I brace myself for the burn and trip to the medicine cabinet to look for an antacid, but the heat is non-existent. It's all of the pepper flavor and none of the spice. This flavor profile of dank, Eureka! hops with smooth, roasted, vegetal poblano pepper provides the missing bit of zymurgical umami that I never knew, but that I always wanted in a beer somehow.
Mouthfeel.
Carbonation feels the same on the three beers: punchy and bright. Grapefruit Haze seems a bit thinner compared to the other beers, but I suspect that's because I am distracted by the intense bitterness left on the aftertaste. Poblano Paradise follows a close second on the body factor, with Maui Wowie third. Maui Wowie seems to have a touch more body, as its sugar profile seems a bit rounder to me.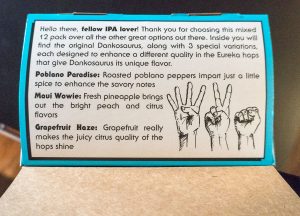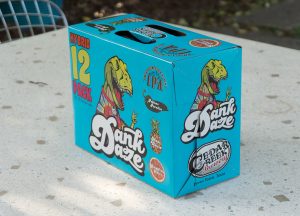 Overall Impression.
Dankosaurus – of the regular ilk – is a fairly hop-aggressive IPA. So it's going to be tough to over-power the hop intensity with flavor additions. Grapefruit Haze seems to get close to that line of too much peel and bitterness. Maui Wowie focuses more on subtlety, and I am happy with the pineapple dialed down. Any more pineapple and it might take on a weird stomach acid sort of aroma. Poblano Paradise is right in my wheelhouse. It's a change-up pitch sort of beer: the aroma throws me for a pepper-bomb, but then the flavor is vegetal, not peppery and it keeps me coming back for more.
Score.
On a scale of 1 to 10, I'd give Cedar Creek Brewery Grapefruit Haze a 7.75.
On a scale of 1 to 10, I'd give Cedar Creek Brewery Maui Wowie a 6.25.
On a scale of 1 to 10, I'd give Cedar Creek Brewery Poblano Paradise an 8.75.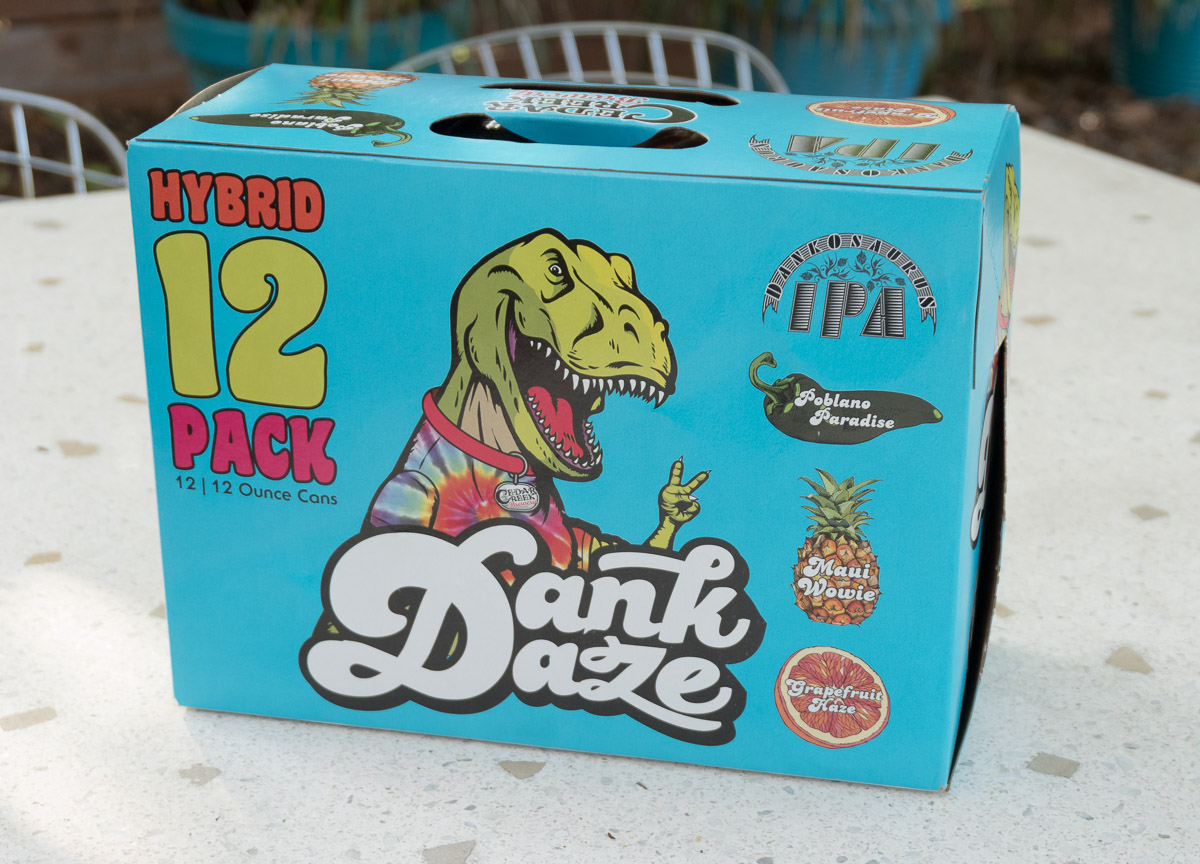 What's happening in the area brew scene?
• Saturday, April 29. Hypnotic Donuts and Beer Pairing at On Rotation.
• Saturday, April 29. TAP Fest at Texas Ale Project.
• Saturday, April 29. Pop-Up Beer Dinner w/ L.U.C.K. at Bitter Sisters Brewery.
• Monday, May 1. Chocolate and Beer Pairing at Grapevine Craft Brewery.
• Saturday, May 6. Dallas Brew Bus May Tour.
• Saturday, May 6. Two-Year Anniversary at Four Bullets Brewery.
• Saturday, May 6. Two-Year Anniversary at TUPPS Brewery.
• Sunday, May 21. Brew-haha at Four Corners Brewing.