On Rotation's Flocculation of Seagulls Is An American IPA That Is Massively Hoppy And Carries High Carbonation And ABV That'll Warm Your Cheeks Right Up.
Welcome to On Tap! Each week in this recurring feature, we'll take an in-depth look at one of the many beers now available in the suddenly crowded North Texas brew scene. The goal here is to look at these area beers without our local goggles on and to wonder aloud, "Is this beer good or do I just like it because it's local?" Should be a fun experiment, no? Cheers to that!
This week, we sipped on On Rotation's Flocculation of Seagulls.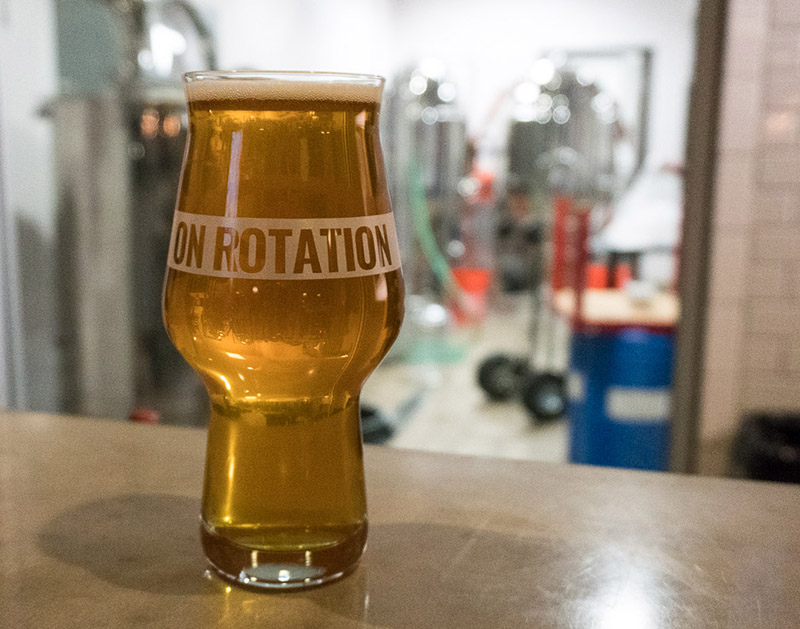 Fast Facts on On Rotation Flocculation of Seagulls.
Style: American IPA.
ABV: 7.8 percent.
International Bitterness Units (IBUs): 28.
Color: Deep gold.
Availability: Limited Release – draft and crowlers.
Overview.
Each time I visit On Rotation, I see new beers on the menu. And I wonder how they keep this heavy rotation going in a seemingly endless parade of palate pleasing pints. In its yearly Hey, we made a bunch of beers email it sends out to customers, On Rotation ran through some numbers. In 2015, its first year of operation, On Rotation released 25 beers. And then it upped its brew game to 36beers in 2016. Respectable! But then it further stretched its game up to a whopping 53 beers in 2017: 48 unique beers and 5 re-releases. On top of all of this, On Rotation stays afloat offering a robust menu of guest taps. So if you find yourself in East Dallas and you want to try some local brews, or even some far-away brews, then pop by On Rotation. As much as that feels like ass-kissery, I gotta throw this place a shout-out for it continued pace of variety in its offerings.
Background on American IPA.
For a primer on the American IPA style, check out our reviews on Braindead Brewing P-Wing or 903 Brewers Citra On Top. The American IPA style features American and/or New World hops, showcases a clean malt backbone –enough to support intense, imminent hop bitterness and aroma – and should be a rather aggressively-hopped and moderately strong type of pale ale. Ale yeasts used in American IPAs can vary, but the gist is that this should be clean-fermented beer; yeast should not be something that keeps your attention, like the citrus or subtle funk from a saison yeast.
Appearance.
Flocculation of Seagulls pours gold into the glass. There's a healthy amount of firm white foam that disappears after photos, but clings to the glass with sparse cobwebs down the glass. Based on OR's "slight haze" description of the beer, I was thinking that this beer would fall in line more with the characteristics of a New England IPA style, but that's not what's going on here. This beer is pretty damn clear; it doesn't look chewy by any means. In OR's defense, it doesn't classify this beer as a NEIPA, just so we're clear. So settle down, haze craze folks!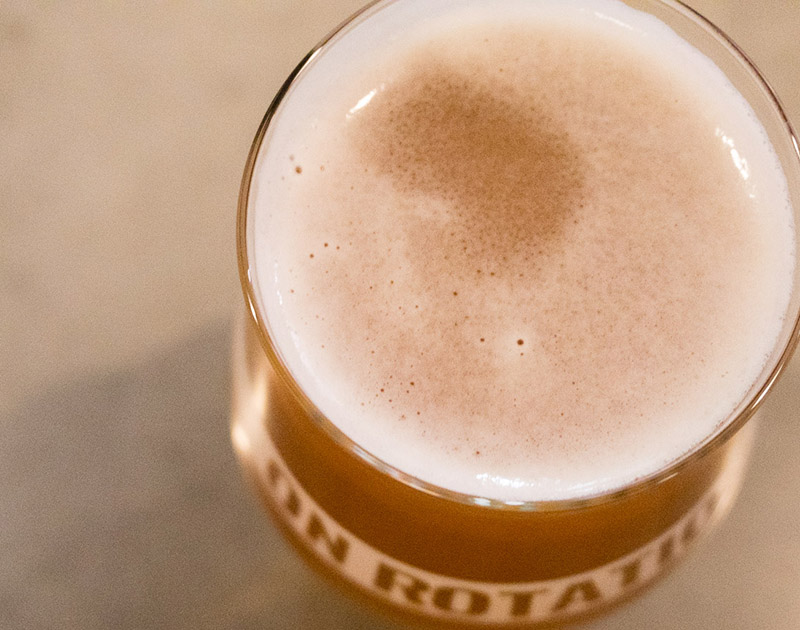 Aroma.
Flocculation of Seagulls smells fantastic. This hop showcase begins with a smooth melon aroma, along with some more subtle fruit notes. From there, tropical notes arrive and the aroma adds another layer onto itself. I also pick out a bit of Citra hops here on the nose. This beer smells super-clean, with no perceivable aromas that shouldn't beer here. Honestly, though, the hops are so packed in here that I'm already distracted — in a good way. If there's one sensation that dominates all the others, it's the aroma. If Flocculation of Seagulls were only a sniffing beer (not a thing), I could get on board with it. Luckily, it tastes good, too.
Flavor.
This beer is a hop monster, but it's not going to rip your face off. In fact, the bitterness the brewery communicates on its menu is 28 IBUs for this American IPA. And for style comparison's sake, a typical American IPA lives in the range from 40-70 according to BJCP guidelines. But, hey, guidelines be damned. So, yeah, there's a healthy amount of hop bitterness here, but what I'm getting in the hops department is likely all from whirlpool/flameout additions and dry hopping. Here's a quick run-down of the hops that On Rotation states it uses in this beer: Huell Melon, Belma, Citra, Mandarina Bavaria and Azacca. It's a veritable shitload of hops going on here. Hop flavor is melony, tropical and bright. My guess is that On Rotation uses some variation of Cali Ale yeast on this beer; the fermentation is clean, clear and gets out of the way for the rest of the flavors.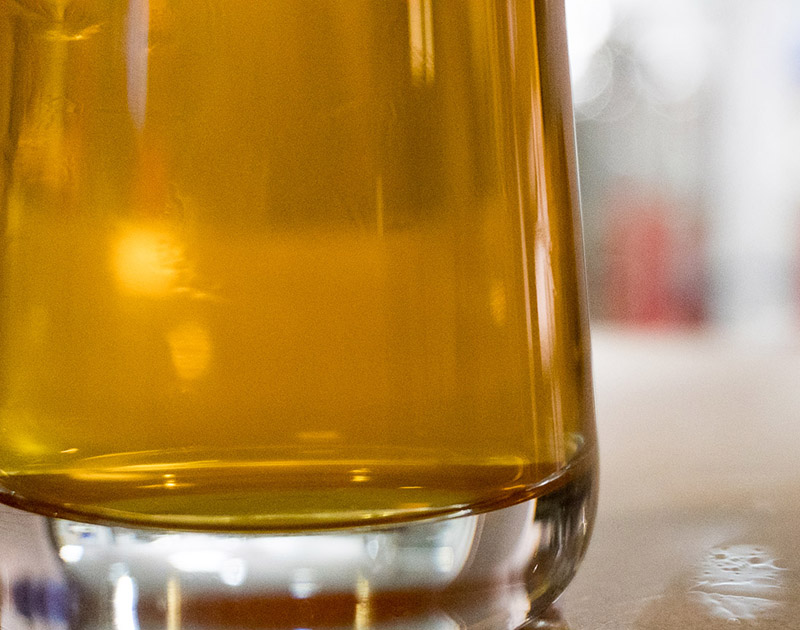 Mouthfeel.
This beer drinks bright and clean. Medium-high carbonation hangs around through the entire pour and it remains bright until the end. Alcohol is noticeable on this beer and it provides a nice balance to the malt backbone and hop onslaught. Body is medium — appropriate for the 7.8 percent ABV this beer carries.
Overall Impression.
This beer may be On Rotation's best beer to date. And just so we're clear, this is the second version of Flocculation of Seagulls (I didn't try the first one). But this version is a very good beer. This American IPA seems to follow an ongoing trend of beers that use massive late hop and dry hop additions to dial up the aroma and flavor, while at the same time keeping the IBU in check. I feel like this beer may have a higher bitterness rating than the official 28, but sadly, my tongue and brain do not provide lab-quality IBU results. Overall, this beer is a pleasure to drink. My face feels warm from the alcohol and my palate has gone through a bit of a workout after this one beer. But I like it and I want more hop goodness. This is the second version of this American IPA and it has likely improved to get here. I wonder if Flocculation of Seagulls will have the staying power and crowd draw that On Rotation's Jalapeño Saison has. Just as I'm here writing this review, On Rotation is out of its seemingly-always-available hot pepper and also weirdly delicious saison. Either way, On Rotation has a good thing going with its Flocculation of Seagulls. I was pleasantly surprised at the layers of aromas and flavors going on in this beer. And while this beer certainly isn't a run-of-the-mill money maker or entry-level beer, I think that this beer appeals to a wide swath of local hopheads.
Score. On a scale of 1 to 10, I'd give On Rotation Flocculation of Seagulls a 9.5.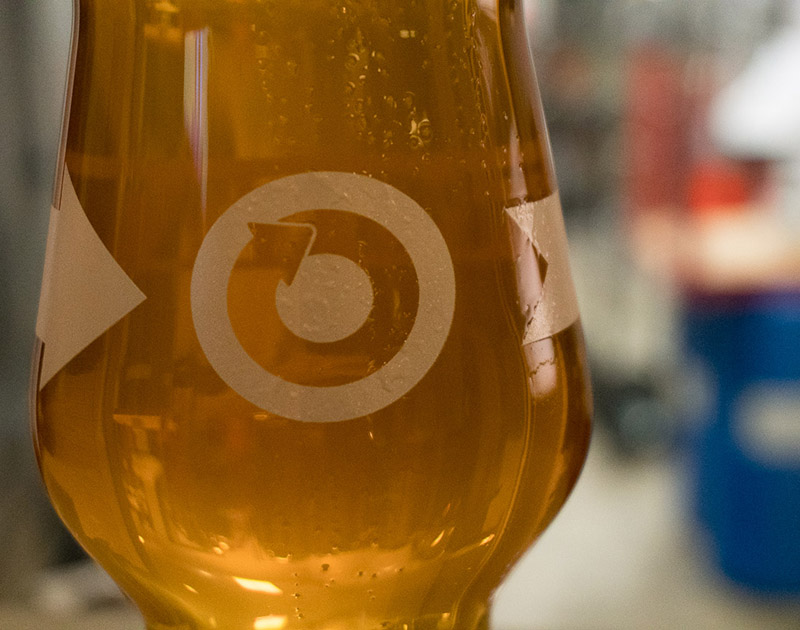 All photos by Ben Smithson.