Deep Ellum Brewing Company's Freak Flag Is A Barrel-Aged Flanders Red Ale With A Fruity Sour Taste And A Wine-ish Finish That Gets Full Marks From Us.
Welcome to On Tap! Each week in this recurring feature, we'll take an in-depth look at one of the many beers now available in the suddenly crowded North Texas brew scene. The goal here is to look at these area beers without our local goggles on and to wonder aloud, "Is this beer good or do I just like it because it's local?" Should be a fun experiment, no? Cheers to that!
This week, we sipped on Deep Ellum Brewing Company's Freak Flag.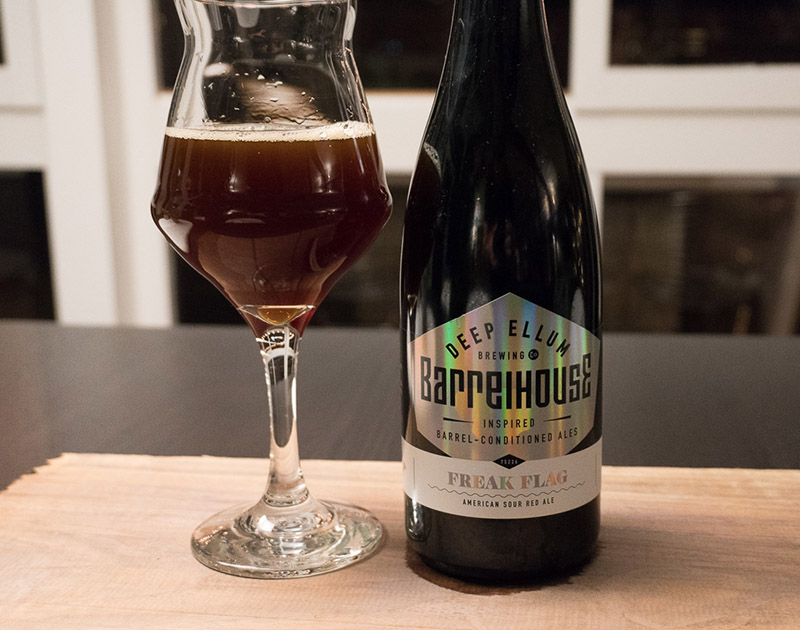 Fast Facts on DEBC Freak Flag.
Style: Flanders Red Ale (American version).
ABV: 7.8 percent.
International Bitterness Units (IBUs): 14.
Color: Reddish brown.
Availability: Limited.
Overview.
Sometimes DEBC goes and does something that makes me do a double-take. Just this year, Deep Ellum's owner opened a small distillery. Say what? And, on a more beer-related note, DEBC has also released the first of many-to-come beers out of its newly branded barrelhouse series. The Freak Flag release isn't DEBC's first foray into barrel-aged beers. But calling Freak Flag a barrel-aged beer isn't quite accurate. Not only is Freak Flag aged in barrels, it's also 100 fermented fermented on wood. According to DEBC Barrel Hoarder Barrett Tillman, Freak Flag is aged 18 months in red wine barrels. And this first batch, batch #000, marks the beginning of DEBC's solera program.
What's a solera program, you ask? Well, let me take a stab at it, and I'm sure I'll leave out some critical information here, so settle down, haters. An initial batch is brewed, fermented and aged. From there, a portion (usually one-third to one-half) is pulled off and bottled and this bottled portion is replaced with a fresh batch of the same style wort, thus re-feeding the base beer and creating a slightly new beer at the same time. The theory goes that this creates an unlimited run of a sour beer and the complexity and flavor profile morphs over time as the beer changes. In the case of Freak Flag, what we're getting on this first batch is that new beer, er, the 18-month aged beer. In subsequent batches, we'll have a little bit of this first batch blended in with all of the rest of the batches. If you want to learn more about this method, check out the solera method on Milk the Funk Wiki.
Background on Flanders Red Ale.
The Flanders Red Ale hails from the Flemish region of Belgium. In case you don't have a map sitting next to you, find Belgium and then put a pin in the Northwest region of the country. This sour style of beer is made of a hodge-podge of different bugs: Saccharomyces, Lactobacillus, Brettanomyces and acetobacter all contribute to the fermentation and help develop the myriad flavors that contribute to the finished beer. For the most part, this style of beer takes on a reddish brown range of colors. Alcohol ranges from 4.5 percent through the mid 6 percent range. Hop character takes a solid back seat on this style – IBU ranges from 10 to 25. The Flanders style of beer is definitely an aged beer, sometimes up to two years, and is often incorporated as some sort of blend from previous batches (here's where the solera method comes in to play). Want a more widely-known version of a Flanders Red Ale? Try a Rodenbach Grand Cru or Brouwerij Verhaeghe's Duchesse de Bourgogne – both are easy-to-find representations of the style. One thing you will notice is that this is a more expensive beer to buy – no deals here! Because of the lengthy conditioning process, this beer just costs more.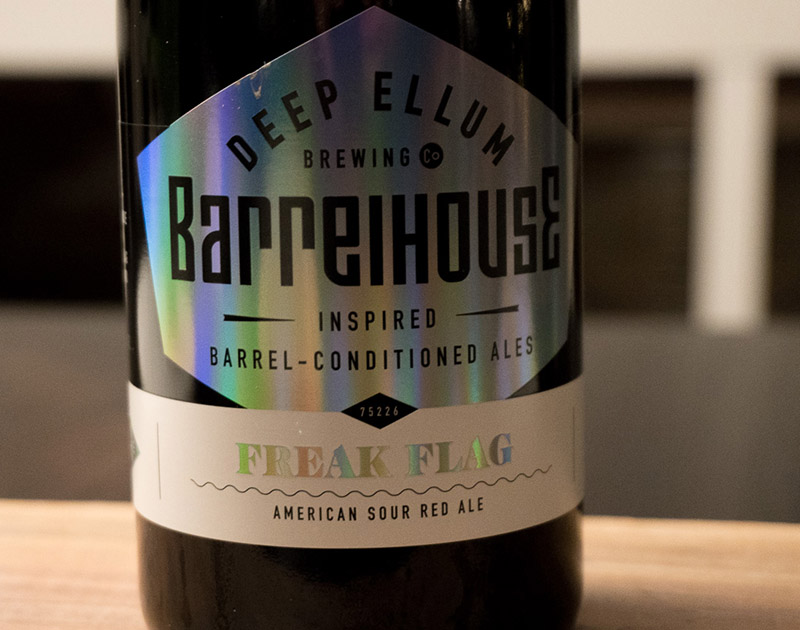 Appearance.
Freak Flag pours reddish brown in to the glass. Clarity is poor, but this beer is definitely not come to be known for its clarity. A moderate amount of head sticks around until about half-way through the photos. This is also expected for this style of beer. Compared to other Flanders Red Ales I have had, this one looks like it fits the part. So far, so good!
Aroma.
I get waves of acidity on the nose, inviting me in to try this wildly peculiar beer. Behind that, I get sweet malt notes paired with a healthy amount of woody barrel and subtle traces of vanilla. This beer takes on a sort of wine profile here with so many different notes dancing on the nose.
Flavor.
My interest peaks with the flavor, as the aroma makes me linger for a few extra moments to enjoy before I dive into this freaky beer. At first, I am greeted with that old familiar sour beer twang. It's more fruity than barnyardy, if that makes sense, and I dig it. Behind this mildly acetic sense, I get dark fruit notes that helps balance out the pop from the acidity. There's a healthy amount of barrel-like, woody flavor going on, too. And beyond that, there's a kiss of red wine hanging out on the aftertaste. With all of these flavors mingling, it's tough to pick out which flavor stands out. For me, the lingering and slightly acidic, wine-ish aftertaste is the part that I dig the most.
Mouthfeel.
Carbonation on Freak Flag is medium and provides a nice bite that dials up the acidity and twang. I also get a healthy tannin sensation and it helps to dry out the finish.
Overall Impression.
I find it difficult not to gush over this beer. There's a ton of complexity here and it takes a while to unpack. And just as I'm wrapping my head around all of the smells and tastes, the bottle is gone. For its 7.8 percent ABV, Freak Flag easily hides its alcohol profile and keeps me savoring and lingering on each sip. My only regret is not picking up two bottles when I bought the one.
Score. On a scale of 1 to 10, I'd give Deep Ellum Brewing Company Freak Flag a 10.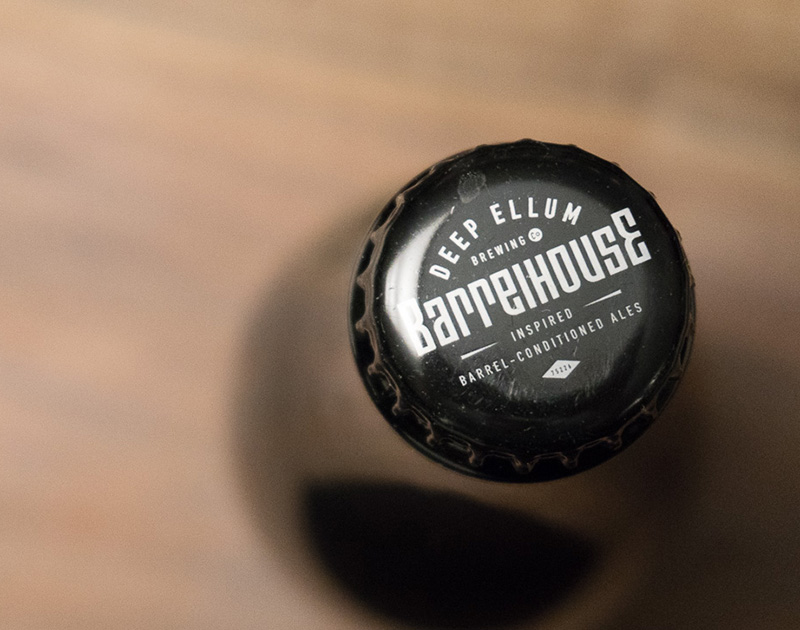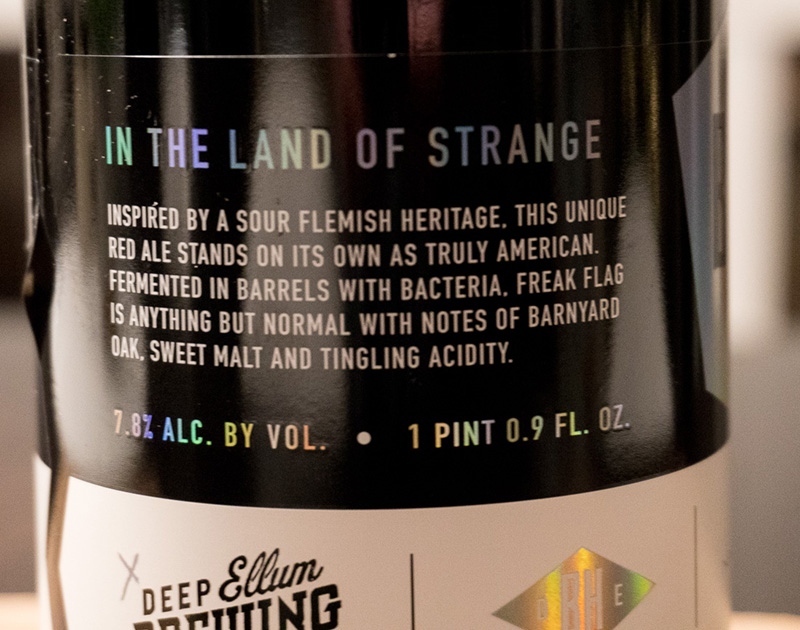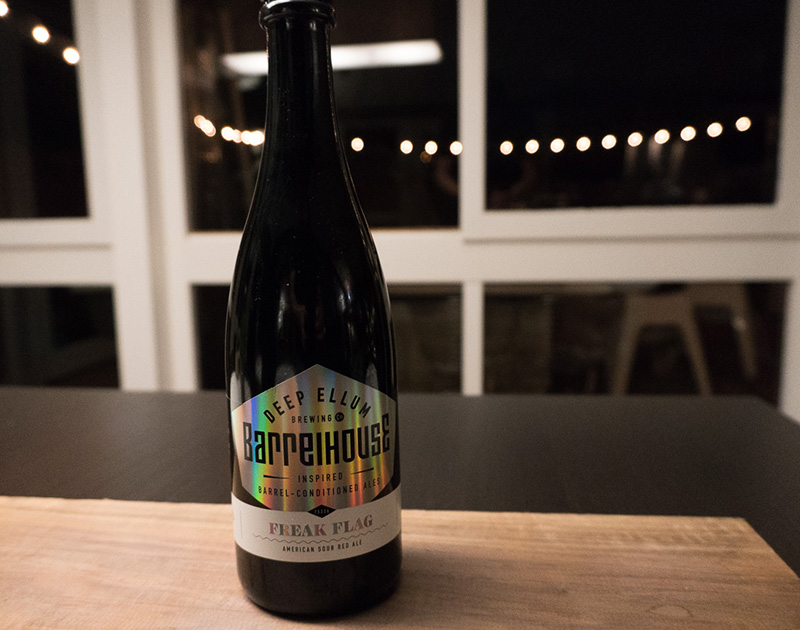 All photos by Ben Smithson.