Noble Rey Brewing's Barampus Is  Holiday-Inspired, Peanut Butter-Scented Take On The Brewery's Already Popular Baracus Brown Ale.
Welcome to On Tap! Each week in this recurring feature, we'll take an in-depth look at one of the many beers now available in the suddenly crowded North Texas brew scene. The goal here is to look at these area beers without our local goggles on and to wonder aloud, "Is this beer good or do I just like it because it's local?" Should be a fun experiment, no? Cheers to that!
This week, we sipped on Noble Rey Brewing's Barampus.
Fast Facts on Noble Rey Brewing Barampus.
Style: Brown Ale / Spiced, Herb, Vegetable (SHV) Beer.
ABV: 6.1 percent.
International Bitterness Units (IBUs): 30.
Color: Dark brown.
Availability: Seasonal: draft and cans.
Overview.
This week, we stay on the peanut butter train to yum-town. However, instead of covering a peanut butter sweet stout, this review focuses on a Brown Ale turned SHV beer, namely, Noble Rey Brewing's Barampus. The name of this beer is just a slight departure from its base brown ale, Baracus, named after the A-Team's raucous, jewelry-clad favorite Bosco B.A. Baracus, played by Mr. T. Got all that? Good. So instead of starting over on an entirely new beer, Noble Rey takes an already successful brown ale and adds peanut butter and spice to it, changes a letter in the name, tweaks the packaging design a bit, and here we are in holiday beer land.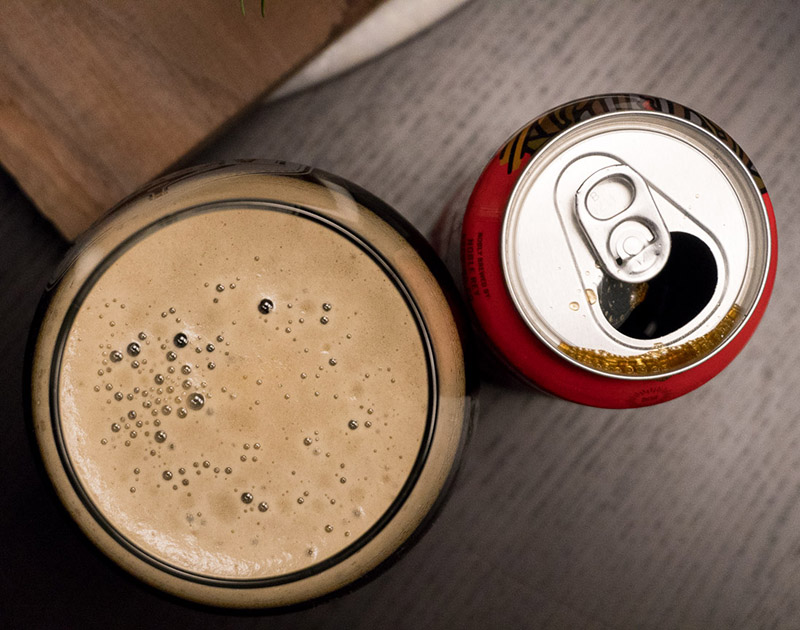 Background on SHV Beer.
For a primer on the SHV style, check out our reviews on Armadillo Ale Works' Brunch Money or On Rotation's Jalapeño Saison. While there are a few special circumstances where a SHV beer is made from an entirely new recipe, the SHV style is typically built on the foundation of an already successful beer. The spice, herb or vegetable additions to the beer should add to it, but the beer should still exhibit a sense of balance and it shouldn't take on any artificial aroma or flavor. Sometimes, the individual character of SHV additions may not be plainly evident.
Appearance.
Barampus pours almost black in to the glass. A firm layer of tan foam sets up nicely and stays put for photos. As I sip this beer, I see rings of foam clinging to the glass. The can design, like others from Noble Rey, does the stacking thing, where if you turn the cans just right, a full-bodied character lines up.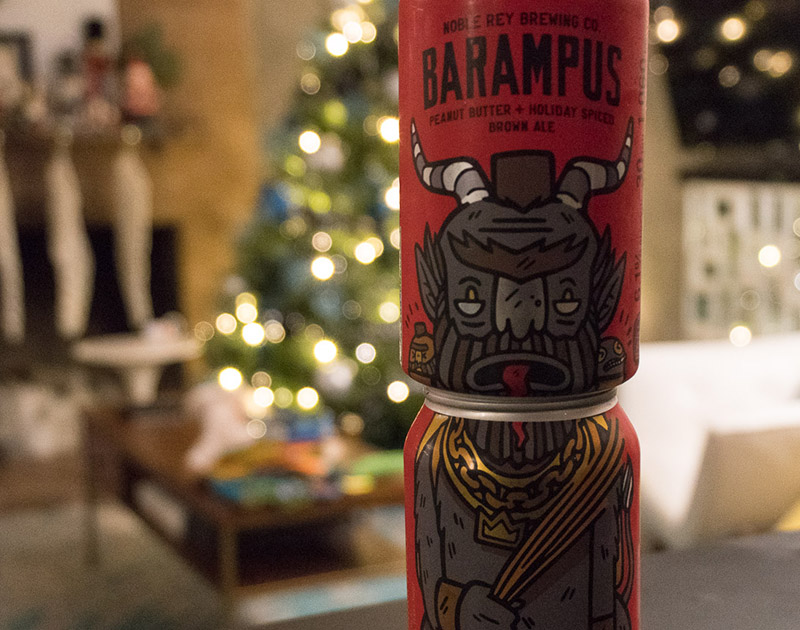 Aroma.
Peanut butter leads the charge from an aroma standpoint. I sense a nice malt backbone here, but it's initially overpowered by the peanut butter. I also get a little bit of holiday spice here, but it's subtle. I like that the holiday spice thing isn't hitting me over the head. Behind the peanut aroma, I get a roasty malt that tries to compete with the peanut butter.
Flavor.
The flavor does a little bit of a changeup pitch for me. Whereas Barampus smells more like a peanut butter beer, it tastes more like a holiday beer. I am pleasantly surprised by this pivot and I had to go in for several sips to take in the flavor profile here. Here in the flavor, I can get some hop bitterness that shows up and provides a bright pop on my tongue. I can see Barampus' base beer Baracus showing through, and I dig it. The hop profile on this beer almost gives it a bubble gum sort of thing – I'm not sure if this was intended in the beer, but it tastes good and weirdly works. I get bubble gum, but hey, it could be the combination of cinnamon, allspice, and nutmeg combining with the hops to play with my senses here. Maybe it will be different for you. Behind the initial flavor, I get a lingering amount of hop bitterness that sticks around through the next sip. And strangely enough, what I was sort of dreading –the peanut overload – remains strangely in check. I find myself going in for each ongoing sip, and I have yet to tire of this weirdly palate-friendly holiday hodge-podge SHV brown ale.
Mouthfeel.
Barampus is a medium-bodied beer. For all of the spice addition, subtle peanut flavor (but powerful aroma) and present bitterness, this beer finishes very smooth. The pop of carbonation remains through this first beer. Carbonation lingers on the tongue for a while after the swallow and I move in for another sip.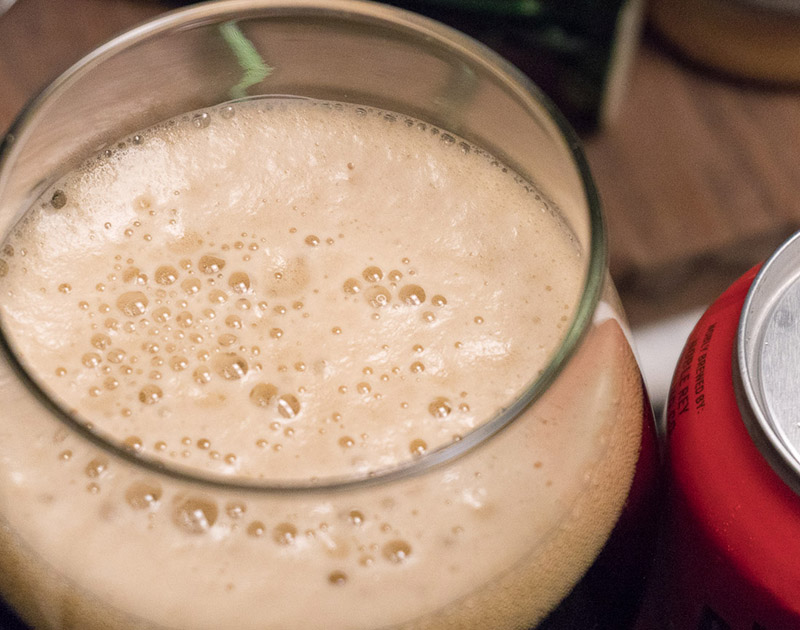 Overall Impression.
Barampus is weird, sure, but this beer is a success. Based on the aroma, I was a bit worried that this was going to be a peanut overload situation. But it's not (praise be). As the flavor profile arrives, it gives this beer a weird and welcomed sense of balance – a tough-to-find situation for a peanut butter-flavored beer. The malt character provides a sense of roasty bitterness and the hop character plays nicely with the other spice additions. And these elements work in harmony together to pull my attention away from the peanut butter aroma. I can't say that I lean too heavy on holiday beers come holiday season, but for me, Barampus is a welcome addition to this niche beer space.
Score. On a scale of 1 to 10, I'd give Noble Rey Brewing Barampus a 8.25.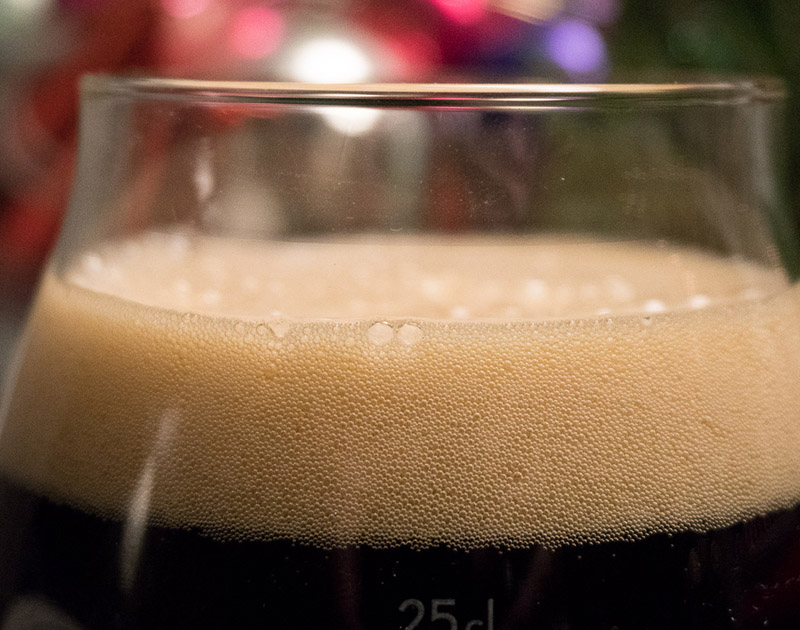 All photos by Ben Smithson.