Rahr & Sons Brewing Company's Winter Warmer Has Strong Roasted And Dried Fruit Flavors That Make This High-ABV Beer Just The Brew To Keep Warm With.
Welcome to On Tap! Each week in this recurring feature, we'll take an in-depth look at one of the many beers now available in the suddenly crowded North Texas brew scene. The goal here is to look at these area beers without our local goggles on and to wonder aloud, "Is this beer good or do I just like it because it's local?" Should be a fun experiment, no? Cheers to that!
This week, we sipped on Rahr & Sons Brewing Company's Winter Warmer.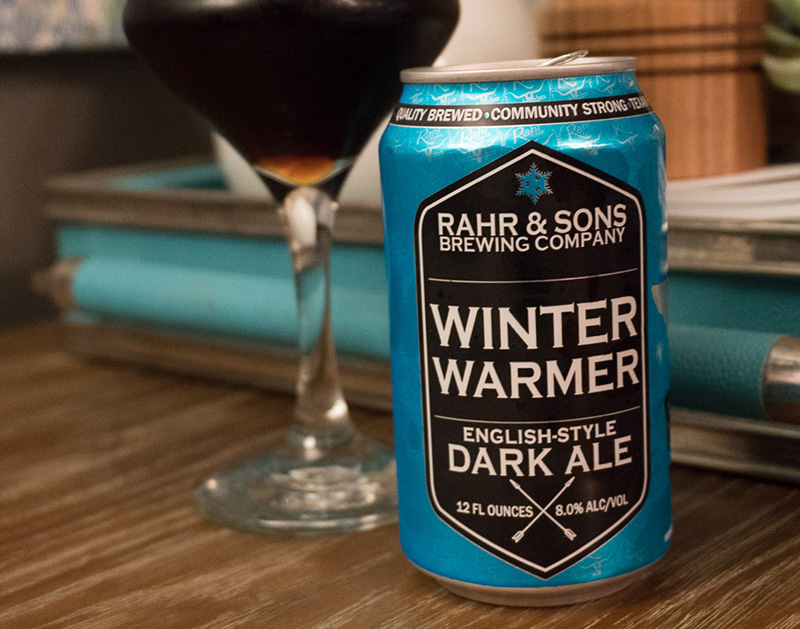 Fast Facts on Rahr & Sons Brewery Winter Warmer.
Style: Winter Seasonal Beer.
ABV: 8 percent.
International Bitterness Units (IBUs): 44.
Color: Deep brown.
Availability: Cans & kegs, seasonal.
Overview.
Some years back, I would devote time with each beer run to look for Rahr's annual release of its Bourbon Barrel-Aged Winter Warmer. But something happened: the price went way and I mean way up the next time I found it. Drag, dude. I suppose it was due to some sort of economic reason between its yearly release. Or maybe Rahr saw lots of other competitors out there charging more for other variations on winter-type barrel-aged beers. Either way, my penchant waned and my internal hysteria about the price gouge died down. Now I'll buy it if I see it and I'm in the mood, or I'll pick it up if it beckons me from a random booze store end cap. This year, it looks like Rahr has switched its BBA Winter Warmer from the larger glass bomber format over to a smaller, more manageable, solo-session 12-ounce can format. In fact, it looks like Rahr has completely switched its packaging to cans for most, if not all of its beers. For times when a barrel-aged beer might not be your thing – which should be practically never – Rahr has released its Winter Warmer in a more normal variety. Because I came from the BBA-first camp, I imagined that this beer might not meet my expectations. But hot damn, Rahr keeps the good thing going with its Winter Warmer, even without the barrel.
Background on Winter Seasonal Beer.
For a primer on the Winter Seasonal Beer (WSB) style, spend a little time with our review of Peticolas Wintervention. At the time of the Wintervention review, the beer was classified as a sub-style of the Spice, Herb, Vegetable (SHV) beer. Since then, the Beer Judge Certification Program has updated its style guidelines and now this variety of beer has a more official home. The WSB style is a darker, stronger version of a spiced beer that typically has a warming finish, a great candidate for the two whole months of winter we get here in DFW. A wide range of factors can play in the aroma space: gingerbread, evergreen, mulling spices, honey, molasses or dried fruit. Yet while the aroma can have some complexity going on, it should still balance the beer. Flavor echoes much of the same situation: there's lots of latitude available, but the beer should be balanced at its essence. Flavor and aroma additions should complement the base beer and not overwhelm it.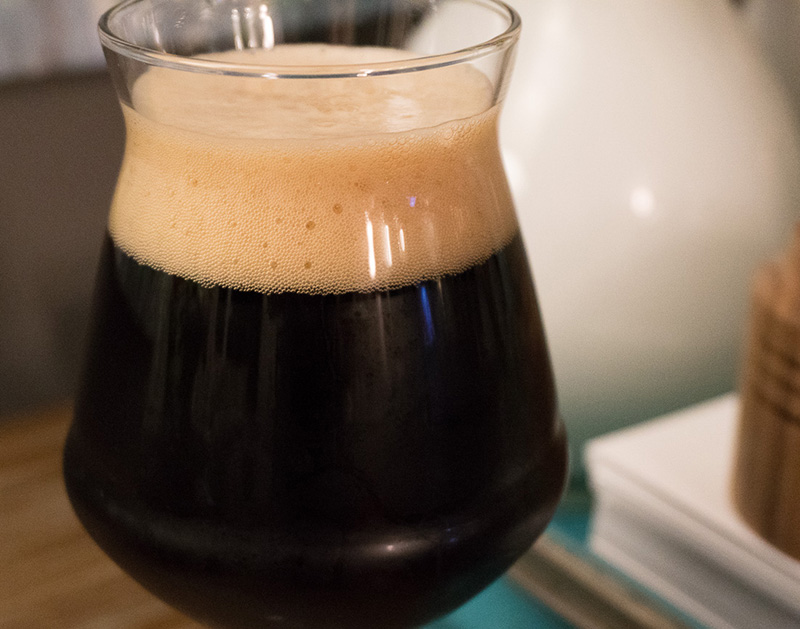 Appearance.
Winter Warmer pours very dark brown, with a massive amount of beautiful foam that stands up for a long while. The light tan foam makes pockets of larger bubbles that emerge and slowly fade, much in the same way that pancake batter begins to bubble and pop as it sets and cooks on a griddle. As I drink, small foam rings cling to the inside of the glass.
Aroma.
I get subtle coffee and chocolate on the nose first. Right behind, dried dark fruit lingers with a small amount of caramel. After I let my bias get out of the way, this non-barrel-aged beer smells pretty damn good.
Flavor.
The dried fruit and dark malt roast flavors stand out to me most. Both are subtle and don't overpower the beer. I do get a noticeable amount of booziness on the swallow. But as this beer has an advertised elevated ABV, I can't knock it. Also, this beer is a winter seasonal style beer, so a bit of warm booziness is acceptable here because of the warming sensation it provides.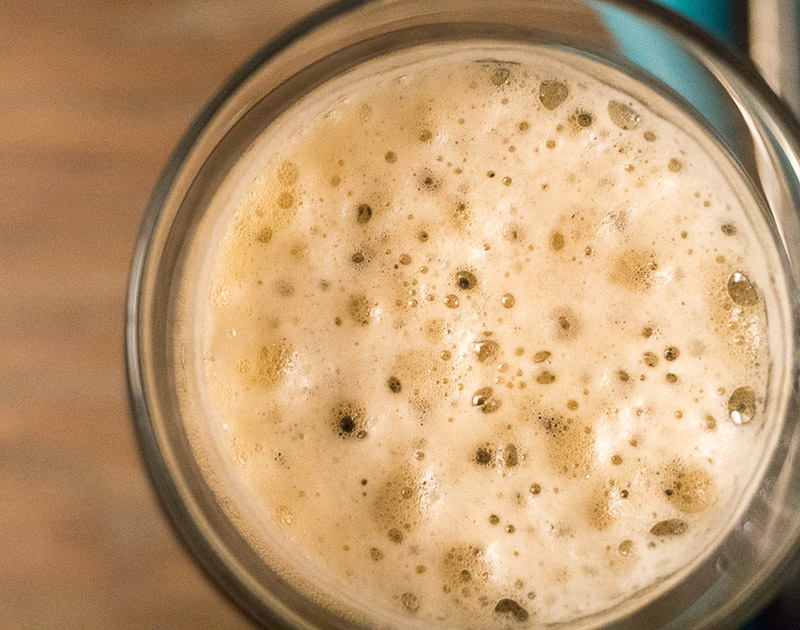 Mouthfeel.
As stated with the flavor, there's a bit of booziness to work through with this beer. The medium level of carbonation gives my tongue a tingle, but then the sturdy malt backbone arrives and gives this beer a chewy, creamy sort of coating in my mouth. I'm not going to sit here and say that this beer is creamy like a nitro beer because that's a wholly different carbonation game. But the beer reminds me of a pub-style, creamy sort of beer.
Overall Impression.
Winter Warmer is a successful beer. And get this: the barrel isn't required for this warmer style beer. Granted, the barrel edition does take this beer up a notch. But this clean, no-barrel approach is growing on me. Unlike the BBA Winter Warmer, this plain Winter Warmer beckons to me on an average weeknight. So there's no special occasion required to crack one of these beers and that's part of why I like it so much. The coffee, roasty and dark fruit notes give this beer a holiday sort of vibe, but without the blatant holiday potpourri avalanche that some holiday brews contain. Unlike a brighter, cheery seasonal style I find annoying, Rahr keeps it dialed back with Winter Warmer and the beer remains balanced.
Score. On a scale of 1 to 10, I'd give Rahr & Sons Winter Warmer a 8.25.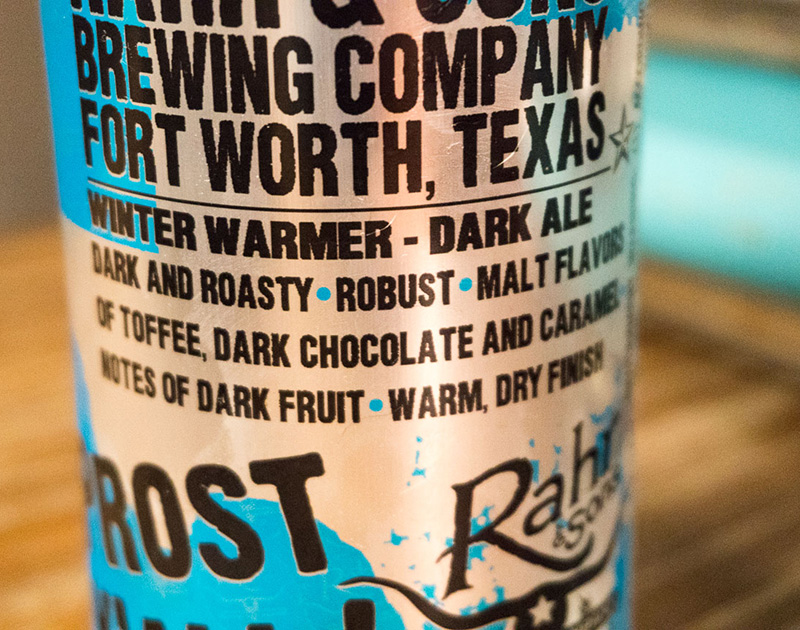 All photos by Ben Smithson.