Panther Island Brewing's Sweet Fang Is A Foamy Sweet Stout That Somehow Manages To Capture The Essence And Taste Of A Peanut Butter Cup.
Welcome to On Tap! Each week in this recurring feature, we'll take an in-depth look at one of the many beers now available in the suddenly crowded North Texas brew scene. The goal here is to look at these area beers without our local goggles on and to wonder aloud, "Is this beer good or do I just like it because it's local?" Should be a fun experiment, no? Cheers to that!
This week, we sipped on Panther Island Brewing's Sweet Fang.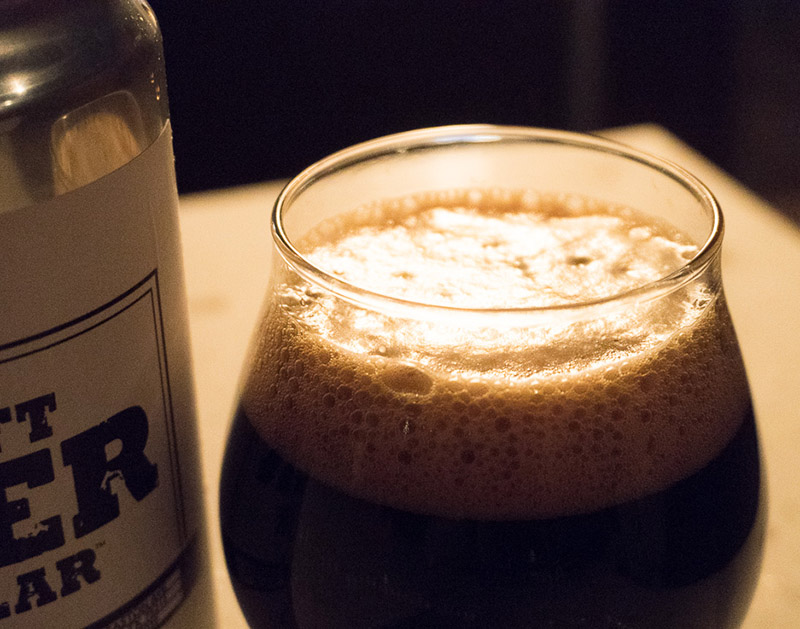 Fast Facts on Panther Island Sweet Fang.
Style: Sweet stout.
ABV: 4.7 percent.
International Bitterness Units (IBUs): 25.
Color: Black.
Availability: Seasonal – kegs.
Overview.
This week's review heads out West as we spend a little bit of time with a beer from Panther Island Brewing. In past months, I have seen maybe one of Panther Island's beers available in Dallas. So, either I'm not looking hard enough, or this brewery is releasing smaller batches of its beer, or perhaps it's not able to get beer out this way. When I do see Panther Island's beer on tap somewhere, it's typically Allergeez, a crowd-pleaser wheat beer with honey and spices. According to Panther Island's website, Sweet Fang was originally released in the fall of 2015. So this isn't a new beer, but it is new to me. Shall we?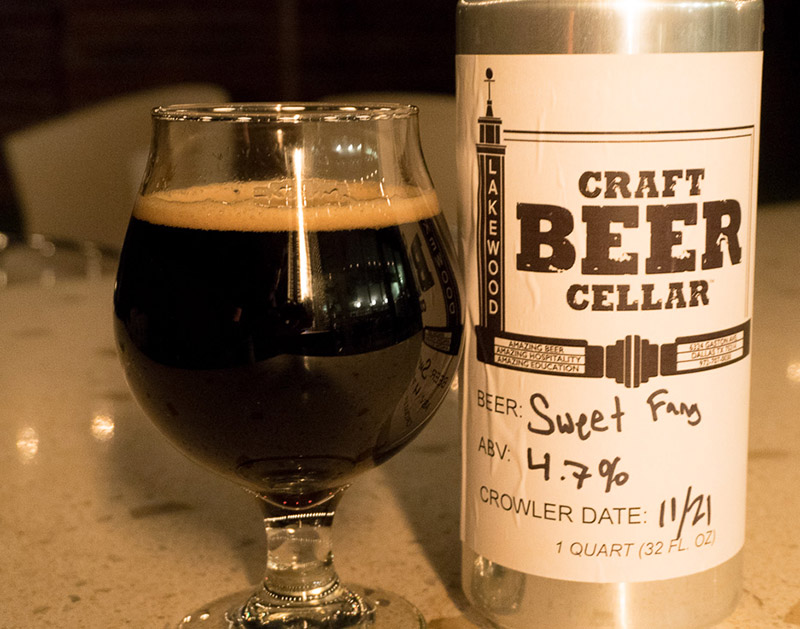 Background on Sweet Stout.
For a primer on the Sweet Stout style, cruise on over to our reviews on 903's Land of Milk and Honey or Three Nations' Texas Xmas. The Sweet Stout pops up with increasing popularity in the cooler months in North Texas. And I am happy for that fact because I can't say that this is a style that I crave too often, especially during the hotter months. The Sweet Stout, sometimes referred to as Milk Stout if it contains a lactose addition, is a full-bodied style that can typically be enjoyed in multiples. Granted, there are some higher-gravity versions of this style. But thankfully, Sweet Fang hangs out on the lower end of the ABV spectrum, an area that I've enjoyed hanging out in lately. Sweet stouts are very dark brown-to-black in color, and you should notice a creamy tan or brown head. Aromas should sometimes show some coffee or roasty notes and you may notice some creaminess in both the aroma and the mouthfeel. Hop bitterness should be noticeable, but only as much to provide balance to the sweetness.
Appearance.
Sweet Fang pours near-black in to the glass. I see a healthy amount of tan head here and it sticks around through photos. As far as packaging goes, it appears that this beer is available in kegs only as of the time of this writing. Not to worry – shout out to Craft Beer Cellar for an easy crowler pickup. I did borrow an image from Panther Island Brewing's Facebook page, so y'all can get an idea of this beer's branding.
Aroma.
Although Sweet Fang is a Sweet Stout, I don't notice the sweetness too much on the aroma. At first, I'm hit with a massive amount of peanut butter cup aroma. It's nutty and roasty and smells very inviting. I also get some coffee on the nose. It's a flavored, tourist-trap, coffee-type of thing that's more flavor than coffee on the nose, but not in the asshole way I make it sound here. It's nostalgic. Behind all this, is the remains of what a stout might should smell like. From an aroma standpoint, this is more of a peanut butter beer than a stout.
Flavor.
The peanut butter intensity continues in the flavor. However, it seems more balanced here in the flavor compared to the aroma. Neither are negative sensations for me, but if it's balance we're talking about here, the flavor provides a bit more balance to the peanut butter. I don't get much from hop bitterness; it's here but barely noticeable.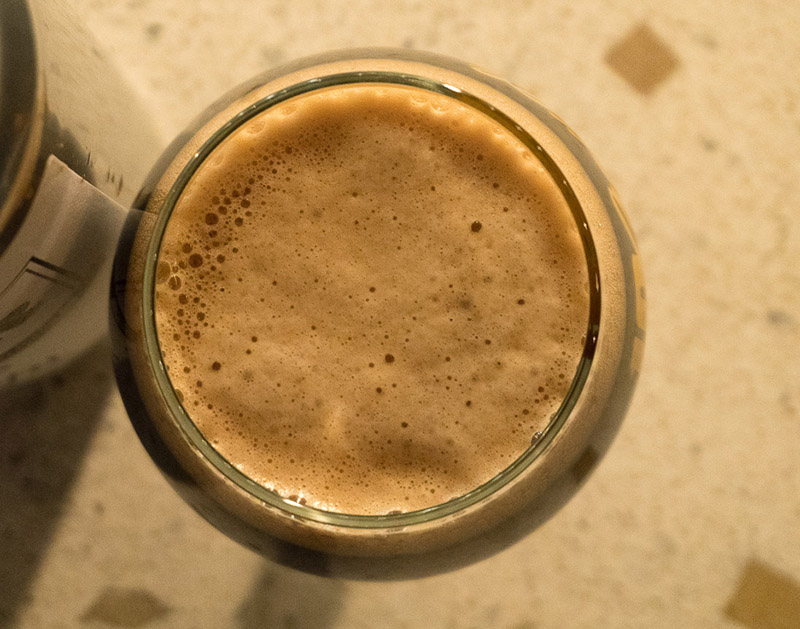 Mouthfeel.
Sweet Fang drinks like velvet. There's a creaminess to this beer that I find imminently enjoyable. Carbonation is medium to low here, and it colors within the lines for the style here. I get a fair amount of sweetness on the sip, likely contributed by the mash temp and lactose boil addition.
Overall Impression.
I like Sweet Fang. I can't say that I'm going to sit here and drink this beer all night, but that's maybe not what this beer is all about. It's novel – maybe not novel to the brewing industry on a larger scale — but more novel to the North Texas beer scene. I'm curious to know what sort of method Panther Island uses on Sweet Fang for the peanut butter addition. My guess is that they add peanut butter powder toward the end of the boil, but hey, I could be wrong here. Because this is a peanut butter beer, and because peanuts are a mighty flavoring and aroma force, it's tough to brew a balanced beer. This beer isn't wickedly unbalanced, but that's not to say that this beer isn't peanutty AF. It's peanut butter cup first and a stout second.
Score. On a scale of 1 to 10, I'd give Panther Island Brewing's Sweet Fang a 7.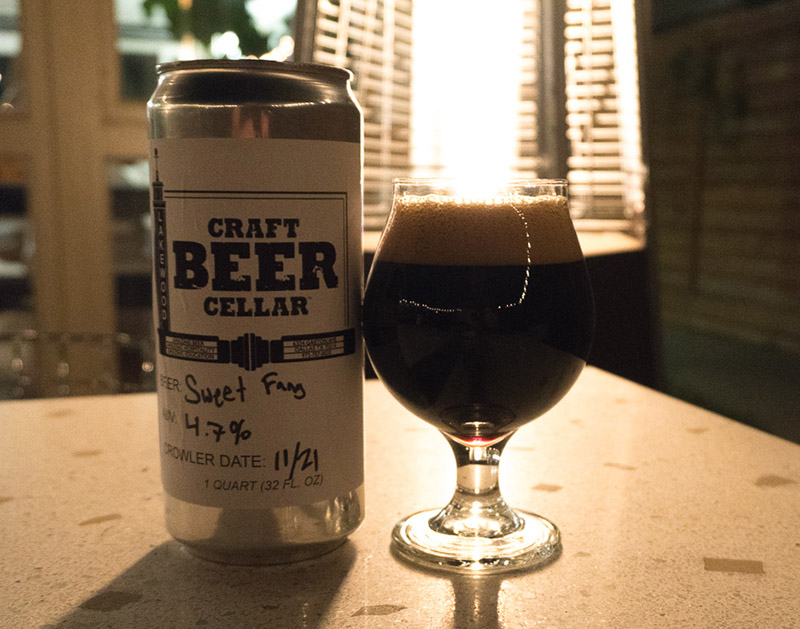 All photos by Ben Smithson.