Martin House Brewing Company's River Horse Is Wild, Funky And Not Nearly As Crazy As It Sounds. 
Welcome to On Tap! Each week in this recurring feature, we'll take an in-depth look at one of the many beers now available in the suddenly crowded North Texas brew scene. The goal here is to look at these area beers without our local goggles on and to wonder aloud, "Is this beer good or do I just like it because it's local?" Should be a fun experiment, no? Cheers to that!
This week, we sipped on Martin House Brewing Company's River Horse.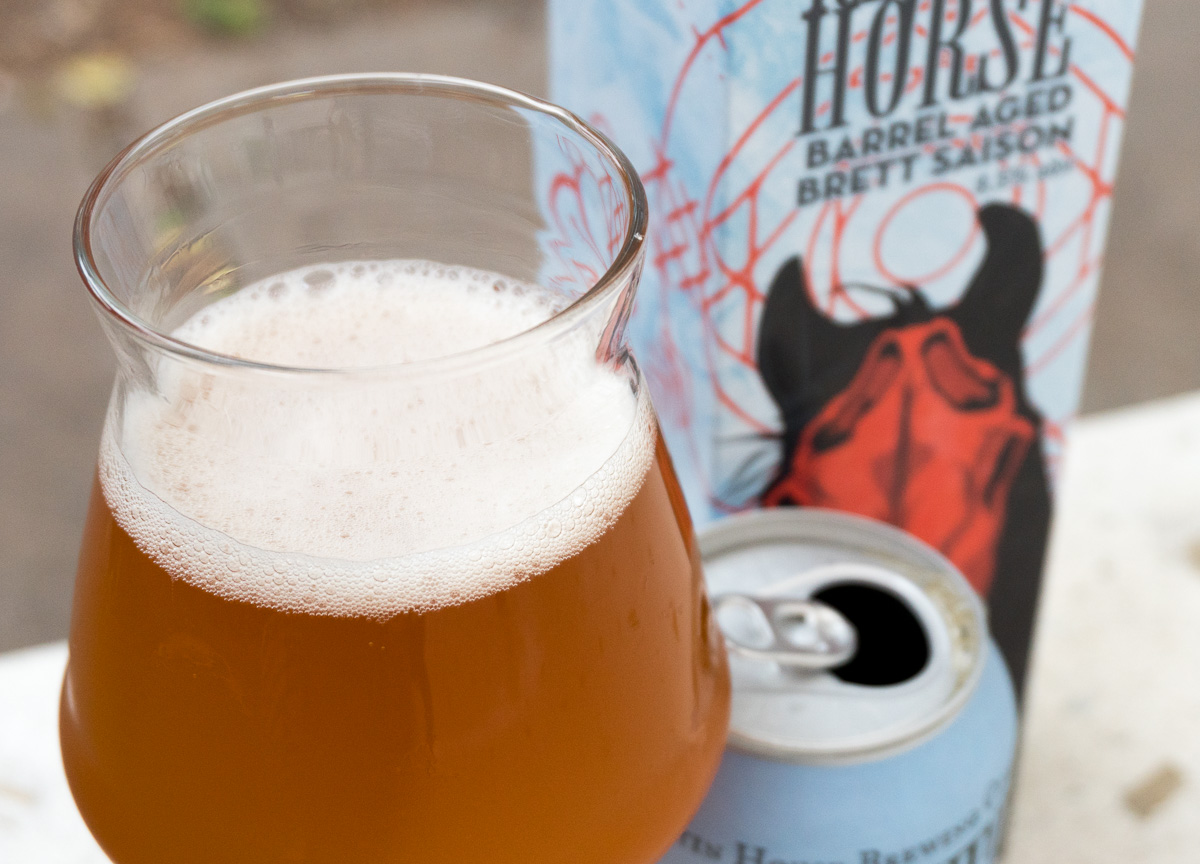 Fast Facts on Martin House Brewing Company's River Horse.
Style: American Wild Ale.
ABV: 8.5 Percent.
International Bitterness Units (IBUs): 30.
Color: Deep straw.
Availability: Limited Release – on draft and two-can packs.
Overview.
In the past few years, we have seen a growing number of breweries move in to the funky, sour space. And all DFW beer fans should rejoice! I mean, sure, it's cool to have a solid stable of breweries whose sole focus remains on clean beer. But there's some others who have bucked their sanity and moved some operations over to the complex, scary, riskier side of brewing. As of this writing, there isn't a DFW brewery whose sole focus is sour beer. After all, it's risky and time-intensive; ditching a batch of sour that didn't turn out doesn't keep the lights on in the same way a top-seller will. Martin House's funkeytown neighbor, The Collective Brewing Project, gets close to the 100 percent holy and funky grail, but even Collective brews some clean beers too.
The base beer for River Horse is River House, a saison style that Martin House brews from time to time, except here the recipe is adjusted for a bit stronger beer. From there, River Horse is placed into barrels once used for Cabernet, and Brettanomyces yeast is added. In case you don't know about these bugs, Brett is a type of yeast that provides one of the many mysterious and delicious flavor and aroma contributions of sour beer. In this case, the Brett is added after initial fermentation is complete. So River Horse starts as a clean beer, and then Martin House adds the Brett to this beer to start the funk party. Martin House states that it uses four strains of Brett in River Horse: Bruxellensis var. Drei, plain 'ol Bruxellensis, Claussenii and Lambicus. The world of sour beer is a bit daunting. In case you want to learn more about the variations and sensory profiles of wild bugs, check out The Mad Fermentationist's Mega-Page on wild bugs.
Background on Mixed-Fermentation Sour Beer.
The main thrust of a mixed-fermentation sour is that it's a soured version of a base beer. The souring involved in the fermentation process should be inviting and pleasant; the addition of bugs is aimed at improving the beer, after all. Not only should the beer be pleasant to smell, it also should be dialed up in the complexity factor too. Color can be all over the place. Head retention can be on the lower side due to some interactions and anti-foam traits of some wild yeasts. For flavor, the beer should showcase both hints of its base style, and the additional fermentation to sour it should be harmonious. Bitterness on a sour beer like this is usually on the lower end, as the extra perceived acidity in a sour can potentially take over. Generally speaking, the mouthfeel on a mixed-fermentation sour is on the lighter side. Typically, a mixed-fermentation sour finishes very dry, with zero sugar left. Some brewers mash a bit higher on the temperature in order to create a higher amount of dextrins. These longer-chain sugars are not fermentable by ale yeasts, however, yeasts like Brett are voracious eaters of most sugars, and having some dextrin goodness provides some yummies for Brett. Barrel aging is commonplace, but not required. However these beers spend their time aging and transforming, it's the concept of time that's very important. Many wild yeasts and bacteria can take some serious time to completely finish out, and the taste of a sour beer evolves over time. With most sours, expect an aging period of at least 12 months – tacked on to the end of the clean, Saccharomyces-fermented beer (the clean base). Needless to say, these aren't fast beers.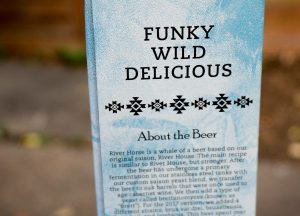 Appearance.
River Horse pours between a deep gold and pale orange-ish into the glass. It pours with a nice layer of foam, but the foam subsides quickly. As stated, a lack of foam stability isn't a deal-breaker in a mixed-fermentation sour. There is a moderate amount of haze here, it's a uniform and soft look.
Aroma.
Aroma on River Horse is beautiful and complex. There's a tart sweetness on the nose, but it's not a super-sour sort of aroma. I also notice some pineapple and raspberry. In a retronasal approach (that's fancy talk for swallow a sip, then exhale through your nose), I sense a more barnyard situation. It's more hay and horse, but it's not smoke, dank wet blanket or fecal like some Brett beers I know. There's malt sweetness in the background, but the other aromas of Brett dominate the smell. There's a small, but noticeable alcohol note here, but it remains a secondary sort of aroma.
Flavor.
With its elevated ABV, I was sort of expecting this beer to taste more hot, more boozy. But there is no heat or fusel hotness. There's a funk that leans more toward the tropical side with River Horse. On the aftertaste I can pick up some oaky barrel, but it's more of a subtle sensation. For a Brett, mixed-fermentation beer, River Horse delivers on a whole smattering of flavors, and I don't perceive anything that's out of place. I kind of thought that this would be a super-gnarly, off-the-wall sort of beer. This is what Martin House is known for after all, pushing the boundaries of flavors with a lot of its beers. But crazy is not what's going on here. The blend of the Brett yeasts provides balance. If anything, the Brett leans more to the fruit side than to the barnyard side.
Mouthfeel.
I sense no residual sugar after the sip. The carbonation remains cranked throughout the entire pour. The tingle of carbonation seems to aid in the acidity. But as far as acidity goes, this is more of a tame sour. I didn't measure the pH on this beer, but it's not on the enamel-ripping end of the scale. Far from it!
Overall Impression.
Let's talk cans for a minute. Not a whole lot of breweries are packaging sour beers in cans. The usual vessel of choice is a 22-ounce glass bottle, oftentimes caged and corked. Sours aren't designed for in-bottle refermentation — that could lead to dangerous over-carbonation and bottle bombs. While they aren't good for bottle conditioning, most sours are destined for aging, and glass has been the container of choice for what seems like forever. But with glass comes a few undesirable traits. Bottle caps can get gross, or worse, rust. Corks can also have issues. Glass also leaks a bit of light. All in all, I kinda like the canned sour. With River Horse, Martin House gives you two 12-ounce cans — so you get two more ounces! And you also get two drinking sessions. So instead of having to finish a bomber-size bottle all in one session, I now have one extra beer to share with friends later. Nice!
River Horse is an excellent beer. In light of my past experience with Martin House, I approached this situation with an expectation that this would be an off-the-wall type of beer, but it's not. It plays within the lines for this style. It drinks smooth and clean. Flavors are bright and tropical, with a moderate amount of horsey goodness whinnying in the background. All in all, this beer gets a hard recommend. My cans have a package date (on the bottom) of April 10, 2017, so this is super fresh in sour terms. If you pick up this beer in its two-pack form, drink one soon. And then give the other one some lay-down time and see what new or changed flavors develop.
Score.
On a scale of 1 to 10, I'd give Martin House River Horse a 9.75.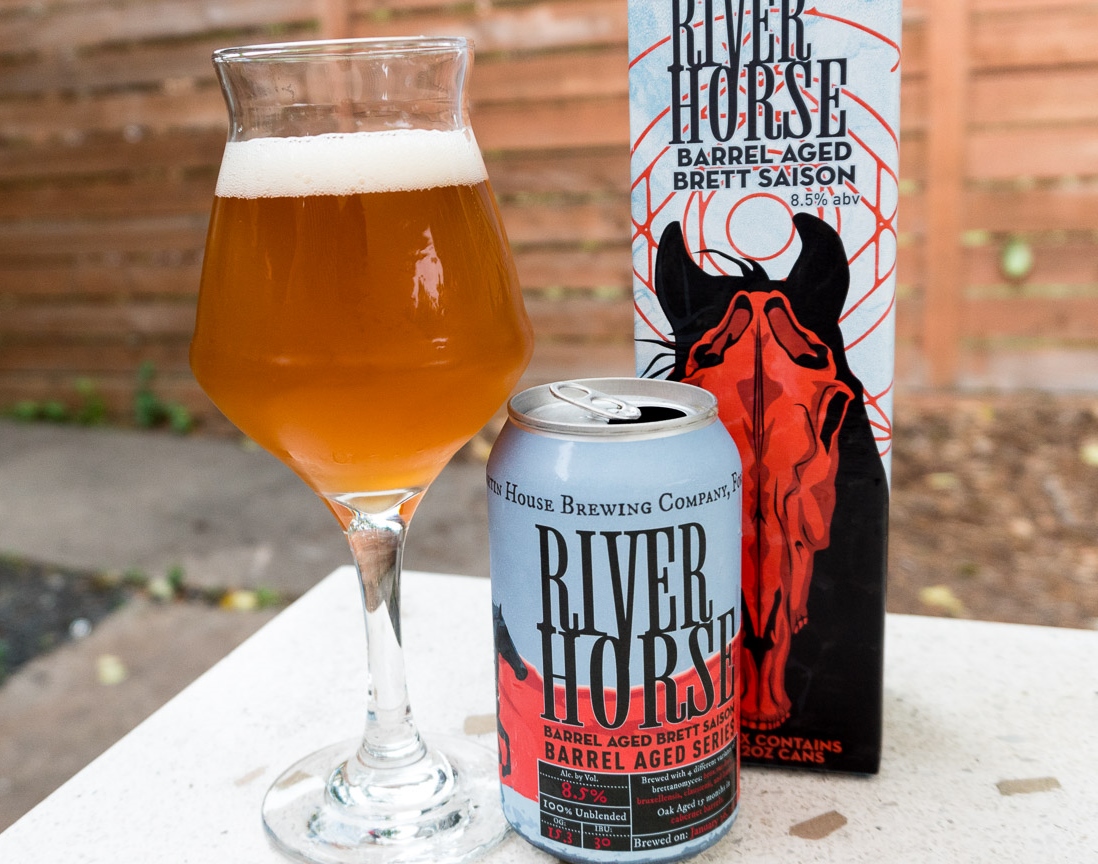 What's happening in the area brew scene?
• Saturday, May 20. El Palote Beer Dinner & Vegan Food Pairing at On Rotation.
• Sunday, May 21. Brew-haha at Four Corners Brewing.
• Saturday, June 3. Index Fest at Panther Island Pavilion.
• Saturday, June 17. Best Little Brewfest in Texas at Old Town Lewisville.