Noble Rey Brewing's Frooty Tang Is A Great Warm Weather Brew That Packs A Sour Punch In Taste And Aroma And Its Heavy Carbonation Will Leave Your Cheeks Feeling Tingly.
Welcome to On Tap! Each week in this recurring feature, we'll take an in-depth look at one of the many beers now available in the suddenly crowded North Texas brew scene. The goal here is to look at these area beers without our local goggles on and to wonder aloud, "Is this beer good or do I just like it because it's local?" Should be a fun experiment, no? Cheers to that!
This week, we sipped on Noble Rey Brewing Company's Frooty Tang.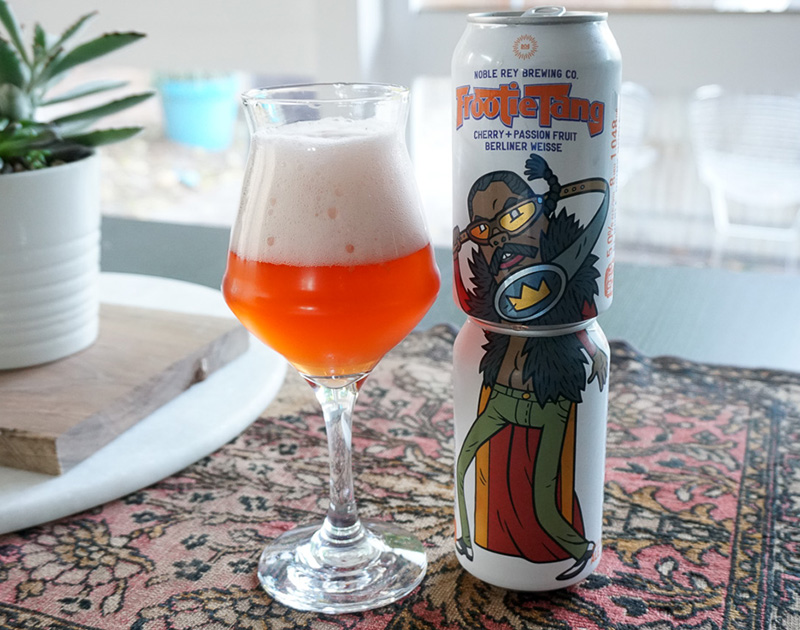 Fast Facts on Noble Rey Brewing Company Frooty Tang.
Style: Berliner Weisse.
ABV: 5 percent.
International Bitterness Units (IBUs): 8.
Color: Pale ruby.
Availability: Draft and cans.
Overview.
The tart and biting Berliner Weisse is one of those seasonal types that usually stays off my radar. But then, as summer nears, days grow longer and temperatures rise, my mind wanders to lighter and more refreshing beers. And praise be: North Texas breweries follow this same zymurgical, liturgical calendar, so summer seasonals are here! Now, I wouldn't call the humble Berliner Weisse a refreshing beer per se, but it's certainly light and snappy. Noble Rey isn't new to the Berliner Weisse space. It has cranked out a few beers like this one in the past, however, this is the first official On Tap! drinking session with a Noble Rey Berliner Weisse.
Background on Berliner Weisse.
For a primer on the Berliner Weisse style, check out our reviews on Lakewood Brewing's Artsy Tartsy or Grapevine Brewing's Tart Cherry Berliner Weisse. This style typically uses 50 percent wheat in the grain bill, with the remainder as pilsner malt. There should be a noticeable sourness on the sniff that's accompanied by citrus or fruitiness depending on the age of the beer. Hop aroma should not be noticeable on this style, as this is a very low-hopped style. Unless fruited, traditional Berliners appear very pale in color and likely retain very little head. Flavor should be noticeably sour with hints of floral or citrus being acceptable in small amounts. A Berliner Weisse should finish exceptionally dry on the palate, and its high carbonation should provide one additional thwack to the tongue on the swallow. So while this style isn't necessarily a crushable summertime chugger, it does provide a jumpy bite of acidity and a crisp pop that play well with warm weather.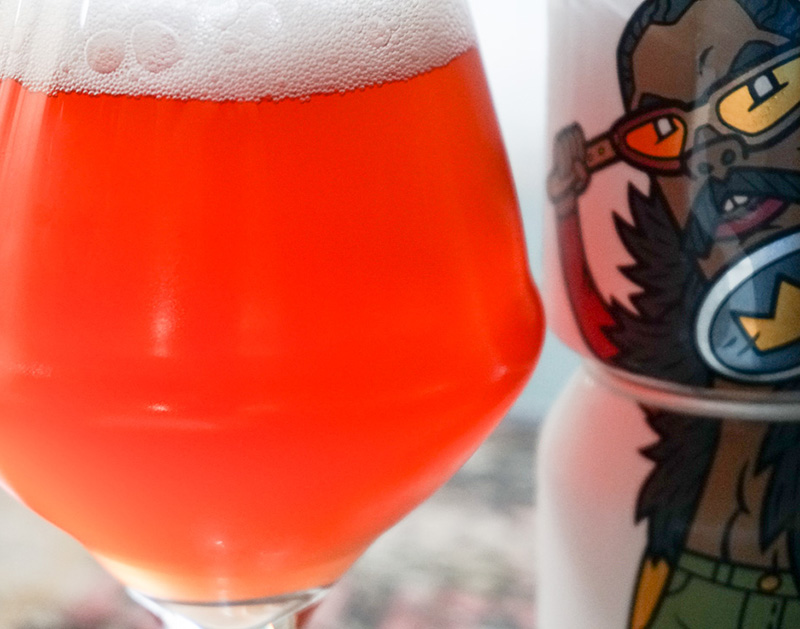 Appearance.
Frooty Tang pours a beautiful pale ruby color into the glass. Its foam follows suit with a very pale off-white-leaning-pink situation. There is a considerable amount of haze here, which plays in style for a Berliner. With most beers I review, I give them a rather hard pour to see what sort of foam situation I'm working with. Maybe I should have taken it slow with Frooty Tang because, at first blush, it looks like a rookie beer pour. The foam is intense! Not to worry, though, as the foam settles quickly and I can resume a less vigorous pour for the remainder of the can. The foam subsides after about 15 minutes, leaving a scant ring of bubbles that rim the perimeter of the glass.
Aroma.
Frooty Tang has an unmistakable twang to it. The tartness jumps out at me straight away. The aroma is mostly sour with that classic kettle soured whiff, it serves as a subtle nod to something yogurt-like. Along with the tartness comes a bright pop of passionfruit and cherry. Overall, the aroma is clean and inviting, and the fruit offers a nice balance to the otherwise ordinary Berliner Weisse twang.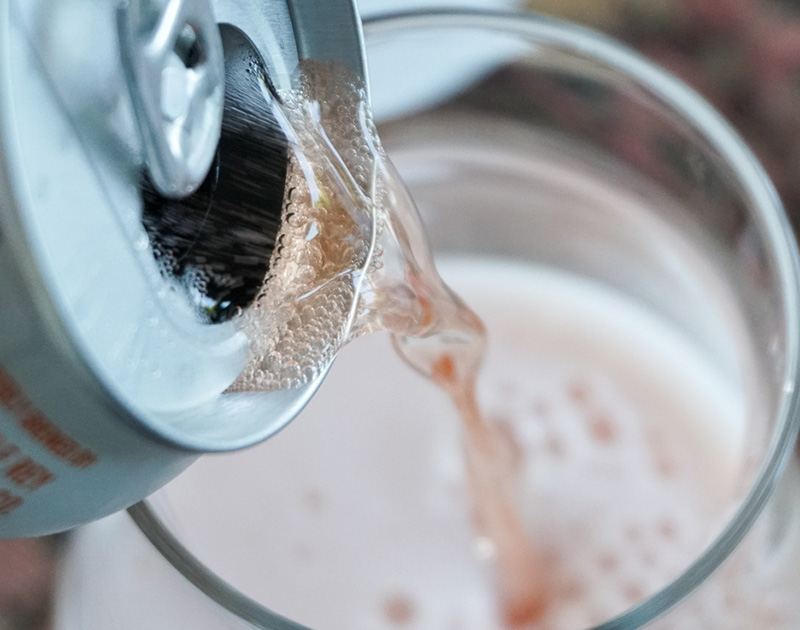 Flavor.
Frooty Tang walks a fine line between being overpoweringly sour and just right. The first few sips leave my cheeks feeling intensely tingly. But about half-way through the beer, I can feel myself getting in the groove with what feels like a freakishly-low pH. The passionfruit and cherry additions in this beer help provide some balance and roundness to the lactic tartness.
Mouthfeel.
This beer drinks crisp and it finishes incredibly dry. It's so dry, in fact, that it finishes with an almost chalky sort of dryness on the palate. And if it's not obvious from the description of my foam-filled rookie pour above, Frooty Tang is intensely carbonated. The closest carbonation profile I can think of here is that this beer has the bubble game somewhere between champagne and Topo Chico.
Overall Impression.
Frooty Tang is beautiful, fun to drink and contains a bit of novelty factor that helps it stand out amongst the other players in the crowded North Texas beer scene. I can't say that I'm going to sit here and get my Frooty Tang on all night long, but this is certainly a fun way to start a drinking session. This is a single-round beer for me, and I'll likely keep a few around for folks who are looking for something on the sour side, or for those who say they don't much like to drink beer.
Score. On a scale of 1 to 10, I'd give Noble Rey Brewing Frooty Tang a 7.5.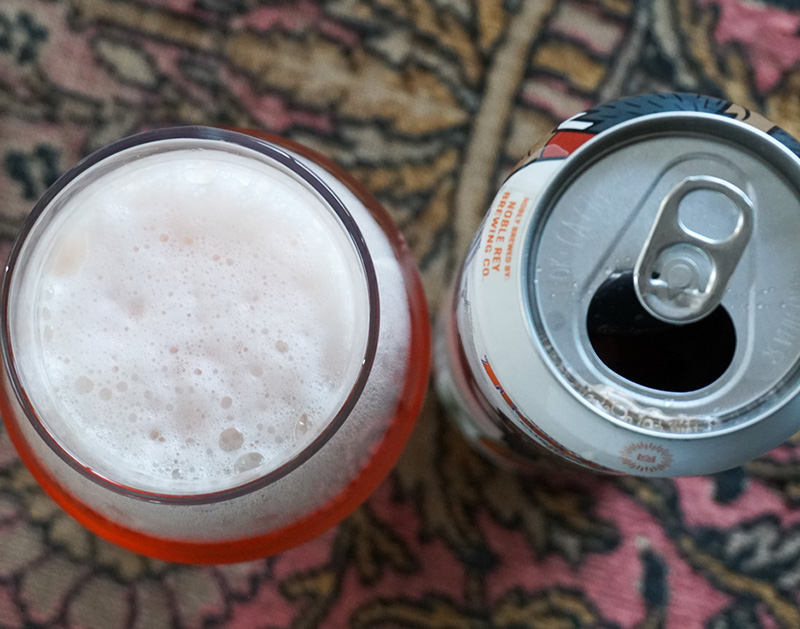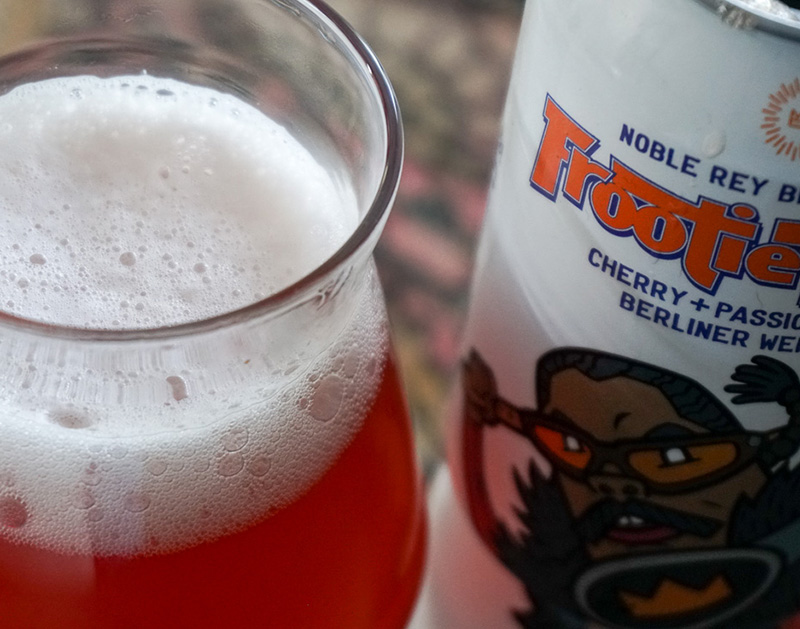 Previous On Tap Reviews:
All photos by Ben Smithson.