Community Beer Company's Brett's Get It On Is A Brett Beer That Wanders Into Funky IPA Territory With Hints Of Mango And Citrus In Its Flavor And Aroma.
Welcome to On Tap! Each week in this recurring feature, we'll take an in-depth look at one of the many beers now available in the suddenly crowded North Texas brew scene. The goal here is to look at these area beers without our local goggles on and to wonder aloud, "Is this beer good or do I just like it because it's local?" Should be a fun experiment, no? Cheers to that!
This week, we sipped on Community Beer Company's Brett's Get It On.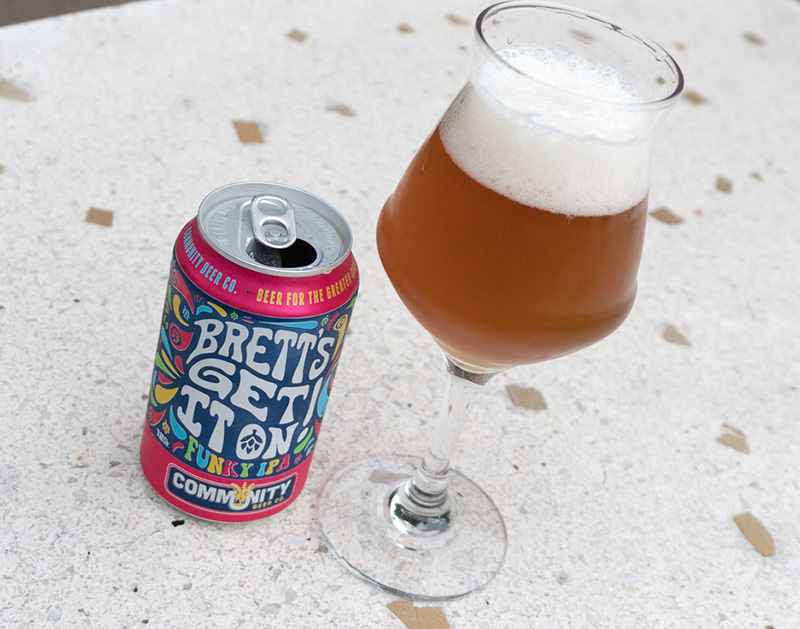 Fast Facts on Community Beer Company Brett's Get It On.
Style: Brett Beer.
ABV: 6.2 percent.
International Bitterness Units (IBUs): 33.
Color: Pale amber.
Availability: Seasonal – kegs and cans.
Overview.
Community Beer Co. has stepped up its weird beer game. As one of the larger craft beer production breweries in North Texas, I am surprised to see it play in a space that I typically associate with smaller operations. Early on, it released some interesting beers like Wild Manimal. Then there was instant-favorite Wit 'n Wild. Community has once again captured my attention with Brett's Get It On, an IPA style that's fermented with Brettanomyces yeast instead of more standard Saccharomyces yeast. So this is an IPA beer? Is it a sour? Well, it's neither, actually. If I had to correctly catergorize this beer, I'd say that is a Brett Beer in the end. However, it definitely drinks like an IPA — and a damn fine one at that.
Background on Brett Beer.
The Brett Beer's base beer style covers a wide range. But the main and most important part that sets this style apart from others is that it uses a strain of Brettanomyces in the fermentation process. There are some Brett Beers that use Brettanomyces in a secondary fermentation. Brett's Get It On uses Brettanomyces in the fermentation process, too, and while I cannot find a definitive answer, I would bet that this beer is fermented with only Brettanomyces. Brett beers, when consumed relatively young, will show more fruity characteristics. Older Brett Beers may take on some more funky characteristics like barnyard, wet hay or earth/dirt. Brett is known to be a thorough attenuator, so most beers will feel more dry and crisp compared to a Saccharomyces yeast. A tart sense is OK on a Brett Beer, but this type of beer shouldn't wander over into the truly sour territory.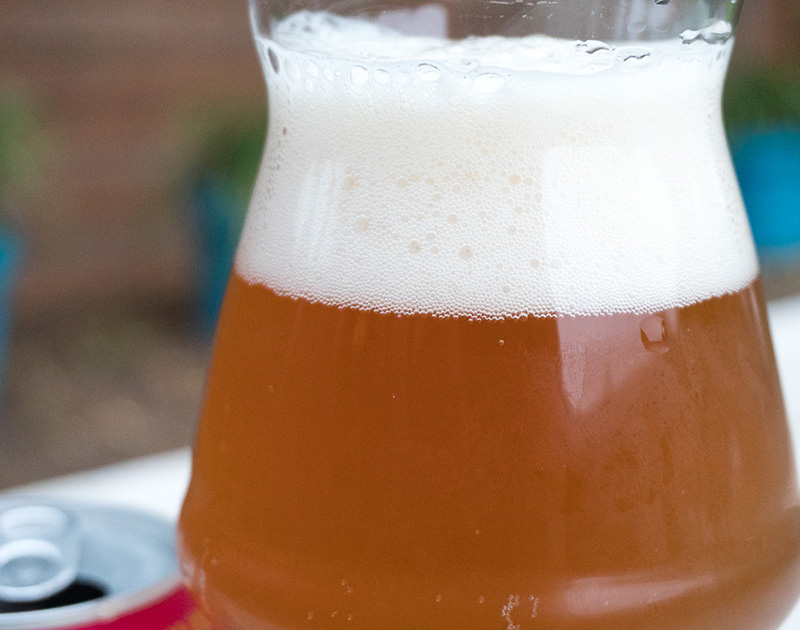 Appearance.
Brett's Get It On is packaged in a groovy, flower-power style can that's a nod to a funkier age. And while this visual design is all about that funk, don't think that this beer is going to also live up to that funky beer standard. The beer pours a deep, hazy, pale amber into the glass. Foam is excellent on this beer, it clings to the sides of my glass and it also sticks around as a thin layer through the entire pour. My guess is that this beer has a healthy level of adjunct additions like flaked barley, rolled oats or wheat due to how cloudy it is. There's a uniform haze here that's inviting me to start sipping.
Aroma.
Don't think that just because Community calls this beer a funky IPA that it's totally funky. In fact, the fermentation smells incredibly clean on this beer. Sure, there's an unmistakable twang here from the Brett. But it smells fantastic, and the hop aroma shines through with notes of mango and citrus. The hop aroma competes nicely with the fruity Brett, and it reminds me that the underlying beer style in front of me is indeed an IPA.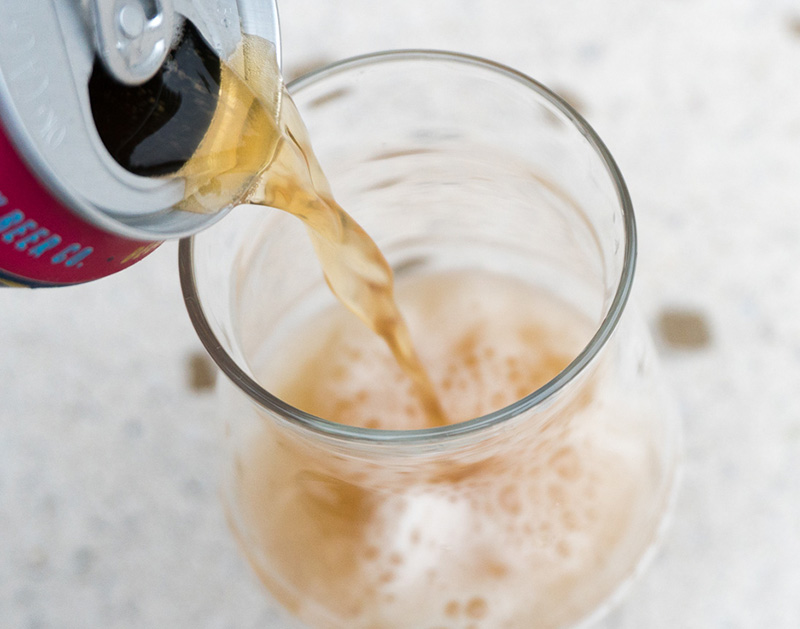 Flavor.
This beer tastes young, and the fruit and twang balance out a hint of tartness from the fermentation. Hop flavor is on point: massive waves of round citrus dominate the palate. As each sip's hop flavor and aroma fade, the Brett pops back up on the palate to say hello. I can dig it.
Mouthfeel.
Brett's Get It On tastes very bright and crisp – this beer finishes incredibly dry, a feeling that is further accentuated by the pop of carbonation. The body is light and delicate; it's trickery despite how the beer's pale amber color primes my brain.
Overall Impression.
Brett's Get It On might not be a starter beer for someone just getting in to craft beer. However, this beer is an excellent first step for someone who wants to explore the funkier side of beer. Granted, there is very little of what I would consider funk going on here with Brett's Get It On. I think the IPA style makes an excellent base style for a Brett fermentation. For the overwhelming majority, the Brett IPAs I have tried are very good. As of this posting, not many North Texas breweries offer a Brett IPA. So kudos to Community for filling the space here on this delicious and sought-after, though niche style.
Score. On a scale of 1 to 10, I'd give Community Beer Company Brett's Get It On a 8.25.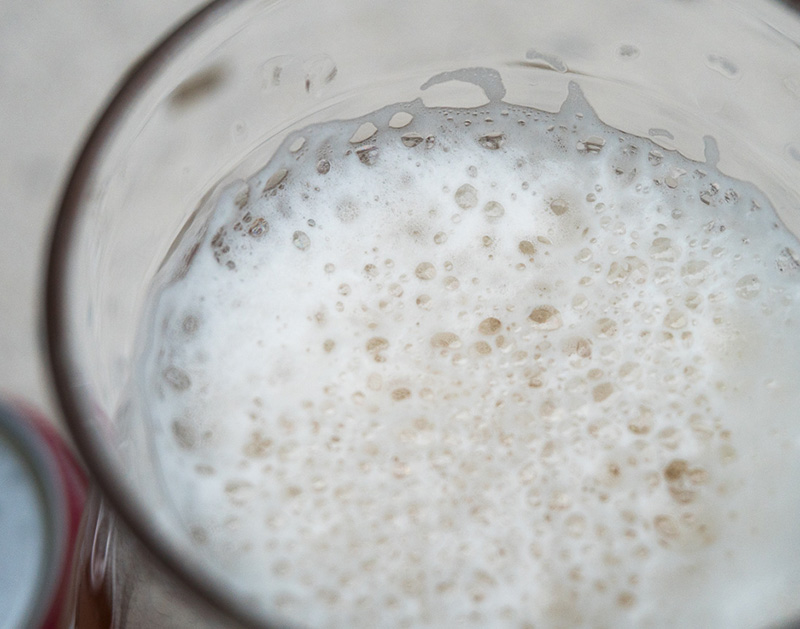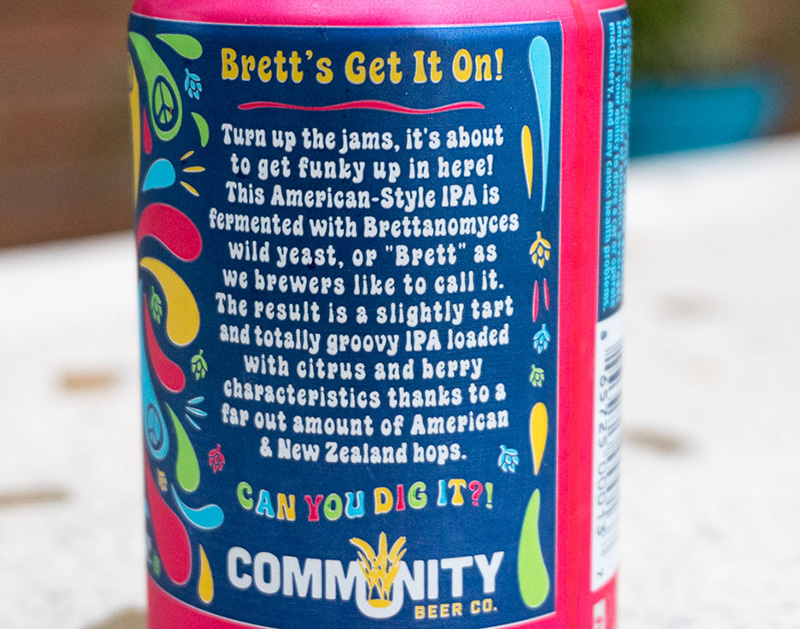 Previous On Tap Reviews:
All photos by Ben Smithson.