With Full Grown Scallywag, TUPPS Brewery Has Managed To Give An Imperial Stout A Tropical Feel By Loading It Up With Coconut And Vanilla Flavors And Aromas.
Welcome to On Tap! Each week in this recurring feature, we'll take an in-depth look at one of the many beers now available in the suddenly crowded North Texas brew scene. The goal here is to look at these area beers without our local goggles on and to wonder aloud, "Is this beer good or do I just like it because it's local?" Should be a fun experiment, no? Cheers to that!
This week, we sipped on TUPPS Brewery's Full Grown Scallywag.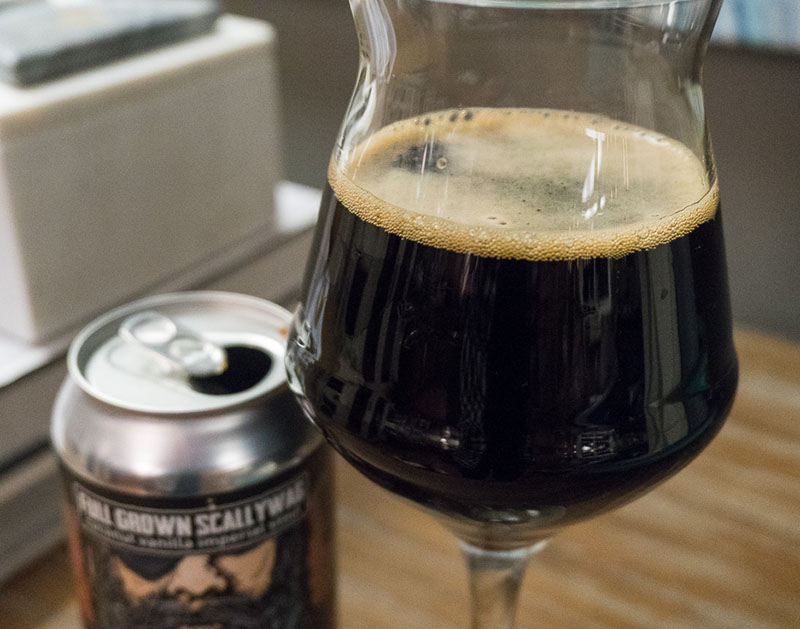 Fast Facts on TUPPS Brewery Full Grown Scallywag.
Style: Imperial Stout (with Coconut and Vanilla)
ABV: 12.1 percent.
International Bitterness Units (IBUs): Not available.
Color: Very dark brown.
Availability: Cans & kegs.
Overview.
This week, I keep the imperial stout train running with another very enjoyable beer that I might think about standing in a line for – and I hate lines. It's been a while since I reviewed Full Grown Man from TUPPS Brewery. And since then, TUPPS has released a couple of variations of this already-delicious, imperial stout-based beer. With Full Grown Scallywag, TUPPS dials up the intensity and alcohol just a tiny bit and then adds a healthy wallop of coconut and vanilla. So while some of the aromas and flavors that you're used to are definitely still here, the coconut and vanilla additions kind of push the imperial stout characteristics to the background a little bit.
Background on Imperial Stout.
For a primer on the Imperial Stout style, check out our reviews on 903 Brewers Birthday Sasquatch or Lakewood Brewing Coconut Temptress. In fact, both of these beers provide excellent examples of the type of beer that I'm about to sip with this review. The imperial stout is a helmet ale that I gravitate toward in cooler months. There's a lot of flavor going on here — and also a lot of alcohol. Rich aromas like chocolate, coffee and the occasional fruit– coconut in this case — may be noticeable on this style. Flavors should follow suit with big, roasted coffee and ester notes of dark dried fruit. Aging of an imperial stout – either with time or with a less ephemeral, actual thing like a barrel — can shift the balance a bit, providing a smoothing out of a beer's rough edges.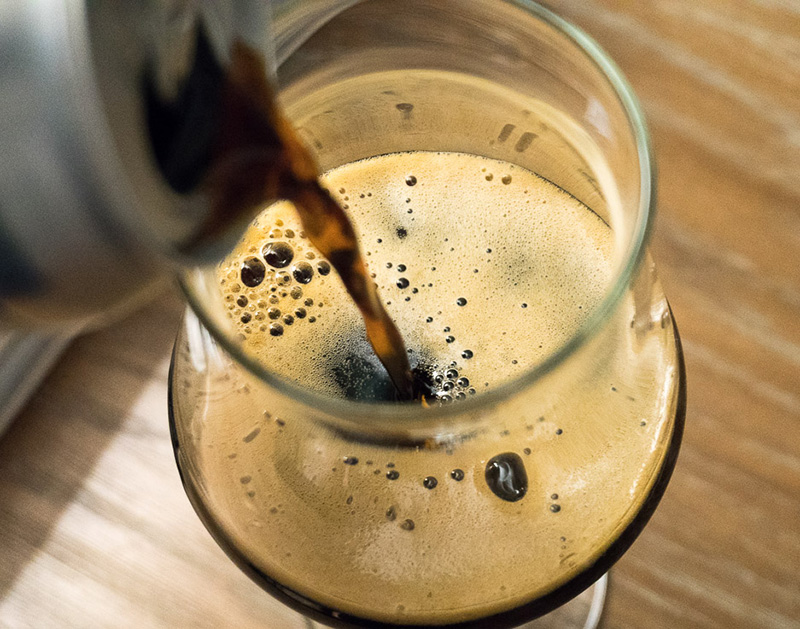 Appearance.
Full Grown Scallywag pours a deep, deep brown in to the glass. The dark tan foam signals to me that a helmet beer is on the way. Upon pouring this beer into the glass, this beer takes on a viscous quality, and my brain plays tricks on me thinking that it's pouring in slow motion. But just then, I adjust and realize that I have been pouring the beer at a dribble pace. A vigorous pour of the rest of the can helps set up a decent layer of head as the beer settles.
Aroma.
At first sniff, I get a ton of coconut. It almost wanders over into sunscreen territory, but thankfully another aroma complexity arrives and walks it back. Although coconut dominates the aroma, there's a healthy amount of vanilla that adds a certain cake-like scent. Behind these two aromas, I get a healthy malt bill and dark roasted malt. I realize that this beer is an imperial stout, but my mind keeps wandering to scents and images of a beachfront bar.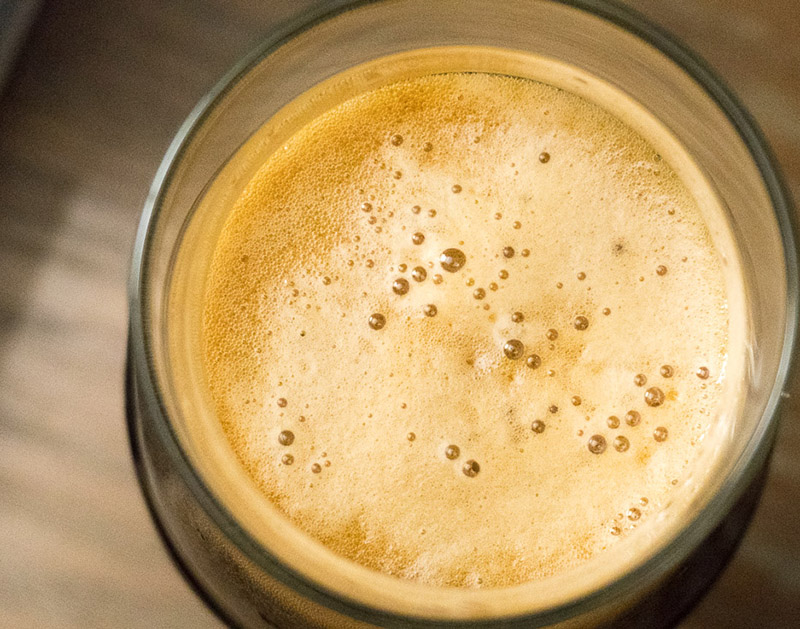 Flavor.
On the first sip, I get sweet vanilla and coconut that floods my palate. My cheeks tingle from the sweetness and dessert-like coating. The tingling reminds me of the first bite of dark chocolate as there are major notes of dark chocolate here, too. After the vanilla and coconut subsides, the dark malt arrives. But the dark, roasty malt remains in the background on this beer. There's no doubt that this is a big beer. It has a pronounced alcohol note on the palate that's not bad; it's just big and badass. Toward the end of the sip, I get a tiny amount of bitterness that's likely here to help provide some balance to the otherwise round, sweet flavor situation.
Mouthfeel.
Full Grown Scallywag asks me to take my time with it. It's chewy, viscous and finishes on a sweet note. This beer is comforting and leaves me feeling rather nostalgic.
Overall Impression.
Like a lot of big beers, Full Grown Scallywag really starts to shine as it warms a little bit. The aromas and flavors jump out of the glass once the beer warms. Granted, this is a very tasty beer cold from the fridge. But if you have a few extra minutes to let this beer hang out on the counter, do yourself a favor and go have a starter beer – preferably something different — first. One thing that pops into my mind as I drink this beer is that it reminds me of rum. There is a tropical note to Full Grown Scallywag, what, with the coconut and vanilla additions. And the vanilla aroma and flavor give off a cake-y and barrel-ish vibe. So while some imperial stouts make me yearn for the holidays, Full Grown Scallywag takes my palate to sandy beaches on the Caribbean Sea.
Score. On a scale of 1 to 10, I'd give TUPPS Brewery Full Grown Scallywag a 9.5.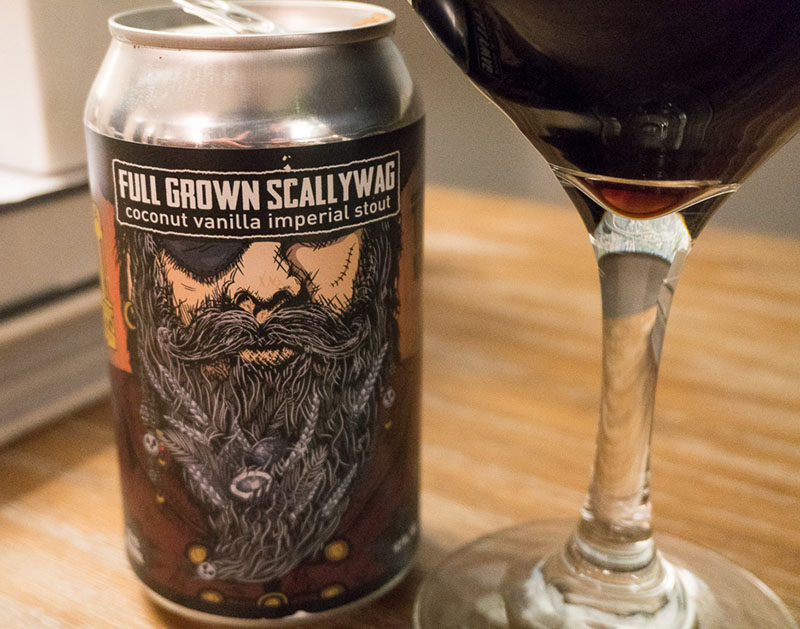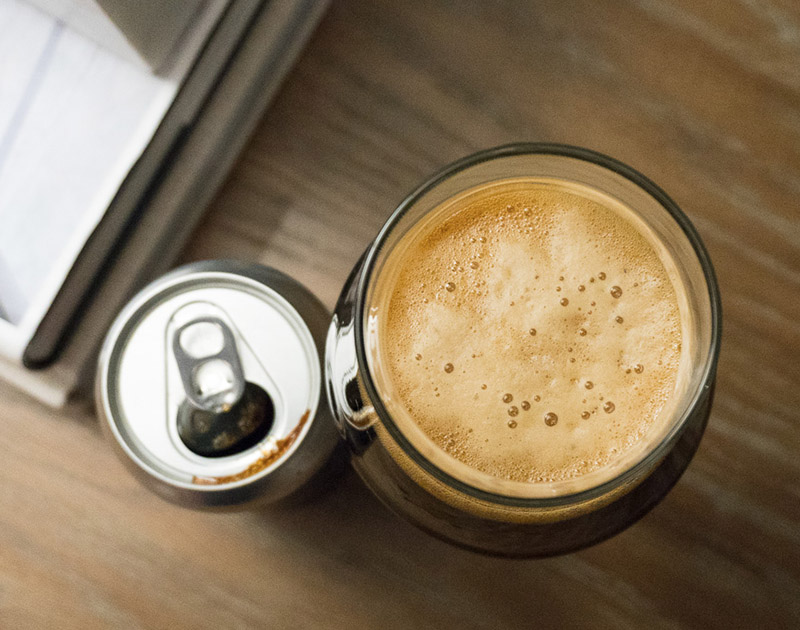 Previous On Tap Reviews:
All photos by Ben Smithson.