Lakewood Brewing Company's Recently Released Lakewood IPA Packs A Hoppy Wallop In Its Flavor And Carries Lingering Notes Of Citrus Peel And Mango In Its Aroma.
Welcome to On Tap! Each week in this recurring feature, we'll take an in-depth look at one of the many beers now available in the suddenly crowded North Texas brew scene. The goal here is to look at these area beers without our local goggles on and to wonder aloud, "Is this beer good or do I just like it because it's local?" Should be a fun experiment, no? Cheers to that!
This week, we sipped on Lakewood Brewing Company's IPA.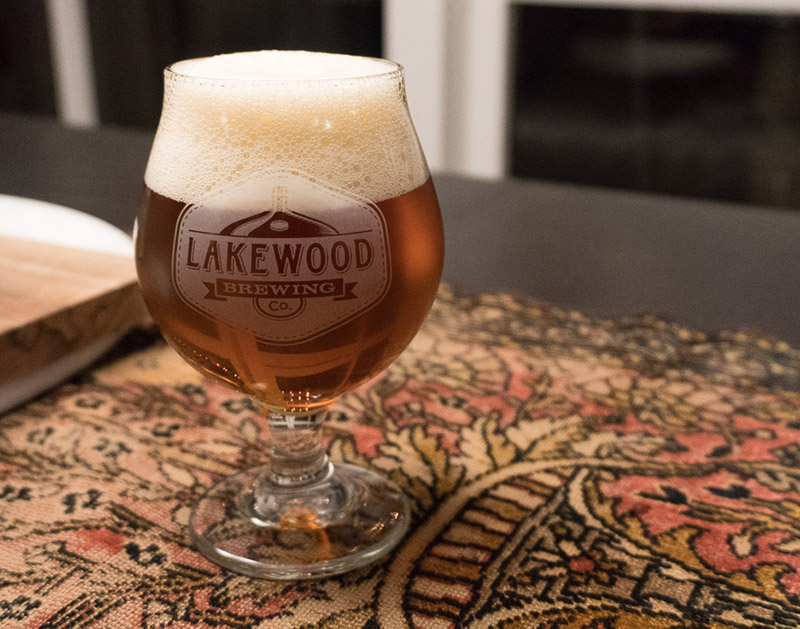 Fast Facts on Lakewood Brewing IPA.
Style: American IPA.
ABV: 7 percent.
International Bitterness Units (IBUs): 50.
Color: Orange-ish / deep gold.
Availability: Cans and draft.
Overview.
Remember when Lakewood Brewing opened? I do. I remember drinking a lot of Hop Trapp, one of Lakewood's first beers it released. It was a fun play on the IPA style with nice boil and aroma hop additions and a Belgian twang that stood out amongst other similarly situated hoppy beers on the scene at the time. But I guess Hop Trapp didn't have staying power. And neither did its later release, Hopochondria, an imminently crushable, sessionable IPA with late hop additions. Both were pretty A-OK beers. But as breweries do – and because the beer-drinking public is a finicky and fickle, unpredictable sort – Lakewood has made a pivot and retired these two IPAs. And with the gap left from Hop Trapp and Hopochondria, Lakewood has now launched its IPA, a new flagship American IPA. I feel excited to see a major push like this, because as a major DFW brewery launches a year-round flagship beer, it sends a signal that the brewery has spent a lot of time dialing in a recipe and done its research.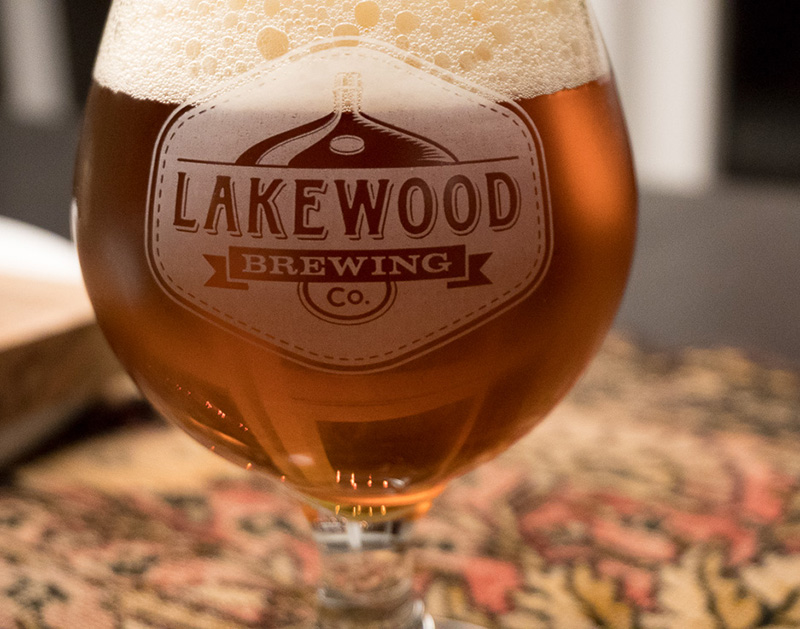 Background on American IPA.
For a primer on the American IPA style, check out our reviews of Texas Ale Project 50FT Jackrabbit or Braindead Brewing P-Wing. The American IPA style is an aggressively-hopped, cranked version of a more standard pale ale that uses American or New World hop varietals to create some interesting results. Lately, the superstars of the American IPA hop showcase seem to be varietals like Mosaic, Galaxy, Bravo and Hallertau Blanc. I see a lot of brewers focused on making IPAs with a tropical bent to them, and many of the hop varietals listed above can provide tons of flavor and aroma additions to push a beer over into tropical territory. Granted, there are tons more hop varietals, too many to list here, and it's difficult to keep up! The grain bill on an American IPA shouldn't get too crazy, as the grain bill is here mostly to support the hop situation. However, it should be dialed up enough to provide balance to the hop flavor and aroma. ABV range on an American IPA is 5.5 percent to 7.5 percent. This style is typically fermented with American Ale yeasts or English Ale yeasts, both known to attenuate nicely and provide a clean to somewhat fruity drinking experience.
Appearance.
Lakewood IPA pours a light orange-ish into my glass. There's a brilliant amount of clarity here. I must say that amidst all the haze craze that's going on with the IPA style – and I'm looking at you, New England IPA – it's nice to see a brewery come out with a beautiful, clear IPA. Foam situation is on point. I poured this beer from a crowler purchased at On Rotation, and I poured it rather hard to see what sort of foam situation I am dealing with here. And Lakewood IPA does not disappoint. There's a pillowy blanket of white head that stands up on top of the pour and it settles down to a manageable, thin coating as I start my way through this first beer. Lakewood Brewing would probably prefer that this beer was served in a non-Belgian type glass or shaker pint, but hey, it's what I have on hand at the moment.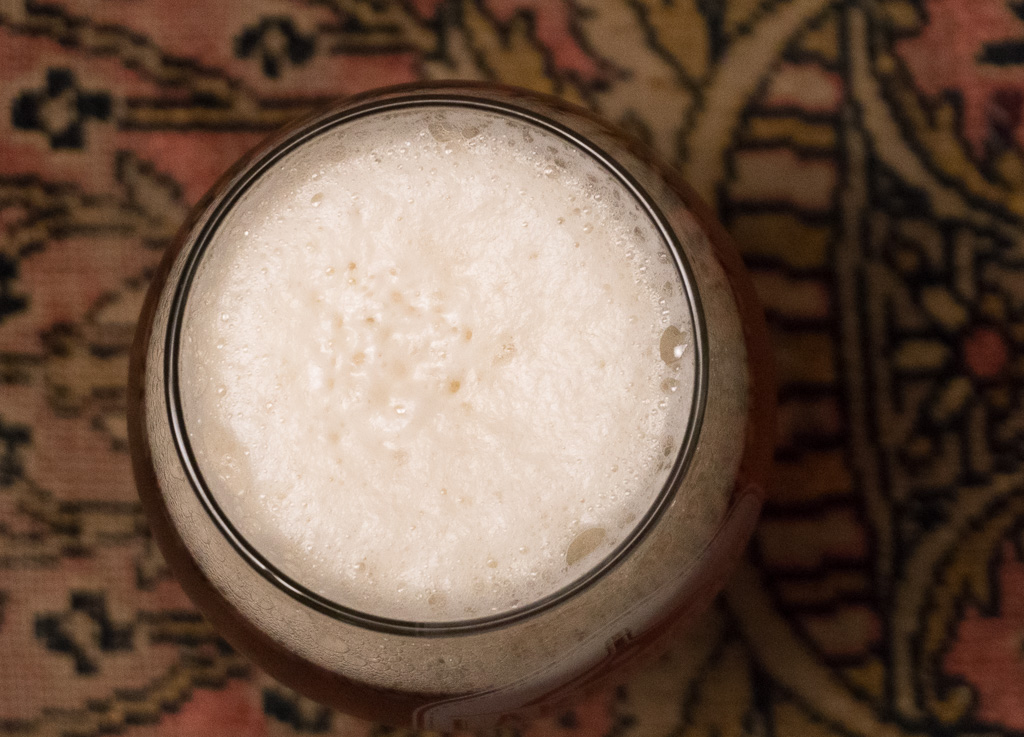 Aroma.
Hops are the star in the aroma department for Lakewood IPA. Its hop aroma focuses on the tropical side, with notes of citrus peel and bright mango. There's also a classic, welcoming hop aroma that also hints at this beer's pending, aggressive but not overpowering hop flavor that's to come. The grain bill adds a touch of restrained, warming aroma that smells clean but also gets the hell out of the way for the hops.
Flavor.
I'm not going to say that this beer is aggressively-hopped in a too much way, but it certainly is bold. And I dig it. On its tasting notes page, Lakewood states that this beer is made with Bravo, Citra, Mandarina and Mosaic hops. And while many of these hops are well-known for their tropical and fruity intensity from an aroma perspective, they also add massive amount of flavor that give this IPA a balanced, yet complex hop profile. For the amount of hop character I get on the nose, the hop bitterness is restrained, and I mean in a good way. Tropical fruit notes jump out of this beer and grapefruit peel lingers on the aftertaste. The malt profile tastes clean and provides enough oomph to keep pace with all of the intense hop flavor here. The fermentation profile is clean, and I get a tiny bit of alcohol warmth on the swallow.
Mouthfeel.
This IPA is imminently drinkable. Its medium body provides support and balance for the hop intensity. I don't perceive anything out of balance here with the mouthfeel; the beer finishes bright, carbonation is medium and dialed in just right.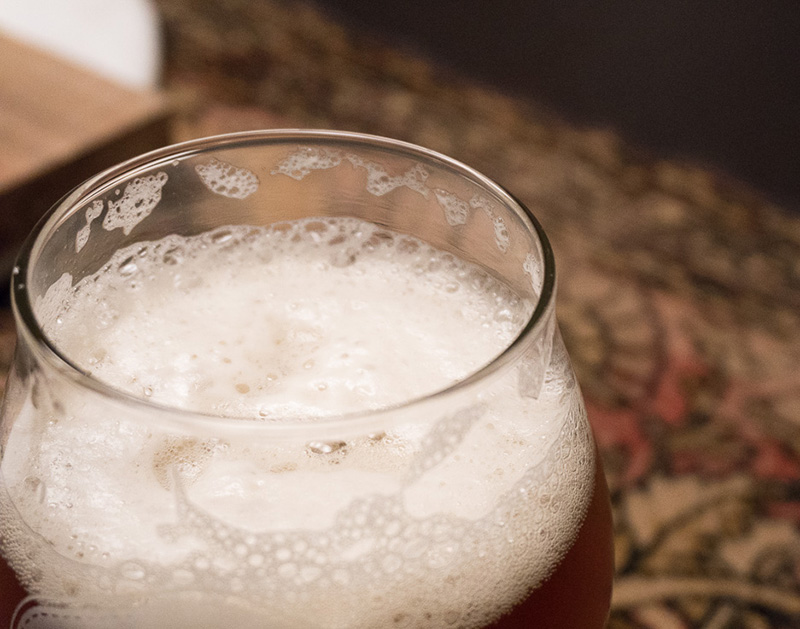 Overall Impression.
I'm a fan of this beer. It checks off a lot of boxes for me from an overall standpoint. In fact, this beer is now on my short list for a local American IPA that showcases big tropical flavors but also provides a large sweet spot for most fans of the IPA style. I don't think you're going to get beer geeks lined up around the block waiting for this beer, but I don't think that's what Lakewood is going for. This is a flagship, year-round beer, meant for everyday sort of purchases from stores all over. So while this beer isn't very experimental or wacky, it does provide an even, clean and very enjoyable drinking experience. Hopefully Lakewood Brewing has good deals on hop contracts to support this hop wallop of a beer because I will keep on buying it.
Score. On a scale of 1 to 10, I'd give Lakewood IPA a 8.75.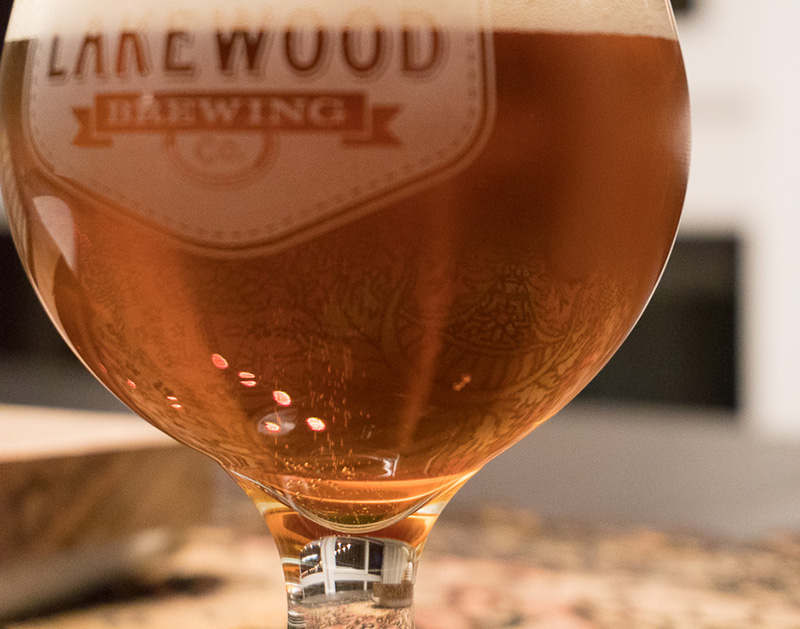 All photos by Ben Smithson.