Noble Rey Brewing Company's Mother Night Is A Tart, Dark, Fruited Saison That Hangs On To A Sense Of Sweetness And Carries A Caramel Aroma.
Welcome to On Tap! Each week in this recurring feature, we'll take an in-depth look at one of the many beers now available in the suddenly crowded North Texas brew scene. The goal here is to look at these area beers without our local goggles on and to wonder aloud, "Is this beer good or do I just like it because it's local?" Should be a fun experiment, no? Cheers to that!
This week, we sipped on Noble Rey Brewing Company's Mother Night.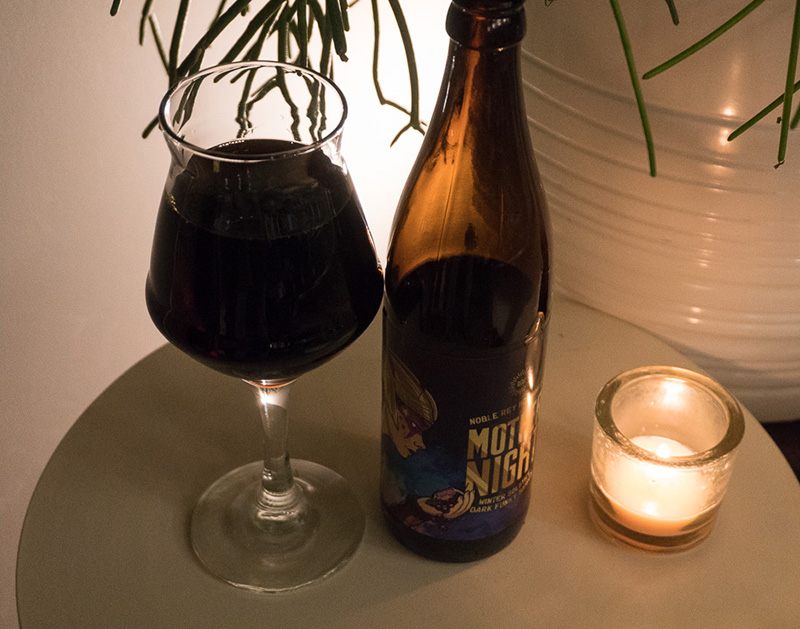 Fast Facts on Noble Rey Mother Night.
Style: Saison.
ABV: 6.5 percent.
International Bitterness Units (IBUs): 22 (according to Untappd).
Color: Dark brown.
Availability: Draft and bottle.
Overview.
Noble Rey seems to be stretching its legs a bit lately and we're paying attention. Not only did it recently announce its expansion into the European market – which is weird to say about any North Texas operation — but it continues to expand its own local offerings as well. One such offering is Mother Night, a dark saison brewed with currants and plum puree. The dark saison is a bit of a weird duck of the saison flock, but just because it's weird doesn't mean it can't be delicious. While darker-color saisons aren't out of style by any means, these higher-kilned-malt versions don't command as much attention as more traditional saisons.
Background on Saison.
For a primer on the saison style, check out our review on Cedar Creek Clover Kicker. If you want to check out a previous review on a dark saison, then check out Oak Highland Brewery's Chump Change. This farmhouse style is known for its signature Belgian yeast, high attenuation and beautiful citrus or spice additions. Orange peel is common, along with lemon or tangerine. And if those citrus fruits aren't added as late boil additions, sometimes the ester-y profile of the fermentation will trick your brain into thinking about them. Grains of paradise (fancy term for fancy peppercorns) also make an occasional appearance as a late boil addition, along with various other types of fruit and flavorings. ABV can range from table strength all the way up to Imperial strength. Body on a saison typically ranges from light to medium. Some saisons can take on a more tart character, but that character shouldn't wander over in to mouth-puckering territory. That is, unless it's heading over into funky beer territory intentionally.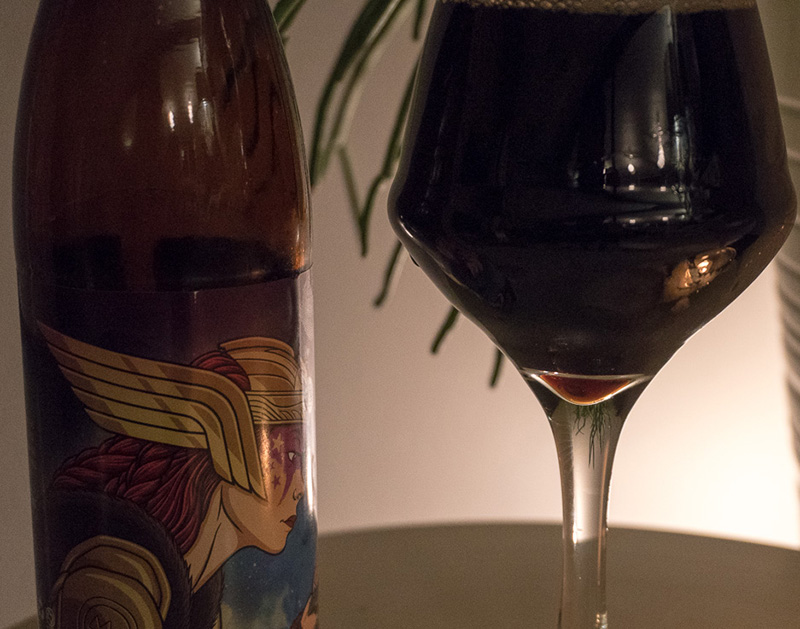 Appearance.
The version of Mother Night that I purchased comes in a 500mL glass bottle format. The art on the packaging feels a bit more serious compared to the rest of Noble Rey's more playful lineup. Mother Night pours a heavy dark brown into the glass. As I hold the beer up to a bright light, I see a faint hint of red color in the beer. I get a small amount of tan foam that stands up with a firm pour, but it quickly dissipates. Overall, this super-dark beer looks inviting, but I feel a little bit confused.
Aroma.
Mother Night smells deep and haunting with subtle caramel notes at first. There's a sweetness on the nose here and it smells good, albeit, a bit unlike the bright pop of a saison that I'm accustomed to. I do get a bit of plum here, but it remains subtle. Mother Night seems to play it pretty reserved on the nose, and I'm curious as I work my way into this beer. I suspect that this is one of those beers that really starts to open up as it warms. And that's definitely the case; as the beer warms, the malt takes a back seat and the smooth fruit tartness begins to emerge on the nose.
Flavor.
I get a healthy amount of smooth dark malts a subdued sweetness on the tongue. As the beer warms, again like the aroma, the tartness blooms and provides a healthy tongue tingling sensation. The tartness is  like that of  plum minus the sour/tart sensation. It's also a bit like currants but with dialed up tartness and subtle cherry notes. Although there is fruit flavor here, it doesn't head over into funkytown for me. It's clean and just a touch toward the tart side. I wish the fruity funk or tartness was dialed up more — maybe other drinkers will feel differently.
Mouthfeel.
Mother Night drinks with medium body. Carbonation is dialed up a bit compared to your normal ale and it helps give the tart sensation some extra punch on the tongue. For its semi-sweet drinking experience, Mother Night finishes bright and dry.
Overall Impression.
I'm confused by this beer. And my bias against dark saison style beers gets in the way. I like the smooth mouthfeel on this beer, the tart fruit that shows up as the beer warms and the overall drinking experience. What confuses me is that Noble Rey calls this beer a "funky saison." I get that the fruit additions will turn the beer over into weirder-drinking land, but for me, there's just not a lot of "funky" going on here. The term "funk" carries a lot of baggage with it when talking beer. This beer begs to be consumed a bit warmer, so don't go chugging this right out of the fridge. The once-subtle malt notes and tartness when cold seem to jump out of the glass once the temperature rises a bit. All in all, confusing or not, Noble Rey has aded to its depth by adding Mother Night. Sometimes showing a bit of restraint can go farther than a clobber of the head with aroma and flavor. And this subtlety and nuance — as well as Noble Rey's commitment to experimentation and exploration — earns Mother Night more points with me.
Score. On a scale of 1 to 10, I'd give Noble Rey Brewing Company Mother Night a 7.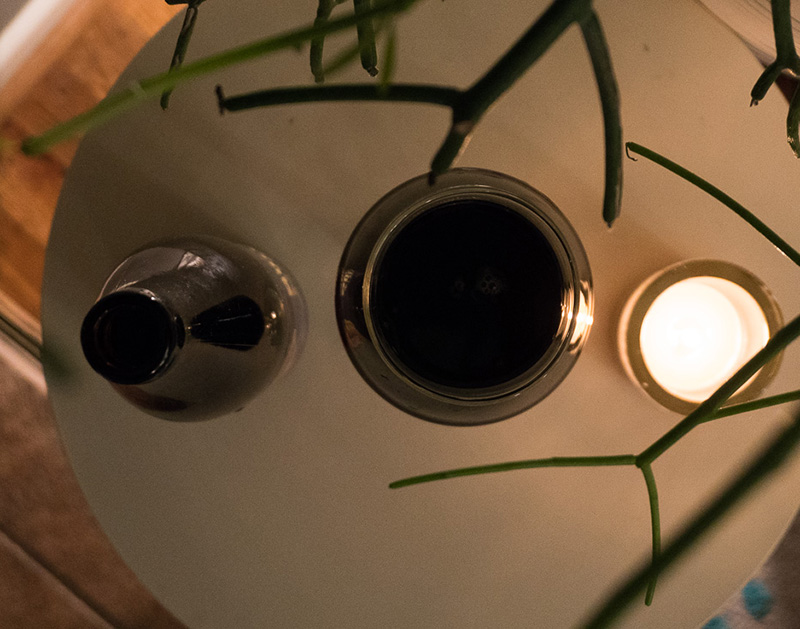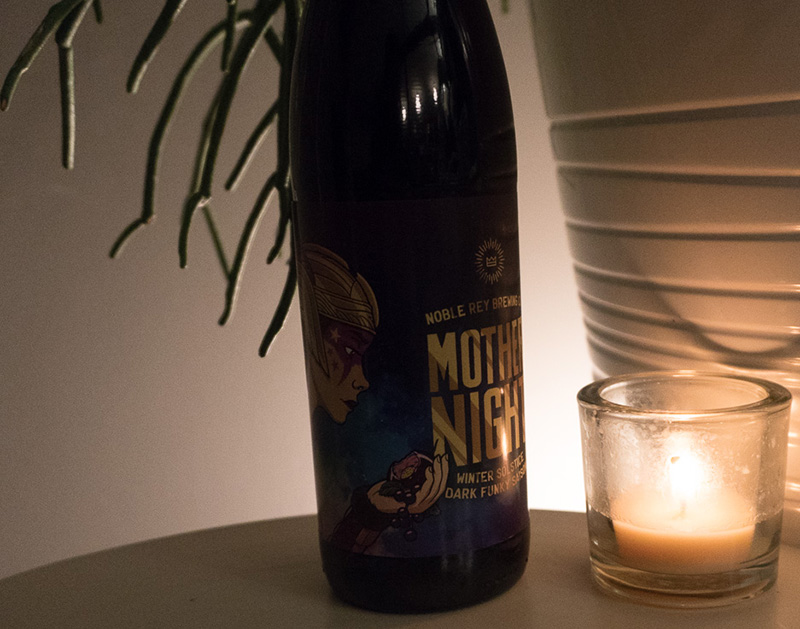 All photos by Ben Smithson.