It's Central Track's Day Launch Anniversary! Wanna Check Out The Stories We Shared On Day One Back In 2012 And See How They Hold Up?
On February 12, 2012, we went live with this here site you're reading right now. And, holy hell, it's a crazy thing to think we're still riding this train.
If you were to tell us then that we'd have lasted this long, I'm not sure any of us would've believed you. I mean, we absolutely would've loved to have heard you say it. And, cocky young shits we were and oftentimes still are, we definitely would've acted as if that were the outcome we anticipated. But, internally, we would've been nervously laughing, certain that you had no goddamn clue what the hell you were talking about — because we for sure didn't.
I mean, we knew what we wanted to do. We wanted to try to insert a little new energy into the tired media models we were seeing others execute around Dallas — a city with an expanding and diverse youth population that, frankly, deserved better than what it was getting. Our intentions weren't necessarily too remarkable. We simply took a look at the kinds of national culture publications we enjoyed reading, compared them to efforts of the ones focusing on our own backyard and marveled at the gulf that existed between those two entities. We figured we could carve a niche out for ourselves by splitting the difference — that we could develop an audience by sharpening our coverage scope to the interests of a specific demographic, that we could appeal to them by employing a livelier voice and that we could reach them by rationally using social media and smartphone technologies as our means of distribution.
We haven't exactly been surprised to see our theories proven right — that part of the equation always made sense to us. What has pleasantly surprised us is that, as time has gone on, our audience has grown far beyond the 18- to 35-year-old market we so unapologetically targeted in our earliest efforts, and into a size substantial enough to allow us to keep doing what we do. We like to think that's because we provide unique and genuinely interesting takes on what happens in and around this city, that we report on things people can't find elsewhere in ways and depths that others don't, and that we are able to reach audiences that others can't because of the attitudes we project.
One thing's certain, though: Our general ethos hasn't really changed this our very first day of publishing.
I mean, sure, we definitely look different — remember our old side-scrolling layout? Here's a refresher — no, not from our first day online, but from not long thereafter: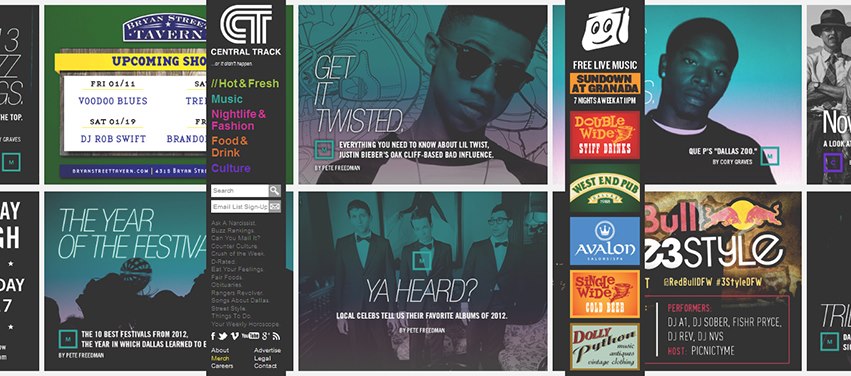 But, beyond that, a lot of what we did on Day One remains part and parcel to what we still do today — just packaged slightly differently, is all. Better yet, we can prove that by taking a look back, as we do below, at the 32 stories with which we launched this site on February 12, 2012.
Is re-posting these stories in this space an egregious act of navel-gazing? Absolutely! But if you can't do it on the occasion of your launch's anniversary, when can you do it?
Hell if we know.
All we know is this: Without you all clicking on our stories and telling your friends about us, we'd be nothing, and we certainly wouldn't still be doing this all these years and articles later.
So from the bottom of our hearts: Thank you.
Now please join us on this walk down memory lane…
Art Of The Matter. // Dallas' Arts District Is The Biggest In The Nation. And It Looks Good, Too.
By Hance Taplin
Counter Culture. // You Can't Pronounce Mesa Without Saying "Meh."
By C. Bruce Willis
The Scent of Sazerac. // It's Strong And It Smells. But It's Oh-So-Good. Who Makes Dallas' Best Sazerac?
By Blake Panter.
Bigger Than Religion. // Backstage at the Granada Theater with Erykah Badu, The Cannabinoids and A.Dd+ at the Granada Theater.
By Hance Taplin
Eastbound & Down. // Head to East Dallas for a Cheap Date Night That Will Still Impress.
By C. Bruce Willis
It's All Relative. // Relativity Outdoors Is A New Kind of Outfitter.
By Hance Taplin
Bookish Man. // How The Kindle Turned One North Texas Author Into A Sensation.
By Cory Graves
Judge This! // We Talk To Dallas Tattoo Icon Oliver Peck About His New Reality Show, Ink Master.
By Pete Freedman
North Texas' Own. // This Week In Free Local Music Downloads: Daniel Markham.
By Cory Graves
Street Style. // Slim Gravy's Winter Reds.
By Brittany Winter
The Other Lamar. // Behind The Scenes at Kendrick Lamar's Meet-and-Greet at Centre.
By Hance Taplin
Peep That Barkeep. // The Ladies Behind The Bars at La Grange, Anvil Pub and Capital Pub Have a New Pin-Up Calendar.
By Susie Oszustowicz
Download This! // The Hottest MP3s to Hit The Internet This Week: M.I.A., Conner Youngblood and More!
By Mikayla Moyer
Street Style. // Accessorize With Graeme.
By Brittany Winter
Yu So Crazy. // New Rangers Starter Yu Darvish Is The Next Big Thing. Emphasis On Big.
By Sam Merten
Jesus, What A Lineup! // Comparing This Year's 35 Denton Bill To Its Previous Incarnations. By Cory Graves
Because The Night. // Oh, Dallas. You Love Your Nightlife.
By Mikayla Moyer
Cheap But Sweet. // Looking For A Romantic Valentine's Dinner But Strapped For Cash? Time For a 7-Eleven Run.
By Melissa Mackaly
Street Style. // Neutrals With Jose.
By Hance Taplin
Stand Up. // Meet Omar, The Crafty Mixologist Behind People's Last Stand.
By Susie Oszustowicz
Hello Sadness. // Los Campesinos! Tell Us How They Got Somber All Of A Sudden.
By Cory Graves
Ghetto Klown. // We Talk To John Leguizamo About The New One-Man Show He's Bringing To Town.
By Cory Graves
Seeing Red. // Redsean Slips Us An Exclusive, Dance-Ready Mix.
By Pete Freedman
Spec's-Tacular! // How To Manage The Newest, Biggest Liquor Store in Town.
By Susie Oszustowicz
Fashion Focus: Valentine's Day. // How Long Have You Been Dating? That's The Key To Your Valentine's Look.
By Brittany Winter
Fill 'Er Up. // Chef Patrick Stark of Sundown Talks Stuffed Avocados.
By Melissa Mackaly
Trailer Park Treasure. // Tap The Brakes On The Food Truck Craze. In Oak Cliff, Food Trailers Are The New Hotness.
By Melissa Mackaly
Street Style. // A Moment With Kim.
By Hance Taplin
Things To Do This Week. // February 12 Through February 18.
By Cory Graves
All Texas Everything. // Announcing The First Round of Bands at This Year's Homegrown Festival.
By Pete Freedman
The New Dallas Cool. // With A Reclusive Oil Tycoon's Backing, Three Nightlife Entrepreneurs Take Aim On Downtown.
By Pete Freedman
Get To Know Us. // Welcome To A New Dawn In Dallas Online Media.
By Pete Freedman