In Need Of A Romantic Valentine's Day Dinner But Strapped For Cash And Time? Head To 7-Eleven, Put This Platter Together And You Might Come Out Of This OK.
Valentine's Day is coming up quick, and if you don't have your shit together, trouble could be on its way too. But don't panic. Say it with me: "Oh, thank heaven for 7-Eleven."
Yes, 7-Eleven. If you can trust them at 2:04 a.m. on a Sunday to provide nourishment to your highly intoxicated body, you can trust them to pull through on one of the toughest holidays known to man.
Really, you can cater a whole meal at your neighborhood convenience store. Sure, I use the word "cater" lightly — it's more along the lines of simply providing for your needs — but, let me tell you, friend: If you're trying to impress a certain someone that makes your sweet little heart pitter and patter, then your needs are great.
And we're here to help. That's right: You're about to learn how to make an entire Valentine's Day dinner — including gift and wine — from ingredients purchased from your local 7-Eleven store. All for under 35 bucks.
First, purchase these items: Mixed fruit; cheese; almonds; Caesar salad mix; spaghetti noodles; Ragu; Parmesan cheese; garlic baguettes; cupcakes; wine; and a chocolate rose.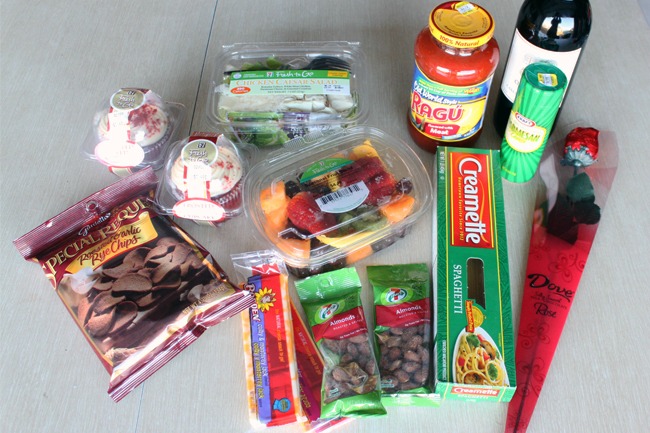 Then, do this with those things:
– Cut cheese into triangles and arrange with fruit and nuts.
– Prepare salad and split into two bowls.
– Cook spaghetti noodles.
– Heat Ragu in microwave.
– Merge two and arrange beautifully on a plate.
– Top with Parmesan cheese.
– Add in your baguettes.
– Set out cupcakes.
– Pour wine.
– Boast with pride at all you've just accomplished.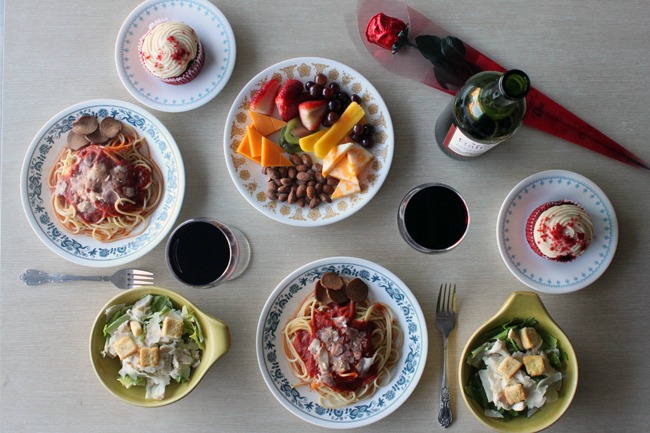 If this does not impress your love interest — by effort alone — please check his or her pulse. A Lady and the Tramp-style spaghetti dinner on Valentine's Day is pretty much what every heart wants, whether they admit it or not. Sure, there are a million reasons why you shouldn't have waited until the last minute to plan this "special" evening. None of those reasons matter.
Do the above steps, throw away the 7-Eleven bags, light some candles, put on deodorant and let the evening take you where it will. If you're lucky, you'll find your sweetheart's lips at the other end of a spaghetti noodle.