How To Manage The Newest, Biggest Liquor Store in Town.
Big news, drinkers: Spec's is now open at Walnut Hill and 75. Yes, the famed liquor superstore has finally graced the Metroplex with its presence.
Open the maximum hours allowed by law, this epicurean haven hosts liquor (obvi), beers, wines, cheeses, fine foods, snacks, cigars, bar/kitchen accoutrements and a deli to boot.
The fact of the matter is that the selection at Spec's is broader and deeper than that of any other liquor store in Dallas. Seriously, we dare you to find something they don't sell. They've got about 12,000 different wines in stock — and many of these are "WDs" (winery direct), meaning that Spec's is the only place that you'll be able to find some of these labels.
Even better? Dallasites have something even better to look forward to: Eight to ten more Spec's are currently being planned to pop up around the Metroplex — and in the next 15 months, no less.
Yes, you read that right. Thank you, booze gods.
If there's a downside to this news, it's that the store is so big, just walking around it can feel like a bit of an intimidating task.
To that end, here are some tips to help you get around.
1. Use the secret back driveway (off of the 75N access road going north) to enter and exit.
2. Find cold vodka, Jager, Rumple Minze and other liquors in a freezer in the back right (right beside the frozen snacks) for those last-minute liquor runs.
3. The vodka aisle is a veritable martini bar. You can find everything you need for the perfect Bond martini in one place. A nice touch that 007 would appreciate, no doubt.
4. Try to avoid going in on Mondays. The store restocks after the weekend on Tuesdays.
5. The deli closes at 8 p.m.
6. Pay with cash or a debit card and you'll get 5 percent off.
You'll probably need a map to get around this place, too. So, yeah, we made one.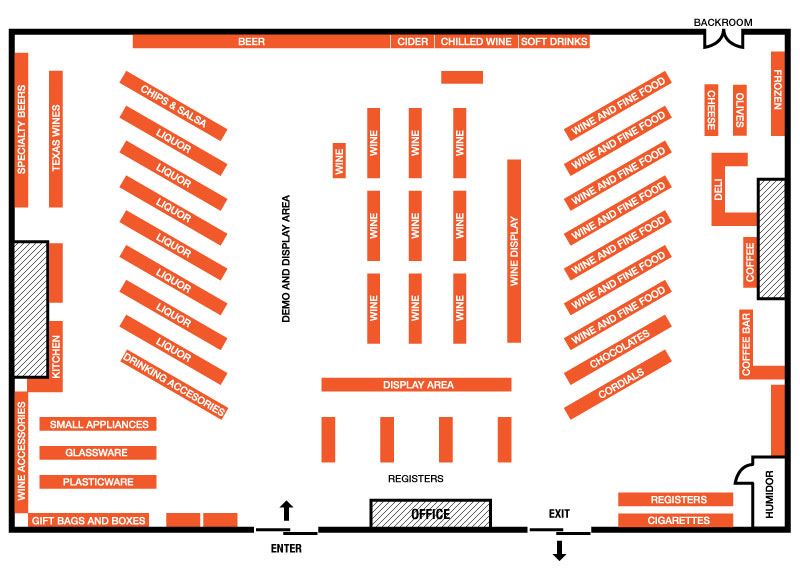 Stay thirsty, my friends.