How Long Have You Been Dating? That's The Key To Your Valentine's Look.
So it's almost Feburary 14 again, and that special someone in your life wants to take you to dinner.
Immediately, the insidious question of "What the hell am I going to wear?" pops into your head. Well, based on how long you two have been together, your answer might change.
Don't freak out! We're here with some suggestions for what you should wear on that special lovers date night.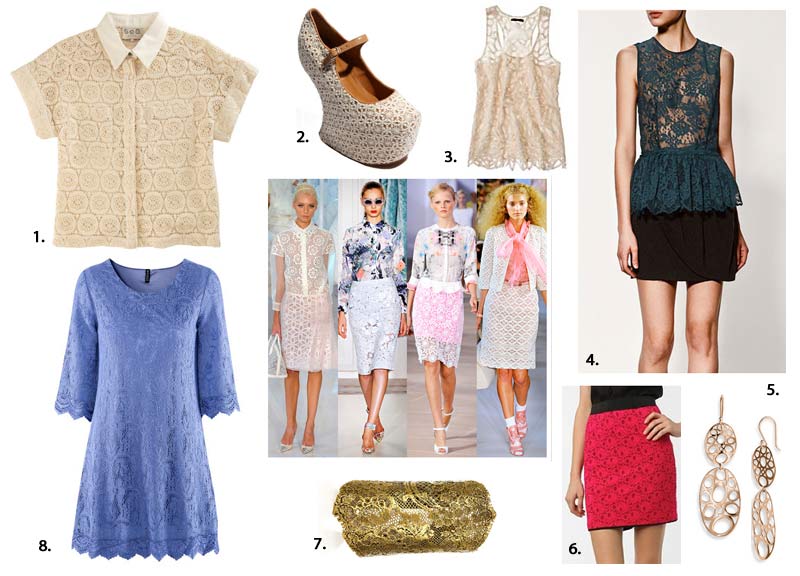 If you've been dating for a week…
– Keep it classy and lady-like.
– Use lace to accents to show some subtle sexiness.
– Don't give off the wrong impression by showing too much skin.
1. SEA lace shirt, Barney's New York, $294.00
2. Jeffery Campbell lace mary jane, Nordstrom, $169.95
3. Lattice lace tank, Madewell, $168.00
4. Lace peplum top, Zara,$59.90
5. Ippolita digital lace rose gold earrings, Nordstrom, $395.00
6. Silence and Noise lace mini skirt, Urban Outfitters, $59.00
7. Aurelie Bidermann 18k gold lace cuff, Grange Hall, $1890.00
8. Periwinkle lace 3/4 sleeve dress, H&M, $29.95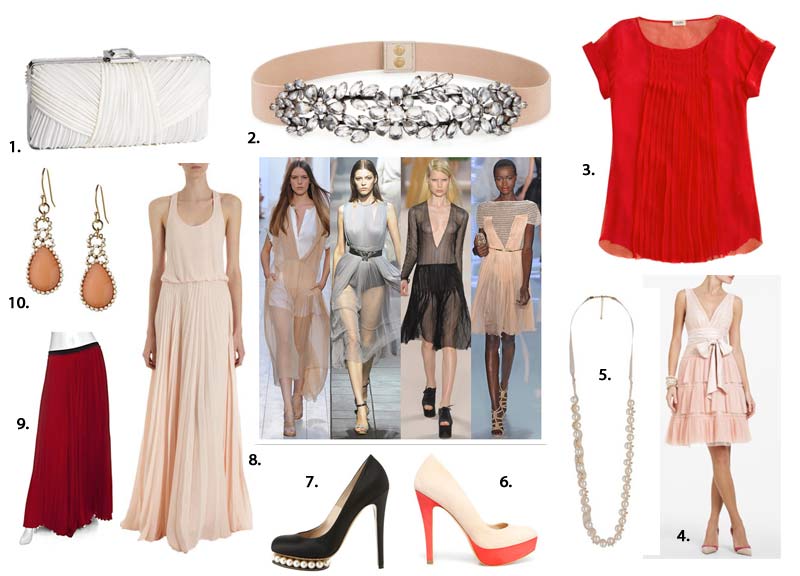 If you've been dating for a month…
– Be Flirty!
– Go for a romantic style dress with pleat details.
– You're still reeling him in, so make him know he's lucky to be with you.
– Don't make the mistake of going too sexy too soon!
1. Sondra Roberts pleated satin clutch, Nordstrom, $118.00
2. Stone waist belt, BCBG, $68.00
3. L'Agence pleated blouse, Barney's New York, $281.00
4. Janie tiered dress, BCBG, $478.00
5. Two toned platform pump, Zara, $89.00
6. Pearlescent Ribbon Necklace, Forever 21, $8.80
7. Nicholas Kirkwood pearl platform pump, Neiman Marcus, $995.00
8. Enza Cosat pleated maxi skirt, Intermix, $210.00
9. Peach teardrop earrings, Banana Republic, $35.00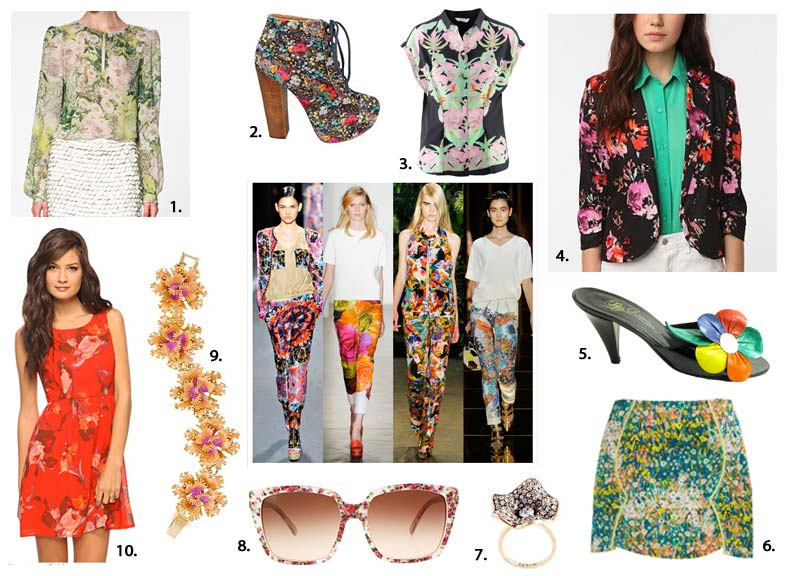 If you've been dating for six months…
– Take a risk!
– Wear something trendy or a style you've never tried before
– Florals are huge for spring so get a head start on this trend
1. Floral teardrop opening top, Zara, $59.00
2. Floral platform boot, Steve Madden, $169.95
3. Floral blouse, H&M, $39.95
4. Floral blazer, Urban Outfitters, $79.00
5. Oleg Cassini floral sandal, Archive Vintage, $125.00
6. O'2nd floral print mini skirt, Barney's New York, $250.00
7. Flower bud ring, J.Crew, $35.00
8. D&G Floral Sunglasses, AS0S.com, $293.64
9. Carnation Necklace, J.Crew, $98.00
10. Painted rose dress, Forever 21, $22.80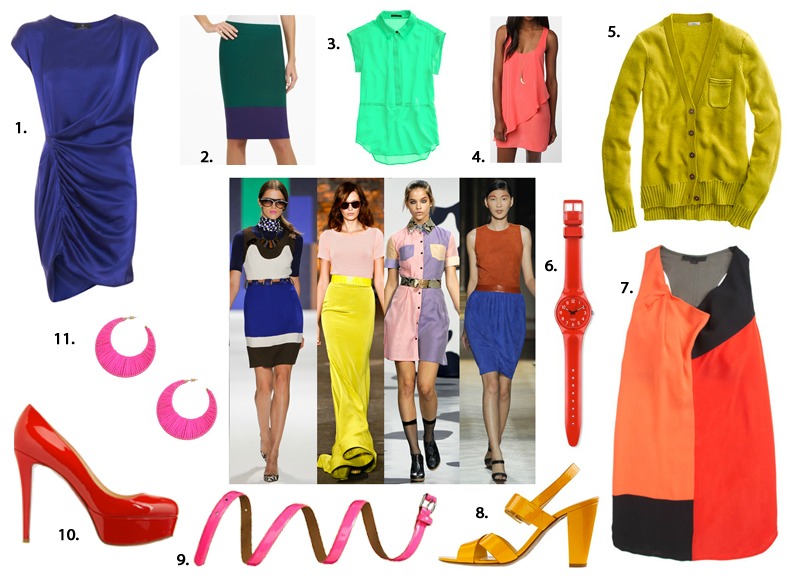 If you've been dating for a year…
– Give him a treat.
– Wear your sexiest heels, get your hair and nails done and go with a brightly colored, sexy dress!
– Reheat that flame with the color of love.
1.Thakoon Addition royal blue dress, Barney's New York, $550.00
2. Color blocked pencil skirt, BCBG, $148.00
3. Silk singalong top, Madewell, $98.00
4. Colorband shift, Madewell, $108.00
5. Topnote Cardigan, Madewell, $69.50
6. Cherry Berry Watch, Swatch, $50.00
7. Alexander Wang dress, Barney's New York, $450.00
8. Sydney Patent Sandal, J.Crew, $228.00
9. Neon Patent Belt, Gap, $24.95
10. Christian Louboutin red patent pump, Barney's New York, $845.00
11. Threaded hoop earrings, Forever 21, $3.80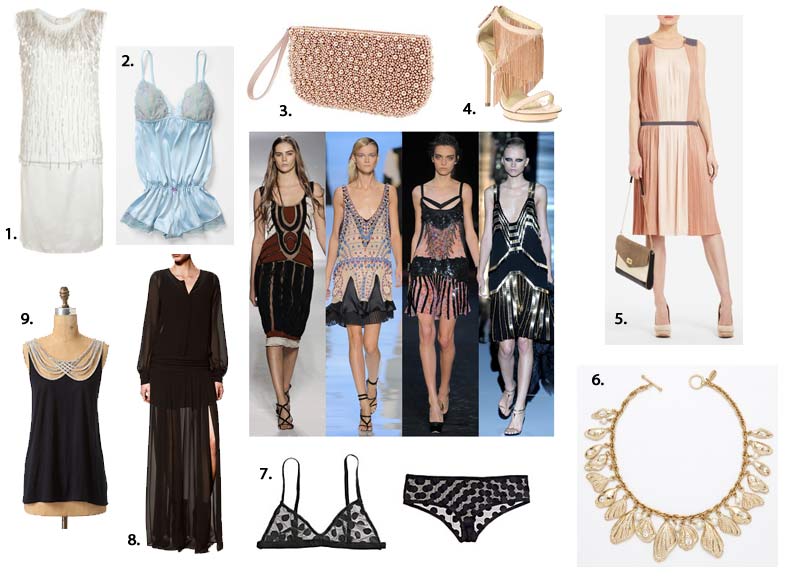 If you've been dating for five-plus years…
– It's officially time invest in lingerie.
– Try a sexy '20s drop waist dress.
– Be fun, but definitely be sexy!
1. Lanvin beaded dress, Barney's New York, $2530.00
2. Godetia Romper, Anthropologie, $68.00
3. Pearl Clutch, Banana Republic, $98.00
4. Brian Atwood sandals, Saks Fifth Ave, $460.00
5. Color blocked drop waist dress, BCBG, $268.00
6. Butterfly Necklace, Ann Taylor, $118.00
7. Polka Dot Intimates set, Madewell, $50.00
8. Shirt Dress with sash belt, Zara, $159.00
9. Scalloped strings tank, Anthropologie, $68.00