Martin House Brewing Company's Morrigan Is A Jameson Whiskey Barrel-Aged Barleywine Brew That Packs Both A Warming High ABV And Sweet Caramel Flavor.
Welcome to On Tap! Each week in this recurring feature, we'll take an in-depth look at one of the many beers now available in the suddenly crowded North Texas brew scene. The goal here is to look at these area beers without our local goggles on and to wonder aloud, "Is this beer good or do I just like it because it's local?" Should be a fun experiment, no? Cheers to that!
This week, we sipped on Martin House Brewing Company's The Morrigan.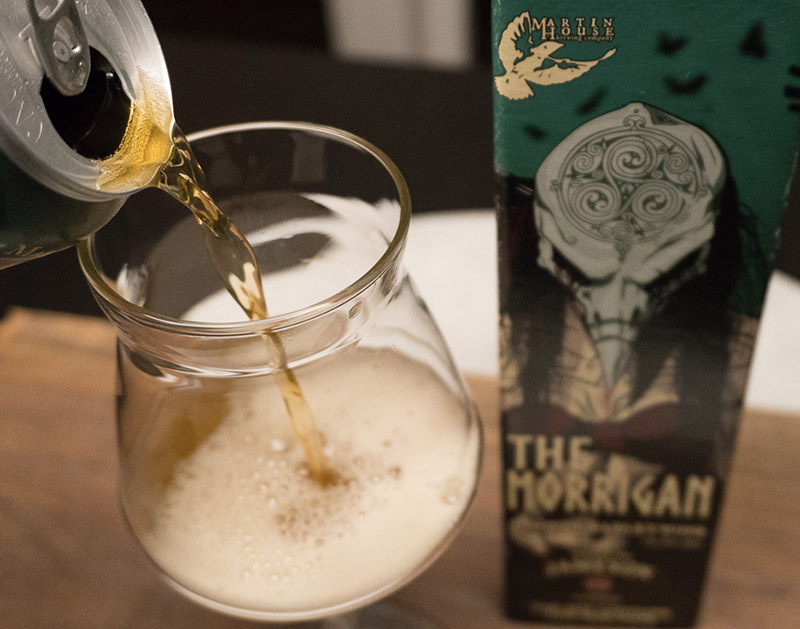 Fast Facts on Martin House Brewing The Morrigan.
Style: American Barleywine.
ABV: 12.2 percent.
International Bitterness Units (IBUs): 46.
Color: Deep gold.
Availability: 2-can packs and draft (limited).
Overview.
I'm digging the two-can pack release thing Martin House has going on right now. That way, I can have half now and the other half sticks around for when I'm ready to crack it open. This makes even more sense for a 12.2 percent ABV helmet beer like The Morrigan. For The Morrigan, Martin House teamed up with Jameson – yes, the Irish whiskey maker – for this special release. This isn't the distiller's first foray into a beer partnership of this ilk – far from it, actually. In 2015, Deep Ellum Brewing held an event with Jameson and announced a barrel-aged beer. And that's just local. Jameson's entered into a whole bunch of these partnerships across the nation in the past few years. I'm not knocking Jameson, nor trying to dilute the specialness of what's going on with this Martin House beer release. Just know that this is a rather major (and also kinda cool) long-game play by a spirits brand to remain relevant and top-of-mind for craft beer drinkers.
Background on Barleywine.
For a primer on the barleywine style, check out our reviews on Lakewood Brewing's Thread Spinner or Braindead Brewing's Fill In The Blancs. The barleywine style is a full-flavor, high-ABV sipper that tastes delicious any time of the year. Some people might consider this style more of a cold weather style, but I like a barleywine all the time. Though the style's roots are in England, the style has morphed a bit as new regions have picked it up and put their own spins on it. For instance, the American barleywine variation is known to have a more aggressive hop profile and a cranked up alcohol range. Either way, the barleywine style is known for its large grain bill, high ABV and sweet finish. This is a style that you want to take your time with.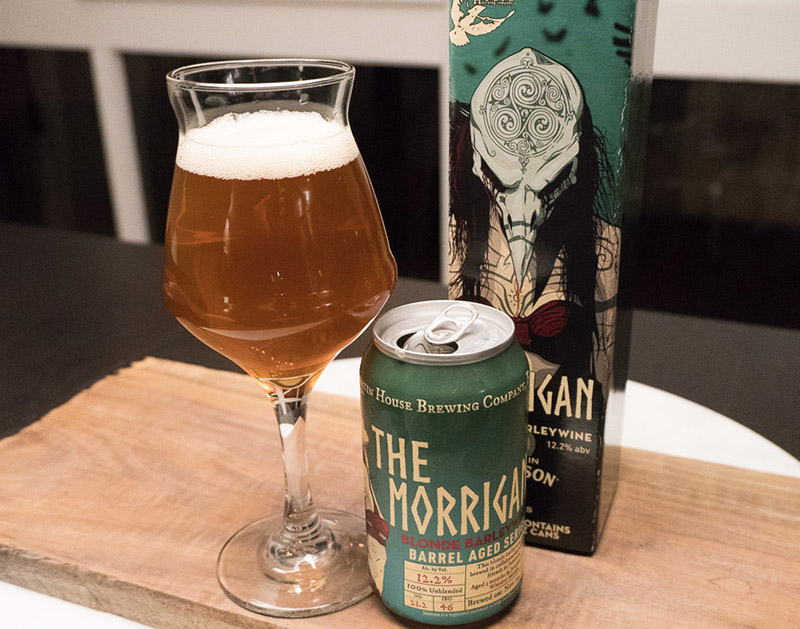 Appearance.
The Morrigan pours deep gold into my glass. I was guessing that this beer would have a little bit of haze to it – after all, that's what happens with a fair amount of barrel-aged beers. But that's not what's going on here with The Morrigan – it actually has a brilliant level of clarity. A fair dose of foam tops this beer for photos, and as I sit here and let this beer warm up and tease me with its oaky delights, the head dissipates and I'm left with a scant ring of bubbles around half of the glass. The can's art follows suit with the box packaging, and its matte finish is not only beautiful but also imminently-velvety to the touch.
Aroma.
The Morrigan smells great. The first sensation I get is that it's a huge beer, filled with a massive amount of sweet caramel-ly, grainy aromas that dance through my nostrils. There's no mistake that this beer is a barleywine right from the first sniff. It smells warming and inviting, and a moderate amount of vanilla and oaky goodness presents itself and lingers. I don't get a lot of hop aroma on the nose, and that's okay. There is definitely some alcohol aromatics in play on this beer; The Morrigan wants to let you know that it's here and it's boozy. An, oh yeah, it smells like Jameson.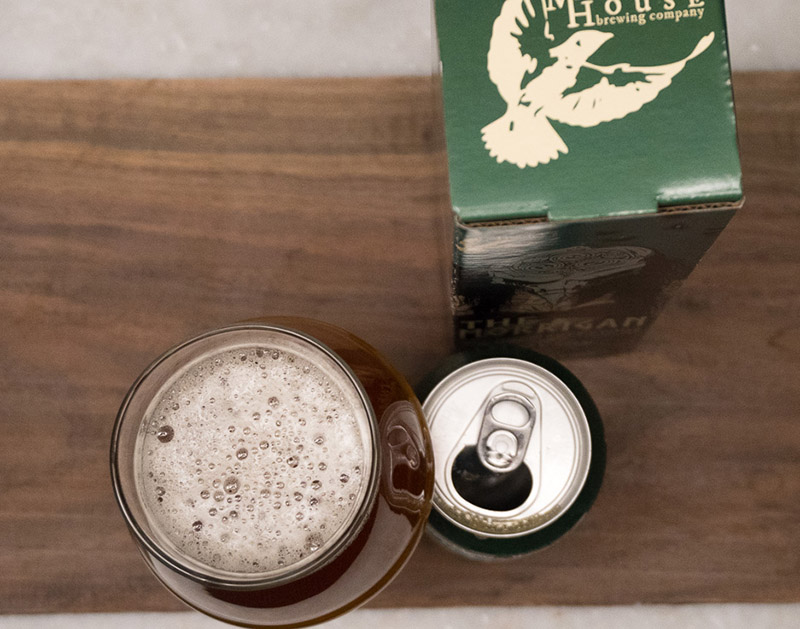 Flavor.
This beer starts with a good dose of caramel goodness, paired with dried fruit notes like dates and raisins. Hop bitterness is dialed up enough to keep lock-step with the massive grain bill on this beer. I want to take another sip, but my brain tells me to slow it down a touch. After all, this is a 12.2 percent ABV beer, and it does have a firm alcohol note. I get a warming touch of whiskey on the aftertaste, like the ghost of Jameson. Or like that time at Goodfriend where you order The Goodfriend – a shot of Jameson and a pony Miller High Life – and after you've wrapped up the two-drink situation, the Jameson lingers around for what seems like forever in those corny, adjunct beer burps. Except here, instead of adjunct cheap beer, you get sweet and luxurious grainy goodness.
Mouthfeel.
The Morrigan is a full-bodied beer. It commands me to take my time as I work through it. The moderate carbonation keeps things popping through the pour and provides a nice retreat from the onslaught of delicious flavors going on here. The Morrigan has a somewhat elevated final gravity, and this sweetness hangs around and gives this beer a velvety, enjoyable drinking experience and the sweetness helps mask some of the heat from the alcohol.
Overall Impression.
I'm a fan of this beer. It's novel, delicious and a fun-but-chill drinking experience. In adding the whiskey barrel-aged format, Martin House takes a distinguished style and adds more flavor and depth to it. There are not many small flavors or aromas going on here – that's not what this beer is about. It's big alcohol, big aroma and big flavor. I can't say that I'm a huge fan of Irish whiskey, so I think it's a good thing that the whiskey notes don't dominate this beer. If that were the case, and for me and maybe you too, this beer would start to take on a college party or a open-bar wedding vibe. All in all, this beer is a success, and I look forward to introducing this beer to friends with the second half of my two-can pack.
Score. On a scale of 1 to 10, I'd give Martin House Brewing's The Morrigan a 9.25.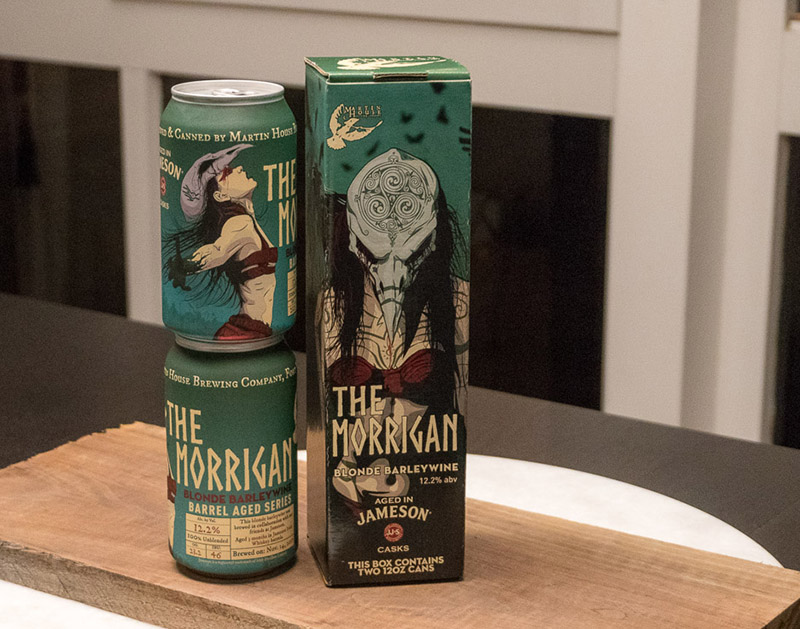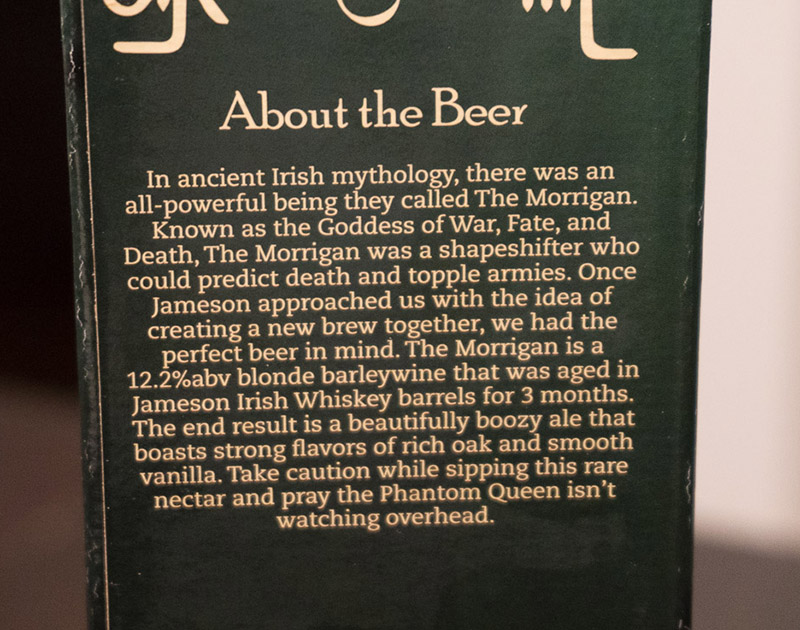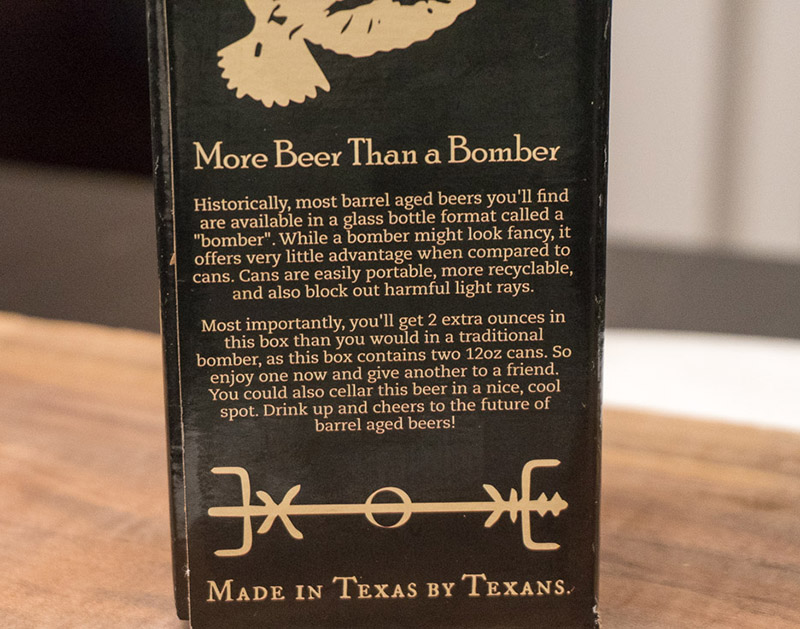 All photos by Ben Smithson.