HopeFusion Ale Works' Nationally Renowned Feisty Blonde Is An Intensely Vanilla And Honey-Flavored Blonde Ale With A Higher Than Average ABV.
Welcome to On Tap! Each week in this recurring feature, we'll take an in-depth look at one of the many beers now available in the suddenly crowded North Texas brew scene. The goal here is to look at these area beers without our local goggles on and to wonder aloud, "Is this beer good or do I just like it because it's local?" Should be a fun experiment, no? Cheers to that!
This week, we sipped on HopFusion Ale Works's Feisty Blonde.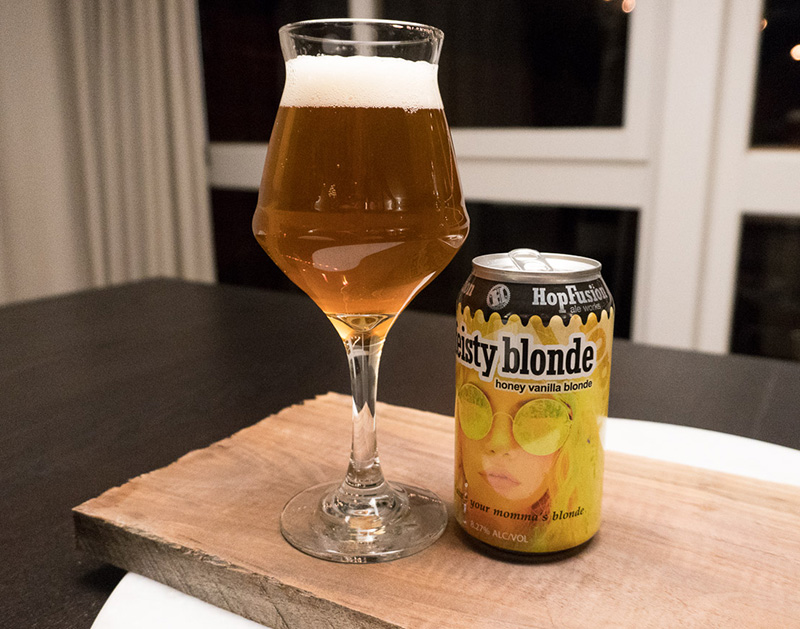 Fast Facts on HopFusion Ale Works Feisty Blonde.
Style: Blonde Ale (honey and vanilla)
ABV: 8.2 percent.
International Bitterness Units (IBUs): 16.
Color: Dark gold.
Availability: Cans and kegs.
Overview.
HopFusion Ale Works, hailing from Fort Worth, occupies space in the trendy south side of the city. When I was a student in Fort Worth, this part of town wasn't exactly the same. There are a few other brewing operations tucked into this part of the city, namely Rahr & Sons, Collective and Chimera. This brewing hotspot rivals Dallas' design district. Who's in for a quick trip over to Funkytown?
In case you didn't know, HopFusion earned three medals at the 2017 U.S. Open Beer Championship. This is a big achievement and Feisty Blond is one beer that earned a top spot among the other entrants.
Background on Blonde Ale.
The blonde ale style is typically an easy-drinking type of beer. Malt should be noticeable and keep one's attention, providing a moderately sweet aroma and flavor. Some mild fruitiness can show up on the nose and the hop aroma can come from virtually any hop varietal. Color range on a blonde ale is from light yellow to deep gold and these beers are typically brilliantly clear. But in recent years, it seems that the cloudy clarity movement has taken over, especially in local beers. In the flavor, you should notice the malt first and foremost, but you shouldn't be getting much caramel here. This style should show through with more bread, toast, or soft malt sweetness. Mouthfeel on a typical blonde ale is light to medium. Carbonation should be medium to high; this beer should drink smooth and bright, without an overwhelming or heavy feeling. Overall, and to sum up Beer Judge Certification Program guidelines on the style, this beer is an answer to a standard American lager, and many brewpubs will offer this entry-level and also less-challenging beer as part of their lineups. The style guidelines also state that if spice or fruit additions take over the beer, it may be more property suited in a specialty category.
Appearance.
Feisty Blonde pours deep gold/light orange into the glass. I sense a clarity problem with this beer. But it seems that this commonplace with many modern blonde ales. Brewers don't seem to put as much effort into getting über-clarity out of their blonde ales. Or perhaps it's the style guidelines that should adapt to changing preference and execution on beers like this.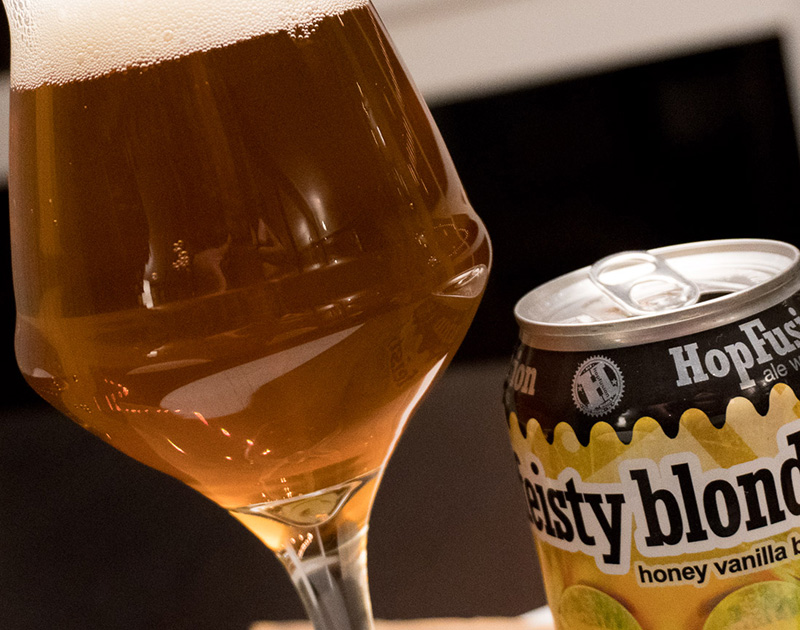 Aroma.
Feisty Blonde smells a lot like Community's Snickerdoodle on the nose. I think it's the healthy vanilla addition going on here. Or maybe it's the firm malt backbone with the other additions that make this beer smell like a cookie. Regardless, there's a bright and sweet vanilla cookie situation here and I like it.
Flavor.
I sense lots of vanilla as it continues through to the flavor. What I missed from the honey definitely shows up more in the flavor for me now, although your mileage may vary. Behind that, there's a warming flavor of alcohol here. This beer attempts to sneak the alcohol by me, but I can pick it up on the palate. It's not a bad thing, but this beer is just high on the ABV because — well, that's just how it rolls. And what I mean by it having a high ABV is that this beer's ABV could be cut in half and still be in range for the style. So, yeah, this beer's 8.2 percent ABV is way above average for a blonde ale.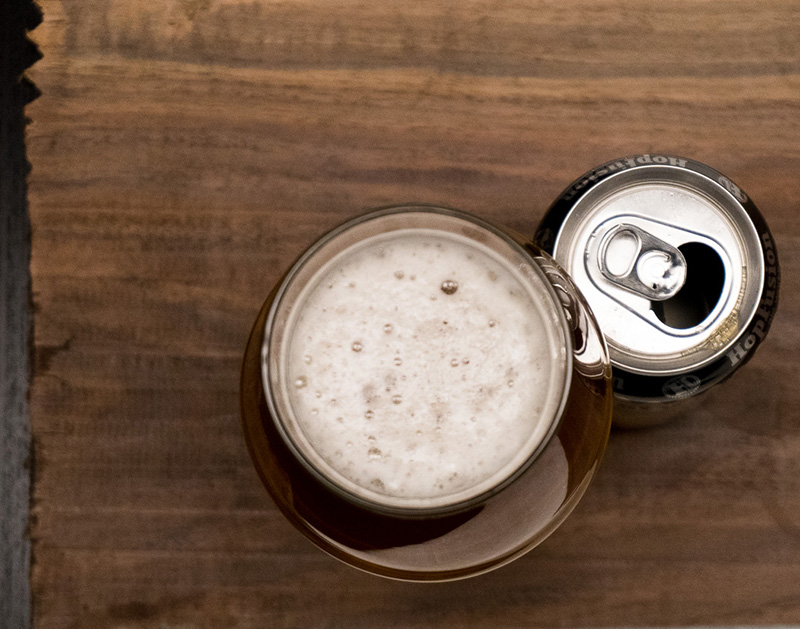 Mouthfeel.
Feisty Blonde drinks very bright with its medium-high carbonation. Its carbonation is so dialed in that it almost tricks my mind in to thinking that this beer has more bite on the bitterness department. The mouthfeel is medium-ish and the somewhat elevated sugary flavor seems to add to the mouthfeel to make the beer drink bigger than it actually is. And really, this is sort of a bigger beer, especially for its style.
Overall Impression.
I like Feisty Blonde. Also, this isn't a beer that I'm going to consume in multiples. First off, the 8.2 percent ABV demands a bit too much respect for an everyday Blonde Ale. So maybe calling it a Blonde Ale is a bit of a misnomer, though I'll admit my bias and expectations are getting in the way here. Second, there's just a lot of flavor here and this beer gives me a growing sense of palate fatigue. But Feisty Blonde isn't your everyday sort of Blonde Ale. Don't get me wrong: this is a very flavorful, over-the-top and interesting beer. But for me, the intensity of the vanilla and other additions pushes this beer over into novelty land. So while this beer did earn a spot on the podium at the 2017 U.S. Open Beer Championship, and it does deserve respect where respect is due, it's not one of my favorites. And that's totally okay, because maybe you will try it and dig it! Perhaps I should also mention here that Blonde Ales – on the whole — don't catch or command my attention on the regular. So, there's that, too. And points for HopFusion for creating a flavor-intense Blonde Ale.
Score. On a scale of 1 to 10, I'd give HopFusion Ale Works Feisty Blond a 6.75.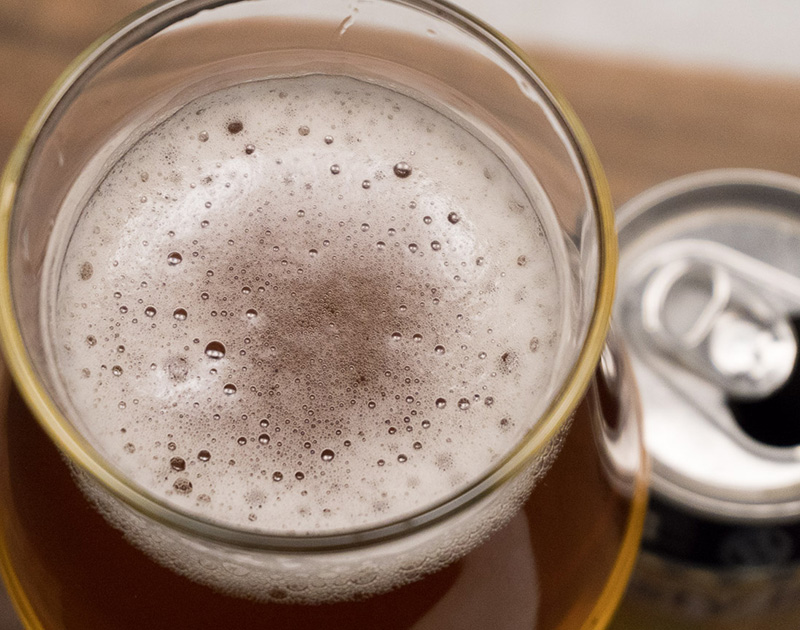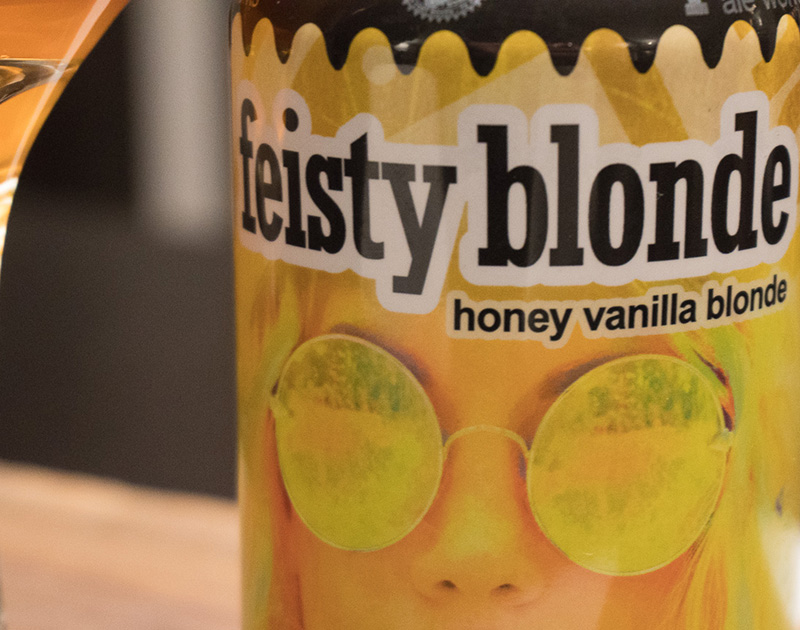 All photos by Ben Smithson.