A Closer Look At The 2019 Central Track Music Honors Best Song Nominees, Which Will Also Be Featured On This Year's Vinyl Record Trophies.
With voting now open (and running through February 13!) in our first-ever Central Track Music Honors, we wanted to again acknowledge that we understand how approaching our ballot of 51 separate categories can feel like a bit of a task for those who aren't paid to watch the scene as closely as we are. To that end, we've decided to dedicate some space on our site during this open voting period to breaking down some of our categories' nominees a little more deeply. This below post aims to do just that. Don't like what you see and hear? That's cool, too! You can also write in your own top honors choices for each categories. The important thing, we think, is that you just pay a little mind to some of the amazing art that's being created in this town — and that you express your appreciation for those talents with your votes. You can do just that — up to five times total, but only once per 24 hours — right here. Now, it's time for the breakdown!
Most anytime there's a music awards show — like the Grammys, the CMAs, the ACMs, the VMAs, etc. — you can always count on a North Texas-sprung artist (or five) to walk away with some of their trophies. But even with most of those big global superstars removed from these proceedings to level the playing field, the North Texas music scene arguably remains just as hot.
The quality of nominees in the CTMH Best Song category is evidence of as much — although, yes, we'll give you a pass if you've slept on a few of these. Nearly all of this year's noms, coincidentally, are plucked from debut efforts.
SEE ALSO:
• THE TOP 100 DALLAS SONGS OF 2018.
• MUSIC HONORS: LOOKING OVER THE BEST MUSIC VIDEO DIRECTOR NOMS.
• MUSIC HONORS: INTRODUCING THE HIGH SCHOOL & UNDER NOMS.
• MUSIC HONORS: BREAKING DOWN THE BEST ALBUM NOMS.

It is not a coincidence at all, however, that we've managed to book all but two of these acts to perform live at our big CTMH event on February 20, at the Granada Theater.
Furthermore, we can break the news here that the seven tracks we'll break down in detail below will be all pressed on a limited edition vinyl record by our friends at Hand Drawn Records, and those will be individually customized and handed out as the trophies to the entities taking home Top Honors in each of this year's 51 categories.
Here's what those will look like: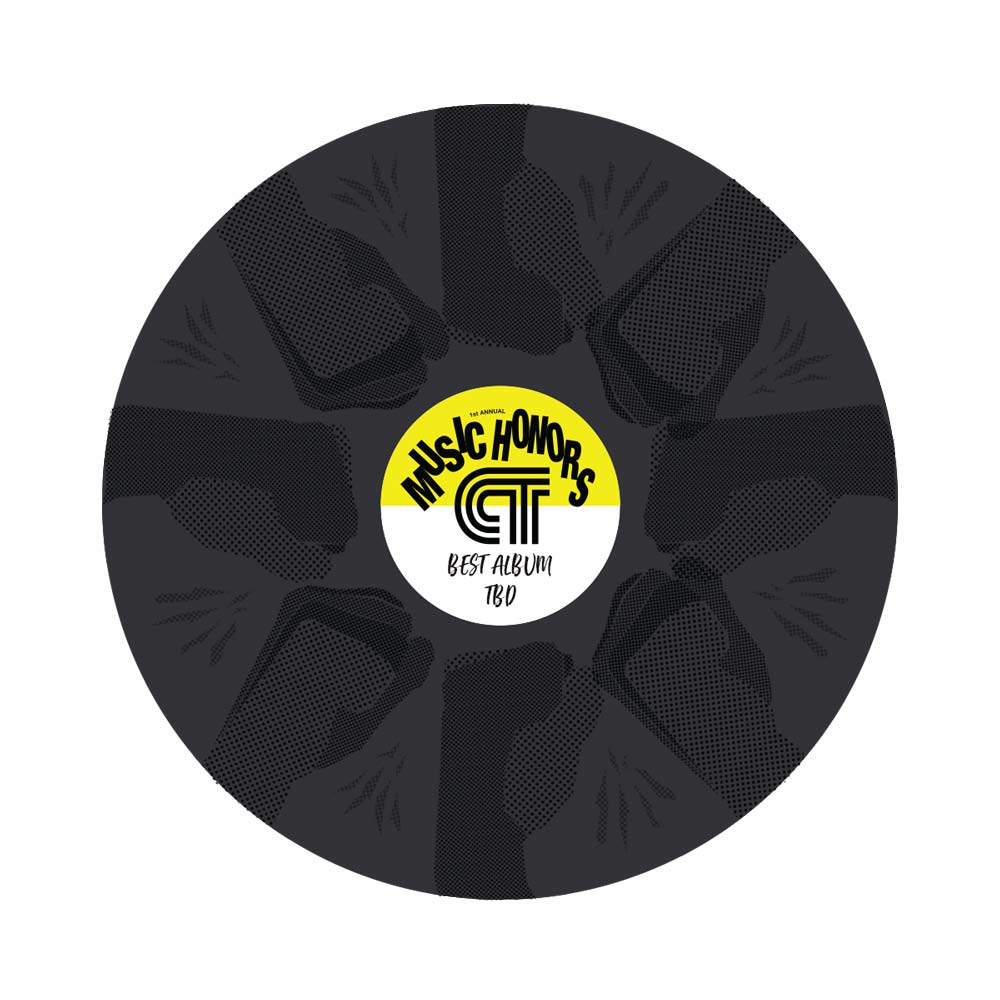 Pretty neat, right?
Alas, we can't all be winners and score one of those. But, hey, you can all still give the following tracks a virtual spin below, either way!
Just, once you've completed that task, don't forget to vote for your favorite.
Joshua Ray Walker — "Canyon"
While most of the tracks from Walker's stunning debut LP are about fictional characters, "Canyon" is as deeply personal a track as they come. In justifying its place on our list of the top 100 tracks of 2018, we previously called it the most honest song of the year, and lauded its dealing with Walker's "biggest insecurities, failures, shortcomings and fears," while rekindling a relationship and seeking approval from a previously distant father who is battling cancer. When Walker cries, "Are you proud of me, are you proud of what I do?" before the chorus, it carves out our heart every damn time. If it doesn't do the same to yours, you might want to check your pulse.
SRSQ — "Cherish"
As noted in a feature we wrote on this song: "The second single from SRSQ (pronounced seer-skew), 'Cherish' comes from the solo debut of Them Are Us Too's Kennedy Ashlyn… [It's her] first new material since the other half of her old duo, Cash Askew, fell victim to the Oakland Ghost Ship Fire of 2016… While the creative void left by Askew's death will never be filled, a press release from Ashlyn's publicist says SRSQ is the 'vehicle for Kennedy's transformative process.' That process finds Kennedy in a region that's not a far cry from TAUT's own sonic leanings, but occupying a definite space all its own. Not far off, you'll find other melancholic synth pop projects like Cocteau Twins nodding in appreciation." You'll find us there, too.
Luna Luna — "Fro (feat. Pretty Boy Aaron)"
It's been a breakout year for the Luna Luna crew, which are up for nominations in a whopping five CTMH categories. On top of this nod, they're also up in the Best EP category for their For Lovers Only album, not to mention nominations in the Best Group, Best Indie Rock Act and Best New Act categories. All that is to say, these indie darlings are pretty great on their own. Here, though, they go the extra mile with a guest feature from Dallas rapper Pretty Boy Aaron. Said our own Mikel Galicia upon this track's initial release: "It feels like the band's most complete and fully formed song to date, actually. Plus, it comes complete with… some perfectly nuanced sound effects, a cool little intro, a bridge that stands on its own legs, a solid outro and some lighthearted lyrics. We can dig it." We can, and we do.
Kyoto Lo-Fi — "Godot"
As we've said previously: "Dallas up-and-comers Kyoto Lo-Fi follow up their 2016 EP with their first professionally produced single…. 'Godot,' which… hints at a more radio-ready direction from the band with its quick drumming and jangly guitars. It's a sound a lot like Bloc Party and/or The Strokes, which is to say it's right in [our] wheelhouse. And if you read even one music blog circa 2008, it's likely up your alley, too." Hey, remember the blogosphere? Good times.
About You — "Cactus"
One interesting thing we really took notice of in 2018 big time was all the strong young writers and artists in town at the moment. Yeah, these days, high schoolers are holding their own as part of adult bills on a weekly basis around these parts. But what happens to these promising young stars after high school? For one answer to that, we point to About You, of which we once noted the following: "If there's any silver lining to the breakup of former teen prodigies the Azalea Project when its members graduated [high school] and went off to different colleges a few years back, it's that now they've each started up bands in their new hometowns. In addition to the New York-based Pueblo that put out a stunning EP a year ago, the Boston-based About You, led by Azalea guitarist/singer Max Poscente, is now following suit — and similarly sounding seasoned beyond his years." Sometimes, it seems, youth isn't wasted on the young.
Xuan — "Big Blue Ocean"
If you've never met Xuan (pronounced "Swan") check out this piece we wrote on the born adventurer ahead of the release of her debut LP Have Some Fun last year. In it, we wrote the following about the music she's making these days and how her life up till now inspired her debut collection: "The resulting record is, indeed, a lot of fun. And while it is filled with plenty of sugar, bounciness and playful moments, they're all anchored by a pure and honest sentimentality. They're little snapshots of the everyday moments and thoughts of a person living to the fullest at all times…. 'Big Blue Ocean' finds the singer daydreaming about roller-skating to the beach for a dip while singing somewhat longingly about her old life as an adventurer traveling to various ports of call all over the big, blue, ocean-covered planet." It's also just an infectious as hell song.
Ian Salazar — "Virginia"
Low key, young Salazar here might be the most talented musician on the list – or in North Texas, period, for that matter. In addition to his solo material, the Acid Carousel and Majik Taylor member has also plied his craft in Andy Pickett's live band and even appears on Matthew McNeal's most recent single. Oh, and he produced recent records from The Bralettes and Hall Johnson, too. Yeah, he can do it all — including playing bass, drums, guitar and saxophone on that 2018 Scarlet Cimillo and Cure For Paranoia team-up, too. In all, he's up for honors in six different CTMH categories as a result of that work. As for this song? Well, here's what we said about it upon first hearing it: "[Salazar] has several musical irons in fires all over town at the moment, none of which necessarily sound all that similar and all of which are quite stunning. And then there's the fact that, on top of the many records all his other bands are continuously putting out, he's also got a solo EP… Get this: The young wizard wrote, performed, recorded and mixed this track from that upcoming release all by his lonesome. Gotta admire the hustle." Boy, do we. Go Vote!