Starting April 18, Uber & Lyft Drivers Will Only Be Able To Pick Up Or Drop Off Riders At One Of Five Designated Locations Throughout The Neighborhood.
Update at 5:30 p.m. on Wednesday, April 17: We spoke to a number of the officials behind the implementation of the below-detailed program to answer some pressing concerns about its roll-out. You can read that article right here.
Original story follows.
* * * * *
If you've visited Deep Ellum in the last few years — even for a single night! — then you've surely been subjected to the neighborhood's ongoing issues with traffic congestion. It's a real drag, pun not intended.
Brake lights blare in every direction.
Drivers lay on their horns out of frustration, adding to the cacophony of the already clamorous neighborhood soundtrack.
Cars painstakingly scoot forward, inch by inch, their progress seemingly forever halted by Uber and/or Lyft drivers continuously stopping in the middle of the road so as to let their customers out of their cars right in front of their riders' desired destinations.
But Deep Ellum now has a plan in place to help curb all that.
Come April 18, the neighborhood will begin implementing a pilot program in which it will enforce a geofence around Deep Ellum from Good Latimer to Malcolm X and Indiana to Commerce, with Uber and Lyft drivers no longer being allowed to pick riders up or drop them off within that perimeter, except in designated areas.
SEE ALSO: These Are Lyft's Most Popular Drop-Off Spots In Dallas.
Drivers will now be asked to pick up and drop off their rideshare clientele in one of five agreed-upon zones:
On Good Latimer Expressway by the neon Deep Ellum sign (near the future home of Punch Bowl Social)
On Malcolm X Boulevard, just north of its intersection with Indiana Street (alongside the Broadstone Ambrose apartment complex)
On Commerce Street just west of its intersection with Malcolm X Boulevard (across the street from Zatar Lebanese Tapas & Bar)
On Swiss Avenue, just west of its intersection with Good Latimer Expressway (between the Deep Ellum DART stop and Lizard Lounge)
On Pryor Street, which was recently converted into a two-way strip, right between Main Street and Commerce Street (between Pecan Lodge and Ruins)
Here's a map the Deep Ellum Foundation shared with area business owners about the above plans to help visualize the changes: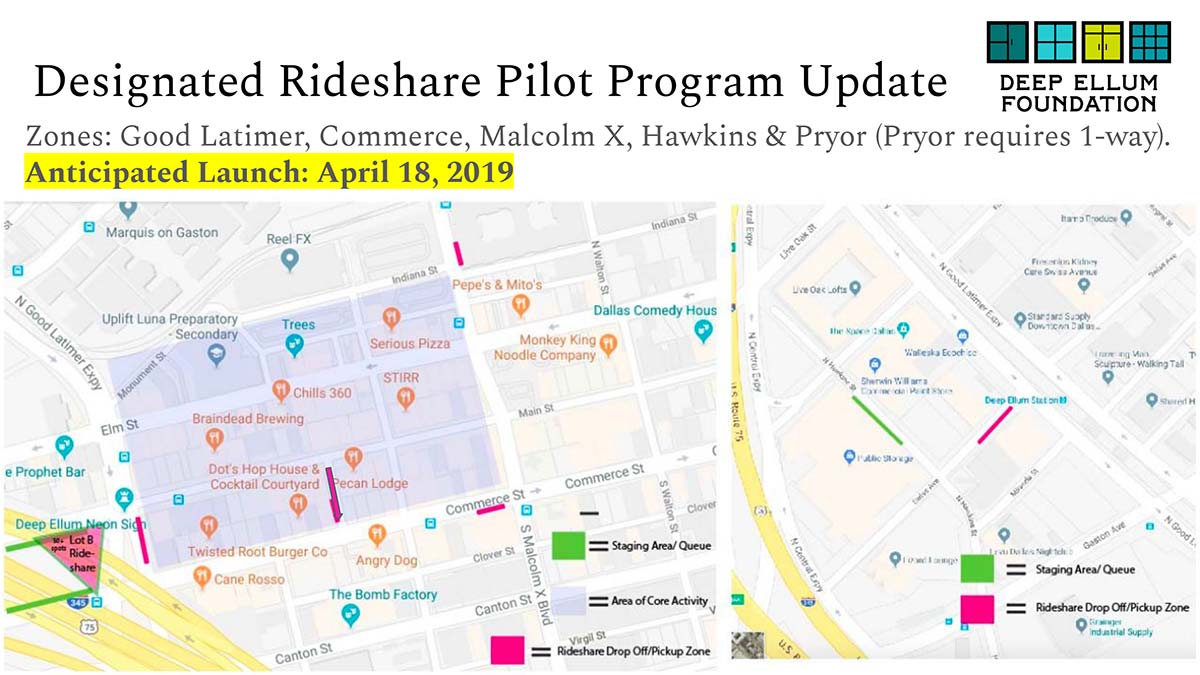 As the map also notes, drivers will now be asked to idle along Main and Commerce on the west side of Good Latimer as opposed to just cruising the neighborhood while awaiting new hails from the app.
Rideshare users themselves will be directed to the appropriate rideshare zone within their chosen app.
For now, anyway, these changes are not time-of-day specific; rather, they are being put into play 24 hours a day.
In its letter to business owners, the Deep Ellum Foundation detailed its reasoning behind this plan as follows: "Our goal is to enable patrons to get within one to two blocks of their destination while improving the overall safety and traffic flow in Deep Ellum including by decongesting Main and Elm Streets between Good Latimer and Malcolm X especially."
There are, of course, other concerns that got things to this point.
In a D Magazine about the impending rideshare geofencing, Dallas Mayor Pro Tem Adam Medrano — who as the city council member elected in District 2 represents Deep Ellum — explained that public safety concerns relating to traffic congestion was a major factor in implementing this plan.
"I was getting calls from the police and the fire department," Medrano told D's Shawn Shinneman. "If there was something major happening, there's no way that a fire truck could've gotten through."
SEE ALSO: After A Brutal Assault In Deep Ellum, What Comes Next?
Considering it's being deemed a "pilot program," it's safe to assume that the plan will be tweaked even after its April 18 debut. The Deep Ellum Foundation's email to neighborhood business owners all but ensures that, promising that it will roll out additional details to the plan in the coming weeks.
Deep Ellum Foundation executive director Stephanie Hudiburg hinted at a few possible additional elements to the plan as part of that aforementioned D piece. She says these drop-off spots, at least for a temporary stretch immediately after the plan's launch, are likely to be staffed by someone who will help point people in the direction of their intended destination upon exiting their ride-share. She also says that the city has committed to installing information signs at these locations for the same purpose.
In a recent Dallas Morning News piece on various future proposals for the city-owned parking lots located beneath the I-345 overpass that separates Deep Ellum from Downtown Dallas, it's noted those parcels of land could one day be utilized as additional staging areas for rideshare pick-ups and drop-offs.
It's also perhaps worth noting that this rideshare plan is just one step toward a significant traffic-focused overhaul coming to Deep Ellum in the next few years. It's tough to say exactly when it will finally come to pass, but the city has had plans in place since 2011 to eventually convert the one-way Elm and Commerce streets into two-way strips. Contrary to common logic, recent studies show that such conversions can actually improve traffic congestion rather than add to the problem. Go figure!
Anyway, it's abundantly clear: Deep Ellum is about to undergo a ton of changes.
But, then again, when isn't it?
Deep Ellum cover image by Michael Barera via Wiki Commons.