Deep Ellum's Next Proposed Construction Project Makes Good On Long-Promised Increased Parking Options For Concertgoers. But At What Cost?
Without a doubt, Deep Ellum is growing up.
No, we do't mean in the sense of another uh-oh-neighborhood-is-booming-and-maybe-not-in-ways-we-love think-piece. Rather, we mean that in quite the literal sense. With its increasing list of finished, in-progress and proposed building projects, the neighborhood is very matter-of-factly growing taller by the day.
This current trend's been underway for a minute — something obvious to anyone who has driven around the neighborhood of late and gotten frustrated by the volume of parking options that have been sucked up by construction projects. In 2018, the 17-story apartment complex known as The Case Building opened and immediately became the tallest in Deep Ellum. It'll soon be dwarfed by the 26-story residential wing of The Epic cluster being called The Hamilton, which is due for a 2020 completion.
There are, of course, other projects (many of which we've discussed previously) also underway — including a seven-story mixed-use development planned for Canton Street to be called Novel Deep Ellum, and a five-story apartment complex/parking garage going up at Hall and Jeffries Streets, over near Deep Ellum Brewing Co.'s taproom.
Each of those have been in various stages of development for a minute now.
But, in recent weeks, a potential addition effort has come to light — a proposed 12-story project nestled along Commerce Street across from Dot's Hop House & Cocktail Yard, next to Angry Dog and behind The Bomb Factory. The as-yet-unnamed development (renderings seem to feature a sign calling it The Henry, much like a certain new-to-Dallas restaurant), which would be built upon a parking lot owned by Westdale Real Estate Investment & Management, includes as part of its proposal some 18,000-plus square feet of retail perched atop a six-story parking garage.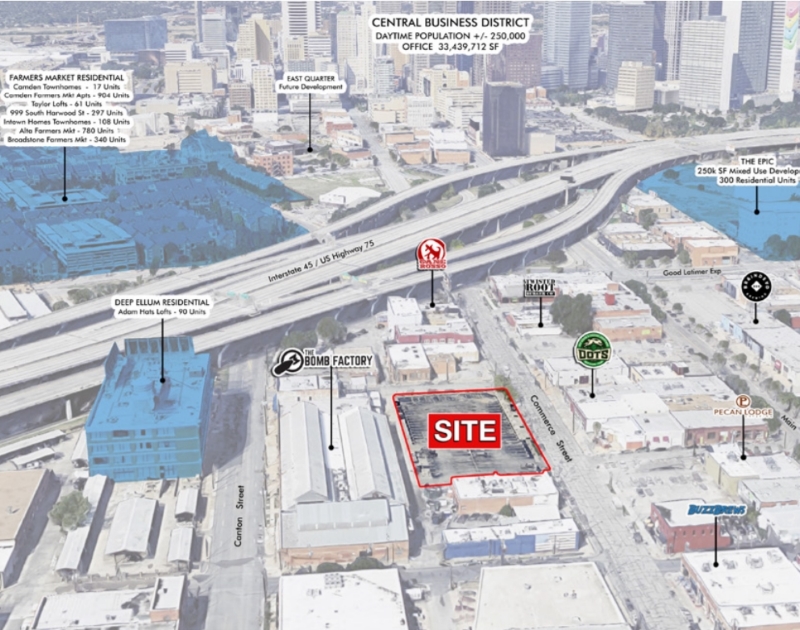 Late last month, Westdale told the Morning News that it was still too early to comment on the project, but it appears that the largest property owner in Deep Ellum is finally making good on its four-year-old promise to build a parking garage to accommodate the 4,000-capacity Bomb Factorys crowds.
Per Shop Cos, the entity that is currently pitching tenants on the proposed construction, this proposed building will  be the "only vertical development in Deep Ellum with exclusive parking contained within building."
The company also notes that within a five-mile walk of the construction sits "over 60 bars, craft breweries, authentic dining options, nearly 20 convenience and boutique soft goods retailers, and over 2,000 apartments — growing to 4,000 in the next three years."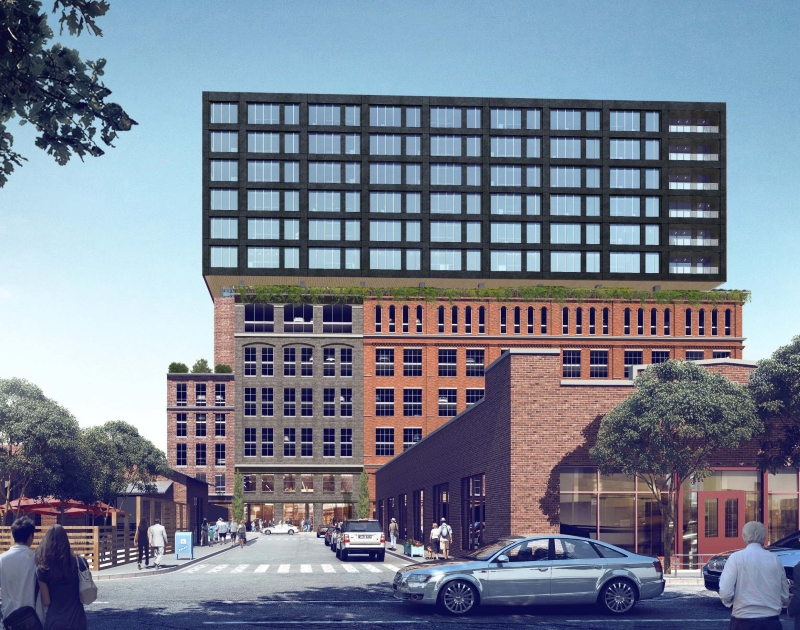 In other words? No, you're not imagining it. All the added construction in Deep Ellum will indeed double the neighborhood's resident count in short order.
And you thought it was hard to get a drink on the weekends already…
Images via Shop Cos.