Community Beer Company's Snickerdoodle Tastes Like A Cookie With Cinnamon And Vanilla Scents That Will Get You Drunk, And After All, Isn't That The Dream?
Welcome to On Tap! Each week in this recurring feature, we'll take an in-depth look at one of the many beers now available in the suddenly crowded North Texas brew scene. The goal here is to look at these area beers without our local goggles on and to wonder aloud, "Is this beer good or do I just like it because it's local?" Should be a fun experiment, no? Cheers to that!
This week, we sipped on Community Beer Company's Snickerdoodle.
Fast Facts on Community Beer Company Snickerdoodle.
Style: English Mild Ale (Aged on Vanilla and Cinnamon).
ABV: 5.2 percent.
International Bitterness Units (IBUs): 15.
Color: Medium gold.
Availability: Seasonal (December-February) — kegs and cans.
Overview.
Community Beer Company has grown to become one of the flagship breweries of Dallas proper. From its excellent beer to its central location and the seemingly endless parade of events it hosts, it's safe to say that there's a lot of shit — a lot of really good shit — going on at Community Beer Company. Last time I visited the brewery, a friend of the brewery staff got me behind-the-curtain access and I sipped on a couple beers that were in the works. It was 7:30 p.m. and things were just ramping up for a night-time brew. Yeah, you read that right. Community employs a night brewer to help run batches through the night to augment its day-time staff.
A few years ago, Community Beer Company made a special beer timed with the State Fair of Texas. This Funnel Cake Ale was brewed in the English Mild Ale style with spice additions – namely vanilla – as an homage to the shame-inducing funnel cake. It has produced Funnel Cake Ale for subsequent State Fairs and I still don't love it. It's served with a powdered-sugar-rimmed glass for heaven's sake – oh, the horror! Needless to say, the novelty quickly wears off for Funnel Cake Ale. So, yeah, it's novel and neat, but it's more of a "Hey, I did that thing at the State Fair that one time"-type of beer. But I don't think that's quite what's going on with Snickerdoodle. For starters, I didn't have to purchase it for a gazillion Big Tex coupons at the State Fair.
Background on English Mild Ale.
I hesitate to call this beer an English Mild Ale. But because that's what Community labels this beer on its can, we're going to outline the style here. In my mind, though, this is a spice, herb, or vegetable (SHV) beer. So without the flavor and spice additions, this is an English Mild Ale. On it's can, Community states that it brews this beer with heirloom Maris Otter malt, a classic ingredient in British beers.
Appearance.
Snickerdoodle pours a deep gold color in the glass. A firm, bright white head stays around through the beer. So far, so good! From a clarity standpoint, Snickerdoodle is brilliantly clear. As far as beers go, I don't immediately think cookie when I look at this beer. But looks aren't everything.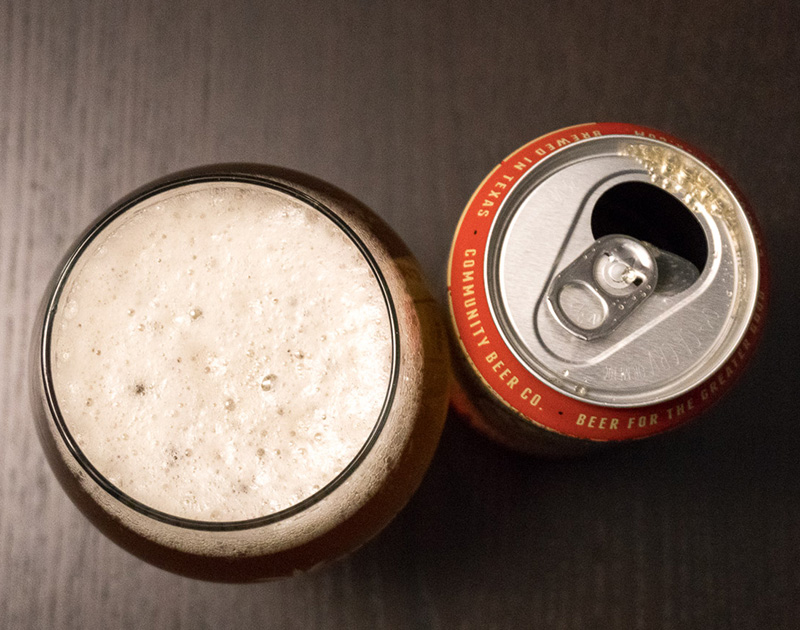 Aroma.
If there's ever a beer that's 100 percent on point with its cookie aroma game, then Snickerdoodle is it. It's all here. The malty, bready goodness simulates that doughy, crumbly, baked cookie aroma. The vanilla is dialed in just right and the cinnamon is here, too, though it's kept in check by the rest of the delightful smells. Even though I pour this beer cold, the aromas waft right out and the beer takes on a warm sense in my nose.
Flavor.
Bready, cookie flavor leads the charge on the tongue. With this nostalgic, crumbly cookie flavor, there's vanilla that shows up to this cookie party. And cinnamon, while here, doesn't take over as guest of honor at this cookie party. I have tried cinnamon in beer before, and I can say that this is one of those spice additions that can get away from brewers. Hop bitterness is very low, almost unnoticeable on this beer. But I suspect that this beer might make a turn to cloyingly sweet town without a hint of hop bitterness lurking in the background.
Mouthfeel.
For everything that's going on with the flavor, this beer finishes surprisingly crisp and clean. When I first smelled this beer, I thought that it would finish with much more residual sugar. But it's just not here; Snickerdoodle is more about the crisp and clean finish on the lips with a holiday-inducing retro-nasal aftertaste. Carbonation is medium to high, and it provides a little extra pop that distracts from the sweet flavor on this beer.
Overall Impression.
I like Snickerdoodle. When I drank the first beer from my six pack, I was not totally in love with the beer. And that first beer seemed more like a flavored beverage than a beer to me. I want to say that this is a one-beer beer for me, but I could easily be talked into having another pour. And maybe that's a good thing because sometimes I need something weird to provide a break from the everyday-beer situation. I think that I would be more turned off had this beer finished with slicker, heavier notes. But that's not what's going on here with Snickerdoodle. The sweetness is here, sure, but it seems to come more from the vanilla addition rather than from residual sugar. And that, weirdly, makes this beer a lot more drinkable than I first imagined.
Score. On a scale of 1 to 10, I'd give Community Beer Company Snickerdoodle a 7.75.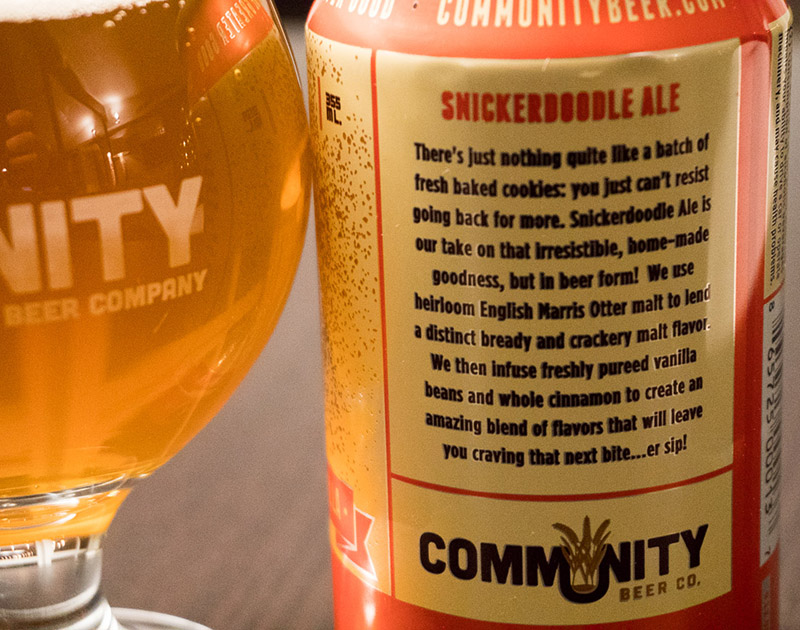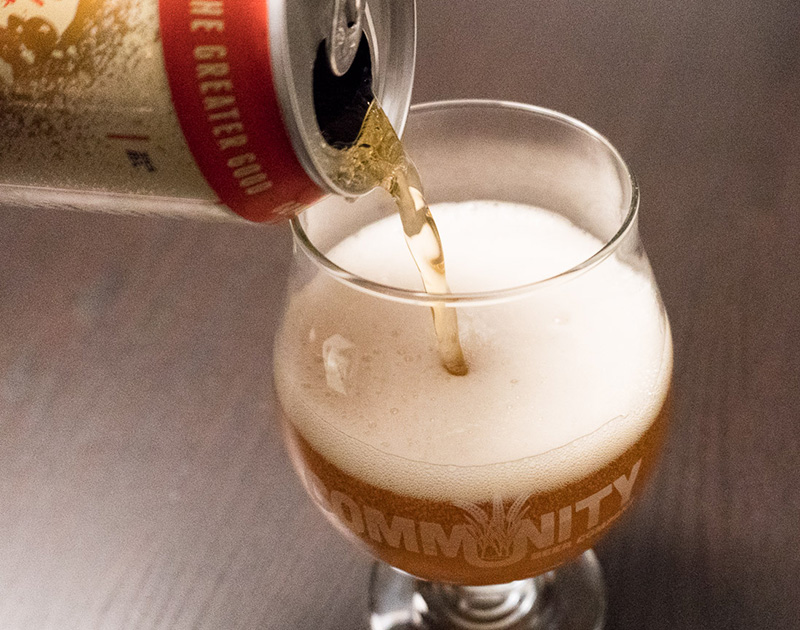 All photos by Ben Smithson.