Just In Time For The Holidays, Deep Ellum's Favorite Trashy Drinking Spot Has Brought Back An Eggnog Twist To Its Signature The Yoo-hoo Yeehaw Drink.
For 14 years now, the Double Wide has been a fixture in the Dallas music and party scenes thanks to its embrace of all things trashy and kitsch.
And there's perhaps no better example of this ethos than in the Double Wide's signature drink, the Yoo-hoo Yeehaw. A grown-up take on the adored chocolate beverage, the classic Yeehaw is, in simplest terms, a frozen white Russian made with Yoo-hoo instead milk. At $6.50, the tasty and boozy treat is a steal — especially when you're trying to impress tourists coming through town and looking for something unique.
But, this holiday season, the Double Wide and its Lower Greenville sister spot Single Wide are adding a fun twist even to that adored, original creation. Along with a slew of $8 hot drinks available just this month — among them a Hot Yoo-hoo Yeehaw (served up like a cocoa instead of frozen), a Hot Thin Mint (a version on the Yeehaw, but served with Rumple Minze instead of vodka) a Hot Apple Pie (hot cider with cinnamon and apple-spiced whiskey) and a Hot Toddy — the bar is also bringing back its Frozen Eggnog offering.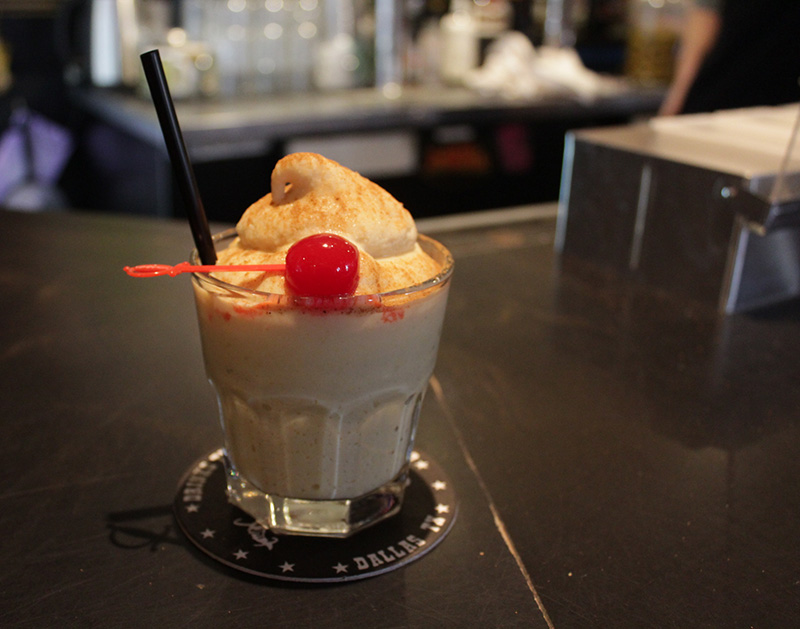 The Frozen Eggnog, explains Double Wide general manager Joel Stephenson, is a lot like the Yoo-hoo Yeehaw, except that it uses eggnog instead of chocolate drink and rum instead of vodka. It sure is tasty, too: With eggnog having a similar makeup to custard, the drink possesses a thick, ice-cream like texture. And while most frozen drinks are notorious for being light-handed on the liquor, the strong rum flavor comes through in spades here, giving the drink a spirit-forward, but still smooth taste. A dash of cinnamon on top completes the flavor profile perfectly.
Hyped up on the new $8 offering ourselves, we stopped by the Double Wide to ask Stephenson a couple questions about how the drink came to be — and how long it'll stay on the menu.
OK, first give us a brief description of the Yoo-hoo Yeehaw for those who don't know.
The Yoo-hoo Yeehaw is our most infamous drink, I guess you could say. It's a white Russian that we modify a little bit by using Yoo-hoo instead of milk or dairy or anything like that.
And the new version is a Christmas edition of the original, correct?
We did change it up. We don't actually use Yoo-hoo — we use egghog — so we can't really call it a Yoo-hoo drink. But Double Wide's always been known for their frozen beverages — everyone knows the Yoo-hoo Yeehaw — so I figured we'd go ahead and give it a shot. It's very similar to the Yoo-hoo but including eggnog.
Where did the inspiration for this limited-edition version come from?
We were really creative with it two years ago and did a very limited run — I think it was less than a week, just the days around Christmas. And we had a lot of really good response — people have been asking about it. Even though it's kind of been an unseasonably warm winter, we figured we might as well go ahead and do a winter-festive frozen drink.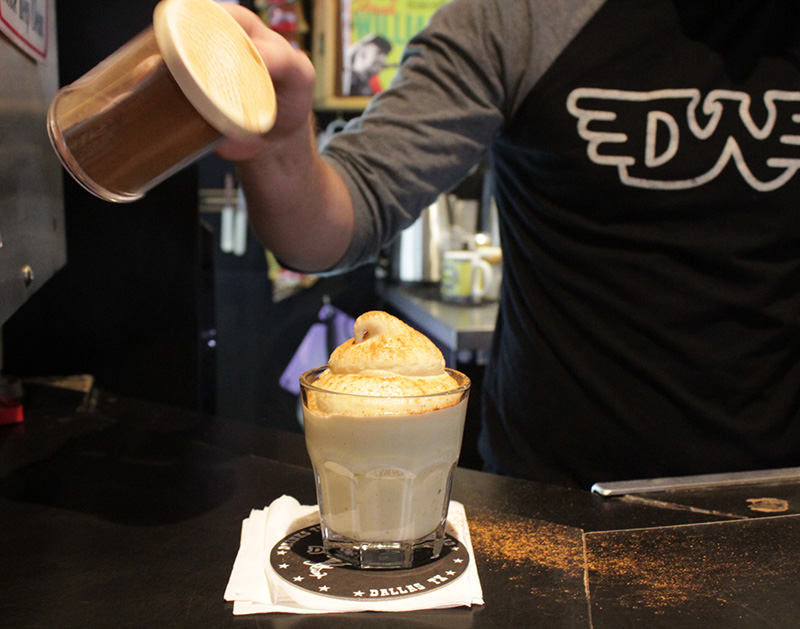 So you guys skipped it last year. Were people coming in and asking for it then?
We had quite a few people coming in asking for it — regulars, for sure, but also people that had just been in once that had tried it. We were like, "Whoa! I haven't seen you!" and they really hadn't been back since last year, and they were asking for the eggnog. So it's really kind of cool that it connected.
Walk me through the steps and ingredients of making one of these bad boys.
Well, it's a really big batch. We make it by the gallon. It includes a whole bottle of Stolen Smoked Rum, and then we use coffee liquor and eggnog as well.
Any cool events going on this month where people can come try it for themselves?
We're going to run this out the rest of the month, and then I guess our big event that we're going to have is New Year's Eve. We've got Blake Ward hosting our New Year's Eve party, so we've got a whole bunch of stuff going on. But the drink is just kind of limited-time thing, running through the end of December.