Blue, The Misfit's Sophomore Album Finally Gets A Release Date, Tay-K's "The Race" Breaks Into The Billboard Hot 100 And Starfest Adds Two Acts.
There's no such thing as a slow moment in Dallas' vibrant hip-hop scene.
Need proof? Just look at the slew of new releases that are set to drop in the next couple of weeks. The most anticipated one of the bunch is the long-awaited release of Blue, The Misfit's sophomore album, Perfect Night For A Funeral, which will finally see the light of day this Friday, Aug. 18. The album was originally set for release on Halloween of 2016, but through a series of various delays the project continued to be pushed back — until now.
On that same day, the former North Texas residents turned Brooklyn cool kids in Herrick & Hooley will release their third project, Summer of Love. The trio describes its new work as a "warm mixture of RnB & Soul that undeniably feels like summer." If you haven't already, listen to "Validation," the lead single off the release.
Let's keep the announcement rolling: The Outfit, TX have a new album that'll be released on Thursday, August 31, titled Fuel City that continues the group's trend of paying homage to Dallas staples following last year's Breakfast at Rudy's EP and 2015's Down By The Trinity LP. In anticipation of that release, the group just last night released a new song called "Big Splash" through the popular podcast No Jumper's YouTube channel (see below). The single, it's worth noting, is being released by POW Recordings, the same Los Angeles-based entity that released T.Y.E's 32 LP earlier this year.
Speaking of upcoming Dallas rap releases: When Rikki Blu came home to Pleasant Grove earlier this summer, he promised that a new album titled You Can't Make Me would soon be released, and now he says he's just trying to decide when to put it out — or, more accurately, he's letting his fans decide. And, according to a recent Twitter poll he conducted, it's looking like they chose September 11 as the date. Until then, you can check out a new track he just released from the project called "Water."
Lastly on the new album announcement front, Cure For Paranoia has been supremely tactful in its roll-out for its new album, Wired, which is set for release on August 25. A couple weeks back, the soulful quartet started selling early copies of the album in "pill" form, (read: a USB in the shape of a pill in a prescription bottle… because it's a cure, get it?) As much as we love that marketing tactic, the group also doubled down their efforts by releasing a behind-the-scenes interview on the making of the album that you can watch below.
Meanwhile, Bobby Sessions didn't announce a new album — but he did announce his next show. These announcements from Sessions are becoming increasingly newsworthy these days because of the effort Sessions puts into them to make them wholly unique. For instance? Not only was he able to make a brief A.Dd+ reunion happen at his last show, but he also introduced a lot of local audiences to a new online platform called Stream Music TV that broadcasted that concert in its entirety on Facebook along with exclusive interviews and music videos. We're not sure what all Sessions has in store for this next gig, but the unplugged event once again pairs the rapper with RC & The Gritz and will go down at the House of Blues on Saturday, September 9. In the announcement for the show, Sessions mentioned that he wrote down several years ago how he wanted to do a show at that venue, and through the Law of Attraction that he so often preaches, he made it happen — just as he has so many of his other goals.
Meanwhile, Post Malone made his own positive visualization a reality over the weekend when he met and spent some time with WWE wrestling legend Stone Cold Steve Austin, a figure Posty has been channeling since the early days of his viral success with "White Iverson." To open his sold-out homecoming show at Trees in 2015, the singer-songwriter entered the stage to Stone Cold's entrance music, and he most recently made headlines when he showed up to the BET Awards wearing a replica of Austin's famous smoking skull vest.
Perhaps just as bizarre as that is the continued rise of incarcerated 17-year-old Arlington rapper Tay-K's "The Race." Following public shows of support for the track from Travis Scott, Playboi Carti and Lil Yachty, the song has finally cracked into the Billboard Hot 100 charts, debuting at No. 70 this week. Yachty, meanwhile, formally released today the remix of the track that he performed at his show at The Bomb Factory on Friday night. Give it a listen — and keep a ear out for the shout-out to Tay-K's frequent Oak Cliff-based collaborator Diego Money — below.
Outside of hip-hop, another area act is also getting some much-deserved love: As part of its initial music awards, the metal publication Loudwire has announced that it has nominated Dallas thrash act Power Trip for awards in its Metal Artist Of The Year (up against such powerhouses as Avenged Sevenfold, Body Count, Code Orange, Mastodon and Metallica), Metal Album Of The Year (for Nightmare Logic) and Metal Song Of The Year (for "Executioner's Tax (Swing of the Axe)") categories. The band will also perform at the October 24 awards ceremony in Los Angeles alongside acts such as Body Count, Rob Halford and Anthrax. WWE superstar Chris Jericho will host the show.
Meanwhile, the folks over at Starfest continue to perplex. Over the course of the last week, the September-set Plano festival that no one understands has removed all Cadillac logos from its site, perhaps indicating that the car company is no longer involved in sponsoring the offering (if it ever was). But, hey, they did add two acts to the bill alongside the earlier-announced Lil Wayne, Flo Rida and Artful announcements, with South Carolina country singer Bridgette Tatum joining the bill along with Dallas electronic duo French 75, which has actually has a pretty impressive live show set-up but only plays a handful of shows around town a year, none of which draw out crowds anywhere near the 30,000-plus that Starfest continues to say will indeed show up to its affair.
Speaking of things that might make you scratch your head: Dallas-sprung country star Maren Morris has collaborated with Niall Horan (formerly of One Direction) for a new single after the 1D star simply sent an email to Morris to see if she was interested in participating, which she was. The song's not out yet, but it will serve as a single on Horan's debut solo LP,
Oh, and staying on the topic of badass music ladies, Erica Guagliardi from Here Holy Spain and Lizzie Boredom will appear on the cover of a book by author David Ensminger called Punk Women Vol. 2 that will be released in October. Here's a look at what that will look like: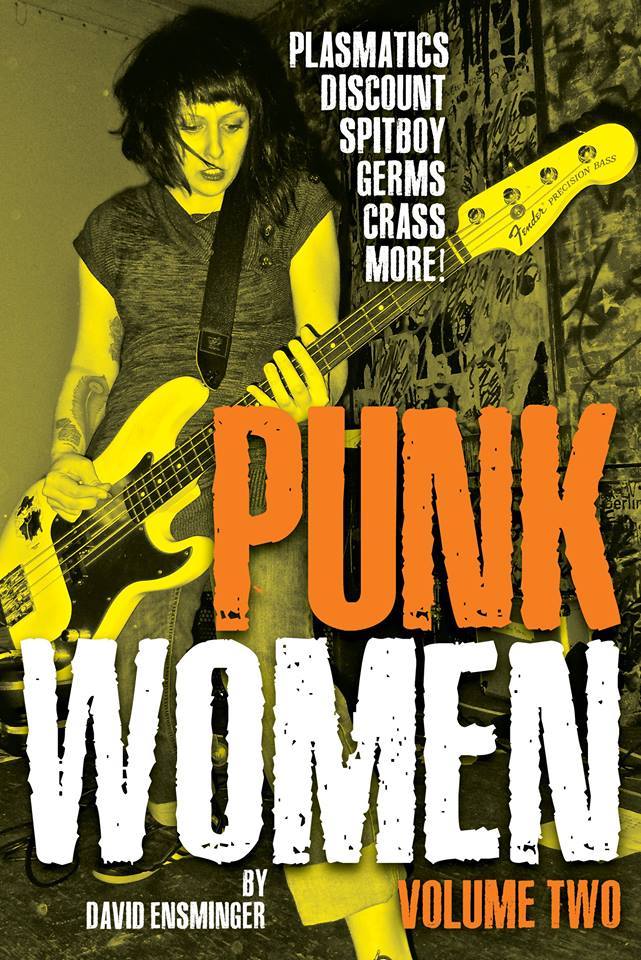 Lastly, we'll end this week with some news relating to the much-loved Denton band Seryn that broke up at the end of 2016. That band's former frontman Trenton Wheeler has a new project called Topknot that will be releasing a debut single called "Seeping Scalp" this Friday. If you like what you hear from the upcoming track, you'll have a chance to catch Wheeler's new act live at the House of Blues in Dallas on August 25 when it plays opening support for Birdtalker.
Got a tip for White Noise? Email us!