Starfest Came Out Of Nowhere, Promising That Lil Wayne And 50+ Others Will Draw Tens Of Thousands To Plano In September. Is There Any Way That Happens?
According to its own website, a new North Texas music festival called Starfest is aiming to draw tens of thousands of people to Oak Point Park in Plano on September 8 and 9 with a roster of artists from the hip-hop, EDM and country genres.
But, uh, how on earth is this going to happen? People only caught wind of this festival late last week, and it's scheduled to take place less than a month from now! And, honestly, we can't even say for sure who's currently slated to be playing the damn thing, either.
Curiously billing itself as a "pop-up" festival while simultaneously claiming that it will be around for the next four or so years, the festival had only confirmed a single name to its bill — Lil Wayne, who didn't come close to selling out his April show at the South Side Ballroom — when people the local media first caught wind of Starfest. In the days since, the fest has added a handful of other names — rapper Flo Rida, who is also scheduled to play the State Fair of Texas later in September, and Welsh electronic producer Artful — but even those names should perhaps be taken with a grain of salt. Over the course of the past few days, country artist Hunter Hayes and EDM hero Carnage have also briefly appeared on the lineup as listed on the fest's website, although they're now conspicuously absent from that space.
In an interview with the Dallas Observer earlier this week, Starfest's organizers denied the idea that a lack of shape on the festival's lineup at this point is likely to hold people back from buying tickets. Their reasoning? Dallasites tend not to make plans until the last minute anyway.
Could they simply be talking about themselves? Hmmm.
The four-headed monster behind Starfest — Shamar Willis, Michael Warden, Bill Pletch and David Taylor — is indeed a fully local team. And, in their defense, the crew does have some experience in hosting events and raising funds. Willis operates Legna Entertainment, which for the last year has been hosting hip-hop concerts at venues such as Gas Monkey Live and The Bomb Factory and featuring acts including Ludacris, T.I., 2Chainz, Rakim, Boosie, XXXtentacion, Tory Lanez, Young Dolph and Z-Ro. Warden has for the last three years worked as a managing partner at Dallas cigar and rum bar Havana Social Club. Pletch, according to that aforementioned Observer piece, has experience in organizing Mary Kay conventions and hot-air balloon festivals. And Taylor has experience in fundraising as the owner of a crowdfunding operation that invests in oil and gas drilling projects.
Those credentials aren't nothing. And a quick scan of the Starfest website shows that some other reputable entities are indeed buying into what this crew is selling — Cadillac is on board as a sponsor of the festival, and three area radio stations (pop station Hot 93.3-FM, country station KSCS 96.3-FM and sports talk station 96.7-FM/1310-AM The Ticket) have agreed, at least in principle, to assist in the promotion of the festival's slow lineup roll-out in exchange for media partnership.
Looking deeper into Starfest's own words about itself, and you get the sense that it's fairly self-aware, too. The festival goes out f its way to call itself "unexpected," which is likely a point upon which both the organizers and its early, rather vocal critics can agree. On the other hand, those critics would probably also be quick to point out that fest's branding of itself as a "nearly impossible event" probably doesn't go far enough, and that the "making history" aspect of this event might not necessarily be due to the fest's successes. (Their schadenfreude will be on full display at a hate-watch party being hosted in Denton on the festival's first day, where attendees will gather to scour social media and make fun of what they assume will be Starfest's imminent demise.)
As for us? Well, we're rooting for the event. Really! We don't cheer for anyone to outright fail in their efforts. C'mon, we're not total monsters.
But even from a wholly objective perspective, even we have to concede that things don't look super great for Starfest. Here, we'll take a look at seven reasons why the odds are stacked against the fest's success.
Its social media presence is weak. Social media is by no means a foolproof indicator of an event's attendance, but considering that Starfest's own literature repeatedly insists that "only 30,000" people will be able to attend its offering, the fest's social numbers are ridiculously tame. At the time of this writing, the official Starfest Facebook event only claims 85 people confirmed as "going" and 268 people listed as "interested." Things only get worse from there: The fest's official Facebook page only has 194 likes (and 214 total follows); its official Instagram account only has 141 followers; and its Twitter account counts just 41 followers, of which at least a few are bots (the rest mostly consists of curious Dallas media types and also Lil Flip, which is perhaps an indicator that he's been approached to perform). Regardless, none of these numbers are promising, especially when so many of the people following these accounts just seem to be doing so for the laugh.
A bevy of fake, glowing reviews give off a dishonest vibe. Not to keep harping on the social media tip, but Starfest is just not succeeding on this front. In the last 48 hours, the festival deleted all of the reviews from its Facebook page and disabled the possibility of people leaving new ones, but before doing so, this section was filled with dozens of five-star reviews, which, y'know, makes no sense considering how the fest hasn't happened yet. The people leaving these reviews were clearly either friends of the organizers, paid social media promotions types or bots. Here's an example of one of the reviews we saw, which we screengrabbed before it was wiped from the record:

It's already the subject of online ridicule. Search Facebook and Twitter for Starfest and you'll mostly find posts from people who are ready to mock the thing. The most common joke is that Starfest is looking like North Texas' own version of the catastrophic Fyre Fest that drew hundreds of wealthy young people to a luxury music festival in the Bahamas and ended up being a giant scam where pretty much none of the organizer's promises were actually fulfilled. That joke, specifically, is being used by the folks organizing that Denton hate-watch party, and was cleverly used by the web team at D Magazine in their write-up of Starfest because they seem to know a thing or two about search engine optimization.
Seriously, what the hell is going on with the lineup? Following the reveal of Lil Wayne at the top of the bill, Starfest's original plan of announcing a new artist every day starting on August 7 was quickly scrapped, and while the festival is now claiming that it's added Flo Rida and Artful to its bill, the inclusion and subsequent removal of Hunter Hayes and Carnage from the offering is far from encouraging. What happened to those two artists? Did organizers screw up in adding them too soon? Were they never on the lineup in the first place? Could the three acts announced thus far also be removed from the bill? Is anything real any more?
Trying to be everything to everyone isn't the best strategy. As noted earlier, Starfest's website claims that there will be a mixture of EDM, hip hop and country artists over the course of its two days. While we get that people have varying tastes, what would drive a country fan to buy tickets to a festival that promises a handful of country stars and an overwhelming majority of well-known rappers? Or what about a rap fan who wants to see Lil Wayne? Why would he or she suffer through hours of country artists beforehand? If we had a better idea of who was playing this thing — remember, it's just a month out — this would probably not be as big a concern. But with September 8 approaching quickly, and no clear shape on what this festival is offering beyond generic genre terms, it's a fair worry.
The layout for the festival's grounds looks, at best, bizarre. It's since been updated and replaced, but in case you haven't already seen the original, since-deleted festival grounds layout Starfest released, here it is: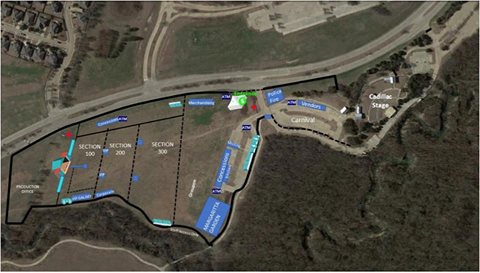 If that's a little too small to read, here's what you should know: Organizers have divvied up the grounds into four sections based on pay levels, eschewing the festival standard of a general admission pool and a separate VIP area. Worst of all, there's a section specifically designated for Groupon ticket purchases, which… well, we'll get into the pricing curiosities of Starfest in a second, but it's not a great sign. Also, the festival's second stage sits on the exact opposite end of the festival grounds from the main stage, and boasts hardly any standing room compared to the main stage. Who has access to which parts of the park? It's not really clear.
The pricing on this things is out of control. OK, so the above early map makes it clear that organizers have built the notion of Groupon tickets being a part of their ticket-selling model. Could that be an admission that even they understand that their ticket prices are unreasonable? Because they definitely are. Sure, having a festival in the Dallas suburbs is preferable to a North Texas who would rather not drive down to Austin for another option, but who would drop $87 before fees for a single-day general admission ticket to Starfest when: they don't know the full lineup, let alone the daily schedule; the festival maps make it clear that those tickets are far from the stages; and those prices are only just barely cheaper than single-day passes to the long-proven Austin City Limits, which in May announced the full lineup for its October offering. Meanwhile, section 300 passes in front of general admission crowds start at $135, section 200 ones go for $165, and 100 ones start at $225. Of course, those are only for Friday offerings: Starfest's ticket link doesn't yet offer Saturday offerings. It does, however, offer two-day general admission passes starting at $140 (before fees) and, at the top end, a two-day VIP pass that costs a whopping $1,350 after fees. Who the hell do they think is buying those?
* * * * *
But, anyway, yeah, we're pulling for ya, Starfest team! Good luck!