This Week, Tay-K Had It All On Lock.
Each week, we take a survey of the local music scene and try to determine which acts in town are really putting in work and seeing it pay off. Which bands have the most intriguing shows coming up? Which bands are getting the most press around town? Which bands have accomplished the most notable feats of late? Based off these criteria, our music writers submit a list to be weighted and compiled into a master list revealed each week in this here space. We like to think it's fairly revealing. Check out our previous Buzz Rankings here.
Let's be clear about this: Arlington rapper Tay-K has never been among the most talented emcees from the region. His flows are offbeat and amateurish at best; he'd be hard-pressed, putting things mildly, to crack a top 100 list of the region's most able spitters.
But Tay-K, for better or worse, has something greater than talent on his side, something that supersedes talent. He's got street cred.
Earlier this month, the 17-year-old born Taymor McIntyre was arrested by U.S. Marshals in New Jersey after having become a fugitive suspect in a capital murder investigation. And ever since, the rapper who had previously existed as one of many young guns trying to separate himself from a pack filled with more able contemporaries, has been buzzing like crazy, with his story having caught the ears of rap fans far and wide.
That buzz reached new heights earlier this week, when Atlanta rapper Playboi Carti performed a show at Dallas' South Side Music Hall. In the middle of his set, Carti played Tay-K's most recognizable track, "The Race," much to the delight of the crowds, which loudly celebrated that act. Afterward, Carti further nodded Tay-K's way, tweeting out lyrics to that song.
It'd be tough to argue that anyone else in town earned even close to as much buzz this week, and for that reason, Tay-K earns his first-ever trip to the top of our weekly Dallas-area music power rankings. We suppose it'll be up to the courts — or perhaps any other touring artists looking to quickly endear themselves to Dallas crowds — to determine if it'll also be his last.
Others came close, though! The Randy Rogers Band was buzzing this week thanks to 23-year-old superstar Dallas golfer Jordan Spieth, fresh off his win at the British Open, bringing his trophy to Rogers' House of Blues show here in town and sharing a drink with him out of it. Rogers' fellow local country stars Maren Morris and Pat Green, meanwhile, were announced as performers at this year's fast-approaching State Fair of Texas. And the ever-buzzing Leon Bridges scores points this week as Katrhyn Bigelow's new film, Detroit, premieres in select cities this week and should feature a cameo from him,, unless his efforts in that regard somehow ended up on the cutting room floor.
Lower down on the list, the All/Everything crew raised money for suicide awareness and prevention, Crown The Empire plays a hometown show this weekend at The Dirty 30, The World Famous Tony Williams dropped a new EP that features a guest appearance from his cousin Kanye West and Jon Bap got Okayplayer love for the second week in a row.
Elsewhere: King Tells All is playing this weekend's local stop of the Warped Tour, Obstruction dropped a fiery new EP, Blindwish is still riding high off of signing a new deal with Rise Records and Symbolyc One teamed up with A-Trak, Quavo and Lil Yahcty for a new song.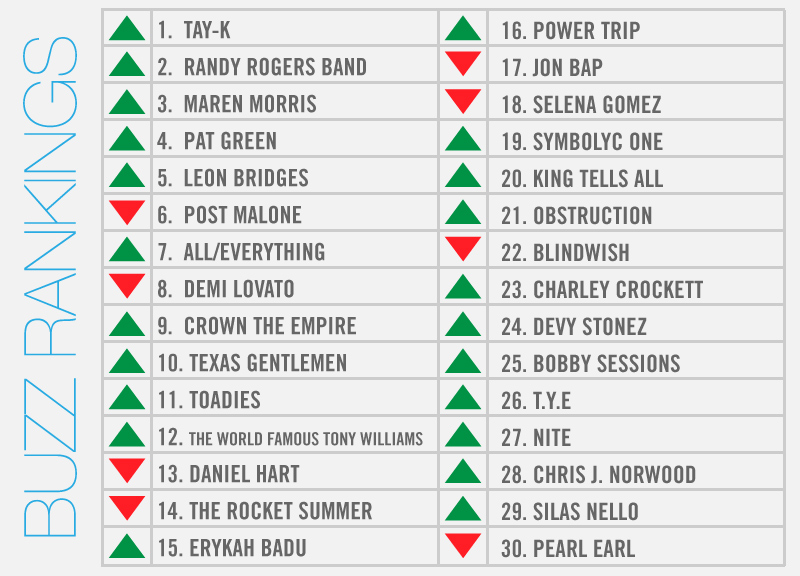 (Also receiving votes: Buffalo Black, Andie Kay Joyner, Avery Boner & The Blonde Dicks, Curtis Mayz, House of Reveries, Triple Digital, Frenchie's Blues Destroyers, Lee Bozeman, Diego Money and G.U.N.)