Toyota Music Factory Is Over Its Big Beat Phase, Post Malone Bests Michael Jackson, J. Cole Shouts Out The Cliff, So What?! Calls It A Comeback & Much More.
It's been rough and rocky traveling, but Toyota Music Factory finally seems headed back in the right direction.
Following a lawsuit by Billy Bob Barnett brought on by the abrupt closure of his five-venue Big Beat Dallas concept and, immediately after that, accusations that some terms of its tenants' lease agreements were racist, the entertainment complex's owners are finally starting to put their tumultuous start behind them and rebuild.
Thanks to their winning a suit that says Barnett's eviction was on the up-and-up, the path is now clear for new ventures to move into the spaces he abandoned. And, already, we know what one of those will be: MacArthur High School graduate Emil Bragdon is bringing a second outpost of his Fort Worth concept Reservoir to the the TMF plaza by the end of the year.
"Reservoir at Toyota Music Factory is a perfect fit for us," Bragdon says in a press release. "Our food and beverage program at our location in Fort Worth's hot West 7th District has been a testing ground for us the past six years. Our chef has been outstanding, and our product has evolved – I couldn't be prouder. Now to be able to launch our second location less than a mile away from where I grew up and went to junior high and high school is a little surreal."
Speaking of entertainment complexes that we can't believe there's a demand for: Texas Live! opened its Glob Life Park-adjacent development in Arlington last weekend with some help from the Toadies. Fortunately for the thousands in attendance at that gig, the Texas Rangers were away on a road trip facing the hated New York Yankees — or else they would have had to pay game day prices for parking. Below are the spot's full breakdown of parking policies, which includes the nut-kick of paying massive event parking prices whenever there's something going on at Globe Life or at The Death Star.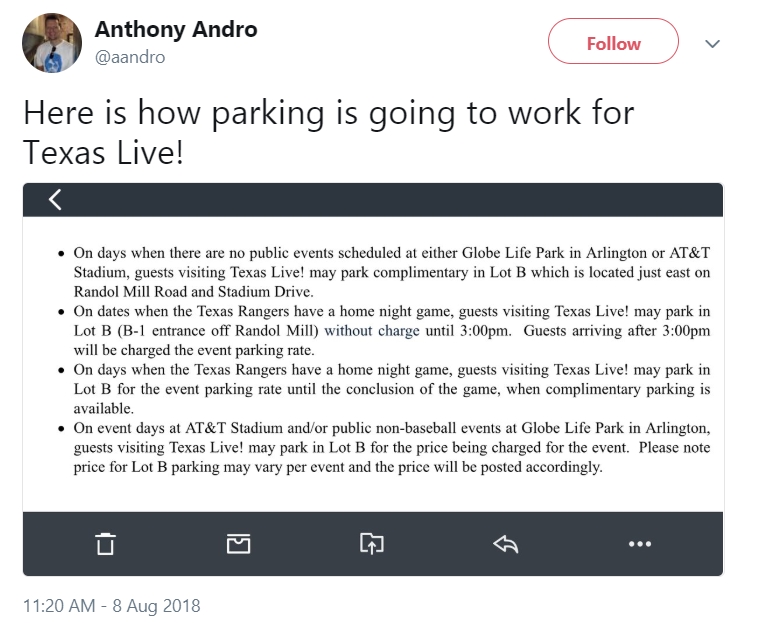 Yeesh.
Meanwhile, another grand opening appears just around the corner — this one within city limits, though. Just months after welcoming its second honky-tonk to the neighborhood, Deep Ellum's set to get a third country bar within the next couple months when Blue Light Dallas opens up. While there's been no official word on a grand opening yet, we got a better idea of the type of bookings the place will feature when roots rocker Adam Hood announced he'll be playing the Main Street venue in November.
Speaking of upcoming gigs: J. Cole will be headed to Dallas this weekend to perform at American Airlines Center — a fact he mentions in his new "Album of the Year" freestyle, which he released just a couple weeks ago. In the song, the North Carolina rapper raps the following: "Shout out Oak Cliff, I'm 'bout to fly to Dallas / Decade from now I might just buy the Mavericks — What up, Mark Cuban?"
Now that his affinity for the neighborhood — where he's previously said he used to spend his summers growing up — is documented in song, some Oak Cliffies are trying to get Cole to appear at an O.C. back-to-school event while he's in town this weekend. Hey, it's not that outside the realm of possibility! Cole's always doing cool shit in Dallas, be it dropping by a fan's house to play her his album before it was out or throwing last-minute pop-up concerts with tickets costing just $1.
Whether or not Cole shows to that event, there are lots of other cool events on the horizon that definitely are happening.
Take, for instance, the massive So What?! Music Festival that typically takes place the weekend after SXSW. After a 10-year run, the event took a year off in 2018 but, per a few online teasers, it looks like the fest is making a comeback. Dates, locations and performers TBA, of course.
Meanwhile, a date that has been announced is the second iteration of King Camel's Twin Peaks-themed big music show, the aptly named Damn Fine Music Fest. For better or worse, though, that one will be taking a road trip down I-35 to Austin for a September 21 show at Cheer Up Charlie's.
Moving on, let's update you on a story from last week's column, wherein thieves in Cali made off with Paul Cauthen's van, trailer and gear. Thanks to a tracking device on board, cops caught the thief in three hours, returning the band's damaged van and some gear, minus several guitars and pedals. But at a pop-up show following the incident, Fender gifted the boys some shiny new toys, and all is now right with the world once more.
That goes double for Post Malone's world, as the performer's debut LP just topped a feat set by one of the top-selling albums of all-time. As of this week, Stoney logged its 77th straight week on Billboard's top 10, besting the 76-week mark set by Michael Jackson's Thriller in 1983-84. As if that were not enough, Yung Posty also recently announced that he will be a performer at this year's MTV Video Music Awards.
On that now, let's check out some videos that might not be shown at the VMAs this year.
Messer's got a new one for the second single from its latest album. The self-titled album debuted at No. 3 on Soundscan's "New Artists" chart and was named "New and Noteworthy" by iTunes.
Bobby Sessions has a new one, too, for his politically-minded "Politics" song. In other Bobby news, he'll be performing at the first Gritznic in September, which recently finalized its lineup with some new additions like Devin the Dude.
Dallas' Epic Records-signed rapper Mo3 Badazz also has a new visual for his "Everybody" single.
And lastly on the video tip, Leon Bridges dropped an alternative video for his single "Beyond." Unlike the one he dropped at the start of the summer, this performance-based one is acoustic and was produced by a team of Dallas music scene veterans that includes Red Animal War frontman Justin Wilson, Margin Walker booking agent Kris Youmans and Bridges & Blinking Lights vocalist Jake Wilganowski.
Finally this week, as we're oft wont to do at the end of these notes columns, here are three more quick-hitting notes for you to know, tacked on hastily for your reading pleasure:
• Fort Worth-raised Jordan Burchill has a placement in the new Spike Lee joint. His single "Lion Eyes," by his band Beth // James is in BlacKkKlansman.
• Word on the digital streets is that Chomsky may reunite next summer for a show in celebration of the 20th anniversary of its first album, A Few Possible Selections for the Soundtrack of Your Life.
• Tripping Daisy has some sort of a surprise in the works for April 18 of next year. What that might be is anyone's guess, although that is the week of Record Store Day and a day shy of the 19th anniversary of the band's final, self-titled album…
Got a tip for White Noise? Email us!