Bankhead Brewing Company's Aoogah! Has A Classic Malty Taste That Makes It Exactly What A German Pilsner Brew Is Supposed To Be.
Welcome to On Tap! Each week in this recurring feature, we'll take an in-depth look at one of the many beers now available in the suddenly crowded North Texas brew scene. The goal here is to look at these area beers without our local goggles on and to wonder aloud, "Is this beer good or do I just like it because it's local?" Should be a fun experiment, no? Cheers to that!
This week, we sipped on Bankhead Brewing Company's Aoogah!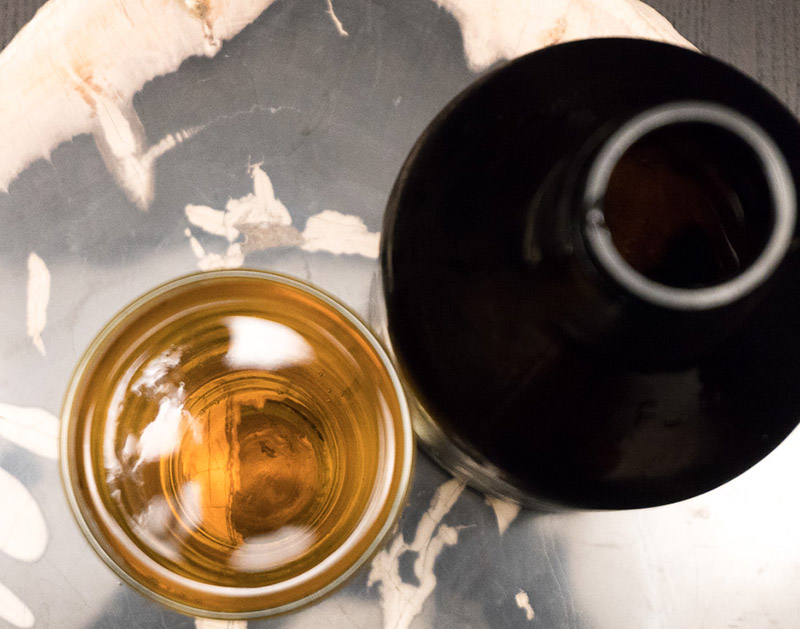 Fast Facts on Bankhead Brewing Company Aoogah!
Style: German pilsner.
ABV: 5.2 percent.
International Bitterness Units (IBUs): 35.
Color: Light gold.
Availability: Brewpub only.
Overview.
In my last visit to Bankhead Brewing Company, I reviewed Giggle Water, a very solid Vienna Lager. This time, I keep the European vibe going and review its German Pilsner: a lovely, bitter, light-alcohol style that is one of my all-time favorites. On this visit to Bankhead, we rolled up at 7:30 p.m. on a Saturday night to a packed brewpub and patio. With dinner I ordered a flight of "surprise me" beers, where I let the server decide what beers to include in the 5-beer flight. As with my last visit, each of the beers in this flight was on point. After dinner, I grabbed a growler to go and watched the bartender wrangle some black tape around the screw cap of my new 32-oz. Bankhead Brewing Co. growler. I have had first-hand experience with a leaky screw cap growler before, as in, half of a 64-oz. growler of Peticolas Irish Goodbye leaking in to the seat and floorboard of my car. So in the spirit of making shit work, I can get down with the black tape when it's required.
Background on German Pilsner.
The German Pilsner is a classic of the classic styles. It's one of those style that, when done correctly, can be a crowd favorite. Likewise, there's not a whole ton of room to hide off-style flavors if you don't get it right. In a previous post, I spent a little bit of time with Deep Ellum Brewing Company's Rye Pils, a lovely pilsner that I was sad to see leave Deep Ellum's rotation. This style should be brilliantly clear, with a white firm head that sticks around. Carbonation should be medium to high, providing a brilliant fizzy situation through the entire pour. The beer should drink nice and bright with medium-to-high hop bitterness, but it shouldn't hit you over the head with the hop situation. Malt flavor should be light but noticeable, and it shouldn't overpower the hop bitterness. All in all, this bottom-fermented lager should be a fun, light drinker and you should always want a second round.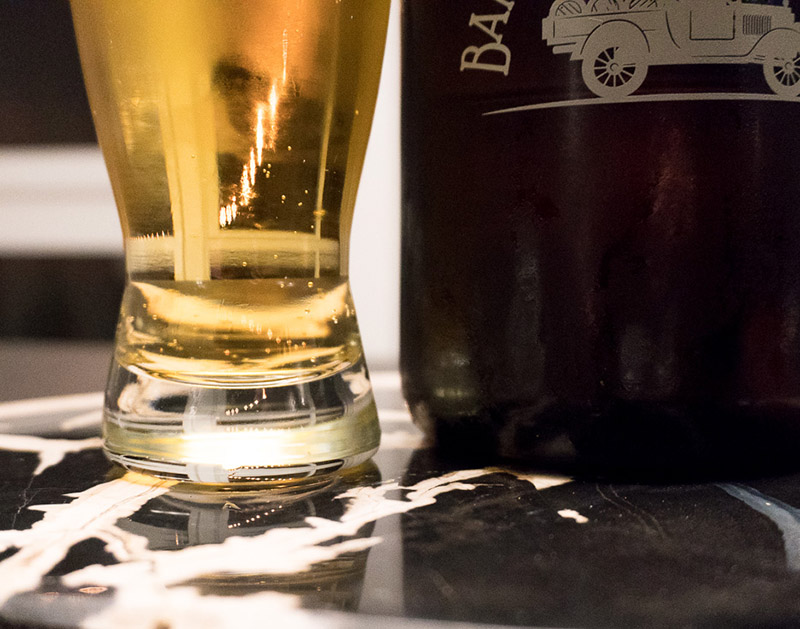 Appearance.
Aoogah! pours very pale gold into the glass. In these photos, I have poured the beer into a small pilsner glass (hey, it's what I have on hand), so the smaller growler looks right at home here with the small-ish glass. I don't get a ton of head on this beer, but I will give the brewery a pass on this one: the bartender, amongst his filling, foaming, fumbling, and taping, left an illegal amount of headspace in this growler. I imagine that a proper pour at the brewpub produces a much more respectable foam presentation. And although the growler was under-filled, the carbonation is still passable.
Aroma.
Aoogah! smells bright and hoppy like a German Noble sort of hoppy. It's carries a spicy, earthy sort of aroma. Behind that aroma is a solid layer of pilsner malt. I also get teensy bit of sulphur on the nose, a sometimes-trademark of this lager style. And that's about it on the aroma department, as this beer is simple, clean and crisp.
Flavor.
In the flavor space, the hop bitterness also leads the charge. The hops are earthy and spicy, and the bitterness is bright and clean. Behind that is that unmistakable, classic grainy pilsner malt profile. This tasty-but-simple malt profile is forever burned in my brain and the slight sulphur notes and the malt together form a undeniably delicious combination that's dialed in just right.
Mouthfeel.
This beer finishes bright and dry, with just a tiny shred of residual sweetness. Carbonation fades a bit as I work my way through the pour – I suspect this is from the underfill at packaging. For its ABV, the beer drinks as it should from a mouthfeel standpoint: bright, crisp and clean.
Overall Impression.
Aoogah! is one of those beers that I might order every time I'm at Bankhead. Maybe better put: Aoogah! is a beer that I could always use as a fallback for when other beers don't tickle my fancy or when I just can't decide what to get. It's not exotic, it doesn't ask for much, it has that classic pilsner-forward malt profile and it's just bitter enough to get my attention. Likewise, this beer is a solid representation of the style and it gets my vote. There aren't a whole lot of North Texas breweries making a German Pilsner, much less making one of this high quality. I will note that Bankhead's growler price — $22 (tip included) for a 32-oz growler that didn't quite contain two pints of Aoogah! — made me do a double-take. I guess Bankhead can charge whatever it wants for its growlers, though, because I will still come back because the beer here is just that good. Next time, though, I will bring my own growler from home.
Score. On a scale of 1 to 10, I'd give Bankhead Brewing Company Aoogah! a 8.25.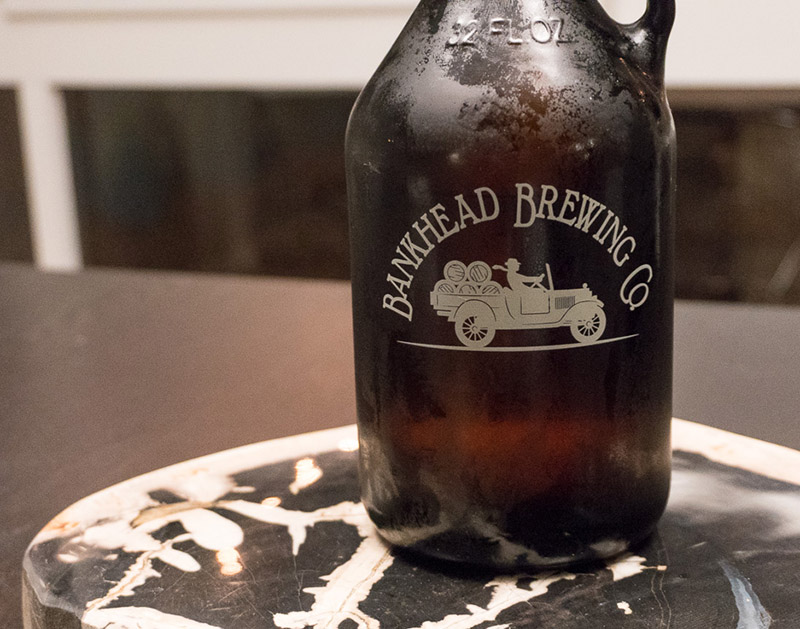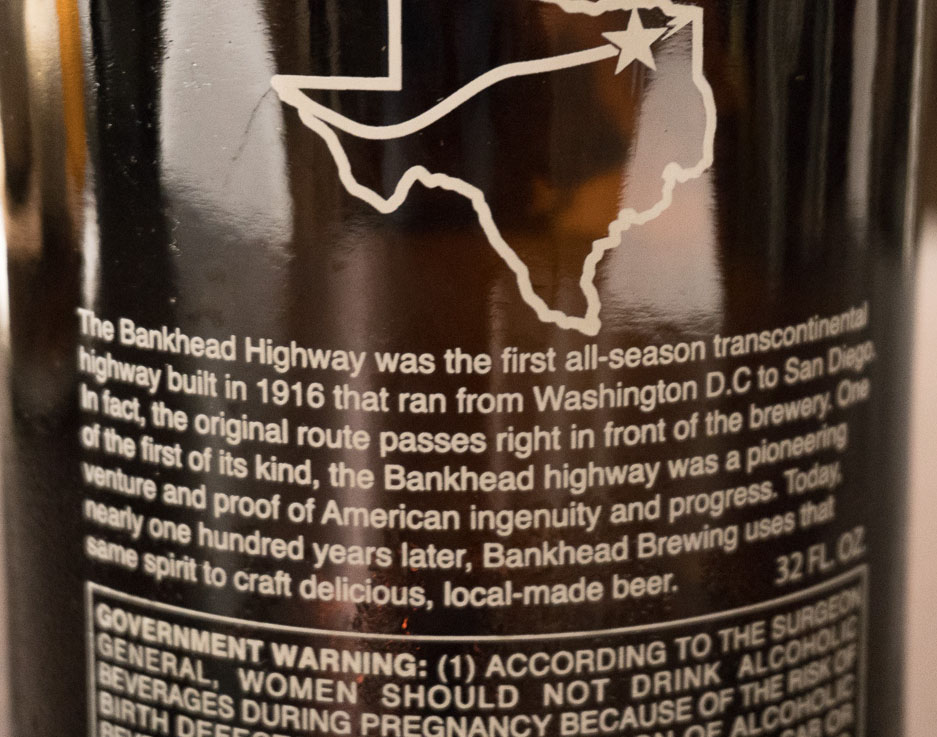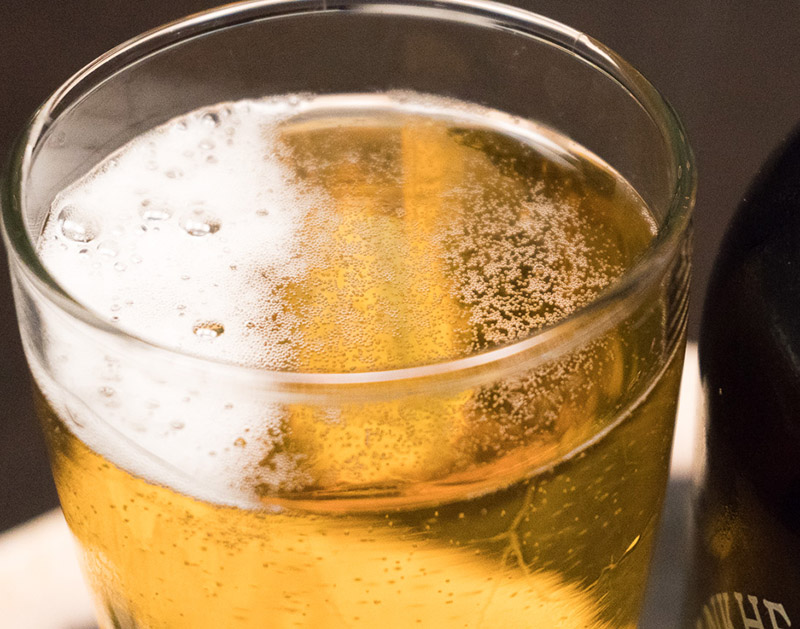 All photos by Ben Smithson.