Dallas Once Had The Largest Fleet of Rental Bikes In America. But With Regulation Forcing Bikeshare Companies Out Of Town, Left-Behind Bikes Are Piling Up.
It wasn't that long ago that Dallas pedestrians couldn't walk more than five feet without tripping on a flattened pile of bicycles. But now, in the wake of regulations being put on bikeshare companies' in-market expansion by City Hall and electric scooters coming to town, companies are pedaling their app-powered asses right out of town at a rather alarming rate.
At the time of this writing, after three bikeshare companies have pulled out of Dallas (the Beijing-based Mobike and ofo, along with the San Francisco-based Spin, have all fished their aluminum monstrosities out of local lakes and ceased operating in the city, leaving only the Garland-based VBikes and San Francisco's Lime still in operation), it's estimated that fewer than 3,500 rental bikes remain in Dallas proper. That's a far cry from the the more than 20,000 the city boast at its peak this past spring, when Dallas officially boasted the largest dockless bike share fleet in the country.
See Also:
• DOCUMENTING DALLAS' BIKE SHARING MESS, ONE GRAM AT A TIME. // Meet The Local Hero Using Instagram To Document The Messes That Have Formed Around Dallas Since Bike Sharing Came To The City Last Summer.
• EAST DALLAS FAMILY GETS A LAWN FULL OF BIKES. // A Family In East Dallas Woke Up To One Heck Of A Present On Christmas Day — A Lawn Full Of Green Bikes From Bike Sharing Company LimeBike.
But what happens to the 17,000 or so bicycles no longer in operation?
ofo spokesperson Tom Sarris recently said his company wants "to make sure the bikes stay in the community and go to people who can use them," claiming that ofo has already donated 3,000 of the roughly 40,000 bikes it is pulling from 10 markets around the country to various charities.
"They're not," Sarris says, "going to the scrap pile."
Oh, no? Hmmmm. Because, see, that's exactly where they appear to be — at least per a photo by Robert Vandling that's been making its way around the local interwebs this morning. Then picture, as you can see below, shows a massive number of discarded ofo bikes piled up at Dallas' Commercial Metals Company (CMC) Recycling plant in The Cedars.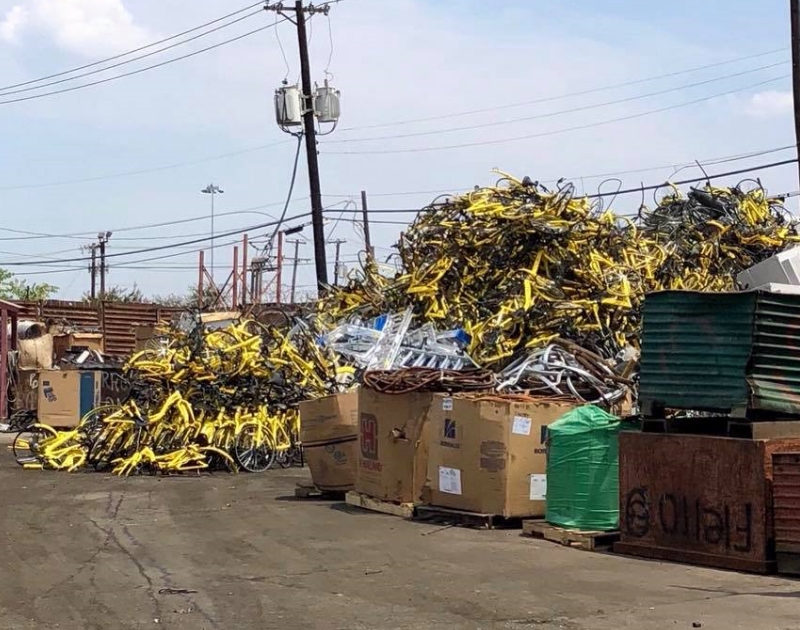 Reach out to for comment on the pile, CMC Recycling public and investor relations manager Susan Gerber confirms that the bikes in the company's possession are indeed being used for scraps. In fact, she says, that's exactly how her company came by them.
Writes Gerber in an email to Central Track: "Commercial Metals Company purchased the irreparable bikes as scrap metal."
After Dallas mayor Mike Rawlings tweeted out his disapproval of scene depicted in the above viral photo, a spokesperson for the mayor told NBC5 that "he thought throwing all the bikes in a recycling bin is 'terribly wasteful,' [since] people can use them and biking is good."
For its part, Ofo maintains it has donated bikes that are still in "good working condition" to local organizations like City Square and Bikes for Tykes.
Even so, the scene at CMC Recycling isn't exactly doing anything to stop the people who'd been sharing photos of those massively wasteful Chinese bikeshare graveyards over course of the past year from screaming "I told you so!" today.
Photo by Robert Vandling via Facebook.