Now That You're Used To Seeing Bikes All Around Town, Motorized Scooters Have Arrived On The Rental Scene. Who'll Throw One In White Rock Lake First?
Lemme tell you the worst part about Dallas' bikeshare experience.
No, it's not that the bikes are scattered all over the place. It's not even the sheer (and obnoxious) volume of the bikeshare companies' combined fleets. It's the fact that so many of the people who use these for-rent bikes are too chickenshit to ride them on the streets as God (and the law) intended, so instead they ride them on the sidewalk, where they can choose to not pay attention to their surroundings and apparently almost run me over, like, all the time, and with impunity.
Anyway, riding bikes on sidewalk is objectively bad — but, who cares, because the city council is apparently A-OK with people riding motorized vehicles on them now? So Dallas City Council ruled last week in a vote that, while making the expansion of bike-sharing in Dallas more difficult moving forward, also paved the way for as many as six new electric scooter companies to start plopping their high-end Razors all around town and for the app-loving masses to start mowing the more ambulatory among us down on the sidewalks — or, as council member Philip Kingston shows off in the below GIF, plazas — of their choosing (except in the especially high-trafficked sidewalks of Deep Ellum, Downtown and Cedars).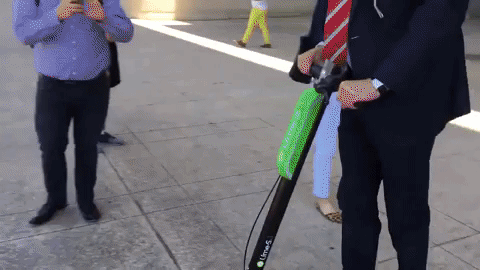 Currently, you can find Bird- and Lime-branded scooters popping up in apparently high-scooter-traffic areas across the city. People tell us they are fun — insert "Boot Scootin' Boogie" reference here, I guess? — but, we're not so sure yet.
How fun can something really be if it is bound to end up alongside our human waste? Because, make no mistake, those motorized suckers are 100 percent gonna get tossed in White Rock Lake sooner or later.
Cover photo via Dallas Bike Mess.