Before We Look At How The Stars Will Soon Have Them Singing The Blues Up In St. Louis, Let's Look At The Three Big Ways The Stars Turned The Preds Extinct.
Well, folks: Your Dallas Stars are one step closer to winning the Stanley Cup.
On Monday night, Jamie Benn & The Bois in Victory Green™ defeated the Central Division-winning Nashville Predators 2-1 in a Game 6 match-up that needed an overtime period before its end.
It was a hell of a game to watch, too. A raucous and vociferous American Airlines Center cheered on the exploits of Jim Montgomery's mediocre-turned-marvelous squad, witnessing the Stars' first playoff series-clinching win in their home barn since Brendan Morrow's heroics against the San Jose Sharks in 2008. Scattered among the Stars faithful was the gorgeous Troy Aikman (the hottest 50 year old in the world, according to a friend), Dallas Cowboys' superstar Zeke Elliot in full-on "Feed Me!" mode, UFC legend Chuck Lidell and a sullen Dak Prescott who was lost in a sea of regret because of his clothing choice for the evening.
Fear not, Dak! Unlike so many gatekeepers in this cancel culture world we live in, Forechecking™ is gladly helping excited newbies board the Dallas Stars bandwagon for what we hope will be another grueling week — or more! — of that sweet and savory poison we call the Stanley Cup Playoffs!
Next up for the good guys? It's off to the Stanley Cup quarterfinals for a match-up against their old playoff foes, the St. Louis Blues.
Are we pumped? Hell yeah!
Come one, come all to a beautiful show! It's gonna be awesome and… some other stuff!
But, listen, before we get ahead of ourselves (or even too high on paint thinner) in preparation for this coming case of the Blues, let's look back upon the series that made Victory Green™ Men out of our Victory Green™ Bois.
We could watch Klinger's OT GWG over and over again, and now we can do it with @JoshBogorad and @Razor5Hole on the call! #GoStars | @FOXSportsSW pic.twitter.com/voInOrIiwL

— Dallas Stars (@DallasStars) April 23, 2019
Last Week In Your Dallas Stars.
OK, so, as opposed to our customary game-by-game break down of last week's games — and considering we've already been covering things as we go — we'd much rather touch upon some key moments and developments that shaped the series in which Your Dallas Stars developed their playoff identity.
In order of importance: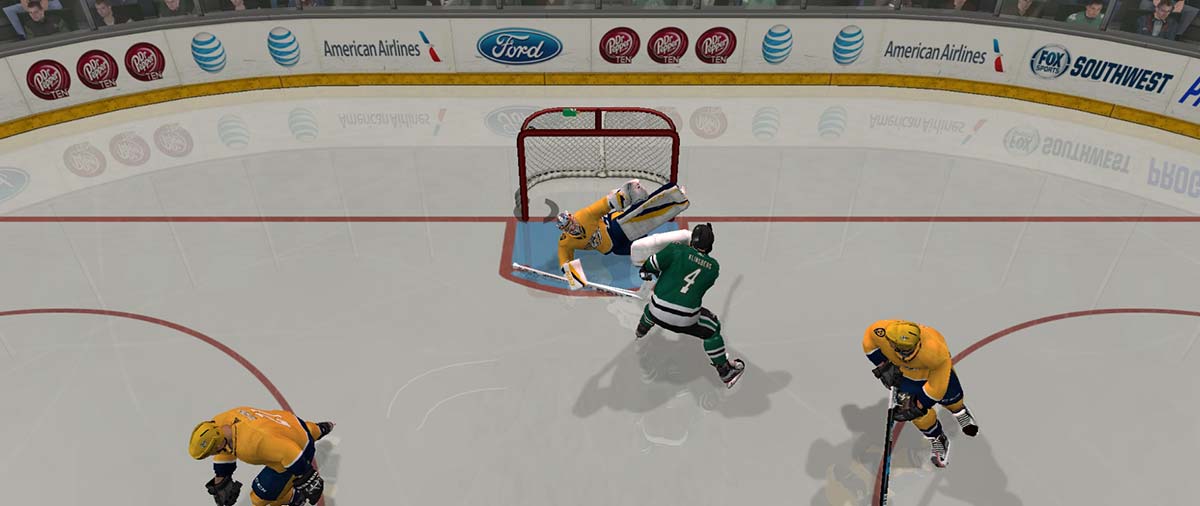 1. Special Teams & Goaltending. It always seems to come down to these two facets of the game, eh? Longtime Stars' commentator Darryl Reaugh trained our young hockey minds back in the '90s to pay special attention to special teams and the guys wearing the funny pads. And the axiom certainly rang true here in this Round 1 match-up, as Dallas killed off 100 percent of the Predators' power play opportunities, keeping the Preds 0-for-15 on special teams through six games. Nashville was simply unable to figure out the man advantage all season long, sporting the worst power play conversion rate in the entire NHL, and the Stars' above-average PK units took liberties with their shortcomings. Conversely, the Stars' own power play clicked along at the 19 percent-ish range that they sported throughout the season, which was good enough for the league's 11th best and was a big reason why they dominated Game 4. In net, Pekka Rinne did what Pekka Rinne does for the Preds, providing out-of-this-world goaltending with the occasional poo-poo game thrown in for good measure. Far and away the Predators' best player of the series, Rinne's 3.09 GAA in the series doesn't paint an accurate picture of the effort the 36-year-old provided, and it's very likely that his team wouldn't have even made it to a Game 6 if not for his heroics. Thing is, for all of Rinne's larceny, the Stars' own Ben Bishop was just a hair better in net. He was so great, you guys!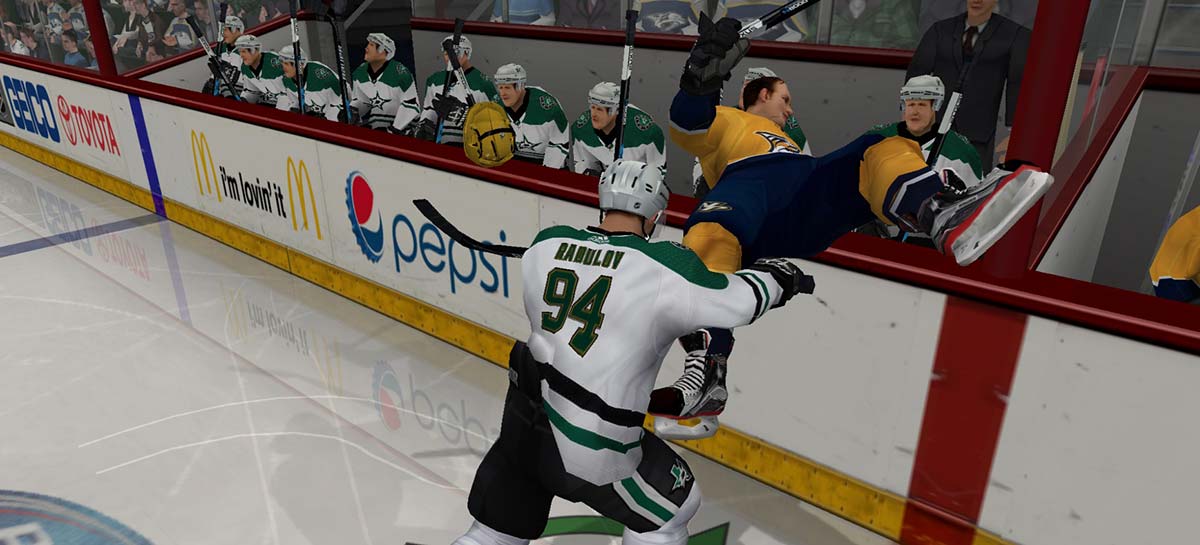 2. The Top Line. Although Jamie Benn, Tyler Seguin and Alexander Radulov spent plenty of time split in the lineup throughout this series, they collectively outpaced and outproduced their counterparts in Nashville. In Round One, Filip Forsberg, Ryan Joahansen and Viktor Arvidsson combined for just four points and a gnarly -6 rating. Meanwhile, the Stars' Big Three managed 18 points and a whopping +15. Wow! The combination of Benn's punishing physical play, Seguin's earnest two-way pursuit and Radulov's Tasmanian devil puck support overwhelmed what many consider the deepest D corp in the league. Nashville just had no answer for Beast Mode Benn™, whose disciplined (yet fierce!) antics in the Predators' zone reduced the Norris Trophy-winning P.K. Subban into a hacking, diving, dirty traffic cone intent on injuring the Stars' Captain rather than trying to up. Furthermore, Ryan Ellis was often thrown aside like a used tissue and Mattias Ekholm's uncharacteristic mental breakdown throughout the series encapsulated how difficult it is containing the Stars' top-liners. More of that in Round Two, please!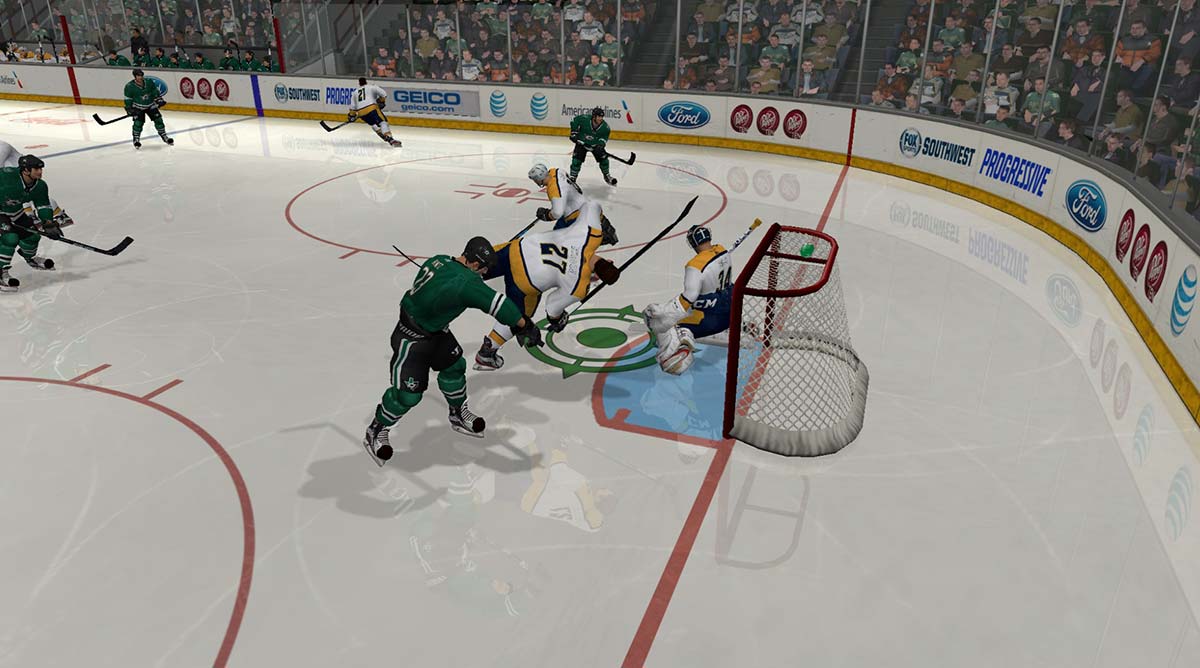 3. The Youth Movement. Simply put: Dallas has it; Nashville doesn't. Miro Heiskanen, Roope Hintz and Jason Dickinson's emergence into minute-chewing, maximum-effort players in this series had no equal on the Predators' side. Heiskanen played a whopping 159 minutes and 10 seconds in the series — more than any other player on either team! — and is second in total ice time in the NHL Playoffs. Even more crazy, he's first in even-strength time among all players. At 19 years old, he's the third-youngest player even playing in the postseason this year! Cheese and rice, y'all! Apparently, early on in the series, NHL Hall of Famer Paul Kariya texted Coach Monte to say "You can't play Miro enough!" And we wholeheartedly agree. Menawhile, Hintz's reputation continues to grow, and after taking an elbow to the head by Austin Watson, we've decided to add +15 to the toughness ledger of the Stars' fastest skater. Also, how about Dickinson's ability to drive play and get under the skin of the opposition? Reader, do we have a new Antoine Roussel on our hands?
NHL Hitz PRO Player Of The Week.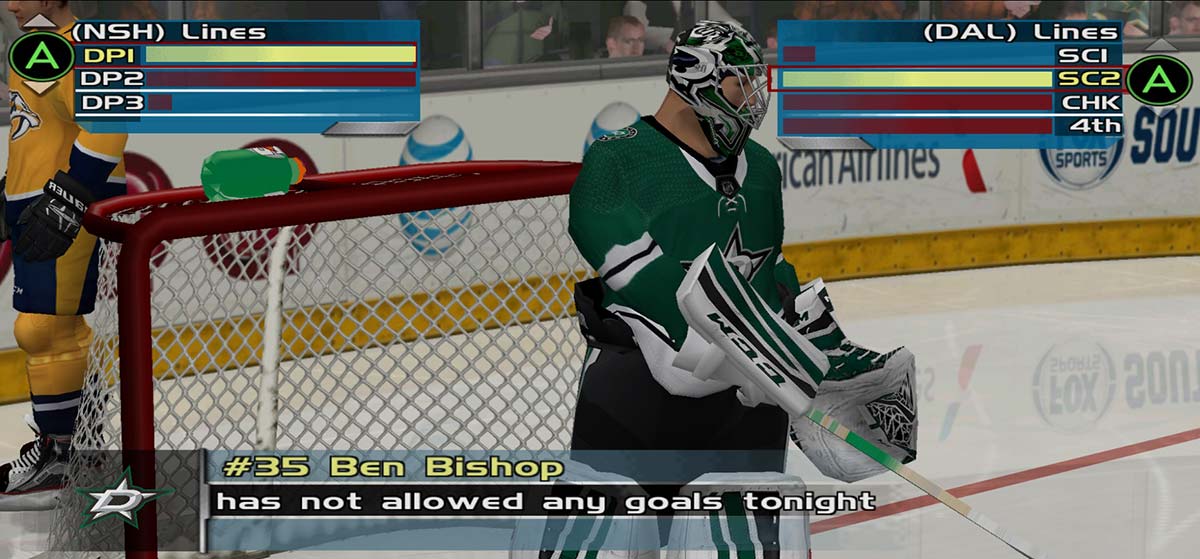 Biiiiiishooooooop! Our man in net wasn't at fault at all in this match-up with the Preds. In our series preview, we mentioned the mental state of the Predators, and how facing a hot goalie can quickly frustrate the hard-scoring team. And, welp, that's exactly what happened. The Vezina finalist improved to 16-5-0 with a 1.41 GAA and .955 save percentage in his last 22 starts, saving his best performance for Game 6 and its nail-biting overtime. Nashville managed just 12 goals on Big Ben for the series, and none on the man advantage. Bishop was especially stellar during odd-man rushes and always seemed to come through with "that save" at the right time. Factor in his puck-moving prowess that stifles the Preds' ability to dump and chase and, boy howdy, he really got the yellow team all in a huff! Dallas defenders did an excellent job at keeping the Preds attack to the perimeter, but even on the occasional breakdown, Bish cleaned up the mess. We love him so, so, so much.
Bish making big saves in a pretty big game. #GoStars pic.twitter.com/UA3qyPuypu

— Dallas Stars (@DallasStars) April 23, 2019
This Week In Your Dallas Stars.
Here's the schedule for the Stars' Round Two match-up with the Blues.
Game 1: Thursday , April 25, at 8:30 p.m. @ St. Louis
Game 2: Saturday, April 27, at TBA @ St. Louis
Game 3: Monday, April 29, TBA @ Dallas
Game 4: Wednesday., May 1, TBA @ Dallas
Game 5: Friday, May 3, TBA @ St. Louis
Game 6: Sunday, May 5, TBA @ Dallas
Game 7: Tuesday, May 7, TBA @ St. Louis
Obviously, games 5, 6 and 7 will be played on an "as-necessary" basis.
Join us tomorrow as we break down The Blues and unveil our predictions for Round 2. Spoiler alert: What we have to say will leave you literally shaking.
You've been warned!
Flip it. Stick it. See ya later. Bye. — LehtMoJoe