Try To Ignore Nashville's 2-1 Lead: Your Dallas Stars Are Playing Like The Better Team In This Opening Round Playoff Series, And That's Gonna Pay Off Soon.
Sure, Your Dallas Stars find themselves down 2-1 against the Nashville Predators. But fret not, fans!
It's pretty clear based on the eye test alone that head coach Jim Montgomery's team is collectively playing its best hockey of the season right now. Through two games on the road and one home tilt, Dallas looks to be — dare we say it? — the better team in this first round Stanley Cup Playoff match-up against the Nashville Predators.
The Preds have mostly been benefactors of great individual efforts, fluky goals and a superb goaltending performance to this point. But, as team efforts go, Dallas is playing a more consistent and sustainable brand of hockey.
Out-skating and out-working the Predators is one thing, though. The Stars also need to take advantage of the lopsided power play opportunities they've drawn if they plan to even up the series tonight at the American Airlines Center. Going one for 13 on penalties just ain't gonna cut it.
Oh, and if you think Ben Bishop is going to have another suspect performance this series? You've got another thing coming, bucko.
Game I
Victory Green™ at Nashville Predators, 3-2.
Nashville sure knows how to create a daunting atmosphere, what with its gender-bending national anthem singers, coordinated "you suck" chants and tossed catfish. Surely, that would intimidate 19-year-old Miro Heiskanen and The Bois from Big D in this series opener, yeah? Ahead of the game, Monte even warned the rookie that it was going to be the loudest and most aggressive building he's ever played in. And, after a first period completely dominated by the Predators, maybe Stars fans were a bit unnerved by what they were witnessing. Not Miro, though. Miro doesn't understand this human emotion we call fear. Even as Predator forwards launched a targeted physical forecheck at him and even as insults are hurled from the ravenous crowd, Miro pushed on. Haters gonna hate, Miros gonna Miro. After the first intermission, Dallas came back out to the ice a much more focused squad, using their above average speed to their advantage and making a concerted effort toward puck battles. In particular, Roope Hintz caught the Predators off guard with his incredible speed and net drive, coming close to scoring on Pekka Rinne several times after being labeled an "off-the-radar threat" by the surprised NBC broadcast team whose attention went from the obligatory Tyler Seguin and Jamie Benn coverage to the up-and- oming centerman. Hintz set the tone for the forward group as Miro rallied the defense — impressive to see two Finnish rookies dictating play! — and Heiskanen's two-point effort sucked the air out of the Preds' sail and building alike. Eventually, Mats Zuccarrelo scored the game winner off a Ben Lovejoy rebound shot. Meanwhile, Ben Bishop dis what Ben Bishop does in the closing minutes of the third, stopping the Preds' terrible power play during a six-on-four advantage. Stars win, and it feels so good!
On the bright side: The goals scored by P.K. Subban and Roman Josi in this one were great individual efforts, but there wasn't much of a structured and sustained offensive presence behind them. Also, the Predators are 0-9 in the playoffs when dropping the first game, which made this Game 1 win a nice omen indeed.
On the dark side: What dark side?
Esa Lindell doesn't have time for your fancy pants one-on-one moves, Viktor Arvidsson pic.twitter.com/ljzaWoYXlb

— Robert Tiffin (@RobertTiffin) April 11, 2019
Game II
Darkness Music at Nashville Predators, 1-2 (OT)
In Game 2, Nashville ratcheted up the the physicality from "hurt me plenty" to "ultra-violence", hell bent on not dropping another home game to Your Dallas Stars. Jamie Benn rained on their parade initially, opening the scoring in the middle frame after a scoreless first period — on a deft deflection from Tyler Seguin's knee-high cross-crease pass, no less. Alas. the good vibes wouldn't last much longer for Dallas as, just two minutes later, Mattias Janmark took an awkward tumble in the boards with Dan "Jet Fuel Doesn't Melt Steel Beams; I Do" Hamhuis twisting his ankle in violent fashion. Insult to injury quickly followed as Rocco Grimaldi tied the game up after some soft defensive coverage in the Stars' zone by Taylor Fedun allowed the Predators to swarm the Dallas net. Fedun has had rough debut in the postseason after a strong regular season campaign, and hasn't responded to the increase in physically particularly well, resulting in a dip in time on ice from 9:41 in Game 1 to just 6:50 in Game 2. Yikes! Conversely, young Miro led all Dallas skaters with 29:12 of excellent play. It's fun to hear the national broadcast gush over how amazed they are by a Dallas Star — something we haven't heard in ages — but you know what's not fun? Hearing Jeremy Roenick's jabroni ass suggesting that Nashville injure Ben Bishop. Nashville would go on to score cleanly in the extra frame after the Stars and Preds traded ineffectual power plays back and forth to the tune of 0-for-6 for Dallas, 0-for-3 for the Preds.
On the bright side: It was a game Nashville had to win, and they only did so barely. Ben Bishop was again absurdly good. Miro Heiskanen was a treat to watch, and probably the Stars actual No. 1 defenseman now? He's been great all season long, but his play of late has been clinical and marvelous. Net-drive Jamie Been is our favorite Jamie Benn, and that was good to see here, too. Also? So glad to see Janmark back on the ice after that nasty ankle twisting collision! Quite a human gumby he is.
On the dark side: Radek Faksa's line was bad, the team's defensive zone coverage was poor and watching the Stars with the puck on odd-man chances was infuriating. Sometimes we can't help but wonder WTF our man Blake Comeau is thinking when the puck is on his stick. Also, can we stop falling for P.K. Subban's dumb spinaroma move? He has a limited toolkit with the puck and can be neutralized with proper positioning. Yeah, we'll go there: "He's got a good shot and that's about it."
What a play by Jamie Benn here as he bats the puck out of the air and past Rinne. #GoStars pic.twitter.com/d4pafjMqgZ

— Dallas Stars (@DallasStars) April 13, 2019
Game III
Darkness Music vs. Nashville Predators, 2-3
Well, Ben Bishop is human, turns out. The Dallas netminder proved to be his own worst enemy in this one, giving up two of the softest goals you'll ever see in the first Stars' home playoff contest since 2016. Combine his shaky goaltending with the Zubov Rule ("Not converting on a 5-3 power play means you lose"), and yeah, the Stars had to take the L in this one. Ugh.
On the bright side: After an initial wonky 10 minutes, Dallas was the better team overall here, peppering Pekka Rinne with 42 shots in his 86th consecutive playoff start for the Preds. Mats Zuccarello notches his second goal of the series, which is cool. Also, Tyler Seguin scores his first playoff goal since 2014 in this effort. Good for him.
On the dark side: In the battle of two stellar goalies, Pekka was clearly superior in this game.
We just really aren't worthy.#StandWithUs | #NSHvsDAL pic.twitter.com/xlQh1ryGwR

— y – Nashville Predators (@PredsNHL) April 16, 2019
NHL Hitz Pro Player of the Week: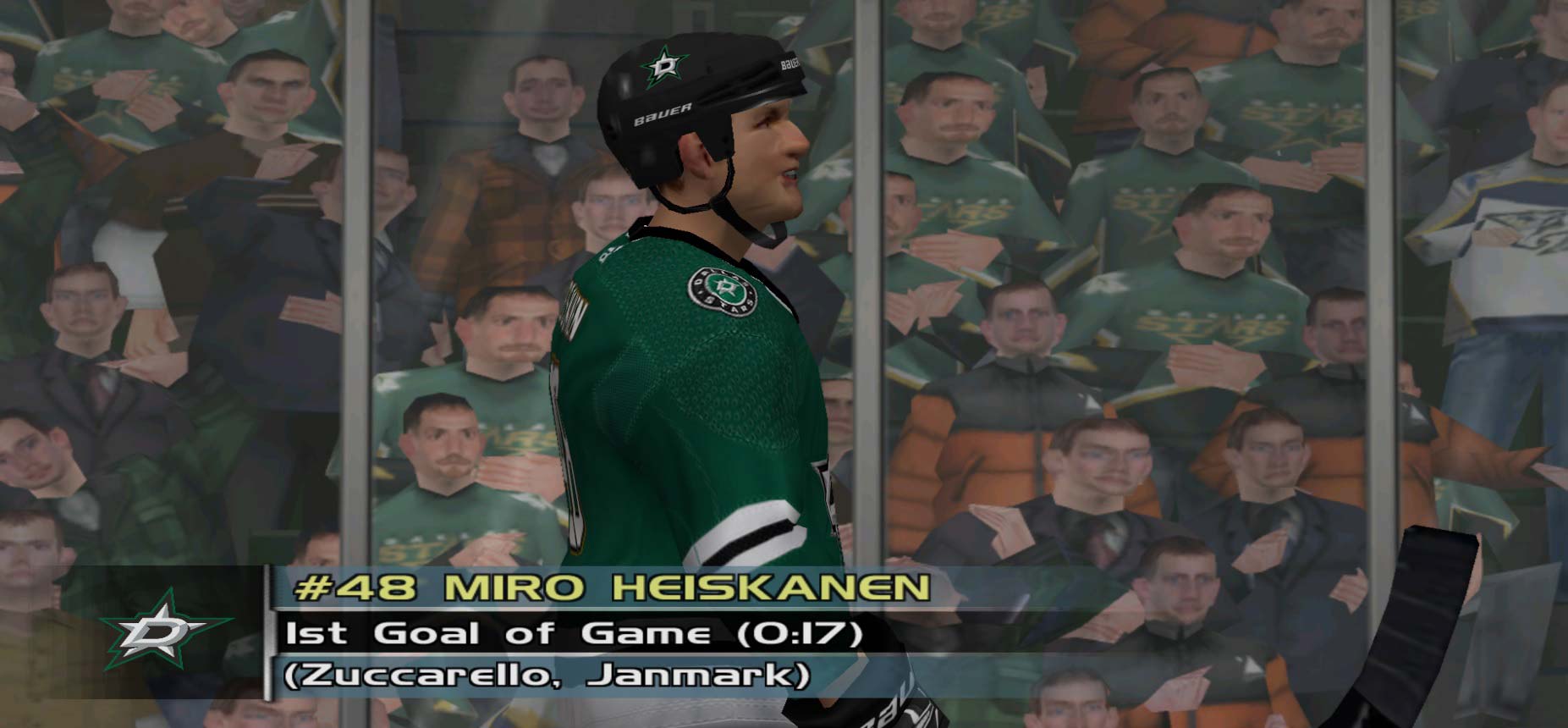 At this point, we are running out of superlatives to describe Miro Heiskanen. Forget being the best defenseman on the Stars; Miro has been the best skater, period, for either team this week. After a couple of hiccups early in Game 1, Miro has been nearly flawless in his execution in the defensive zone. Plays that would normally befuddle mere mortal defenders are casually handled by the 19-year-old whose stickwork and subtle body jukes have helped defuse the Predators offense — yes, even as Nashville has ramped up itsattempts to physically intimidate the young Finn. What more could we possibly ask for from Miro? His 18 total shot attempts tie John Klingberg for most among Dallas defenders, but, see, Miro's shot finds itself on net 50 percent of the time compared to Klinger's 38 percent. We don't want the rookie to get too cavalier with his shot selection — but damn, we wouldn't mind seeing Heiskanen firing the puck more often.
Miro sure is fun to watch. #StanleyCup pic.twitter.com/9nmB9QvckH

— NHL GIFs (@NHLGIFs) April 16, 2019
Fearless Forechecking™ Prediction.
It's all in the above copy: Dallas is playing better than Nashville, Ben Bishop is still beyond human (Game 3 notwithstanding) and Miro is coming into his own at the right time. Last week, we called Stars in 7.
Nothing's changed there, ya dinguses.
Flip it. Stick it. See ya later. Bye. — LehtMoJoe