Cued Up: Dallas' Five Best Barbecue Briskets.
Welcome to Cued Up! In this feature, we'll bust out the wet naps and get elbows deep in sauce in order to find what makes the region's best barbecue spots tick. We don't just want to know what makes their 'cue so damn delicious, though; we've got to cut down to the bone of these pitmasters to learn what makes each one of them so special — and why they've dedicated their lives to one of the most fundamentally Texas cuisines.
Every Texan knows that, when it comes to barbecue, brisket reigns supreme.
Ribs are fine. Serving up a variety of sides is important. And sausage-making indeed takes a certain skill. But brisket is where the rubber meets the road for a skilled pit master. It's the true test of whether a pit master's abilities pass muster.
See Also: Cued Up. // Dallas' Five Best Barbecue Ribs.
So which pit masters around North Texas do it best? Well, after six months of weekly dispatches from the best barbecue spots around the region, we've got some thoughts on that.
Here, we take a look at the five tastiest briskets you'll find at barbecue joints across Dallas-Fort Worth.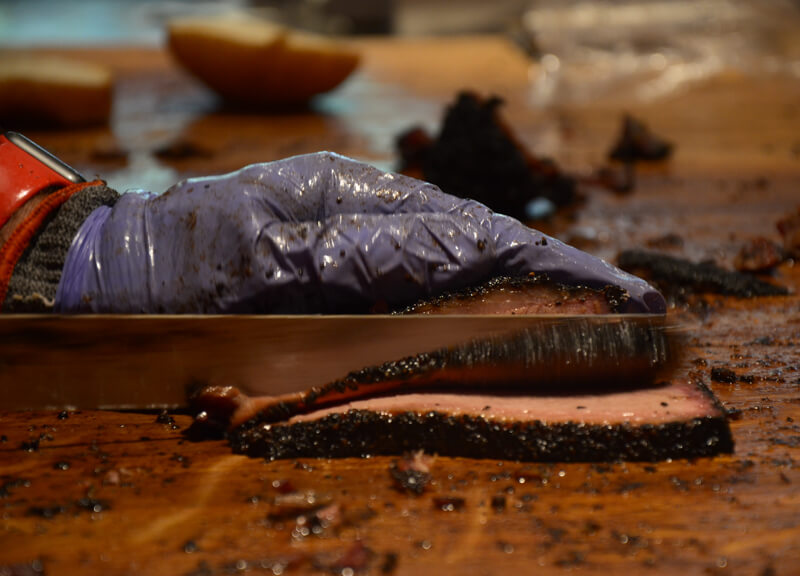 No. 5: Cattleack Barbecue.
Location: 13628 Gamma Road. (North Dallas)
Style: Central Texas.
Cattleack Barbecue is hidden in the industrial district just off of Midway and Spring Valley Road. But just because it's out of the way doesn't mean its owners didn't know what they were doing when they found their way here. Quite the opposite: Todd and Misty David have traveled around the country eating barbecue and learning what makes it great before opening their hole-in-the-wall joint that's become known for its brisket. For that offering, Todd uses a classic salt and pepper rub that only helps to highlight the flavor of the hickory he uses to smoke the meat. Every slice of brisket (lean or fatty) is juicy and tender, with the bark simple and full of flavor. All that adds up to some of the best brisket in Dallas.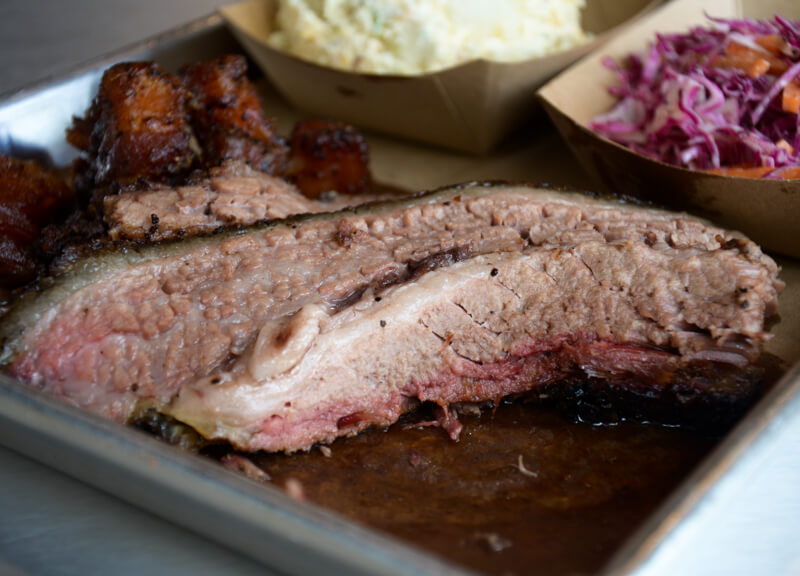 No. 4: Heim Barbecue.
Location: 1109 West Magnolia Avenue. (Fort Worth.)
Style: Central Texas.
This hip little barbecue joint in Fort Worth is among the newer spots in the region — well, when it comes to brick-and-mortar locations, anyway — but don't let that trick you into believing that this crew is green. No, there's a reason why, just earlier this month, Heim announced that it's adding a second Fort Worth location to its growing empire. It's because owners Travis and Emma Heim, who started out doing pop-up barbecue events using old family recipes and techniques, know how to work a brisket through a craft Texas style barbecue that is sure to impress any barbecue snob. Heim uses a simple salt and pepper rub-in on its brisket. Combined with the light smoky flavor of the post oak it cooks the meats with, that helps to bring out some of the more natural qualities of the Angus beef. That means juicy and rich brisket with a perfect smoke ring, plus a thick and classic bark that gives a nice gritty texture — y'know, just like grandpa used to make.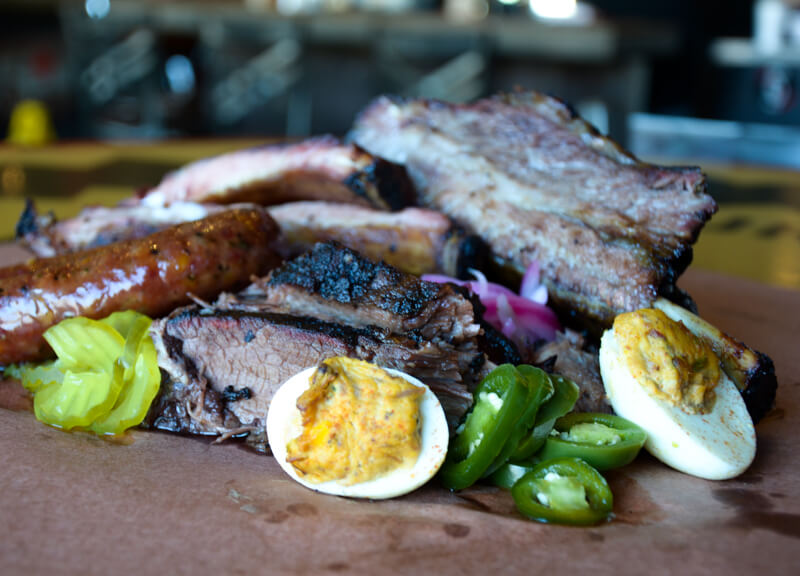 No. 3: Lockhart's Smokehouse.
Location: 400 West Davis Street. (Bishop Arts.)
Style: Central Texas.
Lockhart's Smokehouse may not be the oldest joint on the block, but it might have the most history. Owner Jill Bergus' grandfather was one of the founders of the famous Kreuz Market (pronounced Krites) down in Lockhart, Texas. And growing up regularly visiting what is arguably the barbecue capital of the world left Bergus with high standards for meat — standards she employs on a daily basis at Lockhart's, an old-school style barbecue joint that serves everything on butcher paper. Here, the brisket is done with a classic salt and pepper rub — just like back in Lockhart — that allows the quality of the meat to shine, while making for a nice crust on the outside. At Lockhart's, they smoke everything in post oak for a lighter, smoky flavor — and you can really taste it, particularly in the leaner shoulder clod offerings. Traditions are maintained for reasons, you see.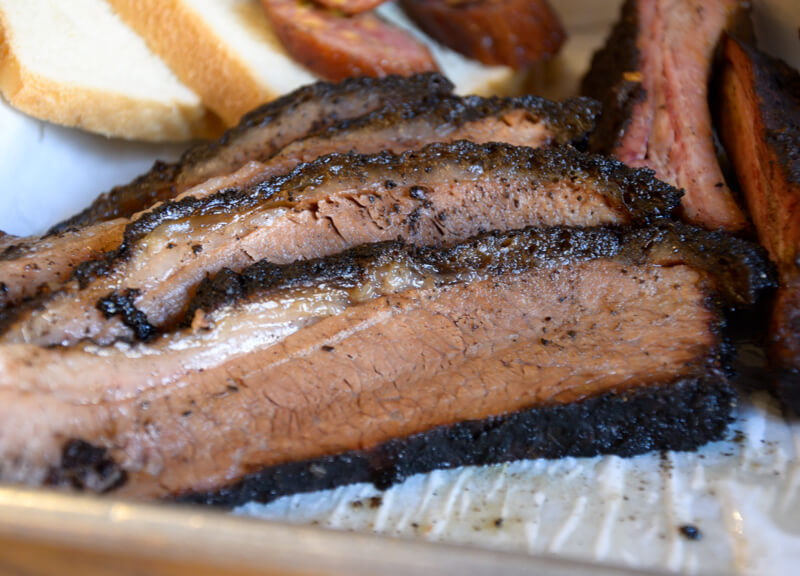 No. 2: Intrinsic Smokehouse and Brewery.
Location: 509 West State Street. (Garland.)
Style: Regional blend.
This modern brew pub has a long list of craft beers to pare with its craft barbecue — because, well, owners Cary Hodson and his wife Molly Malone originally just wanted to open a small craft brewery and call it a day. But some red tape forced their hand and required them to open a kitchen. Enter pit master Tex Morgan, a long-time aficionado with barbecue in his blood and a man who mastered the art of a good brisket early. Every slice of brisket at Intrinsic is tender and moist, coated in a unique dry rub that gives the meat a bold taste, and served with a light and smoky bark that provides a little texture. This may not have been the destination that Hodson and Malone initially envisioned for their business, but it's a happy one just the same.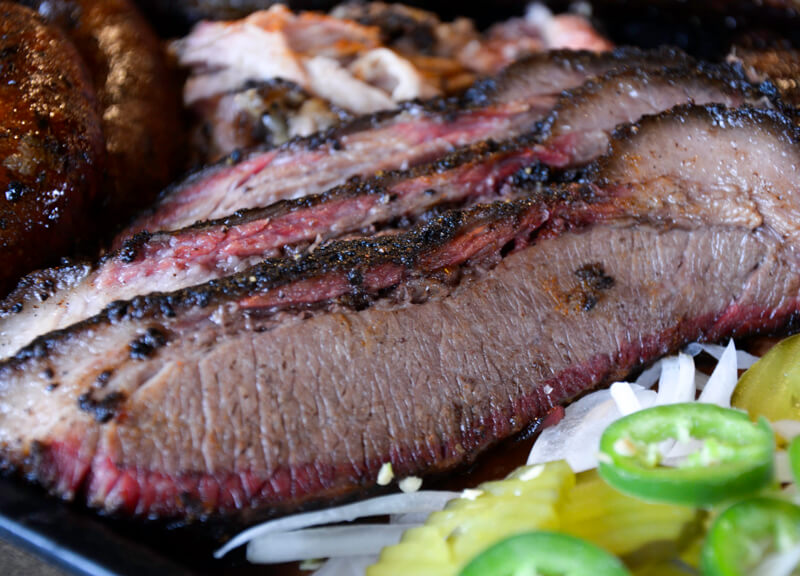 No. 1: Pecan Lodge.
Location: 2702 Main Street. (Deep Ellum.)
Style: Regional blend.
Justin and Diane Fourton take pride in their barbecue, and it shows. Listen: There's a reason why Texas Monthly named Pecan Lodge the second-best barbecue joint in all of Texas. Every step of their smoking process is closely monitored to ensure perfection, and this attention to detail is what elevates Pecan Lodge to a true craft barbecue joint. Their brisket is a particular point of pride at Pecan Lodge, as well it should be. Here, they use a special dry rub that not only enhances and highlights the quality meat, but helps capture the blend of oak and hickory they use to smoke their beef, which gives their brisket a strong, but not overbearing, smoky flavor. All you need to do to know that this is great brisket is look at it: Pecan Lodge's brisket has a perfect smoke ring. Of course, it tastes insanely great, too. It's rich, succulent and tender in both its fatty and its lean cuts. The bark, too, is thick and smoky, rounding everything out with a nice charred texture. Inside North Texas or elsewhere, you'd be hard-pressed to find a better brisket than Pecan Lodge's.
All photos by Travis Baugh.