Pecan Lodge Is A Barbecue Joint Worth Lining Up Over.
Welcome to Cued Up! In this new feature, we'll bust out the wet naps and get elbows deep in sauce in order to find what makes the region's best barbecue spots tick. We don't just want to know what makes their 'cue so damn delicious, though; we've got to cut down to the bone of these pitmasters to learn what makes each one of them so special — and why they've dedicated their lives to one of the most fundamentally Texas cuisines.
This week, we chowed down on Pecan Lodge.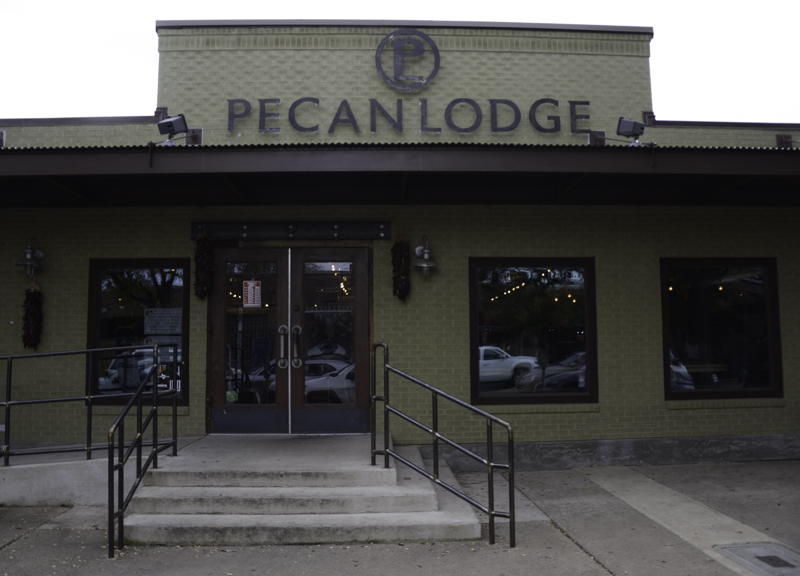 Fast Facts on Pecan Lodge.
Where: 2702 Main Street, Dallas.
When: Sunday, Tuesday, Wednesday and Thursday from 11 a.m. to  3 p.m., and Friday and Saturday from 11 a.m. to 10 p.m.
Seating: Not too hard to find a spot. The line is the bigger concern.
Line Speed: Very long lines during the rush, but it movies fairly fast, all things considered. There is also an express line for larger orders.
Woods Used: Oak and hickory.
Overview.
Pecan Lodge needs little introduction. Standing on Main Street in the heart of Deep Ellum, this barbecue joint is an all-too-familiar sight and smell for those who frequent the area.
Owners Justin and Diane Fourton, along with their staff, are passionate about bringing Dallas their own take on Texas-style barbecue, and it shows: Pecan Lodge is providing quality top of the line smoked meats in a chill modern Texas barbecue house setting.
Dallas has, in turn, returned the favor. On an almost daily basis, a long line snakes our of Pecan Lodge's front door. It's no surprise, then, that the spot regularly tops barbecue lists both in the city and beyond.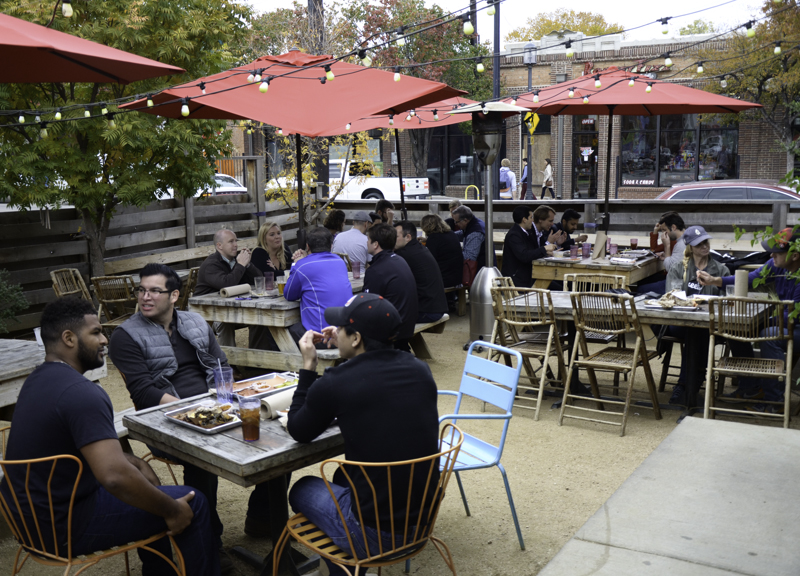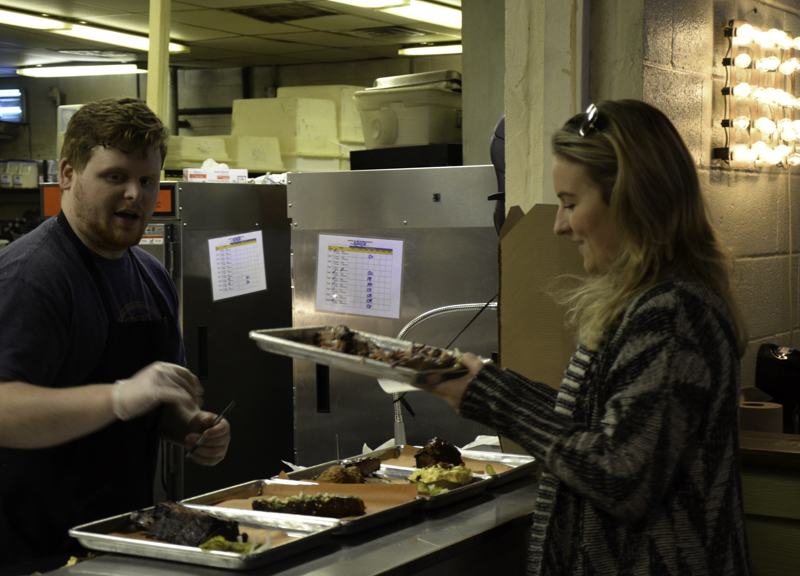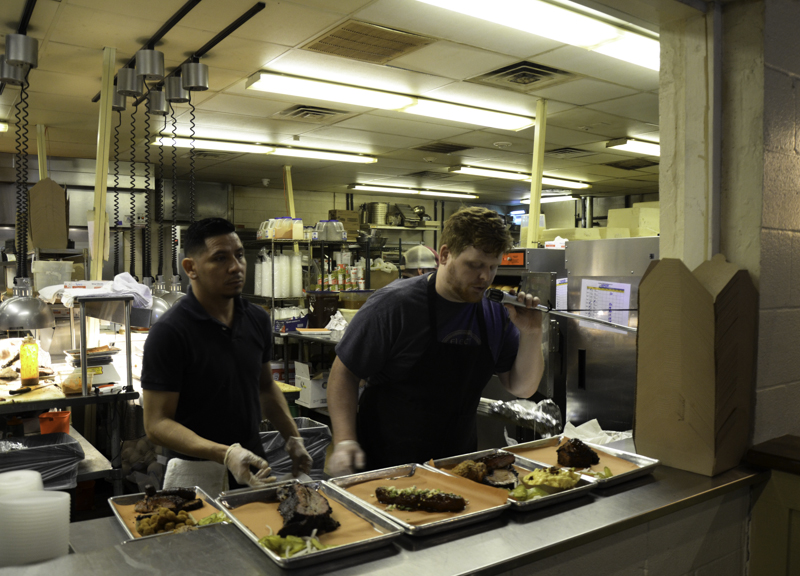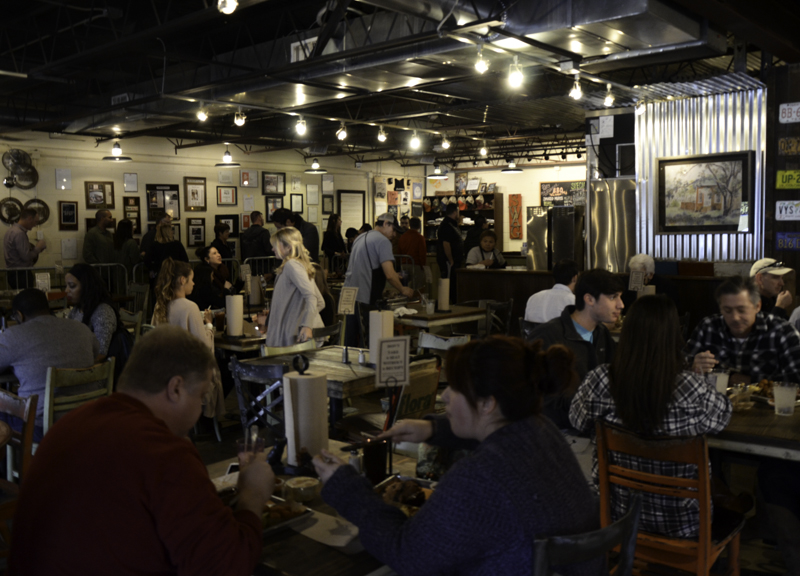 Some History.
Most great barbecue joint origin stories begin in the backyard, and Pecan Lodge is really no different from its competition in that regard.
What's a little unique, though, is the path this couple took to their early backyard days. Justin and Diane were both working corporate jobs as consultants that required them to travel a lot — something they were quickly tiring of, especially with having a baby on the way. And so the Fourtons ditched their corporate lives, and moved back to Texas after 15 years elsewhere. Upon their return, Justin started immersing himself into all the things he'd missed about Texas while living abroad — things like hunting, fishing and, yes, barbecuing.
His earliest efforts at smoking meat came via an old hand-me-down pit. But it wasn't be long before he was using it like a seasoned pro.
"Part of the enjoyment for me was making the rub from scratch and having my own barbecue sauce," Justin recalls now.
At first, Justin cooked for friends and family, who all raved about his barbecue. Inspired, the couple purchased a smoker on a trailer to give the barbecue business a go. At first, that meant selling barbecue in parking lots and in places with lots of foot traffic.
"This was kind of before food trucks," Justin says. "We didn't really know any other way to do it."
As momentum continued to build for their food, the Fourtons started looking into finding a permanent home for their efforts. The first place they would set up shop was in Shed No. 2 down at the Dallas Farmers Market. But that location was almost as bare bones as the trailer — just a kitchen and an office, with no dining room. As the couple considered possible next steps — a catering company, perhaps? — the critical reception for their barbecue started to take off.
"In that first year, it kind of took on a life of its own," Justin says. "We were named best new restaurant of the year!"
By the Farmers Marked started to undergo a remodel, the Fourton's next move seemed clear: It was time for them to open an honest-to-goodness brick-and-mortar, sit-down spot.
It wasn't a long search before the Fourtons found the current location in Deep Ellum. In 2014, Pecan Lodge opened its Deep Ellum doors to an eager and hungry public.
"After we moved here," Justin says, "we felt like we were able to fully express ourselves."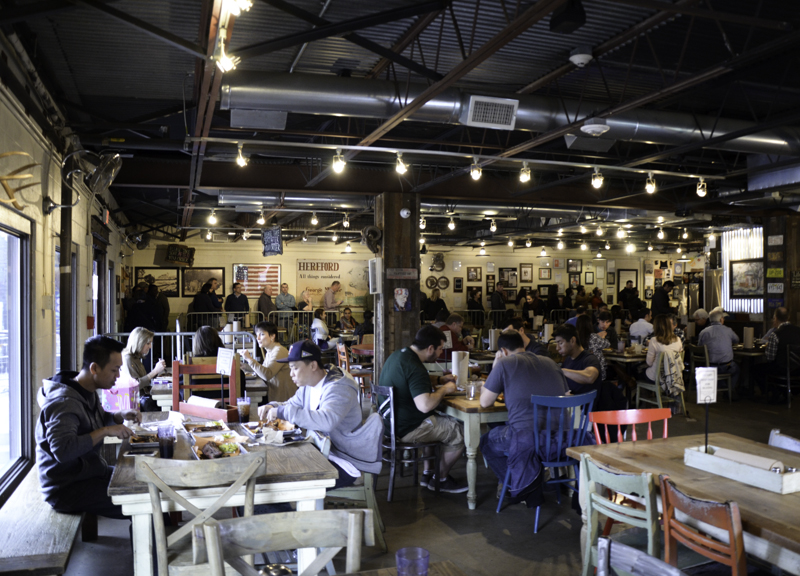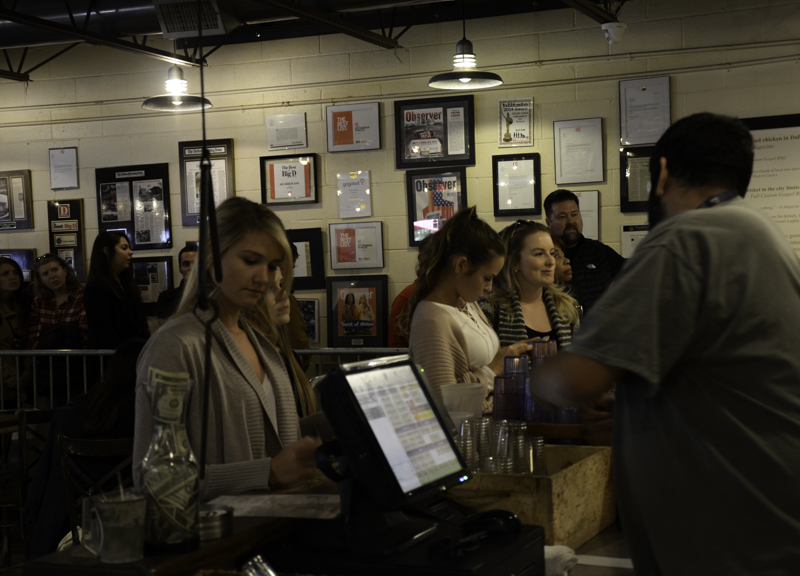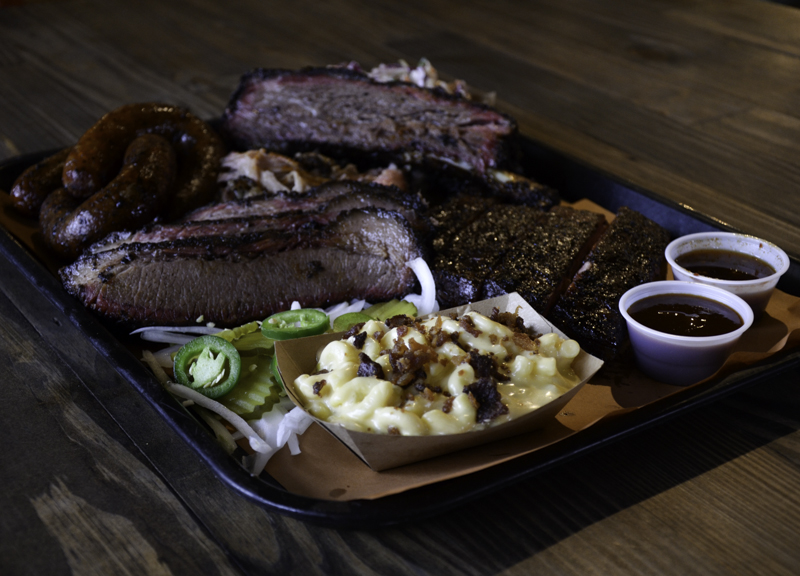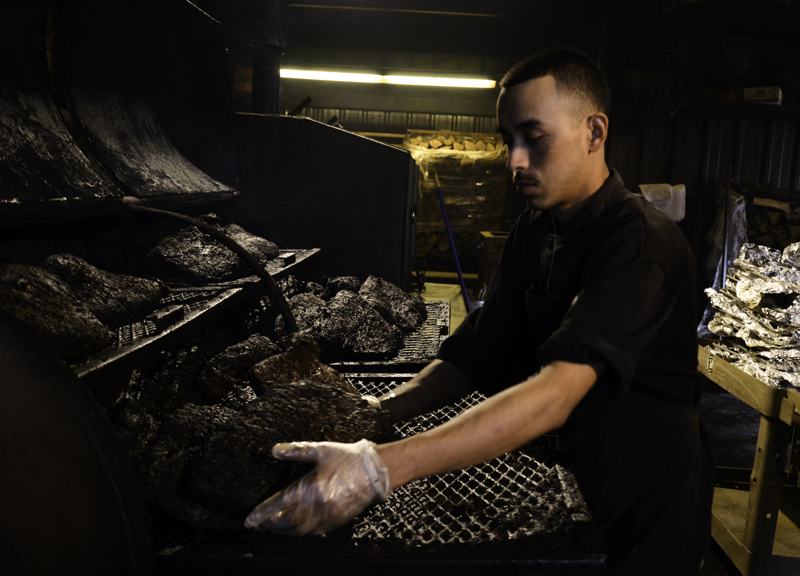 The Pitmaster and His 'Cue.
As a kid, Justin Fourton would visit his grandfather's ranch out in Abilene. He loved his grandfather's cooking.
"He was a really good barbecue cook," Justin says. "When we started business, I thought back to that and I tried to replicate the flavors I can remember the best that I could."
But it wasn't until Justin received that old hand-me-down barbecue pit that he was bitten by the barbecue bug himself. Trying to recreate the flavors of his childhood really set him down the barbecue path.
"That probably influenced our style of cooking more than anything," Justin says.
Along with trying to honor family recipes and traditions, the Fourtons have developed their own style that has won them awards and, better yet, comparisons to the famous barbecue of Lockhart, Texas.
"Each region has its own style," Justin says. "Ours is kind of a blend I think."
As far as that blend, Justin says using an old-school offset wood fire smoker allows for better control over the amount of smoke the meat is cooked with.
"We are constantly monitoring the temperature and adjusting," Justin says.
This attention to detail is directly reflected in the quality of the barbecue.  The brisket comes in thick slices with a nice bark that is full of smoky flavor; the brisket itself is tender, rich and juicy. The pork ribs are sweet and smoky with nice amount of spice and good amount of meat on the bone. The beef ribs are massive and average about a pound a piece. These ribs have a thick smoky bark, are succulent and full of flavor; the meat just melts in your mouth. As for the sausage, it's made in-house and comes in both regular and jalapeño varieties.
The list of sides isn't long, but is equally on-point. The coleslaw is made fresh every day and the mac 'n' cheese is so good that it's gotten pretty famous in its own right.
The Pit Master is Pecan Lodge's signature sandwich. It comes piled high with brisket, pulled pork and sausage, topped with coleslaw, fresh cut jalapeños and housemade barbecue sauce.
For those looking for something outside of the norm, Pecan Lodge also has hand-battered southern fried chicken and it's downright insane Hot Mess — a jumbo, sea salt-crusted sweet potato stuffed with South Texas barbacoa that's braised in a smoked adobo sauce, smothered in chipotle cream and topped with cheese, butter and green onions. Pecan Lodge also offers the absolutely giant selection called The Trough, that is a sampling of its various meats and feeds four to five people.
The dessert menu consists of homemade peach cobbler, Aunt Polly's banana pudding and Texas tumbleweed cookies.
The place even has its own signature beer brewed by Four Corners Brewing Company. Named after Diane, the brew has been dubbed Boss Lady.
"For us, doing this has always been a very authentic thing," says Justin. "This was just how we did it."