Garland's Intrinsic Smokehouse & Brewery Is Anything But Boring.
Welcome to Cued Up! In this new feature, we'll bust out the wet naps and get elbows deep in sauce in order to find what makes the region's best barbecue spots tick. We don't just want to know what makes their 'cue so damn delicious, though; we've got to cut down to the bone of these pitmasters to learn what makes each one of them so special — and why they've dedicated their lives to one of the most fundamentally Texas cuisines.
This week, we chowed down on Intrinsic Smokehouse & Brewery .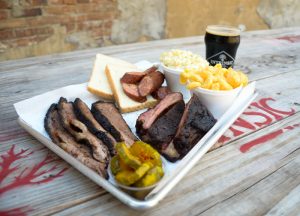 Fast Facts on Intrinsic Smokehouse & Brewery.
Where: 509 West State Street, Garland.
When: Tuesday through Thursday fro 11 a.m. to 10 p.m.; Friday and Saturday from 11 a.m. to 11 p.m.; Sunday from 11 a.m. to 10 p.m.
Seating: Not hard to find a sopt.
Line Speed: Fast.
Woods Used: Oak.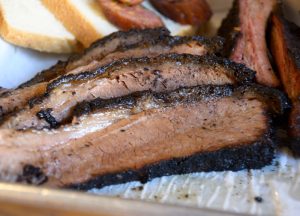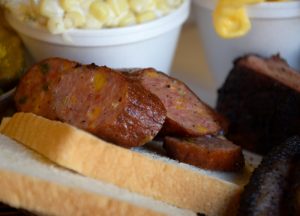 Overview.
Intrinsic Smokehouse & Brewery stands on West State Street, just off the historic Garland city square. Intrinsic is not your average barbecue joint — mostly because it's also a brew pub that offers quality craft beer alongside its quality craft barbecue, all in a hip rustic setting.
"We have equal focus on barbecue and beer," says Cary Hodson, owner and brewmaster.
With Intrinsic open every day from 11 a.m. until at least 10 p.m. (it goes dark on Mondays), it's a great spot to stop to get a bite for lunch or to grab a beer. With live music in the evenings, it's also a nice, relaxed dinner environment.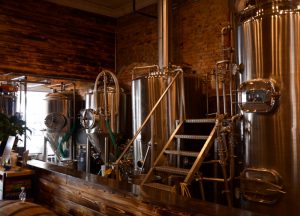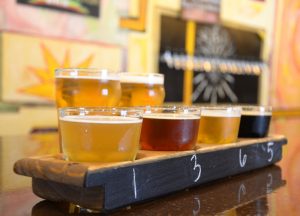 Some History.
Cary Hodson and his wife Molly Malone didn't start out in the barbecue world. In fact, their path to the barbecue pit was a little different than most. They came to it through beer.
Hodson's interest in beer started almost eight years ago when he found out that a friend and his father where making their own beer.
"That just kinda blew my mind that you could do that," Hodson says. "So I went and checked it out, and I was hooked."
Hodson hasn't stopped brewing beer since then.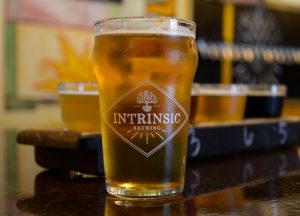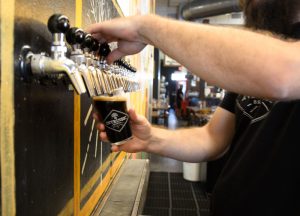 Eventually, Hodson started brewing too much beer to drink himself, and joined the Texas Craft Brewers Guild. That was around the time of his and Molly's second anniversary, a milestone they celebrated by making a business plan to open their own brew pub.
First things first, they launched a crowd-funding campaign. Then they started catering events. Because of some laws on the books, they were required to serve food at whatever brew pub they opened. Originally, they decided on doing burritos.
But, upon meeting Tex Morgan at a Texas Craft Brewers Guild meeting, that all changed — even if Hodson's future pit master at Intrinsic doesn't recall the moment as clearly as Hodson does.
"He doesn't remember meeting me," Hodson says. "He says we met at Rabbit Hole [Brewing in Justin]."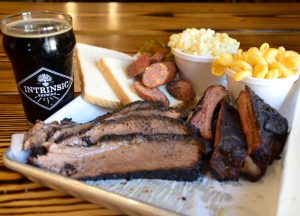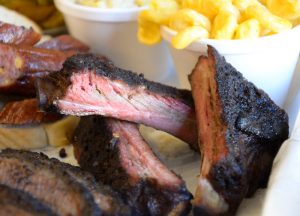 Regardless, while Hodson was in the midst of crowdfunding, he and Morgan teamed up for some catering gigs
"We realized these two things really go together," Hodson says. "From there, I just started geeking out about barbecue."
A year and a half later, Intrinsic purchased and 6000-pound smoker named Tara, started experimenting with recipes and began trying to find a location for its future, now barbecue-aimed restaurant.
Intrinsic Smokehouse & Brewery officially opened On December 5, 2015. In addition to Prohibition Repeal Day, that date also happens to be Hodson's birthday.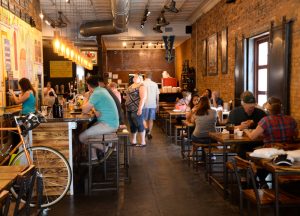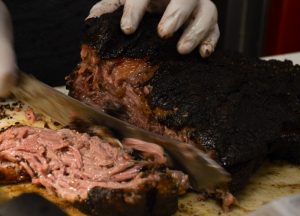 The Pitmaster and His 'Cue.
You could say Tex Morgan has barbecue in his blood.
"His mother's water broke in a Colter's that his father was managing," Hodson says. "So he's been born in to it."
Morgan grew up learning how to grill from his father, and he always had a thing for barbecue. Morgan worked for Hard Eight BBQ for a few years before setting out on his own until he teamed up with Cary and Molly.
Says Malone of her pit master: "He has always loved it because it brings family and friends together, and it's something that everyone can enjoy."
Less than a year into operations, that mentality has brought some loyal regulars Intrinsic's way.
"The food is phenomenal," says Leslee Tatom-Davis. "The nachos are off the chain. This is the only place I eat barbecue, period."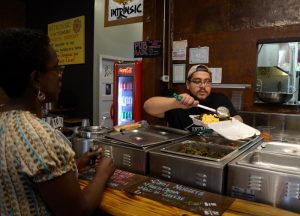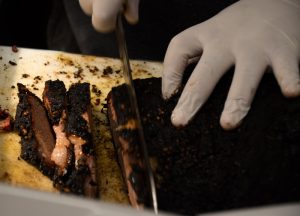 Morgan's brisket is juicy and tender with a good smoke ring and thick bark full of smoky flavor. His St. Louis-style ribs are sweet and spicy with a perfect amount of smoke. And his jalapeño cheddar sausage has just the right balance of cheesiness and spiciness.
On top of it traditional fare, Intrinsic also has a rotating list of lunch specials — plus a Second lunch menu that includes items like smokehouse wings or those aforementioned barbecue nachos, which come serve with your choice of meat, black beans, cilantro, pico-de-gallo, barbecue sauce and a pub-made queso. Intrinsic also serves barbecue flatbread sandwiches and will even go so far as to throw its brisket onto a salad.
For Hodson, though, the real fun is pairing these food options with beer.
"When I have a meal, I want a beverage that's on par with that meal," he says. "Water's boring."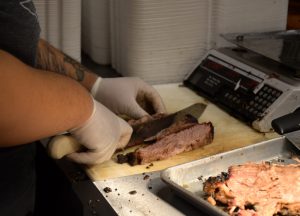 And so Hodson has made sure that Intrinsic has a large rotating list of house and guest beers tailor made for his joint's foods. Intrinsic's Tamarind Habanero is particularly a treat; a fruit and pepper red ale, it starts it off sweet before the habanero delivers a nice kick of heat at the end.
Hodson also believes in collaborating with other local business for his beers. He gets the coffee for Intrinsic's Coffee Stout from The Generator coffee house just down the street. Meanwhile, Intrinsic's Dank You Come Again — a 6.8 percent ABV offering that starts off strong with the floral notes and ends with a skunky bite — is a collaborations with Cedar Creek Brewery in Seven Points.
The idea, Hodson says, is to build a sense of community for his business, as well as a sense of history.
"The word 'intrinsic' means deeply rooted and naturally belonging,"' Hodson says. "We want people to come in and feel like we've always been here."