City Council Member Tom Harrison Shared An Islamophobic Video About Banning Islam in Schools — Because, Hey, That's What Suburban Dallas Politicians Do, We Guess?
Plano city councilman Tom Harrison has drawn public ire after sharing a video to his personal Facebook page on Tuesday night that supports the ban of all things Islam related from American public schools.
While Harrison shared the video without adding his own comments, it's hard to interpret his posting as anything other than support for its anti-Muslim sentiment — the video has the phrase "Share if you think Trump should ban Islam in American schools" visible in its margins throughout its run, and, well, Harrison shared it.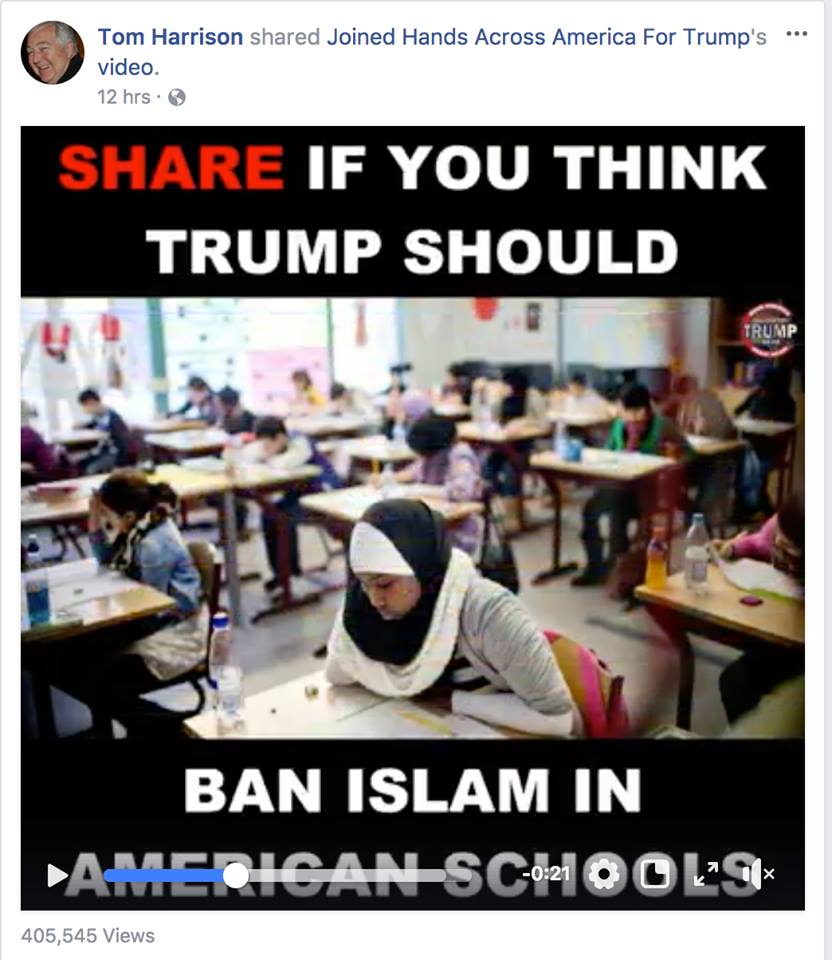 The video, which Harrison deleted from his account this afternoon, features a montage of photographs taken at an unnamed school (or schools), including several images of young students in hijabs studying in classrooms. It has a slapdash quality; the cheesy fade effects and nondescript, uptempo soundtrack suggest it was produced though a pretty crude video editing program. Were it not for the prominence of its anti-Islam message, or the promotion of a pro-Trump merchandise store at the end, the clip would have looked like something made by children rather than something that appeared to target them.
The near-immediate backlash for Harrison's sharing of the clip developed after Imam Omar Suleiman, founder of the Yaqeen Institute for Islamic Research and a professor of Islamic Studies at SMU, shared an image of the post on his own Facebook page and pushed for Plano residents to vote Harrison out of office.
"To the community in Plano and wider Dallas: Let's make an example out of this bigot," Suleiman wrote in his own Facebook post. "Vote him out, then talk to him later. We have the numbers and the will to do it."
Reactions were swift and strong enough that the city of Plano quickly arranged a press conference where mayor Harry LaRosiliere called for Harrison's immediate resignation.
As of this writing, Harrison has not resigned. He has also not responded to our requests for comment. The video he shared, which was initially posted to a Facebook page called Joined Hands Across America For Trump, can be seen in full below.
This, of course, is not the first time a politician in the area used their Facebook to broadcast Islamophobia. Agriculture commissioner Sid Miller and state senator Bob Hall have both used their social media presence to make sweeping, unsettling comments against the Muslim faith and its adherents, and yet both are still in office.
Controversies around Islamophobic political activity have gained national attention lately, particularly when the Trump administration has tried to force selective travel bans against some majority-Muslim countries into effect. Those measures, and their prejudicial intent, motivated DFW residents to take part in demonstrations against the administration, and their rulings.
Unfortunately, there are also examples where North Texans, and particularly those in positions of power, have been more attuned to the sentiments of the travel bans, and the video Harrison shared.
See Also: THE ELECTED ISLAMOPHOBES IN OUR MIDST. // Islamophobia Isn't Exclusive to Our Executive Branch. We Get Plenty of Prejudice From Our North Texas and State Officials, Too.
Irving felt the glare of the national spotlight in 2015 during a fevered pitch by the city council and then-mayor Beth Van Duyne to create an anti-sharia law, which was motivated by misunderstandings over how local mosques were tending to the needs of their members. That initial rumble of Islamophobic activity became more significantly disruptive a few months later during the now-infamous arrest of Irving student Ahmed Mohamed, who created a clock that school officials feared was a weapon.
That same year in Garland, two gunmen were killed after attacking an event that commissioned drawings of the prophet Muhammad — an act that's prohibited in Islam.
Alas, instances like the above have become a rather disappointing par for course in the Dallas suburbs in recent years, and Suleiman's post addressing Harrison alludes to the struggles Irving's anti-sharia councilors faced in the subsequent elections.
See Also: WHICH OF DALLAS' SUBURBS IS MOST EMBARRASSING? // In Which We Rank The Ten Dallas Suburbs By We're Most Embarrassed.
It's worth noting that Van Duyne accepted a job in the Trump administration as a regional administrator for the U.S. Department of Housing and Urban Development after declining to run for a third term as mayor of Irving in early 2017 — a development that felt inevitable, albeit in a darkly comic kind of way.
Plano mayor LaRosiele's call for Harrison's resignation and the volume of support for it may be heartening to hear, but it should also be noted that other elected officials in Plano have exhibited Islamophobia without repercussion. In 2015, state representative Jeff Leach, whose district includes portions of Plano, attempted to push his own statewide measures to ban sharia law.
Leach remains in office to this day.