Cued Up: The Top Five Must-Try Nontraditional Barbecue Dishes Across North Texas.
Welcome to Cued Up! In this feature, we'll bust out the wet naps and get elbows deep in sauce in order to find what makes the region's best barbecue spots tick. We don't just want to know what makes their 'cue so damn delicious, though; we've got to cut down to the bone of these pitmasters to learn what makes each one of them so special — and why they've dedicated their lives to one of the most fundamentally Texas cuisines.
Let's say you've got a friend from other part of the country who's in town visiting for a night or maybe a weekend. You've entertained out-of-towners enough to know the drill: At some point, you're getting tacos, and at some point you're getting barbecue.
That's just how it goes. But maybe — just maybe — you've already had yourself a whole bunch of brisket and pulled pork and sausages and ribs earlier in the week during previous trips to your favorite barbecue joint. You are, after all, a Texan.
So what do you do then? Do you just suck it up and order more of the same? Let's face it, there are worse fates.
See Also:
• Cued Up: Dallas' Five Best Barbecue Ribs.
• Cued Up: Dallas' Five Best Barbecue Briskets.
But it's important to remember that you've got options, too. After all, at pretty much every top barbecue spot in the region, there's at least one item unique to just that restaurant. Maybe, in all of your barbecue devouring, you've steered clear of these before. In this instance, though, it might be best to indulge in these unique offerings. After all: Considering how tough the competition is around these parts, if someone out of the norm appears on a barbecue joint's menu, you've got to figure it's there for a reason.
And, boy, is there. Here, let's take a look at our five favorite nontraditional barbecue joint dishes from around the region.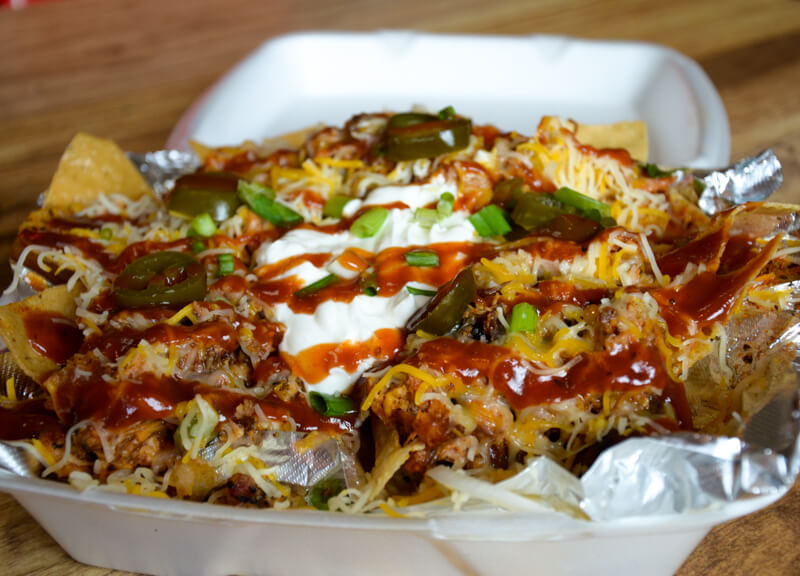 No. 5: Top 5 BBQ.
Location: 209 East Pleasant Run Road, #113, DeSoto.
Item: Barbecue Chicken Nachos.
This family-run joint started in the backyard, but quickly grew to be one of the best barbecue spots around the region. Owners Kendon and Davetta Greene take pride in their authentic approach to barbecue, and everything on the menu deserves attention. But the one item that stands out the most just might be their offering that deviates most from the norm: Their barbecue chicken nachos come piled high with smoky, shredded barbecue chicken that's been topped with a blend of shredded cheese, fresh jalapenos and chives, all served on house made chips and under a slightly sweet barbecue sauce that's been drizzled on top.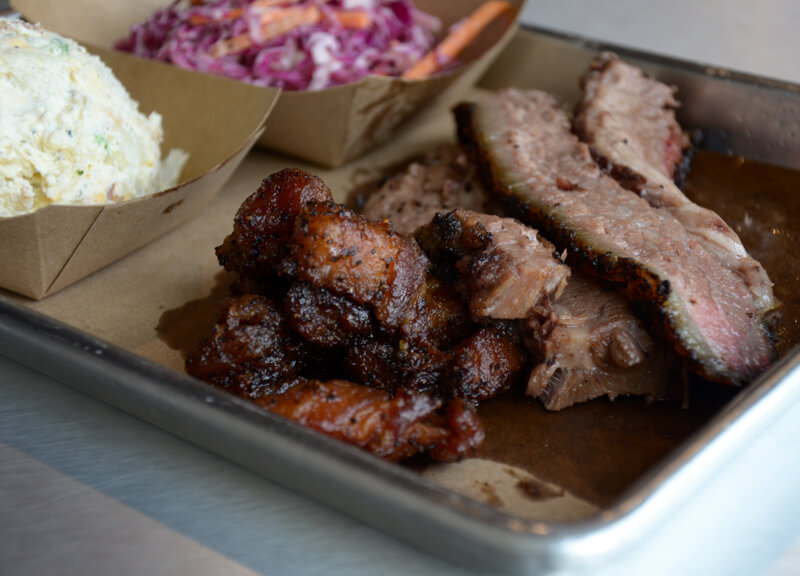 No. 4: Heim Barbecue.
Location: 1109 W Magnolia Ave, Fort Worth.
Item: Bacon Burnt Ends.
We've already established that Heim's brisket is top-notch, so maybe it isn't a surprise that this spot's burnt ends are too? Actually, it kind of is: At Heim, their burnt ends don't actually come from brisket; rather, they come from bacon. Initially offered by owners Travis and Emma Heim as a side during an event called "There Will Be Bacon," this massively popular item has become a hallmark of this Fort Worth brand. And it's not heard to understand why: These sweet and smoky little bites of bacon awesomeness are coated in a special dry rub and smoked to perfection, leaving them with a flavorful glaze.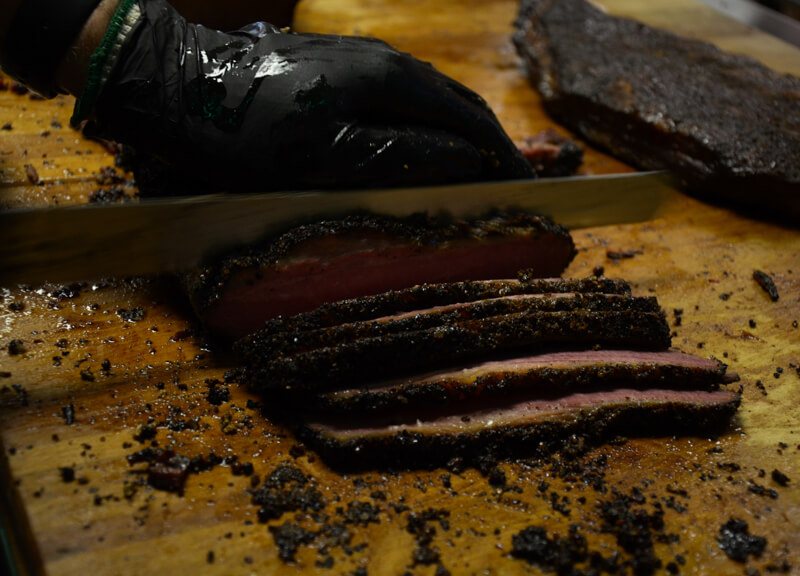 No. 3: Cattleack Barbeque.
Location: 13628 Gamma Road, Dallas.
Item: Pastrami.
Cattleack owners Todd and Misty David are passionate about barbecue, but their pastrami is where their dedication to meat might shine brightest. Made by Todd himself, Cattleack's pastrami process actually starts weeks before it hits any plates. First, he smokes it as opposed to going the tradition steam route, and then he applies a dry rub that gives the meat an almost brisket-like bark. Once ready to eat, the meat itself is tender and full of flavor, and you can almost taste the time and passion that went into preparing it.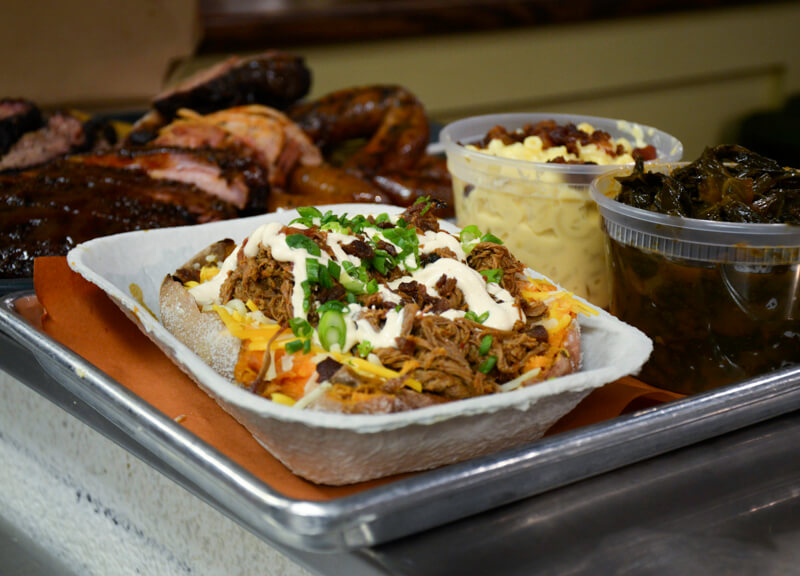 No. 2: Pecan Lodge.
Location: 2702 Main Street, Dallas.
Item: The Hot Mess.
OK, so you know about Pecan Lodge. You've seen the lines. And, if you're gonna contend with those lines yourself, you're probably thinking it's best to go with the traditional fare. Maybe you're right. But owners Justin and Diane Fourton have something different that's worth your time, too: The Hot Mess. A massive baked sweet potato that's been crusted with sea salt and stuffed with South Texas Barbacoa made from the lodge's famous brisket, this sucker is then topped with bits of bacon, shredded cheese, green onion, butter and a drizzle of house-made chipotle cream. Is it messy? Yes. Is it hot? Of course. Is it delicious? You bet your ass.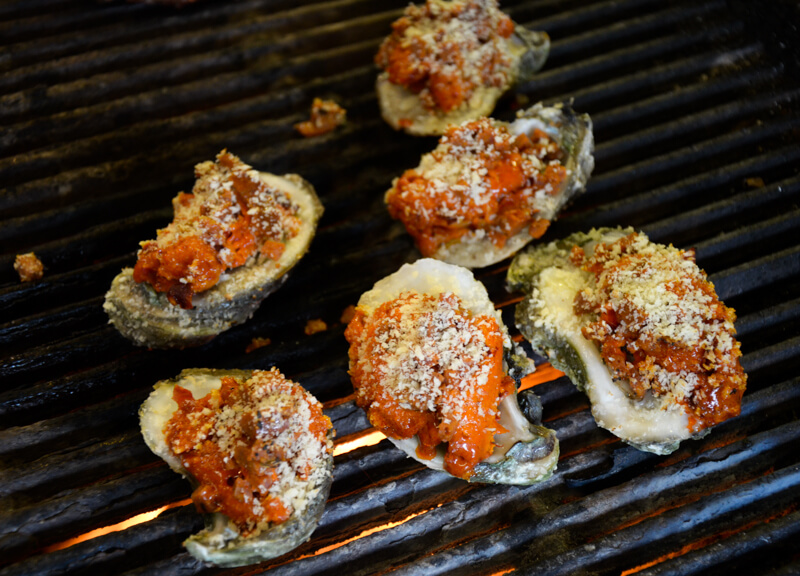 No. 1: Smoke.
Location: 901 Fort Worth Avenue, Dallas.
Item: Fire-Roasted Gulf Oysters.
He can still pull off the traditional damn well, but if there's one thing that's clear about Smoke owner Tim Byres, it's that the guy prides himself on making sure his menu stands out from the pack. And, boy, does he succeed with his fire-roasted gulf oysters. After seeing firsthand these oysters grilled over a fire in a 50 gallon drum in Galveston, Byres was inspired to do it himself with his own spin. Here, the oysters are roasted over an open flame with house-made scampi butter and a lamb chorizo that gives a nice gamey taste. Then it's all topped with a spicy ash salsa that rounds out the flavors and gives the whole flavor punch an extra kick. Are they fairly simple and straightforward? Sure. But, in this case, less is definitely more.