A Lot Has Happened In The Year Since DPD Officer Amber Guyger Shot And Killed Botham Jean In His Own Apartment. As Her Trial Starts, Let's Catch Up.
More than a year after she shot and killed Botham Jean in his own apartment, former Dallas police officer Amber Guyger's murder trial finally started on Monday.
This much is undisputed: On September 8, 2018, Guyger, who is white, entered Jean's apartment at South Side Flats in The Cedars after finishing up a 15-hour shift at work and fired two shots at the unarmed black man, one of which ultimately left him dead. Guyger lived in the unit directly below Jean's, and later told police she believed Jean's apartment to be her own, although she allegedly didn't realize she was in the wrong apartment until after she'd fired at the 26-year-old St. Lucia native.
Since then, local and national media outlets alike have breathlessly covered the court proceedings leading up to the trial.
And while some of our questions have been answered in the last year, it's been tough to keep track of it all if you haven't been paying close attention until this week. That in mind, here are a few key things to help you get caught up as we wait for updates, and ultimately, a verdict in this trial.
Guyger will face a murder charge instead of the initial lesser charge of manslaughter.
Despite facing an initial manslaughter charge at the suggestion of the Texas Rangers, Guyger now faces a charge of murder with a possible sentencing of anywhere from 5 to 99 years in jail. In November of last year, then-Dallas County District attorney Faith Johnson conducted an investigation separate from the Texas Rangers', resulting in a grand jury returning an indictment for murder.
Defense attorneys requested the trial be moved out of Dallas County — and lost.
In July, Guyger's attorneys filed a request to move the trial out of Dallas County due to potential biases of jury pools as a result of the intense media coverage of the case. Last week, Judge Tammy Kemp denied that request, siding with prosecutors who argued that the press coverage was not pervasive enough to sway jurors one way or the other.
The City of Dallas saw a spike in juror turnout for the case.
Though Kemp would eventually rule that media coverage was not likely to influence any jury' verdict, the number of potential jurors who showed up after being summoned far exceeded the court's expectations, which were based on historically small turnouts to these calls for civic participation. Hundreds of potential jurors responded to the 4,000 summonses sent for this trial, stretching the jury room at Frank Crowley Courts Building past its capacity.
The Dallas Police Department has put a freeze on officer time-off requests for the duration of the trial.
Prior to the trial's start on Monday, DPD informed its officers that it would not approve time-off requests throughout the trial's run — through October 7 at the earliest. Law enforcement officials were also told to have riot gear prepared, including gas masks and helmets, throughout the trial's run, leading some to wonder if DPD is already expecting the jury to return a not guilty verdict.
If history repeats itself, Guyger's chances of being found guilty seem low.
We aren't inclined to discredit suspicion of an already-decided innocent verdict ourselves. As the below chart shows, DPD's history with officer-involved shootings would indicate that consequences in these cases are often minimal, with the most extensive recent sentence returned being two years of probation. Guyger's case does stand out, though; it's the first case in Dallas since 2013 where an officer has been charged with murder.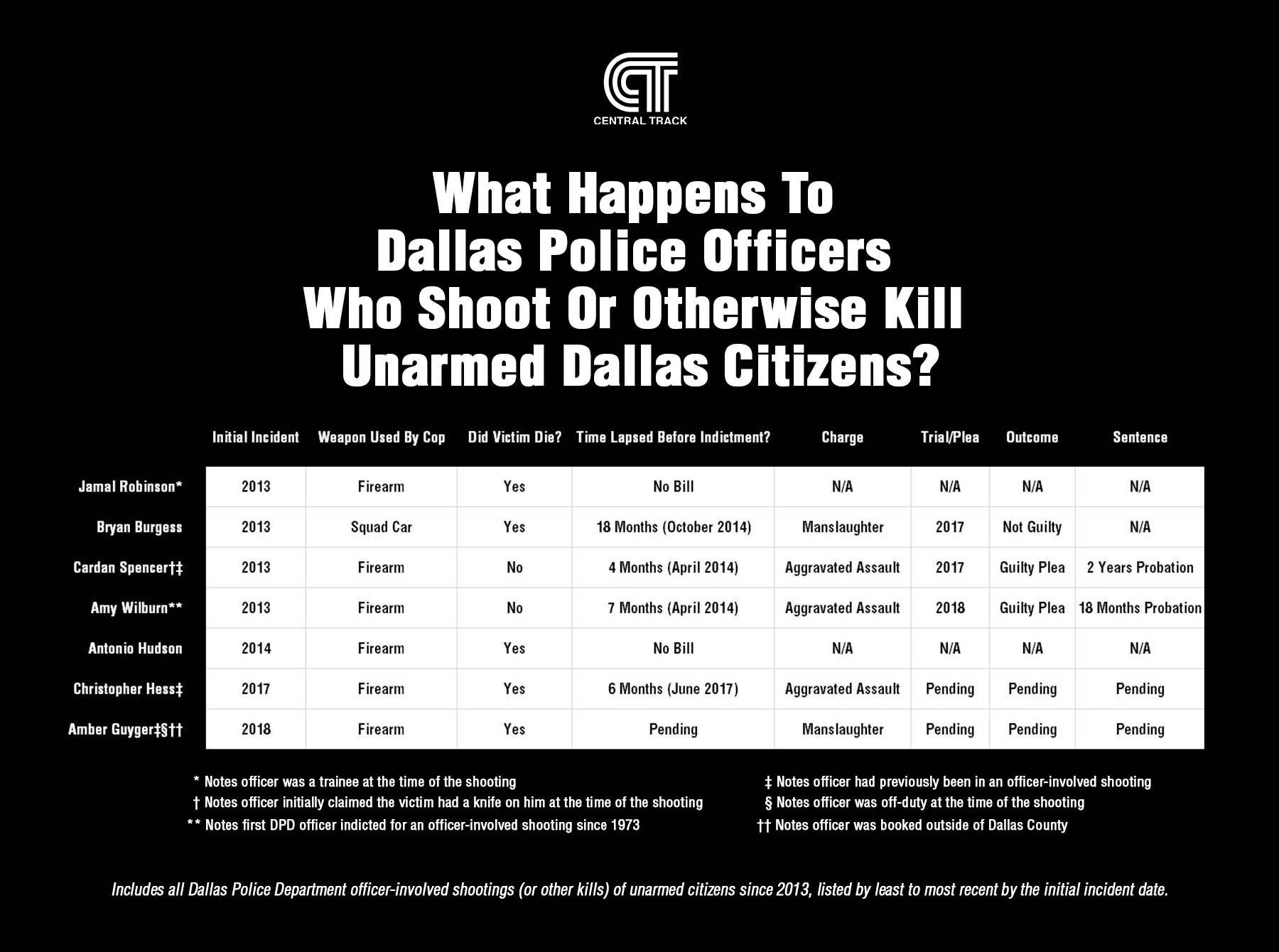 Graphic by Pete Freedman.