Given How Slowly Dallas Pursues Its Cases Against Indicted Cops, Don't Expect Amber Guyger's Trial To Start Anytime Soon — Assuming There's A Trial At All.
Hours prior to the news breaking that Dallas police officer Amber Guyger had been charged with manslaughter on Sunday evening, Dallas mayor Mike Rawlings participated in an on-air afternoon interview with CNN's Fredricka Whitfield to speak on the many perplexities surrounding 26-year-old Botham Jean's death and the investigation into it.
The mayor sure had his work cut out for him.
Neither volume nor captions were needed to grasp how confounding a situation this had become. The bewilderment was readily evident on Whitfield's face, which visibly contorted as she read aloud some of the story's most pertinent details: The 30-year-old Guyger — a four-year veteran of the force, who was still in her uniform but off-duty immediately following the completion of a 12-hour work shift — had shot and killed Jean inside of his own apartment on Thursday night; Guyger also lived in the same apartment complex as Jean, and claims she had mistaken Jean's unit for her own prior to shooting and killing him with her department-issued firearm; and, at the time of the interview anyway, Guyger still somehow hadn't been brought in on charges of any kind three days later.
Beyond offering without provocation that the apartment complex's parking garage was laid out in a way that could've possibly added to Guyger's confusion at the time of the shooting — a bizarre speculation that hadn't yet been reported, let alone explored, elsewhere — Rawlings didn't offer much consolation to those awaiting justice in Jean's death.
Instead, he asked for patience.
And, it turns out, the public may need to be very patient. Ostensibly, Rawlings was using his CNN time on Sunday to ask that people not rush law enforcement agencies into judgment before it was incumbent. But, by preparing the crowds for a wait, the mayor might as well have been winking at Dallas' wholly unimpressive track record when it comes to prosecuting cops who have shot or otherwise killed unarmed citizens.
History indicates that it can be years before the few such cops who are ever indicted finally enter into plea bargaining or face their charges in court: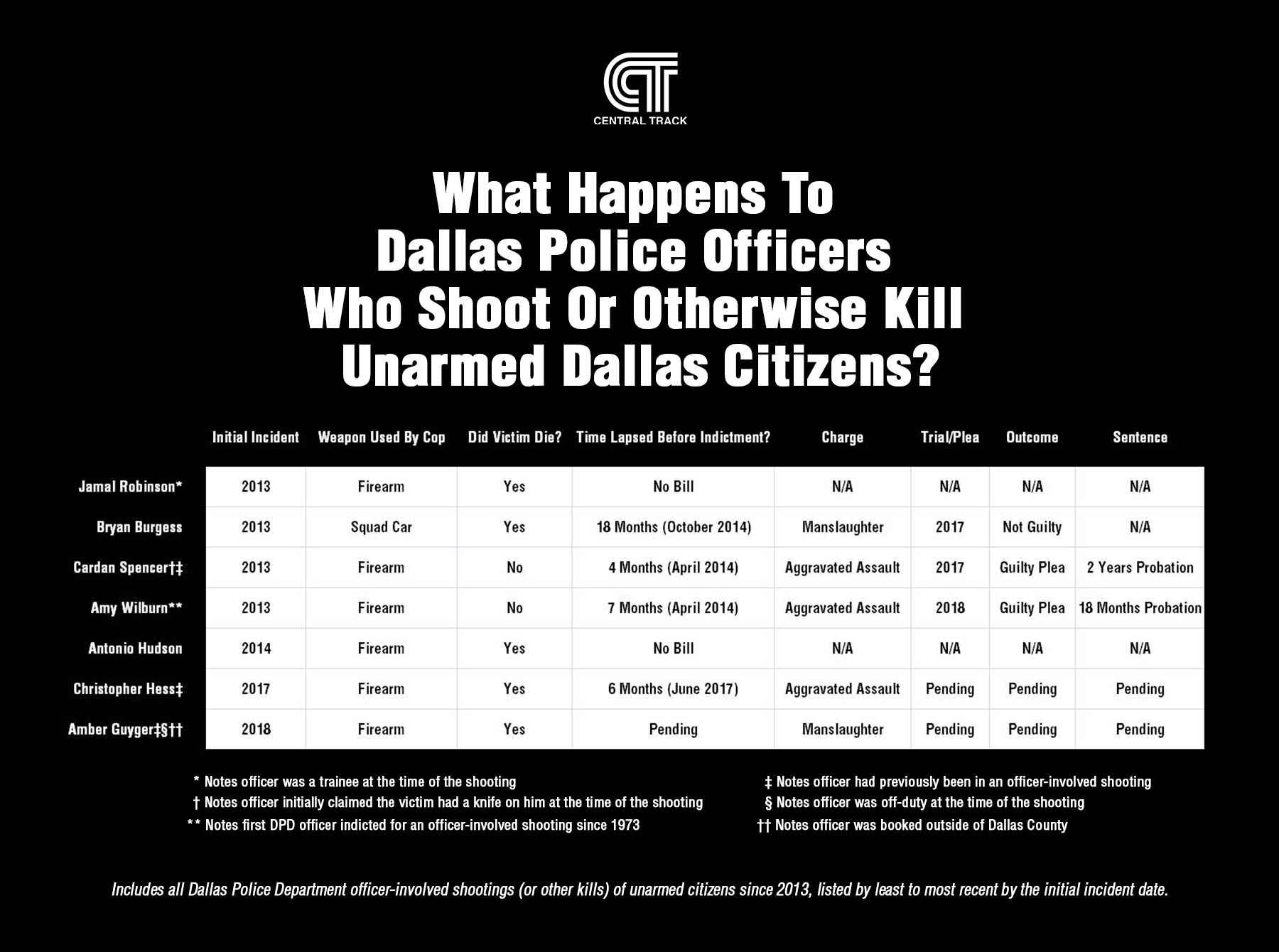 Regionally, police appear as if they are being held more and more accountable for their actions. But for a long time, Dallas police officers seemed as if they were above the law. Between officer Darrell Cain being charged and convicted in 1973 for the murder of 12-year-old Santos Rodriguez and senior corporal Amy Wilburn's April 2014 indictment for aggravated assault in a nonfatal shooting, a full 40 years had passed without a single DPD officer being indicted for any on-duty shooting.
Times have changed — somewhat.
According to DPD's own data, there have been 74 on-duty officer-involved shootings since 2013. Of those, four indisputably involved unarmed citizens, and three were fatal. In a fifth nonfatal example, officer Cardan Spender initially claimed that his victim was carrying a knife at the time of his shooting. In a non-gun-related sixth incident, officer Bryan Burgess was accused of killing an unarmed victim by running him over in a squad car during a chase — although, to be fair, Burgess was later found not guilty on charges of manslaughter.
The seventh situation along these lines is Guyger's — one that's unique in a few ways, not the least of which is the fact that she was technically off-duty at the time of the shooting. Or even the fact that, if you count this most recent transgression among the data collected by DPD, Guyger is now responsible for two of the department's last four officer-involved shootings. (Her previous on-duty shooting came in 2017.)
Mayor Rawlings may deny that law enforcement agencies debated which crime to charge Guyger with (murder or manslaughter?), and his public opponents may believe that none of those entities wanted to be the one to take lead on the case at all, but there's no arguing that there are indeed curious discrepancies in the ways that various details about the investigation were publicly discussed these past few days.
Do those inconsistencies hint at ways in which Guyger was being treated by her peers as an on-duty cop — instead of being handled as the regular- off-duty citizen she should've been considered — throughout the investigation? The line is certainly blurry.
Dallas Police chief Renee Hall absolutely revealed over the weekend that there was some back-and-forth chatter between agencies over issuing the warrant for Guyger's arrest. After exclaiming on Friday that her department was ready — right then and there! — to obtain a warrant for Guyger, Hall later said on Saturday that Texas Rangers had requested that DPD "hold off" on issuing any warrants until further notice (meaning Sunday night, apparently).
In her same Friday afternoon statements, Hall also described the shooting as an "officer-involved" one, which stands in direct conflict to a fact sheet provided to the mayor and Dallas City Council on Friday night by City Manager T.C. Broadnax. That memo notes how the shooting was to be handled as "a non-work-related shooting involving an off-duty officer." Those distinctions are minor, but important. Per the fact sheet: "When an officer fires their weapon in the course and scope of their official capacity, it is considered an officer involved shooting. A shooting involving an officer is when the officer fires their weapon outside of the course and scope of their official capacity." (Worth noting: Press releases from the department's information office also initially used the term "officer involved shooting" on Friday before transitioning to "shooting involving off duty officer" come Saturday.)
The fact sheet also notes that Guyger's 911 call was processed by DPD as an "assist officer call," which could explain why the notoriously slow-to-respond DPD officers arrived to the scene of the crime — and began blocking it off — way faster than it normally might've.
What's next?
Per criminal defense attorney Pete Schulte, himself a former Dallas County prosecutor, a case will now be filed with the Dallas County District Attorney's office, which will then present the case to a grand jury for review. At that point, the grand jury will choose to either indict or change the charges levied against Guyger.
If previous incidents of officer-involved shootings with unarmed victims are any indication, it could be anywhere from four to seven months (if not longer) before a grand jury reviews the case. Again using history as an indicator, it could then be another three to four years after that before Guyger either strikes a plea bargain with the district attorney or faces her charges in trial.
Oh, and it should be said: However unlikely it may now seem given the apparent facts of the case and the manslaughter (read: not murder) charge, the grand jury may also choose to not indict Guyger at all.
Botham Jean cover photo via his Facebook page. Photos of South Side Flats via its property management site.