Two Months After Being Charged With Manslaughter For Killing Botham Jean In His Apartment, A Grand Jury Has Indicted Ex-Dallas Cop Amber Guyger For Murder.
More than two months after she was arrested on manslaughter charges for shooting and killing Bothan Jean in his own apartment, the now-former Dallas police officer Amber Guyger has been indicted on murder charges by a grand jury.
The indictment comes after a week of hearings in which a grand jury was tasked with deciding the appropriate charge for Guyger in the case — or if she was to be charged with anything at all.
There is no timeline for when the actual trial surrounding this charge will begin, although — not unlike her arrest itself — history would appear to indicate that it's likely to be a while before Guyger's time in court finally arrives, presuming there's no plea deal.
Of course, a plea is just one of several outs Guyger could still have ahead of her. While area officers are indeed more and more likely of late to be indicted for their on-duty actions, recent history also shows that DPD officers who shoot or otherwise kill unarmed citizens aren't likely to face jail time.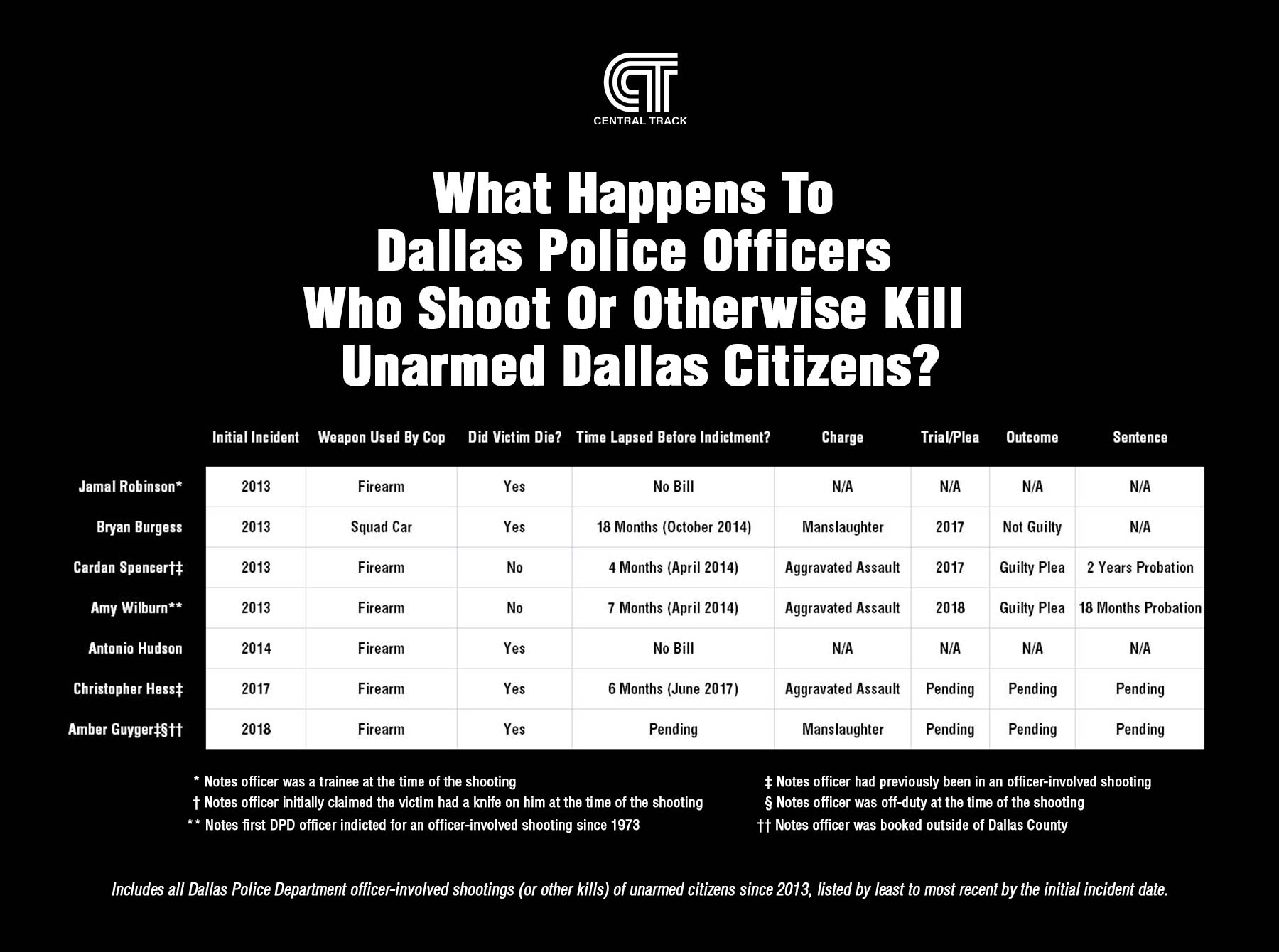 That said, very little about Guyger's case is straightforward.
As you no doubt recall, the 30-year-old Guyger shot and killed the 26-year-old Jean — a literal choir boy and PricewaterhouseCoopers accountant from St. Lucia — in his apartment on September 6 after she allegedly mistook his apartment for hers and fired upon him because she thought he was an intruder.
Public outcry over Jean's death was amplified by the fact that it took authorities three days to bring Guyger into custody and charge her with manslaughter — a charge that many (it turns out, rightly) believed would eventually be changed by the grand jury. Also adding fuel to the frustrated public's fire was the fact that, just days after charging Guyger, authorities leaked the seemingly irrelevant information that they'd found a small amount of marijuana found in Jean's apartment.
While today's upgraded indictment may perhaps feel cathartic at first for those crying for justice in this case, it's worth noting that a murder charge is only likely to place a higher burden of proof on the prosecution in her case. As noted by Dallas criminal defense attorney Pete Schulte, the murder charge opens the door to a "mistake of fact" defense. Should the jury in her trial find that defense reasonable, it could lead to her acquittal.