Other Area Politicians Are Making Themselves More Visible During The Coronavirus Pandemic, But Dallas Mayor Eric Johnson Is Really Tough To Find!
Y'know that old Mister Rodgers quote? The one about how, when times are tough, you should "look for the helpers" and whatnot?
It really is true: In times of crisis, it seems like helpers are always piping up and making themselves found — sometimes when you don't even want them!
Since the coronavirus pandemic first started taking the the states by storm, it seems like pretty much all of our elected public officials have been making themselves easily seen — be it through passing various measures, participating in interviews, hosting press conferences or just blowing up our cells phones to promote their efforts involving those other things (shouts to Congressman Colin Allred).
But one Dallas political player — a man you'd likely expect to be all up in your business right now — has been surprisingly absent from much of this noise.
Seriously, where the hell has Mayor Eric Johnson been during all this?
Granted, he's handcuffed a bit — Dallas boasts a "weak mayor" system and the Dallas County Judge is the regional administrator in charge of emergency management — but now a year into his term, Johnson has proven himself reluctant to fill his gig's community figurehead facet, a role his predecessor Mike Rawlings readily embraced in times of crisis. That's a big part of the job — and a responsibility where Johnson could probably make a bigger difference than he's earning with everything else he's trying.
Beyond setting Dallas City Council's agenda, Johnson hasn't seemed to do very much at all, has he? Nope, but let's recap. He has mostly followed Dallas County Judge Clay Jenkins' lead on issuing disaster declarations and implementing emergency protocol. He lost additional points for awkwardly inserting himself where he didn't belong within a beef between Jenkins and Texas Gov. Greg Abbott. And, just yesterday, he railed against the Dallas media for what he believes has been an ongoing misrepresentation of his political authority during this time.
There's a reason why people are making shirts celebrating Jenkins and cracking jokes about how it seems like he's really the mayor of this city. And it's because Johnson isn't so much as leading as he's shirking from the spotlight.
Hearing "Where's the mayor?" has been an unfortunately frequent criticism of Johnson since he took office in 2019, but that bell is only ringing even louder as the pandemic crisis rages on — so much so, in fact, that we not only wondered what it'd look like if he were inserted into a Where's Waldo? scene, but we even commissioned it!
Consider the below distraction a gift from us to you during these trying times.
Oh, and so you know: The mayor's really in this scene of poorly executed social distancing, we promise! Even if it takes you a minute, just keep looking — well, except for you, Mr. Mayor. You have plenty else you should be doing at the moment. No, sir, this game isn't for you.
As for the rest of you: Enjoy!
Where's The Mayor?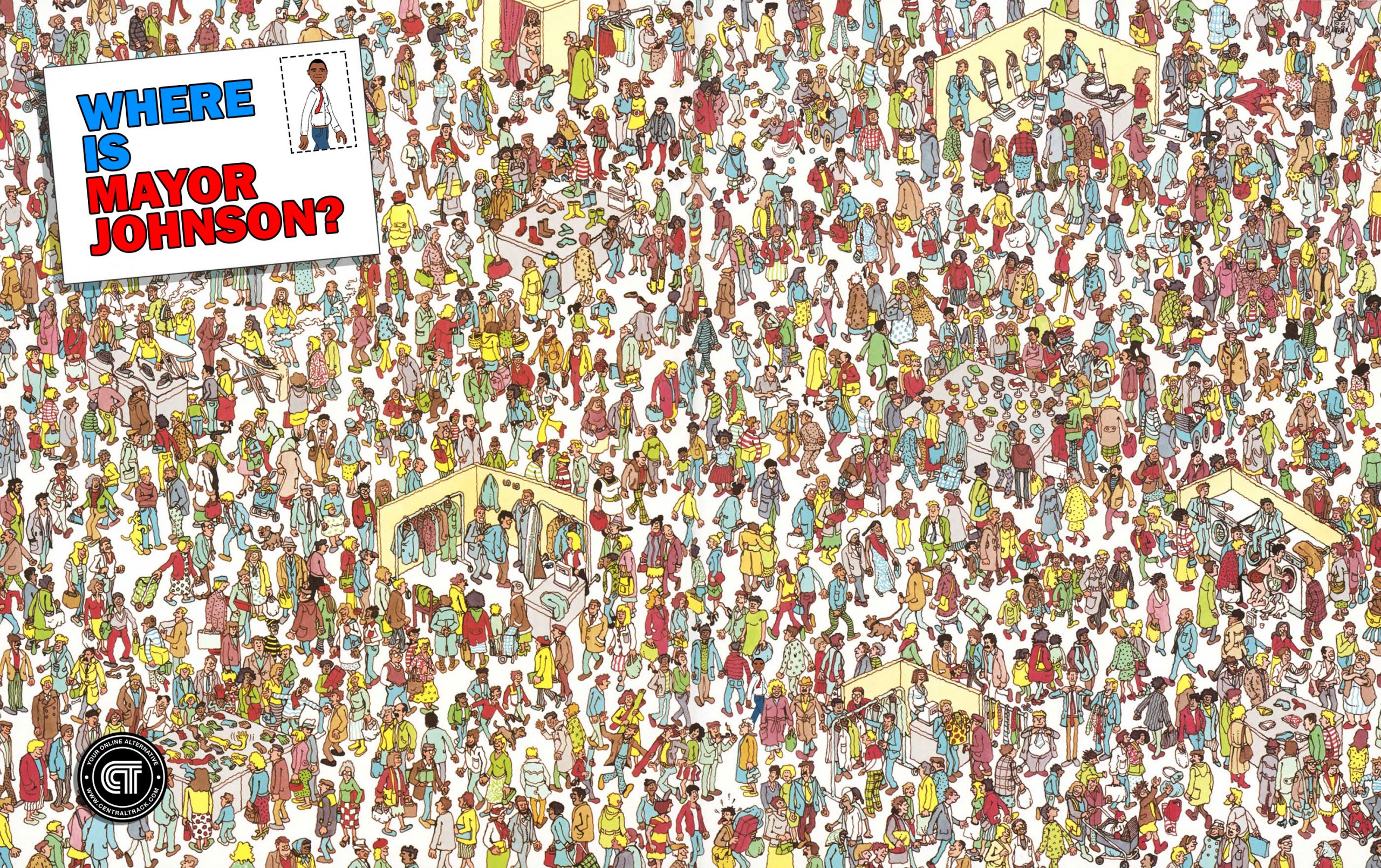 Hi-res version here. Original artwork by Hunter Moehring.