A Closer Look At The 10 North Texas Acts We Preemptively Removed From Our Ballot. Plus, The Awards They And The 51 Other Top-Honored Area Acts Will Receive.
Tonight at the Granada Theater, we'll be announcing the entities that have earned Top Honors nods across 51 open categories in our first-ever Central Track Music Honors' public survey of the Dallas music scene.
Featuring 12 of our nominated acts — Cure For Paranoia, T.Y.E, SRSQ, Conner Youngblood, Acid Carousel, Luna Luna, Rosegarden Funeral Party, Joshua Ray Walker, Xuan, Meach Pango, Zyah, Kaz Moon — performing across two stages, tonight's celebratory event promises to be a kick-ass time, with doors opening at 7 p.m. and the music going nonstop from 8 p.m. until we're done.
This party is free to attend so long as space allows, but by purchasing a $5 advance ticket right here, you can guarantee your way into the party and also get a free Corona Extra or Corona Premier in exchange for the effort — like you're paying for your first beer, basically. (There'll also be a free-to-attend after-party next door at Sundown at Granada from 11 p.m. until close with DJ sets from Honors-nominated DJs Blake Ward, Jesse Koo and Ursa Minor.) Guarantee Your Way In!
As far as what's up for grabs for the nominated entities tomorrow night? Well, as already teased, they'll each receive a custom limited run vinyl pressing from our friends and sponsors at Hand Drawn Records featuring an etching of the 2019 Central Track Music Honors logo on one side and a fully playable collection of our seven "Best Song" nominees on the other.
Check 'em out. They're pretty sweet: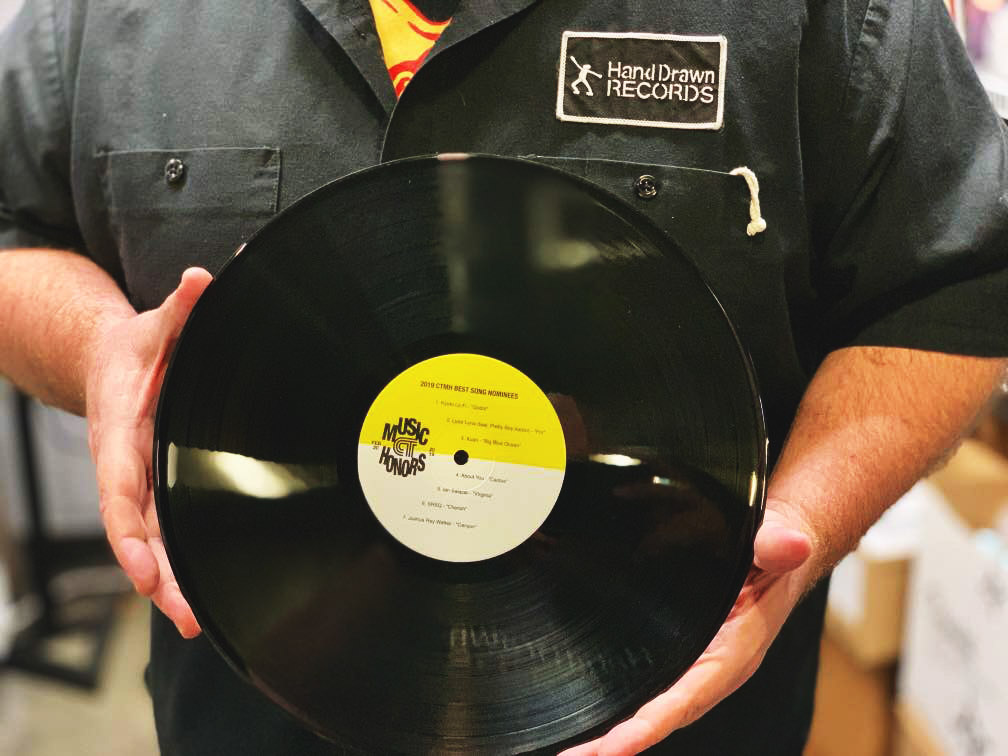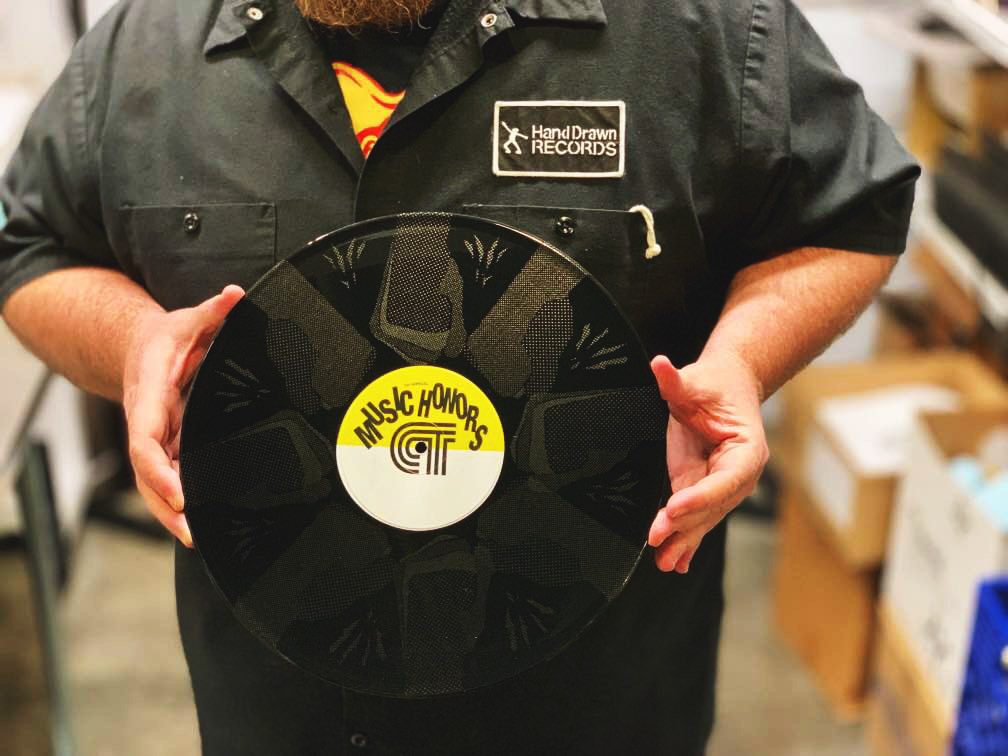 And, already, we can reveal 10 area acts who'll be walking away with trophies tonight. Actually, to be honest, we revealed them a while ago — back on January 11, when we first announced the ballot and revealed our nominees.
SEE ALSO:
• MUSIC HONORS: CELEBRATING THE BEST RECURRING PARTY NOMS.
• MUSIC HONORS: SORTING THROUGH THE BEST GROUP NOMS.
• MUSIC HONORS: GIVING SHINE TO THE BEST NEW ACT NOMS.
• MUSIC HONORS: SINGLING OUT THE BEST SONG NOMINEES.
• MUSIC HONORS: LOOKING OVER THE BEST MUSIC VIDEO DIRECTOR NOMS.
• MUSIC HONORS: INTRODUCING THE HIGH SCHOOL & UNDER NOMS.
• MUSIC HONORS: BREAKING DOWN THE BEST ALBUM NOMS.
• MUSIC HONORS: SHOPPING THE BEST MERCH DESIGNER NOMS.
• MUSIC HONORS: FOCUSING ON OUR BEST PHOTOGRAPHER NOMS.
So, who are these acts? Well, ones that deserve immense recognition from any event purporting itself to be representative of the Dallas music scene in 2012, that's for sure. But they're also ones that have achieved so much in their careers of late that we felt as if including them on the ballot was unfair to the working local musicians we also hope to celebrate at this event.
That's why we ended up creating another category for these acts entirely: The Honor Roll.
For all intents and purposes, we've retired these acts from competing in any of our balloting process. If it helps, think of them as inductees into a Hall of Fame of sorts.
Now, let's meet these badasses, yeah?
Leon Bridges
What can be said about Leon Bridges that hasn't yet been said? Not much. No longer just the first name hangers-on drop when they want to sound hip and knowledgeable about local music, the Fort Worth crooner became an international sensation in 2018 with the release of his nowhere-near-sophomore-slump Good Thing LP. Obama counts himself as a fan, but then again so does pretty much anyone else.
Sarah Jaffe
Long regarded as royalty in the North Texas music scene, Sarah Jaffe's most recent efforts find her at her poppiest and most widely appealing to date — an especially impressive feat given the fact that her music has always been endearing to audiences far and wide. Still, her 2018 output, which was mostly confined to the soundtrack of the locally set and shot stoner comedy Never Goin' Back, is still arguably her best material to date.
Bobby Sessions
He got signed to the iconic Def Jam at the start of 2018, but Bobby Sessions is still making the same calculated moves he did before earning the attention of major label. He just has more weight behind him now — and that's saying something, considering he's always been an artist of great gravitas. If anything, the label support has emboldened Sessions, who spent the majority of the last year establishing himself as a candidate to become the voice of a generation. If that sounds hyperbolic, well, then you haven't really been listening. You should get on that!
Power Trip
In 2013, Power Trip announced its presence as a thrash metal outfit not to be ignored with its debut Manifest Decimation LP. In 2017, the band's sophomore Nightmare Logic LP established the group as one of the cream of the international crossover crop. Now undisputed as the brutal kings of North Texas hardcore, the band's most recent single was a 2018 exclusive drop for Adult Swim and its reputation is second to none, geographic markers be damned.
Medasin
After establishing himself as an in-demand act on the international electronic music festival circuit, the suburban Dallas-raised Medasin spent his 2018 really opening up to his audiences with the release of his Irene LP. Named for a mental health professional who helped him work through some especially tough times, the album is as alluring as it is endearing — and finds the artist himself impressively unworried about his audience's expectations. Not surprisingly, untethering himself from those binds only widened his reach and upped his reputation as an international artist worthy of his considerable hype.
Charley Crockett
The rambling Charley Crockett actually released two albums in 2018: Lonesome as a Shadow, which found him mining original material, and Lil G.L.'s Blue Bonanza, for which he covered a collection of half-forgotten blues songs from throughout history. His prolific output has worked out well for the distinct performer, too, establishing him as an in-demand Americana artist all across this nation.
Yella Beezy
After releasing his smash Dallas street anthem "That's On Me" in late 2017, this Oak Cliff-sprung rapper released a string of other well-received singles throughout 2018. But even as his focus shifted elsewhere, "That's On Me" took on a life of its own, becoming the No. 1 song played on urban radio formats across the country for a spell over the summer. That was then followed by a remix featuring guest verses from such vaunted rap game names as T.I., 2 Chainz and Lil Boosie that only heightened the song's profile. Filled with more earworms sure to expand his audience, Yella Beezy's November-released Ain't No Goin' Bacc mixtape seems like only the start of the rapper's continued growth.
Cody Jinks
Fort Worth's low-voiced Jinks, once a local metal scene fixture, is now a full-on outlaw country star. His 2018 album Lifers only furthered that notion — as did his well-received hometown Loud & Heavy festival, and his back-to-back sold-out acoustic holiday performances at the Majestic Theatre in Dallas. It's anyone's guess when he'll play a room that size again.
Old 97's
They may be the elder statesmen of this list, but the Old 97's are every bit as active in 2018 as they were in their earliest days back in the '90s. If anything, 2017's Graveyard Whistling LP — and its Fred Armisen-starring video for its "Good With God" single — only found the alt-country pioneers gaining new fans. Same with its 2018 Love The Holidays release, which a band of the Old 97's' stature only releases for one reason: Because, dammit, they can. Now and forever, really.
Symbolyc One
After establishing himself as a platinum-selling and Grammy-winning beatsmith for everyone from Beyonce and Jay-Z to Kanye West and Eminem, the ever-humble S1 only added to his impressive CV in 2018, working with such up-and-comers as Lil Xan and also established favorites like Lupe Fiasco. Seems like every time a major artist releases an album these days, there's a Symbolyc One beat on it. And it looks like that will continue to be the case for years to come, too.