A Year After The Dallas Mavericks' Problematic Workplace Culture Was Exposed, The Organization's New Female Leadership Is Setting Future NBA Standards.
Ivy Awino hurries between her perch inside the arena and a control room housed back in the annals of the American Airlines Center.
It's early December, and the Dallas Mavericks' in-game DJ, known professionally as Poizon Ivy, walks as she talks. Along the way, she explains that the colorful outfit she's planned to wear at tonight's game against the Atlanta Hawks is an homage to her Kenyan roots and a nod to the Independence Day celebrations taking place back in the country where she was born.
She's an amiable personality, and her charms appear to have endeared her to Dallas Mavericks rookie sensation Luka Dončić, who interrupts Awino's quick walk to pester her into adding more Serbian house music to her arena playlists. If feels like a familial interaction from the outside looking in, and Awino acknowledges that, too. The Mavericks, she explains, are an integral part of her life.
Awino formally joined the organization in 2016. At the time, she'd been working as the in-game DJ for the Tulsa Shock, and when she moved to Dallas when that team became the Dallas Wings in 2016, the Mavericks scooped her up to become the team's in-arena replacement for the late DJ Whiz T. But her connection to the franchise extends well beyond that. Shortly after moving from Kenya to Dallas as a nine-year-old, Awino spent her adolescence in North Texas as a ball kid at Mavericks home games. After all these years, she says the organization feels like it's part of her family.
A year ago, though, her family's future became uncertain as the Mavericks' front office made national headlines following an explosive and damning Sports Illustrated investigation into the team's "corrosive workplace culture". That initial report exposed sexual harassment scandals involving the team's former CEO Terdema Ussery and beat writer Earl Sneed. Later two more employees — long-time team photographer Danny Bollinger and senior sales executive Chris Hyde — would be dismissed following more allegations of in-office sexual misconduct.
Twelve months removed from those bombshell reports, many outside of the organization have turned their gazes elsewhere, choosing to focus on Dončić's exciting long-term prospects or the hope sparked for the team's future in the wake of its recent acquisition of former New York Knicks star Kristaps Porziņģis.
Within the team's inner circles, these developments have mostly been viewed as welcome distractions for an organization that's been working diligently toward correcting its iniquities.
Prior to news of these allegations breaking, the Mavericks' hiring of Awino helped color the team as something of a trailblazing franchise. More than just the team's first female DJ, Awino's hire earned national headlines due to the fact that she was also the first black female in-game DJ hired by any NBA team. But the next glass ceiling she shattered — becoming the first woman to DJ during the NBA All-Star Game — was overshadowed due to the Sports Illustrated report dropping that very same week.
Suddenly, Awino wasn't so sure about the organization she'd thought of as family. Embarrassed, she started to reconsider her long-term plans with the team.
For the last year, though, the franchise has been working hard to reestablish its reputation — both externally to fans and internally to employees like Awino.
The first step? Hiring a then-retired AT&T executive named Cynt Marshall as the first female CEO in NBA history, and tasking her with changing the team's embarrassing behind-the-scenes culture.
"I came to a company where women were not valued," Marshall told the Dallas Observer earlier this season. "There were no women in leadership, and this was not a friendly place to work for women."
For her first order order of business, Marshall, who claims to not have even heard of team owner Mark Cuban prior to his call offering her the gig, implemented a 100-day plan meant to get the organization back on the right track. Among that effort's many initiatives? Implementing an employee resource group (ERG) for women within the organization called the W.O.M.E.N. (Women of the Mavericks Empowering Network) to help "transform the culture" of the team.
"First thing we had to do was get women in leadership roles," Marshall now says. "Then we needed an ERG, focused on women, professional development, networking and doing what I call H.S.U. [hook a sister up] moments by being there for each other. What was great was seeing the men jump on board and came to our first ERG meeting."
In March 2018, Marshall followed through on her first promise by hiring two female executives: Tasha LaCour replaced disgraced human resources director Buddy Pittman as the team's senior vice president of human resources, and Cynthia "Cyndee" Wales in a new chief ethics and compliance officer role. Then, in June, the team made headlines for hiring as an assistant the first ever female coach in its almost four-decade history in former WNBA head coach Jenny Boucek.
Those hires were thoughtful, deliberate and very much intentional, says the Mavericks' vice president of merchandise and brand identity, Alison Panasik, who has been with the organization since 2014.
"Since Cynt has been here, it's been a different ball game," says Panasik. "Women are treated equal now. You had women in the office who were afraid to express their opinion. Now, it's improved their confidence and brought more things to light. They feel empowered."
The native Dallasite is all smiles as she buzzes around the arena and talking about the team's future. But she stops smiling when the team's past is brought up.
"Up until February 21 [of last year], there wasn't a change," Panasik says. "It wasn't a culture I was even comfortable working in. I spent most of my time [with the organization] at the arena — because I felt safer here than in the office."
Panasik's feelings started to change during the very first meeting of female employees that Marshall called after she took on her new position with the team. As Marshall detailed her aim with the W.O.M.E.N. group and handed out purple wristbands bearing the word "purpose" to those at the meeting, the CEO explained the power that the group's collective voice could have in shaping the future of the Dallas Mavericks organization at large.
"I feel like there's a purpose for me to be here — for everyone, and especially the women," Marshall says.
Over the course of the last 12 months, Marshall's influence has extended beyond even the Mavericks organization, helping the female employees at FOX Sports Southwest and NBC DFW form employee resource groups of their own.
"We now have a speak-up culture, a culture of inclusion, a culture where women know they matter," Marshall says of the Mavericks, before noting how the team's lead can affect those outside of its own immediate circles. "[We have] a culture where every voice is heard, including women, and every voice is responded to, compared to the past. Women [now] know that [they can] have a career in sports, in the NBA, at the leadership table."
It's a lead other NBA franchises are closely following, including a few teams that have directly approached Marshall for tips and perspective.
"They're using us as the model across the NBA for inclusion and diversity," Marshall says. "Someone from another team was just in my office asking about what we're doing, especially around the women."
These are changes that are needed all across the league, says Mavericks vice president of diversity and inclusion Gail O'Bannon, who was promoted to her new role after serving as the team's director of group sales when Marshall tasked her with leading W.O.M.E.N.'s initiatives.
"We're only the second team, in the NBA that specifically has someone focused on inclusion and diversity," O'Bannon says. "It wasn't necessarily a priority before like it is now."
On Monday, March 18, before the Mavericks host the New Orleans Pelicans for a night-time home game at the American Airlines Center, the Mavs' W.O.M.E.N. will host the team's first-ever Women's Symposium, which is promoted as being "open to all women and men" and as including "a fireside discussion with prominent women business leaders of North Texas." The theme of the event: "Being the Best You." (Tickets are still available here.)
"We were wondering where all these women were, so we decided to bring them out," O'Bannon says of the event. "It's going to be an exciting night. We call it the women's takeover."
Another upcoming event on the W.O.M.E.N. calendar finds the group joining the Young Women's Leadership Academy of Fort Worth in May to celebrate area young women declaring their college choices. Most members of the Young Women's Leadership Academy of Fort Worth are first-generation college students, and the group's previous class had a 100 percent college acceptance rate.
That's just one of many relationships the Mavericks' W.O.M.E.N. hopes to continue cultivating throughout the North Texas community.
"As far as community efforts, we're reaching out, asking employees which organizations they'd like to work with," O'Bannon says. "Because we have that buy-in from top [of the organization with Marshall and Cuban], we haven't run into any challenges [in terms of hearing that we can't do something."
But, just because her 100-day initiative's run has ended, that doesn't mean Marshall's done making changes. If anything, the Mavericks' CEO only now appears to be really getting started.
"[NBA] commissioner Adam Silver encouraged all the teams to adopt the recommendations [we made with that initiative]," Marshall says. "It makes me feel good that the league is recognizing what needs to be done to advance the culture, and that we had something to do with them taking it a step farther."
Whether that culture shift takes hold around the league remains to be seen. But at the Mavericks' offices, it's clear that Marshall's efforts have taken root, with blooms set blossom for many years to come.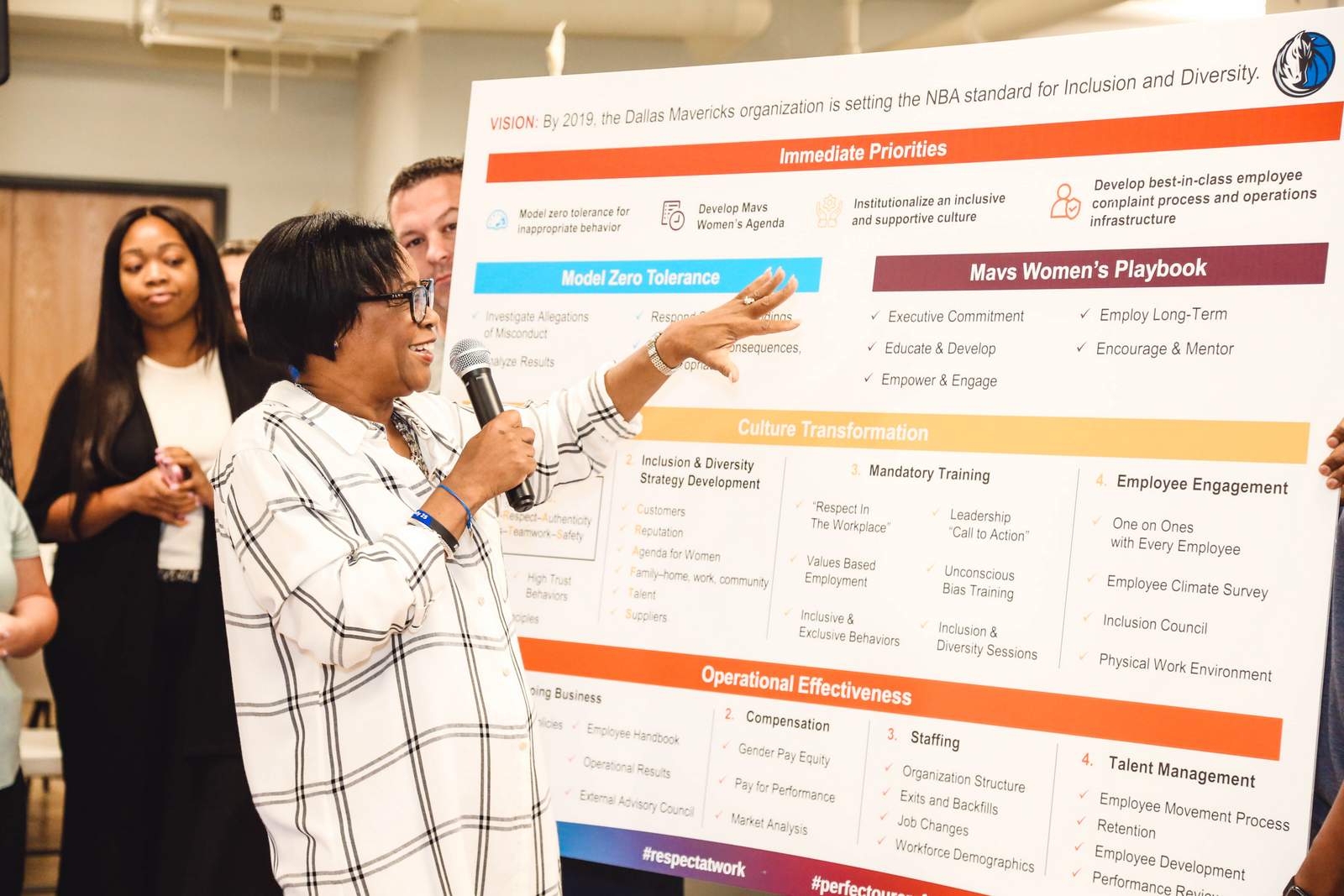 "That woman [Marshall] changed my life, and I will be loyal to her forever," says Panasik. "She plucked me from an organization where I was being held back. For the first time in my life, I have a leader in the workplace."
Awino feels the same way. Back in the arena, readying tracks to play once the action on the court begins, she acknowledges that she once again feels good about her future with the Mavericks.
"The biggest blessing has been meeting and working with Cynt," Awino says. "Something happens differently when leadership is female. The energy is different. Your ideas are considered. It's hard to put into words."
She takes a moment to consider how to describe her sentiments best.
"I decided to stick around for my family after all that went down," she says eventually. "And I'm happy to be part of this organization again."
All photos courtesy of the Dallas Mavericks unless otherwise noted.