What You Need To Know About Sports Illustrated's Bombshell Story On Claims Of Sexual Misconduct Within The Dallas Mavericks Organization.
Six former Dallas Mavericks employees have accused various high-ranking former officials within the National Basketball Association organization of sexual harassment and of fostering a misogynistic work environment that enabled that behavior.
Within a few hours of a preemptive statement being released last night by the Mavericks, Sports Illustrated released the results of its "months-long" investigation that detailed what one former employee describes as "a real-life Animal House." In their own release, the organization claimed that it was unaware of most of the claims made in the magazine until SI approached them with the details.
Since the release of the story — titled "Exclusive" Inside the Corrosive Workplace Culture of the Dallas Mavericks" — its shocking details and allegations have dominated the conversation here in Dallas and in much of the sports world.
In the below space, we will break down the specific accusations and details of everything that came to light with the story's publication.
Former Team President and CEO Terdema Ussery Allegedly Harassed Women For Years Without Consequence.
Terdema Ussery served as the Mavericks' president and CEO from 1997 to 2015. During that time, Ussery allegedly sexually harassed various female employees.
In 1998, the Mavs conducted an internal investigation about Ussery's harassment after a few female employees complained that he was harassing them. Ussery was not fired; rather, SI reports, the team brought in Buddy Pittman as the new head of human resources as a result of that investigation.
The investigation and subsequent HR hire did not curtail Ussery's behavior according to former employees who told SI that they were harassed for years after that investigation. One of the accusers relayed to SI that, before a game in the 2010-2011 season, Ussery asked about her weekend plans and suggested that she was "definitely getting gang banged." Other former employees shared details about how Ussery would proposition them for sex, touch them and make inappropriate comments. The report also says that numerous women complained to Pittman about Ussery's actions, and he appeared to have taken little to no action on those accusations.
After Ussery left the Mavs, SI notes that he went to work for Under Armour, then left the job shortly after a female employee there accused him of harassing her in an elevator. In a statement about the SI story, Ussery claims to be unaware of any complaints and called the allegations "false" and "inflammatory."
One Executive Allegedly Told An Accuser To Ignore Unwelcome Advances And "Do Your Job."
One former employee told SI that she had approached then-vice president of marketing Paul Monroe in 2013 about the toxic work culture — and specifically mentioned Ussery's behavior — only to be dismissed. Per her account, Monroe told the employee to "just take it" and to do her job — because, in his words, "[Ussery's] the boss."
When reached for comment by SI, Monroe denied every receiving such a complaint — or any others of that nature — during his time with the Mavericks. Monroe left the organization in 2014.
Former Mavs.com Writer Earl K. Sneed Allegedly Assaulted Two Girlfriends, Including One Of His Co-Workers.
From the 2010-2011 season until his abrupt Tuesday evening announcement that he and the team had parted ways, Earl K. Sneed had served as a full-time writer for Mavs.com.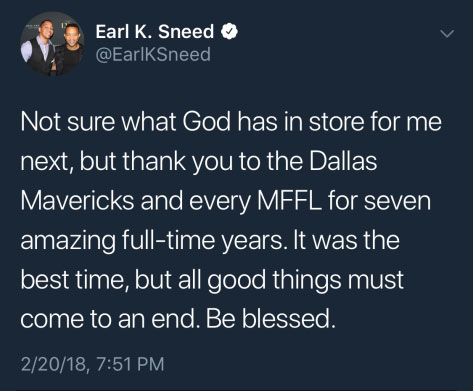 According to a statement release by the team, the decision to part ways was not mutual.
During his first full season under the Maverick's employ, Sneed was arrested after a domestic dispute with an ex-girlfriend, who claimed he had sat on top of her while slapping her chest and face. Sneed pleaded guilty to a Class A misdemeanor, but the charges were dismissed in 2012 after he paid a fine, completed community service and attended anger management courses.
But that was not the end of Sneed's apparently abusive behavior. According to SI's reporting, Sneed allegedly assaulted a fellow Mavs employee with whom he had a romantic relationship 2014.
Team owner Mark Cuban, who claimed to not know the full details about the assaults until this week, fired Sneed after SI asked why Sneed was still employed by the team.
The Organization's "Locker Room Culture" Appears To Have Exclusively Existed Outside Of The Actual Locker Room.
In total, SI  spoke with a dozen former and current Mavs employees who work in various departments with the team. Combined, they detailed how the culture inside the organization wasn't supportive of victims who came forward with stories of misbehavior, and how higher-ups routinely suppressed such concerns and complaints.
These sources cited Ussery's attitude and actions, other executives' lack of action and even how one male employee watched porn at his computer as reasons why the business side had a misogynistic "locker room" culture that enabled the actions and attitudes exposed in the story.
Interestingly, the story notes that the actual locker room used by team players was viewed as "a refuge" by female employees seeking shelter from the other male staff members' behaviors.
Team Owner Mark Cuban Is Claiming Ignorance To Problems But Is Quickly Reacting To Report.
Although the Mavericks' owner has claimed to not be aware of such behavior, six of SI's sources said they strongly felt that Cuban was aware of the accusations and the nature of the business office given how involved the owner is in his team's affairs.
Those sources did, however, note that they were not aware of any accusations against Cuban. And the owner has been quick in his denouncement of the people named in the story. In addition to terminating Sneed, he has also fired Pittman from post and set up a hotline for current and former employees to call so they can get support from trained experts if needed.
"I want to deal with this issue," Cuban told SI in response to the report. "I mean, this is, obviously there's a problem in the Mavericks organization and we've got to fix it. That's it. And we're going to take every step. It's not something we tolerate. I don't want it. It's not something that's acceptable. I'm embarrassed, to be honest with you, that it happened under my ownership, and it needs to be fixed. Period. End of story."
Cover image of 2011 Championship Celebration via Wikimedia Commons.