Since It Too Will Have A Vetted Well Bar Attached, It's Basically Going To Be Just Like All The Other Alamo Locations In North Texas — Only It's In North Richland Hills.
Stop us if you've heard this one before, but a new Alamo Drafthouse is opening up in North Texas.
But, hey, listen, this one is totally different! This latest spot is opening up in North Richland Hills, marking the adored movie theater chain's first (and long expected) foray into Tarrant County.
Here's what it'll look like: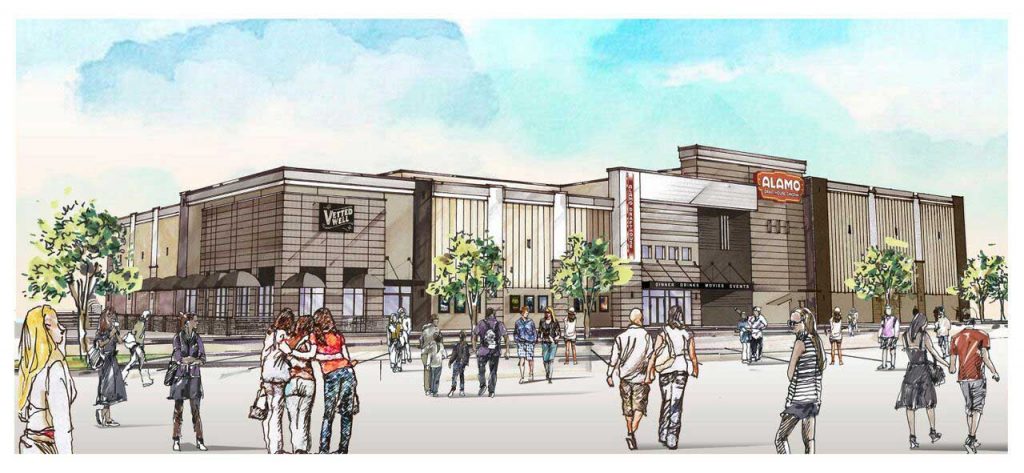 When it opens in 2019 at 8380 Davis Boulevard, the North Richland Hills spot will be Alamo's sixth North Texas location, following the region's original Richardson location opened in 2013, its Cedars location in Downtown Dallas that opened in 2016, its now-open second Dallas location in Lake Highlands and soon-to-open locations within the Toyota Music Factory location in Las Colinas and up in Denton.
Like most of the other North Texas locations, this one will also feature Alamo DFW's bar-and-restaurant concept known as Vetted Well attached to its building.
And they say the movie industry is out of original ideas! Sheesh.
For more specifics — like quotes from NRH's mayor and specs on the number of total theaters and seats expected to be installed in the new building — peep the press release announcing the new theater, posted below in full.
* * * * *
ALAMO DRAFTHOUSE CINEMA
ANNOUNCES FIRST TARRANT COUNTY LOCATION
Alamo Drafthouse North Richland Hills to open in 2019
with 8 screens, a full service bar and restaurant,
and the best in first-run and specialty programming
Dallas-Ft. Worth, Texas — March 28, 2018 — Since arriving in North Texas in 2013, five Alamo Drafthouse Cinema theaters have opened or been announced in the cities of Dallas, Richardson, Las Colinas and Denton. Today, Alamo Drafthouse DFW is pleased to announce the acclaimed cinema eatery's highly anticipated first theater coming to Tarrant County. The sixth Alamo Drafthouse location in North Texas will be in the city of North Richland Hills and is expected to open in April 2019.
"A Tarrant County location has been a long time coming," said Alamo Drafthouse DFW Chief Operations Officer Bill DiGaetano. "I have close ties to the City of North Richland Hills and we have been discussing and working on a deal there for almost six years. Being a resident of North Tarrant, I am selfishly very excited to finally have an Alamo Drafthouse five minutes from my house. I am also thrilled to be able to share our concept with friends, neighbors, and residents throughout the area!"
Located at 8380 Davis Blvd., Alamo Drafthouse North Richland Hills will be an 8 screen full service theater with over 950 luxury recliners and an attached full service bar and restaurant, Vetted Well, with 32 craft beers on tap. This location will also feature an outdoor play area so moms and dads can grab a bite and a beer while letting their kids blow off steam.
"A movie theater is among the most desired additions to the city by our residents, and having an Alamo Drafthouse Cinema is even better," said North Richland Hills Mayor Oscar Trevino. "Alamo Drafthouse not only satisfies our demand for movie going, but also introduces unique events and a new neighborhood restaurant to the North Tarrant Parkway corridor. The City Council and I couldn't be happier to welcome Alamo Drafthouse Cinema to the North Richland Hills community."
Alamo Drafthouse North Richland Hills' 8 theaters will showcase the very best new releases, iconic special events, and the company's unique take on repertory programming. Each theater will be equipped with top-of-the-line digital 4K projection and dynamic surround sound, Sony's state of the art Phosphorus laser projectors, and fully outfitted with luxury recliners that are equipped with footrest ensuring every seat in the house offers a viewing experience of unparalleled comfort. Alamo Drafthouse North Richland Hills will also feature a Premium Large Format auditorium called THE BIG SHOW. This theater will feature one of the largest screens in the Alamo Drafthouse brand with Dolby's immersive sound experience, Atmos.  
As it nears its opening date, Alamo Drafthouse North Richland Hills will be hiring for approximately 120 positions, largely from the surrounding neighborhoods. To apply or to learn more, please visit: drafthouse.com/dfw/careers
Chance Olin with Olin Realty Partners, LLC represented Alamo Drafthouse Cinema DFW in this deal as well as the Alamo Drafthouse Las Colinas opening in April 2018.
Founded in 1997, Alamo Drafthouse has been heralded for unique programming events and high exhibition standards, earning accolades including "Best Theater Ever" (Time Magazine) and "The Coolest Theater in the World" (Wired). Alamo provides a unique combination of theater and restaurant, showing first-run movies, independent films and special events with an extensive menu made from scratch. Guests order all food and drinks from servers who quietly attend to them throughout the movie from inside the theater.
Patrons are encouraged to arrive early to enjoy the pre-show entertainment. Instead of a barrage of advertising, Alamo Drafthouse shows a curated collection of rare and humorous clips themed to each feature. Additionally, Alamo Drafthouse protects the theatrical experience with a zero tolerance policy for people who disrupt the film with talking or texting. Alamo Drafthouse was featured on global news for a viral "Don't Talk" PSA that used a humorously misguided voicemail from an actual patron who was ejected for texting during the film. The full story on the long tradition of Alamo Drafthouse's no talking/texting policy can be found here.
For developments on Alamo Drafthouse North Richland Hills, visit drafthouse.com and follow Alamo Drafthouse DFW on Facebook, Twitter and Instagram. Sign up for email updates at drafthouse.com/dfw to receive an exclusive invite to the grand opening in 2019.