Let's Look Back At That Time When Dallas Transformed The Plaza In Front Of City Hall Into A Beach So Coors And KZEW Could Throw A Party For Charity.
We all do it. It's part of the annual drill.
When facing down the sheer brutality of Dallas' summer heat, we daydream about how great it'd be if Dallas were somehow blessed with beaches to relax upon, where winds would come ashore to breeze over our backs and where a refreshing dip into cool water was just a mere handful of steps away.
SEE ALSO: COOL YOUR JETS. // Tips For How To Beat The Heat This Summer.
Alas, the picturesque White Rock Lake is decidedly unsafe for swimming purposes, and our city — no shade to our most-beloved area pools — decidedly lacks any real beachfront destinations.
Well, in current times, anyway.
For one brief and glorious moment that came 35 years ago this month, this wasn't the case. On that day in July 1984, the beloved (and long-departed) Dallas rock radio station 101.7 KZEW-FM The Zoo teamed up with Coors Brewing Company to transform the plaza in front of Dallas City Hall into a pop-up beach.
The event, which served as a fundraiser for the Muscular Dystrophy Association, drew a reported 12,000 attendees to the plaza, where they could enjoy some live music, play a little beach volleyball, take a swim in the plaza's fountain or just lounge on the 42 tons of sand that were temporarily dumped onto the site.
SEE ALSO: HOW TO MAKE YOUR OWN REDNECK POOL. // Want A Pool In Your Backyard? You Don't Need To Drop Tens Of Thousands Of Dollars On One. You Just Need A Couple Hundred Bucks And Some Grit.
Sounds like a fever dream, right? Well, make no mistake, it very much happened, with the city council agreeing to its proposal upon hearing the results of a commissioned study that suggested ways to make the plaza a more attractive gathering spot for Dallasites.
And, per reports, the party was a real hit.
The Associate Press' recap of the festivities very much reads as if its reporter was into the concept:
DALLAS (AP) – Downtown Dallas may be hundreds of miles from the nearest body of water, but for one sunny day it became the nearest beach.

An estimated 12,000 sun worshipers spent seven hours building sand castles and sunbathing on a beach in front of City Hall.

The beach party, sponsored by a beer company and a radio station to raise money for the Muscular Dystrophy Association, was held on 42 tons of sand dumped on the plaza.

"It's something unique," said Linda Jebavy, 34, fresh from a dip in the City Hall fountain, which was used as a pool "We don't have a good beach in Dallas."

The Saturday beach party raised about $15,000 for the charity.

Party organizers dumped truckloads of sand on the City Hall plaza, raised volleyball nets and planted Southern Methodist University lifeguards around the pool.
Meanwhile, this KZEW-broadcasted report live from the scene of the beach bash additionally makes it sound like all who were on-hand had themselves a grand ol' time.
Still, while those artifacts stand as sufficient and charming evidence of the event's occurrence and its lighthearted tone, they don't quite sell the spectacle as well as the following image, which photographer Lynn Lennon captured on the day of the seven-hour party as part of a study commissioned by the Dallas Public Library about the city's public spaces.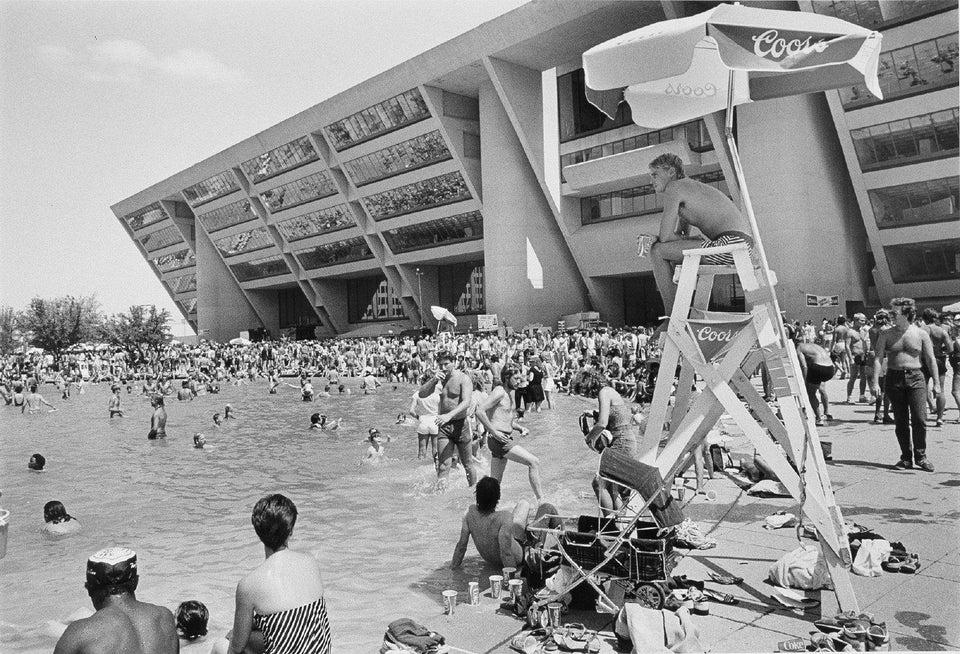 Damn. Looks like a blast, doesn't it?
Who do we have to call up at City Hall to try and convince them to do it again, huh?
Photos by Lynn Lennon via the Dallas Public Library/Dallas Museum of Art.