We're Not Sure How They Did It But The Stars Reloaded This Off-Season Without Losing Any Key Players And Now We're Stoked About Hockey Again!
Welcome to Forechecking™, our weekly Dallas Stars column that looks back at the hockey week that was, and the hockey week that will be.

Ladies and gentlemen, boys and girls, children of all ages, behold the splendor that is your revamped Dallas Stars!

Marvel at the snarl of a fully healthy Jamie Benn! Relish in the hellish puck pursuit of Alexander Radulov! Be amazed by the saves that will be made by No. 1 goaltender Ben Bishop! Orange the door hinge of young Julius Honka!

Err, damn, lost it there a little. My bad.

Anyway: After an abysmal 2016-2017, Your Dallas Stars look like they are set to be back with a vengeance this year! Thanks to an off-season filled with fortuitous drafting, aggressive free agency and, quite frankly, luck, general manager Jim Nill found a way to reload his squad without losing substantial pieces or leveraging the health of the franchise long term. (No significant draft positions or players were harmed in the making of this season.) Excellent stuff!

Let's take a peek at some of the changes that happened while you were sleeping.

Head Coach Lindy Ruff: After coaching the upstart Stars to the top of the Western Conference in 2016, only to see them crater in 2017, few people (if any) were surprised to see the venerable coach let go. Fans grew frustrated with constant line shuffling, questionable player assignments and historically bad special teams play. Lindy Ruff did not stay unemployed long, though. The New York Rangers brought him on board as an assistant coach.

Cody Eakin: The Las Vegas Knights took the controversial ginger ninja in the expansion draft this summer. Eakin, curiously used as a first line center with Dallas, posted three goals and 12 points with a -7 plus minus in a suspension/injury-shortened 60 games from hell last year. Eakin is a better player than what he displayed last season, and we here at Forechecking™ wish the pale Winnipeg native the best in the desert sun.

Patrick Sharp: An injury plagued season last year saw Sharpie post some of the worst numbers in his career (his -22 was shockingly bad, like, omg). He entered free agency as a UFA and his former employer signed him to a one-year deal. Hey, we're not mad at that. We're glad to see Patrick finish his career in Chicago.

Ales Hemsky: He spent most of last season rehabbing from surgery, an eked out seven point in 15 games to show potential off-season suitors that he can still play. Montreal, looking to fill the void of Alexander Radulov's departure, signed dear Ales to a one-year deal as a UFA. (More on Radulov later, hmmm.)

Jiri Hudler: Hulder? We barely knew 'er! Kinda wish we did given recent news, though.

Antti Niemi: Well, when you post the worst goal-against average in the entire NHL, what do you think is going to happen? Antti's final year of contract was bought out, he was placed on waivers and he got surprisingly signed by the Penguins to a one-year deal as a backup. Good luck with all that!

Kari Lehtonen: Sike! That fool still here!

Head Coach Ken Hitchcock: "He's the right type of coach for the Dallas Stars right now." Yup. Stars play-by-play hero Daryl Reaugh nails it here:

Alexander Radulov: Well, damn! Rumors of Dallas courting the Russian out of Montreal were met with near indifference by many — including myself. The general sentiment: "No way we can get this guy!" But I'll be a monkey's uncle. Look at this, we got the bell of the friggin' free agent ball! While he won't nearly be as impactful as the arrival of Brett Hull was way back when, Radulov will be a fantastic fit at forward. An aggressive big-bodied winger who can complete passes in the offensive zone and charge the net with purpose and authority, he's enthusiastic and he plays the game at 110 percent, firing up his teammates and fans alike with his infectious love for the game. Expect big things from the Benn-Seguin-Radulov line boys and girls. BIG THINGS. Don't believe me, just watch:

Martin Hanzal: Honestly, this hulking centerman never impressed us much during his long tenure with the Coyotes. But, in fairness, that franchise hasn't given much to celebrate — well, except for this — but Hanzal effectively replaces Cody Eakin down the middle with a bigger frame at 6'5", and much better face-off prowess. His 56 percent success rate on the dots was among league leaders last season, and he also tied a career high 20 goals in split time between Arizona and Minnesota's abbreviated playoff run. Expect his offensive numbers to get a boost in Dallas as Ken Hitchcock is known to aggressively use his burly boys in the offensive zone. Martin is no slouch in the defensive zone either, generally providing better defensive coverage than his linemates. But, mostly, yeah, he's burly.

Marc Methot: No, he ain't gonna wow you with end-to-end rushes or blistering slap shots from the point, but he ain't gonna make you throw up in your hands from awful passes and terrible positioning either. And for a Dallas team that is used to vomit-inducing performances in the defensive zone, that's quite the improvement. Methot is a rock solid defender and the perfect partner for John Klingberg (or Julius Honka for that matter), having spent several seasons paired with Senators offensive phenom Erik Karlsson. I can hear it now: "Go ahead, Klinger. You be cute up ice, I got all this under control." Then he points with his shattered finger at the defensive zone. Cue shattered finger footage!

Ben Bishop: Last season, we here at Forechecking™ predicted that the 6'6" former Texas Tornado would be a Dallas Star by the end of the trade deadline. While we were wrong about the time frame, we were right about now. With a neat-o, glow-in-the-dark helmet in tow, Bishop joins the team as the clear-cut starter in net for your Dallas Stars, mercifully relegating Kari Lehtonen to official back-up status. The former Vezina finalist inked a six-year $29.5 million dollar contract in the hopes that he can provide in the very least, average goal-tending, and we firmly believe he will. The huge goalie is a huge upgrade in net with a huge contract, Hugh Grant.

Tyler Pitlik: The 25-year-old Minnesota native will likely slot in on the fourth line wing as a low-risk, high-ceiling player. Injuries have hampered him in Edmonton, but a change in scenery may be what he needs to finally allow his impressive speed and skill with the puck force him up the lineup. Also, cute kid!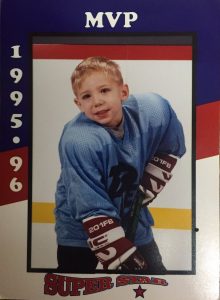 Keys to the Season.
1. Health. All the talent in the world don't mean a thing when it's sitting in the press box eating popcorn with a foot cast, home recovering from mono, rehabbing from summer hip surgery or dead. Dallas had the unfortunate fortune of missing significant time from key players last season, at one point missing six of their top nine forwards from the lineup at once. As much as we love the kids in our AHL affiliate Texas Stars, they won't win you many games in the big show. Just stay healthy, ya dingus, it's for your health.
2. A Strong Start. In the NHL, how you start largely determines where you'll finish. Whether that's true, well, IDK, it just sounded pretty good. But what is both true and real — or trill, if you will — is how early your Dallas Stars fell behind the pack last season, quickly dropping to the conference basement just two months into the schedule. The initial sub-.500 effort gave Dallas only a flirting chance at a wild card spot for most of the season as the team had no point buffer to fall back on as it meandered down the stretch. It's like Confucius said, "No cushion in your seat makes for bumpy ride and a bruised bum."
3. Make Special Teams Great Again. Dallas finished last season 20th on the power play while giving up 11 goals against on the supposed man advantage. Only New Jersey's 12 was worse. Anyway, it was a far cry from league average of 6. The Stars penalty kill was even more atrocious, sporting the lowest kill percentage in the NHL with the most goals against. Dreadful! The return of Hitchcock, Stu Barnes and Rick Wilson surely will improve these numbers if Dallas has designs on being a contender. We are sure they will. You can't get much lower than last.
This Week In Your Dallas Stars!
Las Vegas Golden Knights at Dallas Stars.
Friday, October 6, 7:30 p.m. (Fox Sports Southwest).
The Las Vegas Golden Knights make their NHL regular season debut against your Dallas Stars at the AAC. Hockey is probably the farthest thing from anyone in Las Vegas' mind right now, but a friendly match can provide for some escapism in troubling times.
Dallas Stars at St. Louis Blues. 
Saturday, October 7, 6 p.m. (Fox Sports Southwest).
Ken Hitchcock returns to The Lou to take on his former squad, who are already facing injuries and uncertainty in their lineup. Goaltending will have to improve significantly for the offensively stunted Blues to compete in the Central Division this year.
Fan Of The Week Highlight.
Wouldn't it be cool to be to share with the world how much you love your Dallas Stars in Central Track's best hockey write-up? We think so! And we will be featuring one awesome fan a week this year in celebration of the Stars' 25th season in Dallas, Texas. Whether you are a Day One P1 or still trying to figure out what icing is, let's hear from ya! Email us at forecheckingtm at gmail dot com with the subject line "TMNT" for a short questionnaire and the opportunity of a lifetime!
Somber Note.
The Stars' legendary play-by-play man Dave Strader lost his battle with cancer this week, passing away at age 62. Love and condolences to the Strader family. Strader will be missed by many in the hockey community and beyond.